JOIN THE HDN CREW FOR GTA ONLINE HERE!
Release date:
September 17, 2013
Cover art: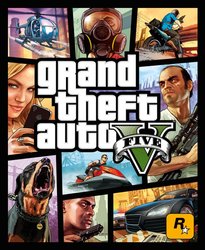 Gameplay:
Trailers:
Old info:
Grand Theft Auto (GTA) is a highly successful video game series created by Dave Jones, later by Dan Houser and Sam Houser, and game designer Zachary Clarke and primarily developed by Scottish company Rockstar North (formerly DMA Design) and published by Rockstar Games.

The gameplay consists of a mixture of action, adventure, driving, and occasional role-playing, stealth and racing elements and has gained controversy for its adult nature and violent themes. The series focuses around many different protagonists who attempt to rise through the criminal underworld, although their motives for doing so vary in each game. The antagonist in each game is commonly a character who has betrayed them or their organization or someone who has the most impact impeding their progress.

The series began in 1997 and currently has nine stand-alone games with a tenth one on the way, and two expansion packs for the original. Film veterans such as Danny Dyer, Michael Madsen, Burt Reynolds, Dennis Hopper, Gary Busey, Samuel L. Jackson, Chris Penn, James Woods, Joe Pantoliano, Frank Vincent, Robert Loggia, Kyle MacLachlan, Peter Fonda and Ray Liotta have all voiced major characters in many installments in the series. The name of the series and its games are derived from grand theft auto, a term referring to motor vehicle theft. As of 26 March 2008, the franchise has sold over 70 million copies worldwide; according to Take-Two Interactive.[1]

The games allow people to take on the role of a criminal in a big city, typically an individual who rises through the ranks of organised crime over the course of the game. Various missions are set for completion by the figureheads of the city underworld, generally criminal, which must be completed to progress through the storyline, assassinations, and other crimes feature regularly, but occasionally taxi driving, firefighting, pimping, street racing, or learning to fly fixed-wing aircraft are also involved as alternate adventures, which can be done at any time during the game, with the exception of the periods performing main missions.

In later titles, notably those released after Grand Theft Auto 2, the player is given a more developed storyline, in which they are forced to overcome an event where they are either betrayed and left for dead or experienced an unfortunate event, which serves as motivation for the character to advance in the criminal ladder, and eventually leads to the triumph of the character by the end of the storyline; specific examples of this are the plots for Grand Theft Auto III and Grand Theft Auto: Vice City.

The Grand Theft Auto series, belonging to a genre of free-roaming video games called "sandbox games," grants a large amount of freedom to the player in deciding what to do and how to do it through multiple methods of transport and weapons. Unlike most traditional action games, which are structured as a single track series of levels with linear gameplay, in GTA the player can determine the missions they want to undertake, and their relationships with various characters are changed based on these choices. The cities of the games can also be roamed freely at any point in the game, offering many accessible buildings and minor missions. There are exceptions: missions follow a linear, overarching plot, and some city areas must be unlocked over the course of the game.

Grand Theft Auto III and subsequent games have more prevalent voice acting, and radio stations, which simulate driving to music with disc jockeys, radio personalities, commercials, talk radio, pop music, and American culture.

The use of vehicles in an explorable urban environment provides a basic simulation of a working city, complete with pedestrians who obey traffic signals. Further details are used to flesh out an open-ended atmosphere that has been used in several other games, such as The Simpsons Hit & Run, which has less emphasis on crime or violence.

The series has courted a great deal of controversy since the release of Grand Theft Auto III. This criticism stems from the focus on illegal activities in comparison with traditional "heroic" roles that other games offer. The main character can commit a wide variety of crimes and violent acts while dealing with only temporary consequences, including the killing of policemen and military personnel. Opponents of violent video games, such as Jack Thompson, Senator Hillary Rodham Clinton and Julia Boseman, believe that players will try to emulate this behaviour, while proponents believe it provides an emotional outlet, as such actions in real life would have serious consequences.

The success of the Grand Theft Auto series has resulted in Guinness World Records awarding the series 10 world records in the Guinness World Records: Gamer's Edition 2008. These records include Most Guest Stars in a Video Game Series, Largest Voice Cast in a Video Game (GTA: San Andreas), Largest In-Game Soundtrack (GTA: San Andreas), and Most Successful Entertainment Launch Of All Time (GTA IV).
Last edited by a moderator: