Forum Support Manager
Super Moderator
Premium Supporter
Two new UHD Blu-ray players from newcomer Reavon launching in April​
Newcomer Reavon will launch its first two Ultra HD Blu-ray players in April. UBR-X100 and UBR-X200 are both described as 'universal disc players'. Prices start at 800 Euro.
Reavon describes both UBR-X100 and UBR-X200 as 'universal disc players' with support for UHD Blu-ray, Blu-ray, 3D Blu-ray, DVD, DVD Audio (according to Reavon's certification logos), SACD, and CD. They support Dolby Atmos and DTS:X as well as HDR10 and Dolby Vision, whereas no support for HDR10+ is listed. Both have two HDMI outputs; one for video and one for audio.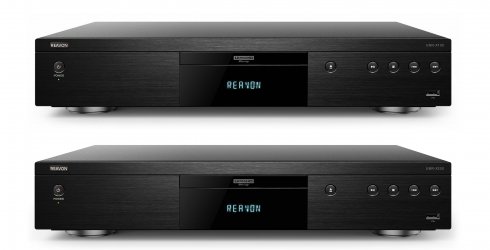 Click to enlarge.
It is not often that we see newcomers in this segment anymore. Sales of UHD Blu-ray players started to decline in 2018, and Oppo abandoned the market the same year. Samsung followed in early 2019. LG, Panasonic, Sony and a handful of other players are still in the game and in late 2020 PS5 and Xbox Series X arrived with UHD Blu-ray playback support. However, the market remains a niche as evidenced by the new Reavon players.
The differences between the two models lie in analog audio output ports and other advanced audio capabilities in UBR-X200, and you will be paying a hefty premium for those features.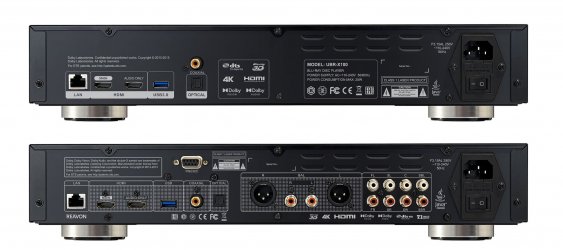 Click to enlarge.
Additional specifications and features are listed below.
In Germany, UBR-X100 is listed for 800 Euro while UBR-X200 carries a 1600 Euro price tag. The new players will be available in April.
Reavon UBR-X200 specifications​
Main features
- Universal Disc Player - Ultra HD Blu-ray, Blu-ray, Blu-ray 3D, DVD, SACD, CD
- BD-Live/BONUSVIEW
- HDR10
- Dolby Vision
- 36-bit Deep Colour/"x.v.Colour"
- Dual HDMI Output
- Video Adjust
- Backlite Remote Control
- DLNA / SMB host
- Fast boot
- Multimedia playback (MKV, WMA, WAVE, FLAC, DSD, JPG)


Video features
- 4K Scaling - Enhance the home cinema experience by quadrupling Full HD 1080p resolution with 4K (3840 x 2160) scaling of all video sources.
- True 24p Cinema - Many Blu-ray and 4K Ultra HD Blu-ray discs are encoded at 24 frames per second, the same frequency as the original film screened in theaters. The UBR-X200 maintains the original 24-fps rate straight through to the screen with progressive scanning.
- Dolby Vision® - This stunning HDR imaging technology brings extraordinary color, contrast, and brightness to the screen.
- Video Adjust - Set the brightness, contrast, color saturation, hue, sharpness and noise reduction.


Audio features
- Texas Instruments Burr-Brown Audio PCM1690 DACs
- Large-Capacity PCB Toroidal Transformer (Military Engineering Class)
- Custom Audiophile Capacitors
- Direct Function for Pure Analogue Audio Output
- Dual HDMI Output for Pure Digital Audio Output
- Jitter-less Clock
- Ultra-Rigid Construction
- 3 mm Steel Plate Rigid Under Base for Low Noise and Low Centre of Gravity
- High Quality Main Circuit Board for High S/N Ratio
- Rigid & Quiet Optical Drive
- 24-Bit Delta-Sigma DAC
- 8-Channel DAC:
-- High Performance: Differential, fS = 48 kHz
-- THD+N: –94 dB
-- SNR: 113 dB
-- Dynamic Range: 113 dB
-- Sampling Rate: 8 kHz to 192 kHz
-- System Clock: 128 fS, 192 fS, 256 fS, 384 fS, 512 fS, 768 fS, 1152 fS
-- Differential Voltage Output: 8 VPP
-- Analog Lowpass Filter Included
-- 4x/8x Oversampling Digital Filter:
--- Passband Ripple: ±0.0018 dB
--- Stop Band Attenuation: –75 dB
-- Zero Flag
-- Data Length: 16, 20, 24, 32 Bits
- Analog Mute by Clock Halt Detection
- Music File Playback: FLAC (2.0/5.1), M4A, WMA, WAVE, DSF (2.0/5.1), DFF (2.0/5.1), MP3, OGG
- Home Theater Audio: Dolby Digital, Dolby Digital Plus, Dolby TrueHD, Dolby Atmos, DTS, DTS-HD MA, DTS-HD HRA, DTS:X


Terminals
- HDMI 1 Out for Audio/Video
- HDMI 2 for Audio Only
- Digital Coaxial Out
- Digital Optical Out
- USB In (1 USB 2.0 Front, 1 USB 3.0 Rear)
- Ethernet
- RS-232C
- Analogue Audio Out Stereo (RCA Unbalanced, XLR Balanced)
- Analogue Audio Out 7.1/5.1

Specifications
- Power Requirements: AC 220-240 V, 50/60 Hz
- Power Consumption: 42 W
- Power Consumption During Standby: 0.45 W
- Dimensions (W x H x D): 430 x 82 x 351 mm
- Weight: NC
Reavon UBR-X100 specifications​
Main features
- Universal Disc Player - Ultra HD Blu-ray, Blu-ray, DVD, SACD, CD
- BD-Live/BONUSVIEW
- HDR10
- Dolby Vision
- 36-bit Deep Colour/"x.v.Colour"
- Dual HDMI Output
- Video Adjust
- SMB host
- Fast boot
- Multimedia playback (MKV, WMA, WAVE, FLAC, DSD, JPG)


Video features
- 4K Upscaling - Enhance the home cinema experience by quadrupling Full HD 1080p resolution with 4K (3840 x 2160) upscaling of all video sources.
- True 24p Cinema - Many Blu-ray and 4K Ultra HD Blu-ray discs are encoded at 24 frames per second, the same frequency as the original film screened in theaters. The UBR-X100 maintains the original 24-fps rate straight through to the screen with progressive scanning.
- Dolby Vision® - This stunning HDR imaging technology brings extraordinary color, contrast, and brightness to the screen.
- Video Adjust - Set the brightness, contrast, color saturation, hue, sharpness and noise reduction.


Audio features
- HDMI Audio Only the get the best audio digital experience
- Ultra-Rigid Construction
- 3 mm Steel Plate Rigid Under Base for Low Noise and Low Centre of Gravity
- Rigid & Quiet Optical Drive
- Music File Playback: FLAC, M4A, WMA, WAVE, DSF, DFF, MP3, OGG
- Home Theater Audio: Dolby Digital, Dolby Digital Plus, Dolby TrueHD, Dolby Atmos, DTS, DTS-HD MA, DTS-HD HRA, DTS:X


Terminals
- HDMI 1 Out for Audio/Video
- HDMI 2 for Audio Only
- Digital Coaxial Out
- Digital Optical Out
- USB In (1 USB 2.0 Front, 1 USB 3.0 Rear)
- Ethernet


Specifications
- Power Requirements: AC 220-240 V, 50/60 Hz
- Power Consumption: 32 W
- Power Consumption During Standby: 0.45 W
- Dimensions (W x H x D): 430 x 82 x 351 mm
- Weight: NC
-
Source: Reavon