Super Moderator
Super Moderator
Premium Supporter
Greetings friends! Yes; indeed, crazy times are abound and it looks like we might be in for it just a little bit longer than we expected but hey, hopefully, you're all hangin' in there and keeping cool and distracted with some good comics, art, and whatever happens to strike your fancy this summer!
We are quite delighted to feature our two releases this week, as we first go back in time to the classic Silver Age of Marvel Comics and witness the first appearance of The Sinister Six in The Amazing Spider-Man Annual #1 from 1964, with story and art by Stan Lee and Steve Ditko! This is the Marvel creative team at it's best and paves the way for so many enjoyable stories to come. The Sinister Six has seen many different villains come and go but the original incarnation of the group organized by Doctor Octopus included Vulture, Electro, Mysterio, Sandman, and Kraven the Hunter. Next up this week we go a little more modern, but it gets our Spidey senses tingling just the same! We see illustrator and comic artist,
Dave Rapoza
tackle the cover art for the finale story from Spider-Verse #6. Dave's work is just top-notch, in exploring the various takes on characters featured in the Spider-Verse, with each one as interesting as the next! Both prints are Fine Art Giclees printed on acid-free paper with archival inks!
The Amazing Spider-Man #1 & Spider-Verse #6
Go On Sale Tomorrow, 7/23 @ 1 PM ET in the
GMA Shop!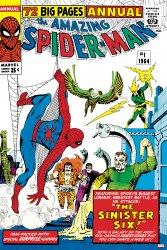 The Amazing Spider-Man #1 by Stan Lee & Steve Ditko
16" x 24" Hand-Numbered Fine Art Giclee
(Hot Press Bright)
Edition of 125
Printed by Grey Matter Printing
$45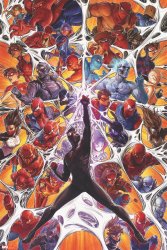 Spider-Verse #6
by Dave Rapoza
16" x 24" Hand-Numbered Fine Art Giclee
(Hot Press Bright)
Edition of 125
Printed by Grey Matter Printing
$45