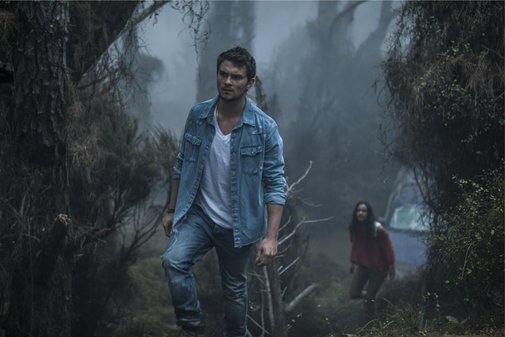 Mia, her brother David, his girlfriend Natalie, Eric and Olivia got to a remote cabin in the woods with one thing in mind: to detox Mia from the hard drugs she is addicted to. The group discovers that under the cabin is an occult-like room where something terrible has taken place. Eric has found a book, wrapped in barbed-wire, bound in flesh and written in blood. He reads a passage from the bloody scripture which summons something evil, deep within the woods. Whatever it is has taken control of Mia and things take a turn for the worse.
A film that producers and even director Fede Alvarez continuously avoided classifying as a sequel, but upon watching the film any fan of the original cult classic will immediately tell you that if feels like a sequel. It is understandable why filmmakers try to take the label out, but alas Alvarez used his own talent to turn a cult film and apply his skills to deliver something fresh.
Evil Dead is a gory, blood filled, over the top gruesomely creepy film. Alvarez takes us through a sick and twisted ride managing to deliver one creepy and gruesome event after another in almost a relentless fashion. The film is filled with shocking bloody moments that are simply hard to watch at times, some are even far out there that they seem funny, admittedly it's dark humor, but you get the point. The film closely resembles that of Sam Raimi from 1981 and it seems that Alvarez went ahead and planned it in such a way that fans could see the resemblance.
Horror fans should rejoice, Evil Dead is scary, it's gory, it's shocking, and probably deserving of a few more superlatives. Evil Dead is a horror film with a little bit more plot line than most horror films released on a yearly basis. For that it's deserving of making it into your collections if horror is your thing.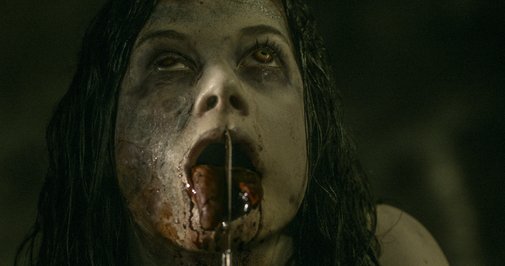 Evil Dead arrives on Blu-ray with a 1080p MPEG4-AVC encode framed at 2.35:1 aspect ratio. The picture is absolutely great in this digital transfer. Colors are natural and well reproduced. Black levels are deep and inky and they do not overwhelm the picture. The detailing in the picture is excellent special close up shots and surrounds offer plenty of details. There are signs of banding in different scenes of the film, but didn't see any further issues. Overall, Evil Dead looks spot on.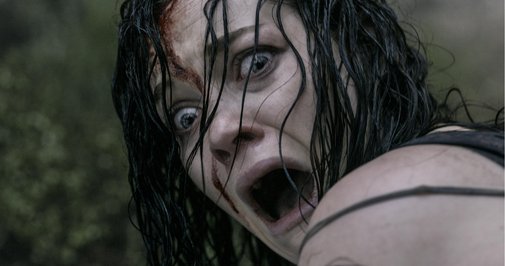 Evil Dead arrives on Blu-ray with 5.1 DTS-HD Master Audio lossless track. This is another reference material audio track. The dialogue is clean and clear throughout the film with perfect directionality. The rears help create a creepy and daunting soundstage in which every chilling moment was elevated to a whole another level. Even the LFE was balanced and precise. It's the track really sets the tone of the film and its hands down one of the best.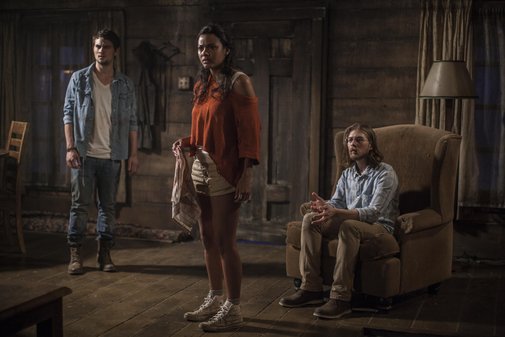 Audio Commentary – The audio track features Director Fede Alvarez and Producer Rodo Sayagues and actors Jane Ley, Lou Taylor Pucci, Jessica Lucas. The track is very informative and the commentators really share a good amount of info about the film. If you are a fan of the film then you should not miss this.
Directing the Dead – The Director Fede Alvarez talks about a little bit about the movie and how he has applied some of his ideas into the franchise. He briefly discusses about the cast and the process for filming.
Evil Dead the Reboot – Bruce Campbell and Rob Tapert talk about the remake and they share their two cents on the changes and casting of the new movie.
Making Life Difficult – The Director Fede Alvarez talks to the cameras about the great toll the film is taking on Jane Levy.
Unleashing the Evil Force – This featurette takes a closer look at the "Book of the Dead".
Being Mia – This featurette follows Jane Levy as she shows the viewers the makeover she had to undergo for the movie.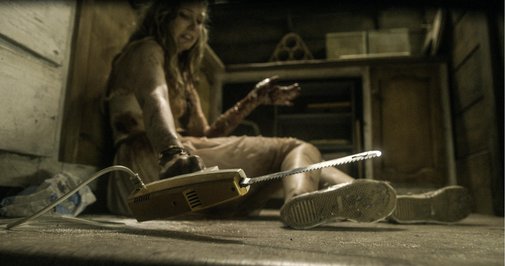 I'm not a big horror fan and I will be the first to admit to that, but Evil Dead is one of those exceptions that I make when choosing titles to watch. Evil Dead was gruesome, it was creepy, scary, and everything else horror fans enjoy. There are plenty of supplements to choose from and the video and audio are to die for. With that being said, fan of horror should really enjoy this one.