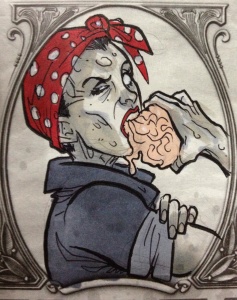 A new feature we here at Hi-Def Ninja are looking to do is to inform the public of comic book artists/writers or for that matter talent to watch.
So, for the inaugural article, I'm doing comic book Dominic Vivona who currently does freelance art. However, I discovered his skills from the works of FUBAR Comics where he brings zombies to life..sorta. He's an amazing, versatile artist and I want to thank him for taking some time out of his busy schedule for this.
Where did you grow up?
In Upstate New York in a little sleepy town called Richfield Springs
Do you have formal training or are you self taught?
Self taught.
Who in the industry has influenced you the most?
That's a hard one. I think Travis Charest's explosion of talent just after he started his work on Wildcats was very transformative for me to watch. That was the era of my obsession with Jim Lee, Jae Lee, Sam Keith, Dale Keown, etc., etc. But Charest's artistic evolution seemed overnight and was incredibly mindblowing.
What would your dream character to draw be?
I don't think I could narrow it down to one. And I'm assuming you mean within the top three or four companies? But I'll slim it down to a handful. My three favorite characters were Spider-Man, Wolverine and Bat-Man. As much as it pains me to say so, I've never been too keen on my own stylistic choices for Spidey. And Bat-Man has way too much cityscape for me to feel comfortable with, so I guess I'd have to go with Wolvie. Although I never really liked any of his suits so I would say probably a throw back to his Patch days when he terrorized The Hand in Madripoore.
What's your Favorite comic book ever?
God, these single choices are killer 😉 Hmmnn, Hellboy seems to be a standout. Mignola's ability to create mood and atmosphere is just beyond amazing. Serpieri's Druuna is hands down one of the most masterfully illustrated fantasy epics I've ever seen. Powell's Goon is playful and raunchy and he refuses to be held down to one stylistic direction. Moebius can make you weep as an artist with anything he's done. And Cho's Liberty Meadows shows you that if you think you are a draftsman you haven't even started trying yet. I could go on…
Do you have anything you do to get you in the mindset of doing your art?
As a lad I didn't have to have any reason. The ideas just came and the excitement to draw was an eternal fountain of inspiration. These days I have to break myself from distractions that keep me from drawing. I can do that any number of ways but it's just a matter of trying to cancel out the noise of the world. Assignments are more difficult as they are someone else's vision and it takes a more ardent effort to resolve myself to get into that creative headspace. When that is on the timetable I try to do spontaneous warm ups. Whatever happens to be on my mind… and hopefully that doesn't eat up all my freelance time.
When did you decide that this is what you wanted to do for a living?
I cant say I'm doing it for a living. I currently hold a full time "straight" job and work in paying freelance gigs when I can. It's worlds apart from my old job that was so time consuming that I left it precisely because I was loosing the drive to even sketch in my free time. As long as I'm involved in a project I feel fulfilled.
Is there, if any, a character you enjoy putting to paper the most?
No one specifically. I love the Fantasy/Sword and Sorcery genre and am a huge Frazetta fan so I will often be illustrating a barbarian lord or amazonian temptress dueling some kind of hellbeast or monstrosity. And I also had the pleasure of doing a signing at a comic store where the owner gave me a ton of blank variant covers to doodle on for his shop. That's put me back in the superhero rendering world which is a joy to be back in.
What is the coolest commission you've done?
I fall in and out of love with my work so I'm not sure if I could pick one as my absolute favorite. That's also the reason I don't have any tattoos. I would insist on the tattoo being my design but I end up disliking so much of my work as my art develops that I'm stuck with indecision. I could definitely pick out a few that I hate and would want to redo though!
Is there anyone in the industry you'd really like to meet?
I've already met so many on that list I don't want to jinx it! So I'll wait to see what comes along. But not being able to meet Jack Kirby or Jean Giraud at a convention seriously bums me out.
Have you met anyone in the industry that has made you completely geek out?
When I first started attending conventions I was invited to be the attending artist at a table for an independent publisher. I was hard at work finishing off a commission when I overheard someone talking to my editor as if they were old friends. When I looked up I realized it was David Mack, whose work I had worshipped for years. It was a surreal experience because it was the first time I realized that I was on "the other side" of the table. Which in reality is a bunch of nonsense but there is a general perspective shift that happens when you are manning a table and you interact with other pros or publishers. If they see you on the other side of the table and the table doesn't look like a yard sale then there is this removal of the point of sales to fan/consumer persona that you have to wear at conventions. And you can just talk like normal peoples. Good times.
Any foods or drink you prefer when in the creative process?
I recently discovered Arizona Tea's Arnold Palmer Lemonade and Ice Tea drink. Damn tasty. And smokes. Waaaay too many coffin nails. And beef Jerky. I don't expect to age well or very long for that matter 😉
Here is Dominic's Contact Info-
Email Address: d.vivona1@gmail.com and be sure to check out FUBAR Press
And check out the gallery below: