I have made it no secret that I have a soft spot for this franchise and have been eagerly anticipating the next film in the series, but Fast & Furiou6 (my preferred title) really delivers in many of the best ways.  It may not have the same urgency in its plot that the previous film did and if you couldn't get on board with that film, this one is definitely more of the same, but the effort put in to go really big, while still utilizing what I consider to be strengths of the franchise, is absolutely there.  Vehicular warfare may be on display in full force, but the series has not lost sight of what a fun summer movie should be.  Add to that plenty of great things about this Blu-ray package and you really have one of the best action experiences of the year ready to bring home.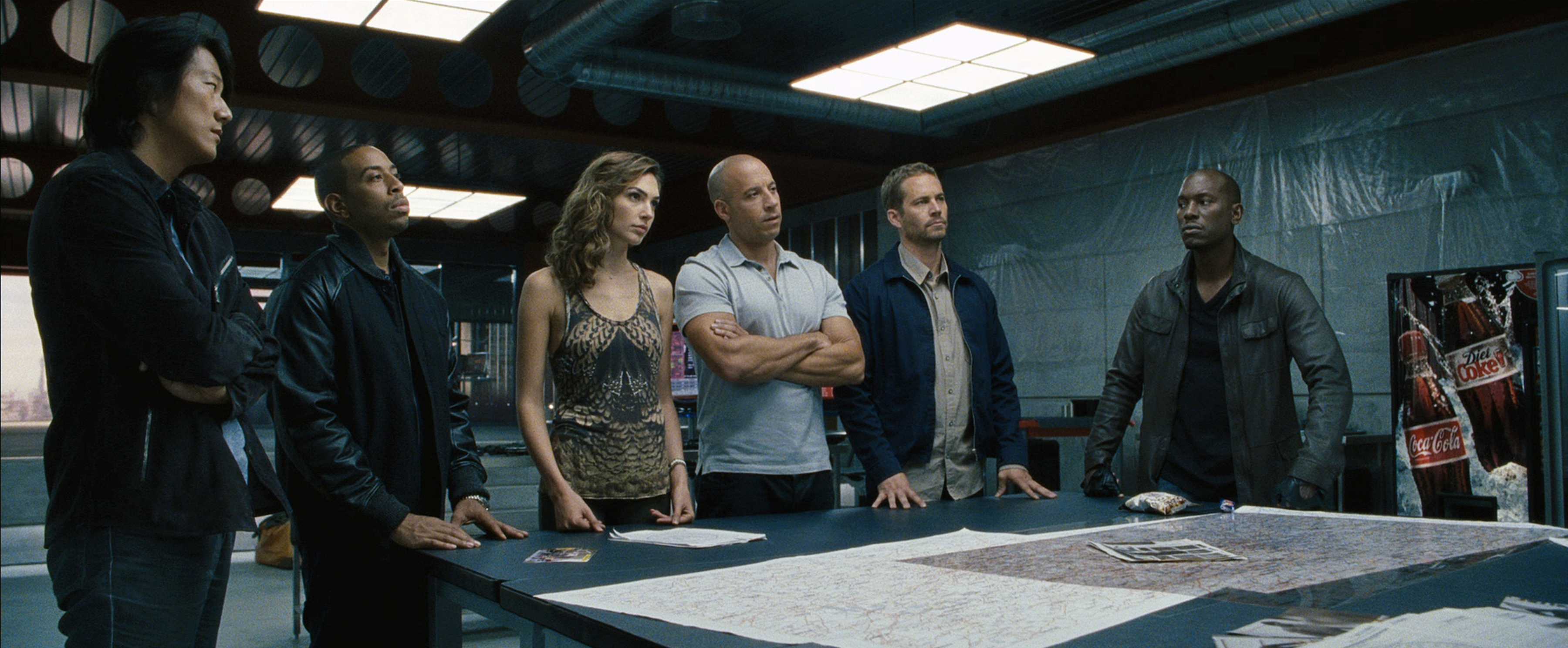 Following the successful heist job in Rio, Dominic Toretto (Vin Diesel), Brian O'Connor (Paul Walker), and the rest of the crew have took to living a quiet life all over the globe.  They are brought back together by DSS Agent Hobbs (Dwayne Johnson), who needs their help to catch a ruthless team of skilled mercenaries, with a penchant for driving.  Hobbs offers the entire crew (which consists of stars Tyrese Gibson, Chris "Ludacris" Bridges", Sung Kang, Gal Gadot, and Jordana Brewster) pardons for all their past crimes, if they are able to successfully stop mastermind Owen Shaw (Luke Evans) from stealing a weapon worth billions.  The biggest catch in all of this is Letty (Michelle Rodriguez), Dom's true love, whom he believed to be dead, but appears to be involved with this deadly crew.  With cops and robbers banding together and traveling across Europe to stop a dangerous threat, Hobbs, Dom, and the rest of the team have no choice but to kick the tires and light the fires, because these cars are taking off.
The natural reaction could be to laugh off the notion of this feature, but there is a reason why it exists – people like these movies.  Regardless of my own thoughts on the series, which has had its up and downs, Fast Five was a huge success both in terms of box office business and from a critical standpoint, becoming a highpoint in a series that could just as easily be delivering in diminishing returns.  A great relief about Fast &Furiou6 is that it actually breaks the streak of the even-numbered films in this series being sub-par.  It takes the goodwill of the previous film and ups the scope of the action in ways that should be very satisfying to fans.  All of this and the film still stays true to its roots.
I have always enjoyed how malleable the series is in terms of taking different types of action plots to have these films work with (a heist film, and undercover cop story, etc.), yet still be related to one another.  Director Justin Lin and writer Chris Morgan continue to find ways to wrap a narrative around the characters that have been around since 2001 and the film benefits from its respect to that continuity.  People can feel one way or the other about how strong the acting by Paul Walker or Vin Diesel is, but the way they interact with each other and reflect on how the times have changed for them goes a long way.  While not everyone may want to note the themes in these films, family has always been a key motif and that continues to be true with Fast & Furiou6.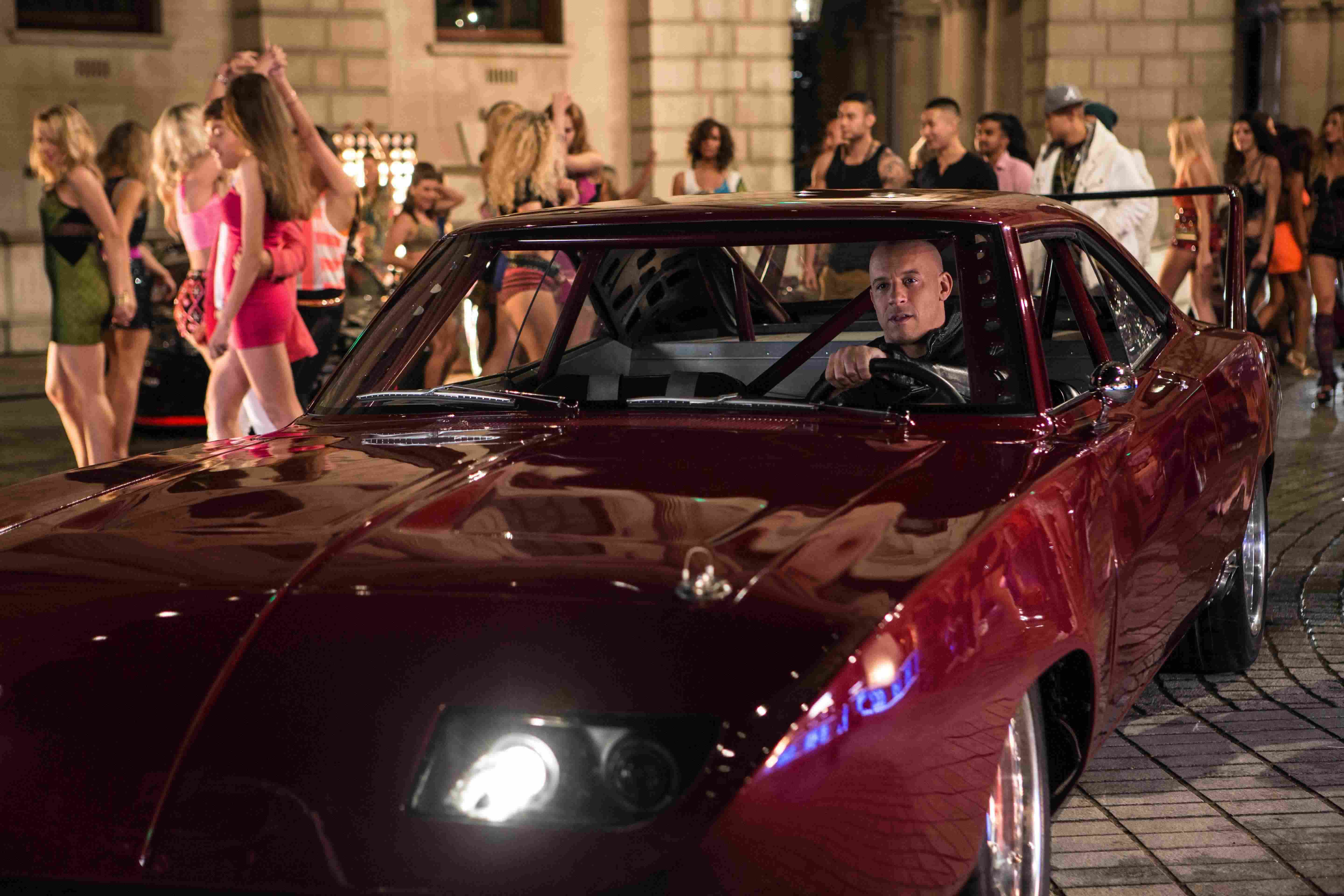 Watching this ensemble interact with each other is a lot of fun.  The chemistry is strong between this cast and it shows.  Dwayne Johnson is a bit neutered this time around in terms of his overall presence, simply because he had to be toned down and made into more of a supporting character, instead of an antagonist, but that still does not stop him from being one of the best creations of this series.  The basic banter from people like Tyrese and Ludacris is welcome, as it emphasizes how the film never needs to be taken that seriously, regardless of the stakes on display.  The return of Michelle Rodriguez is welcome as well, as it provides Diesel with an opportunity to express more emotions, amidst his many gravely-voiced monologues.  And in terms of villainy, Luke Evans does what he needs to, as he and his team is rightfully called out as the bizarro world version of our heroes.
Another truly admirable quality of this series is its multi-cultural diversity and gender equality in the cast and crew.  The Fast & Furious series continues to have a largely international roster, which includes a Taiwanese-born director.  Add on to that a film that features a number of women who are treated fairly equally, for a big budget, summer action film.  We see women, both heroes and villains, fighting, driving, and getting into just as many scrapes as the boys, without question.  None of these things are ever called out, race is never an issue, nor is gender, but that is the best kind of display of equality and Fast & Furious 6 scores a huge win by presenting such an all-encompassing film without calling attention to this aspect.
Now make no mistake, all this talk about themes, character, and diversity should not override the fact that Fast & Furiou6 is a huge scale action feature that has its eyes mainly set on being fun.  Scenes of dialogue are almost always closely followed by action, whether it be outlandish car chases, foot chases, gun fights, or fist fights, and these are all pretty great to behold.  Presented in glorious 2D, even the most ridiculous scenes (many of which feature our heroes flinging themselves into the air at high speeds, hoping to land on something), are punctuated by the simple fact that film is not afraid to go there.  Physics may not be something to really consider, but the Fast & Furious films have an internal logic that suits them and allows a willing audience member to embrace it.  The separation for those who get it and those who don't will be tested during many scenes that are just impossible, yet either manage to slap a smile on your face or cause you to rethink your decision to head to a film called Fast & Furiou6 in the first place.

The film really only falters when one stops to consider what the story is.  Fast Five had a great sense of urgency, because that is how a heist film works.  Fast & Furiou6 is a lot happier to lounge around, as it gets to its next plot point, and let us watch these characters, as they move around London, Spain, and other parts of Europe.  It is a great-looking film, with the budget on screen, even if a lot of the action takes place at night, but there is a slack sense of pacing in the middle of the film that does not go unnoticed.  That said, it is commendable to have a film with such an expansive cast feel so balanced overall.  Every character feels important in their own way and the series of set ups and pay offs are well-handled, as there is a strong consideration to how each piece of this film is important, regardless of how outlandish it may be.
There is no mistaking what this film is:  a truly fast and furious piece of entertainment.  This is an action franchise through and through and Fast & Furiou6 does not do anything to dispel that fact.  It is much to the film's credit that it has been able to stay so relevant, despite being the sixth film in the series.  Rarely has a franchise gotten better as it has went along, but where this film lacks in the way Fast Five truly stood out as a much better film than it had any right to be, Fast & Furiou6 is just as exciting and truly dazzling in the way it continues to raise the bar on its action sequences.  For action film purists, this is a true summer spectacle, referencing the previous films of the franchise in all the right ways; keeping the spirit of the characters intact, while still standing on its own as a ridiculously entertaining action film.  Fast & Furiou6 came to play and goes real fast while doing so.
[Note:  I wrote this review before the very unfortunate death of star Paul Walker.  It is truly a shame that this kind of thing happened to not only one of the stars of this franchise, but a son, father, and friend to many.  From what I can tell, as a person, Paul Walker was a nice man and hard worker and it's very unfortunate that this happened.  I am looking forward to what is next in the film series, but Brian O'Connor's presence will be missed.]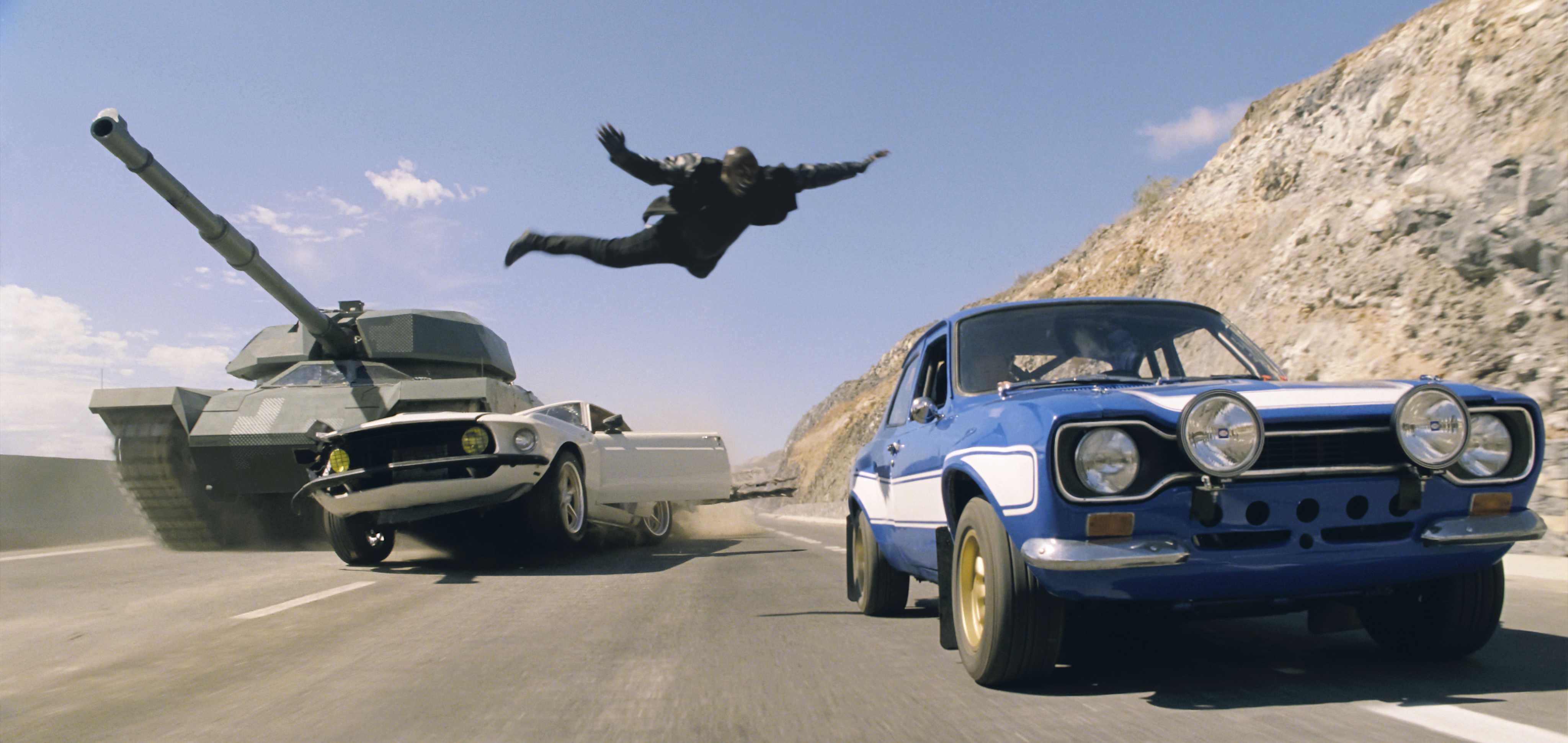 I can only imagine Universal knows that fans eat up these Blu-rays, as the technical presentation on this disc is just as fantastic as the disc for Fast Five was, let alone the other entries.  Hitting the scene with a 1080p AVC-encoded transfer, the film looks great, with all of the textures, details, and colors really coming alive on screen.  The biggest difference this time around, compared to Fast Five, is how there are a lot more sequences taking place at night.  Because of that, the black levels begin to betray some of the visual effects, when it comes to the use of green screens.  It is a minor thing that takes away from my overall regard, but make no mistake that this film looks practically pristine, as far as a high octane, summer action movie on Blu-ray is concerned.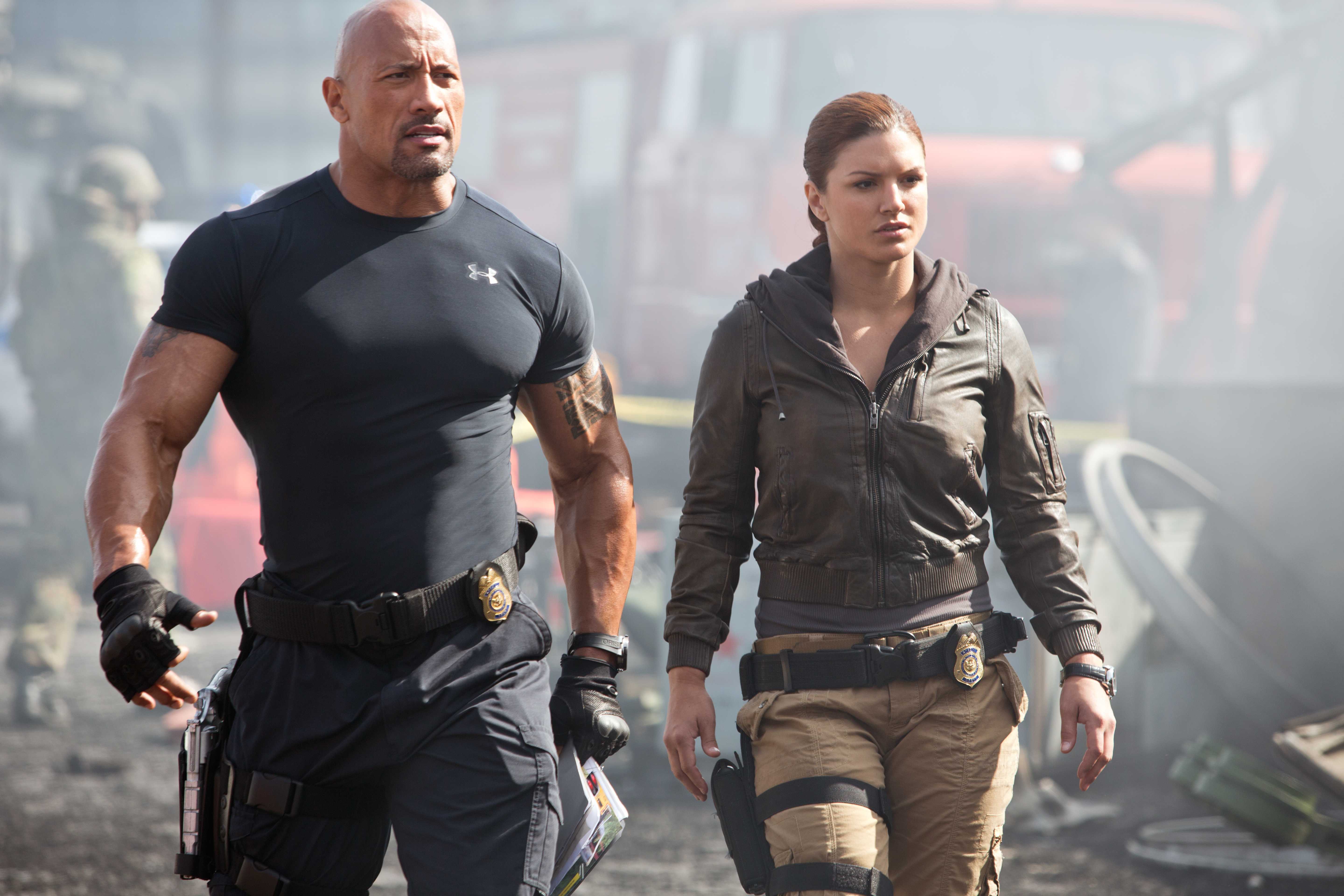 There is nothing to complain about here.  The lossless DTS-HD Master Audio 5.1 surround track is a monster.  Here is a film that needs to really emphasize a wide array of different kinds of sounds, from the cars, to the explosions, to guns, to dialogue, to various road noises and crashes, etc. and this is the Blu-ray disc that knocks it out of the park.  The entire freeway/tank chase sequence is the kind of thing you can watch at an electronics store on repeat with the best speakers blasting and really get a kick out of the audio experience provided on this disc.  Good stuff here.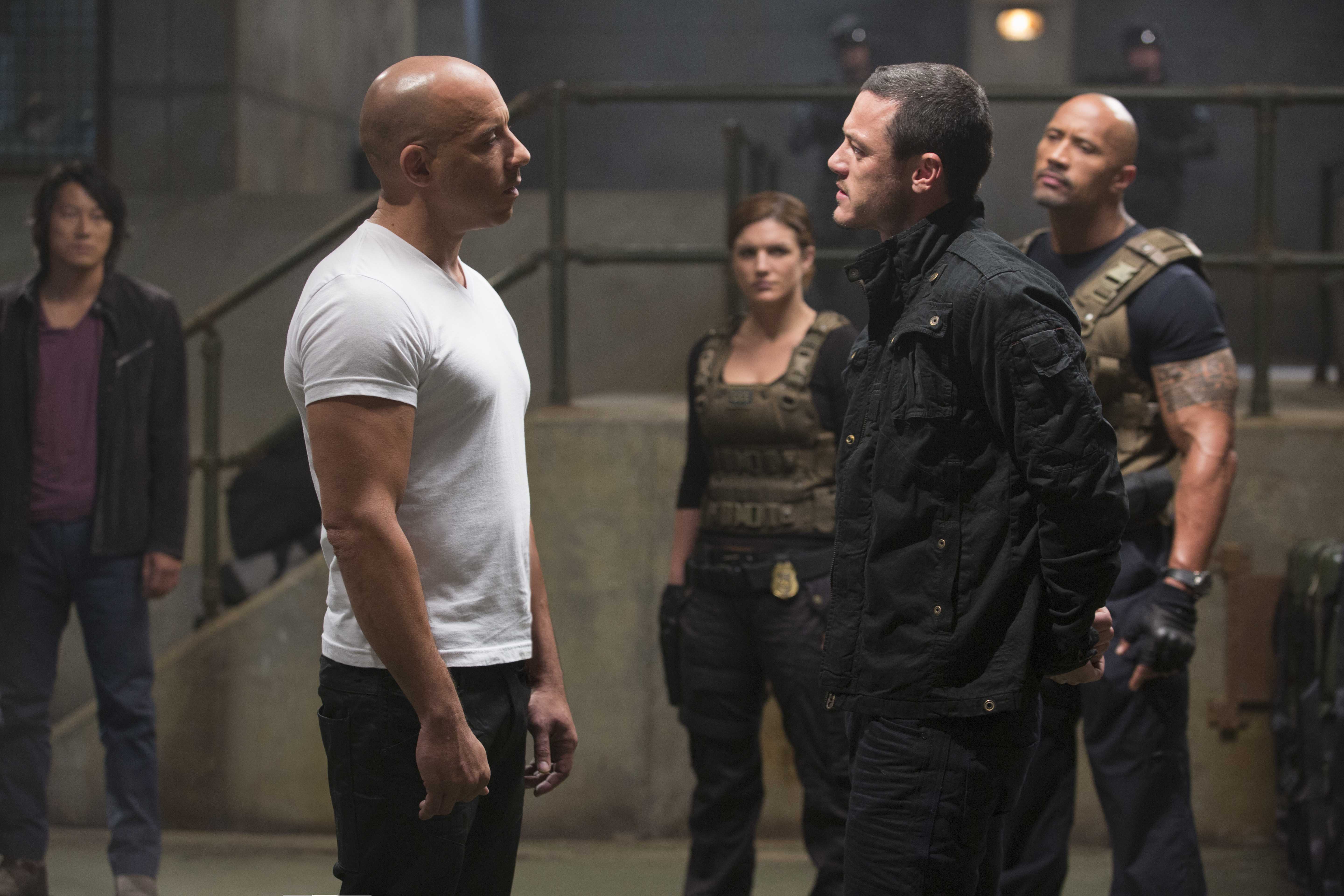 As per usual, the Fast & Furious series is treated to another packed disc, when it comes to the special features.  While there may not be a 3 hour, all-encompassing making-of feature, plenty of the film is gone over in the various featurettes, let alone all the other bonus goodies that come in this superb section of extras.
Features Include:
Extended Cut – Not quite a special feature, but I had to mention it somewhere.  This is basically the same movie, but with some different edits that involve language and blood.  It runs maybe a minute longer, but if you are going to watch this film on Blu-ray, you will likely always choose this version and hardly notice the difference.
Audio Commentary with Director Justin Lin – I continue to like what Lin brings to commentary tracks, especially as he does them solo and still makes them engaging.  Lin goes over every aspect of the production and is happy to acknowledge both what he is proud of and what he knows is not great.  Add to that neat stories involving various plans for the sequels and fans get all they want.
Take Control – A series of interviews with the cast that allow them to dig into certain scenes in the film.  Likely part of a picture-in-picture concept that would go with the movie, which was done with the Blu-ray for Fast & Furious, which turned into more of a collection of each segment, put together.
Deleted Scenes – A couple extra beats taken out of the film.  Nothing special.
The Making of Fast & Furious 6 – A four-part documentary that lasts just about 30 minutes.
Hand to Hand Fury – A look at the fight scenes in the film.
It's All About The Cars:  Gearhead's Delight, On the Set with Vin, and The Flip Car – all looks at various aspects of the film, revolving around the cars.
Planes, Tanks, and Automobiles – A look at the film's biggest action sequences.
Fast & Furious 7 First Look – A scene from the upcoming sequel.
DVD Copy of the Film
Digital HD and UltraViolet Copy of the Film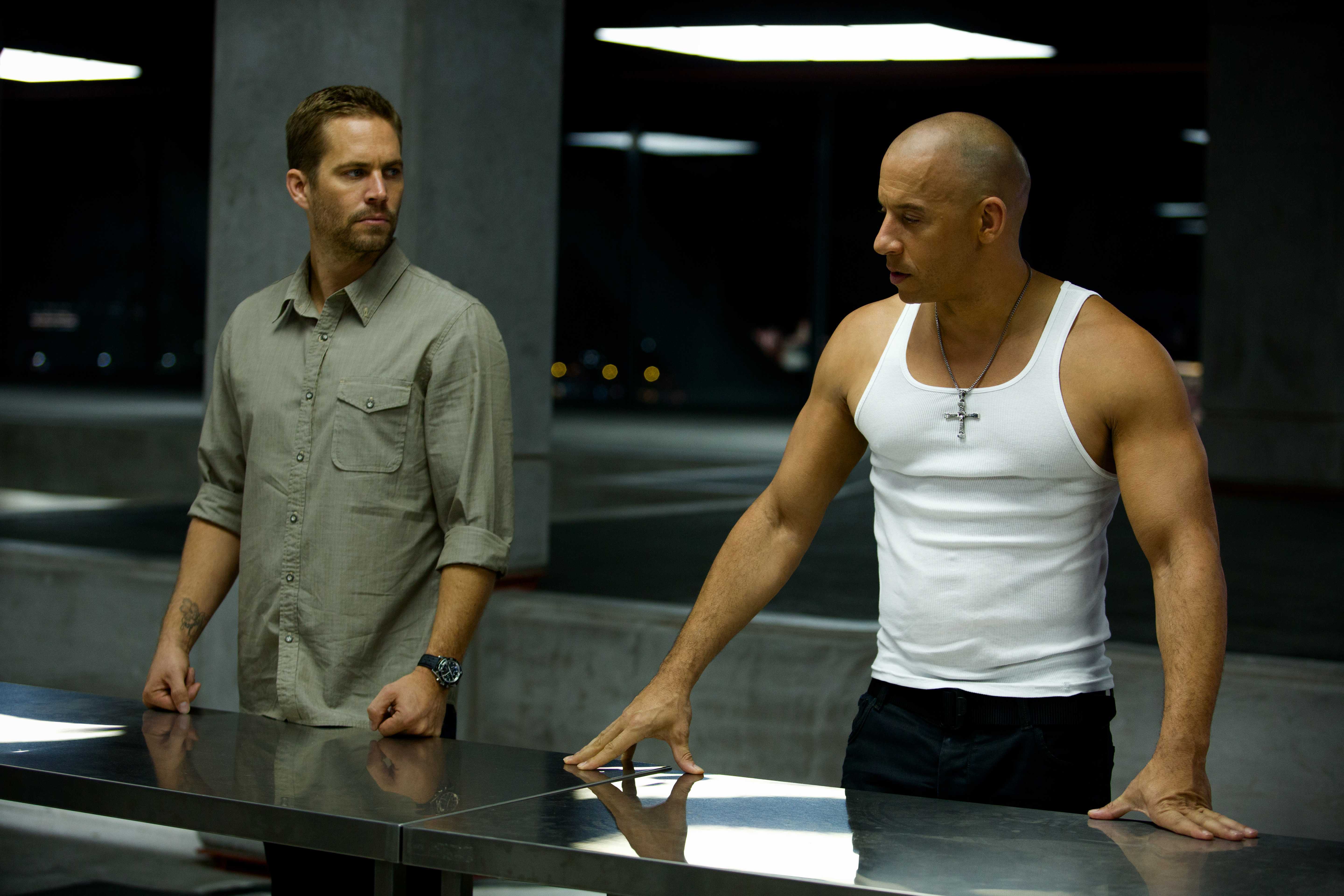 I am glad that my admiration for this series and the fun that comes with it has been able to turn into un-ironic love for this series.  These Fast & Furious films have really raised the bar in terms of action franchises, as they combine vehicular action with likable characters in ways that really feel satisfying, given that a pure action franchise (not counting superhero films) with those aspects really feels missing these days.  Along with that, here is a fantastic Blu-ray disc, which looks and sounds amazing, while also being packed with special features for good measure.  There is plenty to enjoy about this disc and it is sure to satisfy.
*Pictures are courtesy of Universal Studios
Aaron is a writer/reviewer for Hi Def Ninja and WhySoBlu.com.  Follow him on Twitter @AaronsPS4.  He also co-hosts a podcast, Out Now with Aaron and Abe, available via iTunes or at HHWLOD.com.