Rush is an incredibly solid drama that features fine film craftsmanship on display, solid performances from the lead actors, and a well-oiled story that respects its audience.  While the film is based on facts, it rarely dips into dramatized scenes that lessen the entertainment value to be found in the film.  It is the kind of feature that has a little something for everyone, as far as these adult-skewing dramas are concerned.  Director Ron Howard has put together a genuinely exciting feature that balances all its parts to great effect and he makes sure that you really hear the engine of this film hum cleanly and loudly on Blu-ray.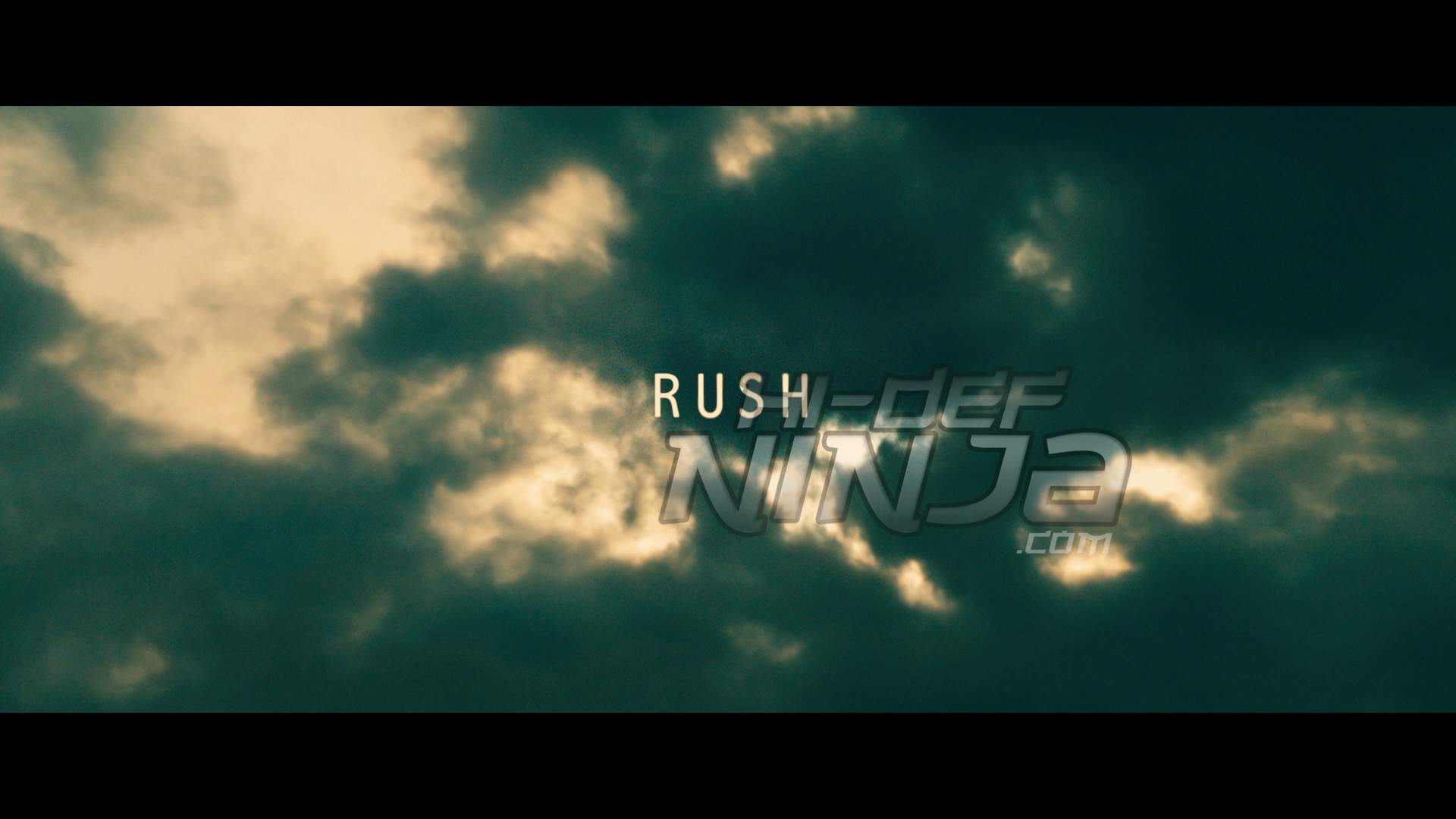 The film is based around the 1970s rivalry between Formula One racers James Hunt (Chris Hemsworth) and Niki Lauda (Daniel Bruhl).  Hunt is a headstrong British racer, who is completely aware of his own ego and does not let that get him down.  He has proved himself on the track; even if he is willing to take dangerous risks, but does not let these dangers stop him from partying it up at night either.  Lauda is a neurotic Austrian racer, who is incredibly skilled at knowing what is needed to make a racecar reach its full potential.  He has a habit of calling everyone around him an a**hole, but as Raylen Givens, from TV's Justified once said, "You run into an a**hole during the day, you ran into an a**hole. You run into a**holes all day, guess what, you're the a**hole."  Lauda is by no means a bad guy, but charismatic is another story.  Both men face off against each other throughout the film, as we watch them come to terms with how worth it the 'rush' really is.
It is funny how one thing was nagging at me, leading up to my viewing of the film.  Despite being a dramatic and generally good-looking film that I wanted to see, especially as I tend to like Ron Howard's dramas, it certainly seemed like Rush was going to be the dramatic version of Talladega Nights: The Ballad of Ricky Bobby.  I was very happy to see that if anything, Ricky Bobby owes a lot to this real life rivalry, as it was all very compelling to watch on screen.  I have no doubt that certain aspects of the relationship we see between Hunt and Lauda have been exaggerated to an extent, but Rush makes up for this by keeping it a show of one-upmanship and eventual respect, rather than a story of guys who were too stubborn and macho to think of anything else.  Rush is just as good a biopic as it is a classic sports rivalry story and I really appreciated that.
As far as the racing action is concerned, the film is a great technical achievement, as I am sure there was plenty of work done to combine practical and CG effects to recreate these big races and the stadium settings from the 70s.  Knowing that this is a fairly low-budget film, I was very impressed by how good a lot of these sequences looked, given that I was looking at what is the equivalent of seeing other planets in the background during some sci-fi movie.  Regarding the actual racecars, I am no car guy, but the film did a great job of having me believe these guys were driving fast and furious down slick roads and around sharp turns.  The best part of all this is the sound design, which sounds great on Blu-ray.  As these cars race around, the film does a great job of putting you in the moment, as you hear these engines being pushed to their fullest, as two men do everything they can to beat each other on the track.
Speaking of these two men, both Hemsworth and Bruhl do great work here.  The edge goes to Bruhl, but Hemsworth does a lot to show what he is capable of, outside the realm of action.  His character is certainly a braggart, but this doesn't stop him from engaging us and allowing the audience to see his vices in action, regardless of how inherently skilled and good of a person he may be.  We get enough from this film to know that his marriage to Suzy Miller (Olivia Wilde) is doomed from the start, but the work done by both actors to play out this part of Hunt's life is handled quite well.  It is the kind of standard subplot that is actually aided by what we've seen from Hemsworth throughout the film.  It is almost a shame that he still comes in second place to Bruhl.
Daniel Bruhl (Best known as the hapless Nazi sniper from Inglourious Basterds), is superb as Lauda.  Just as effective as a properly assembled engine, the attitude of this man is so fully realized, that it becomes a great joy to watch him be so bold and bullheaded about things.  He is a demanding person with little in the way of sense of humor, but that makes him all the entertaining to watch, as well as all the more tragic, when the film reaches certain inevitable points in his life.  Bruhl absolutely nails what is required for this character, which also allows him to both separate himself from who Hunt is and provide a different type of underdog that many would be used to seeing in this sort of film.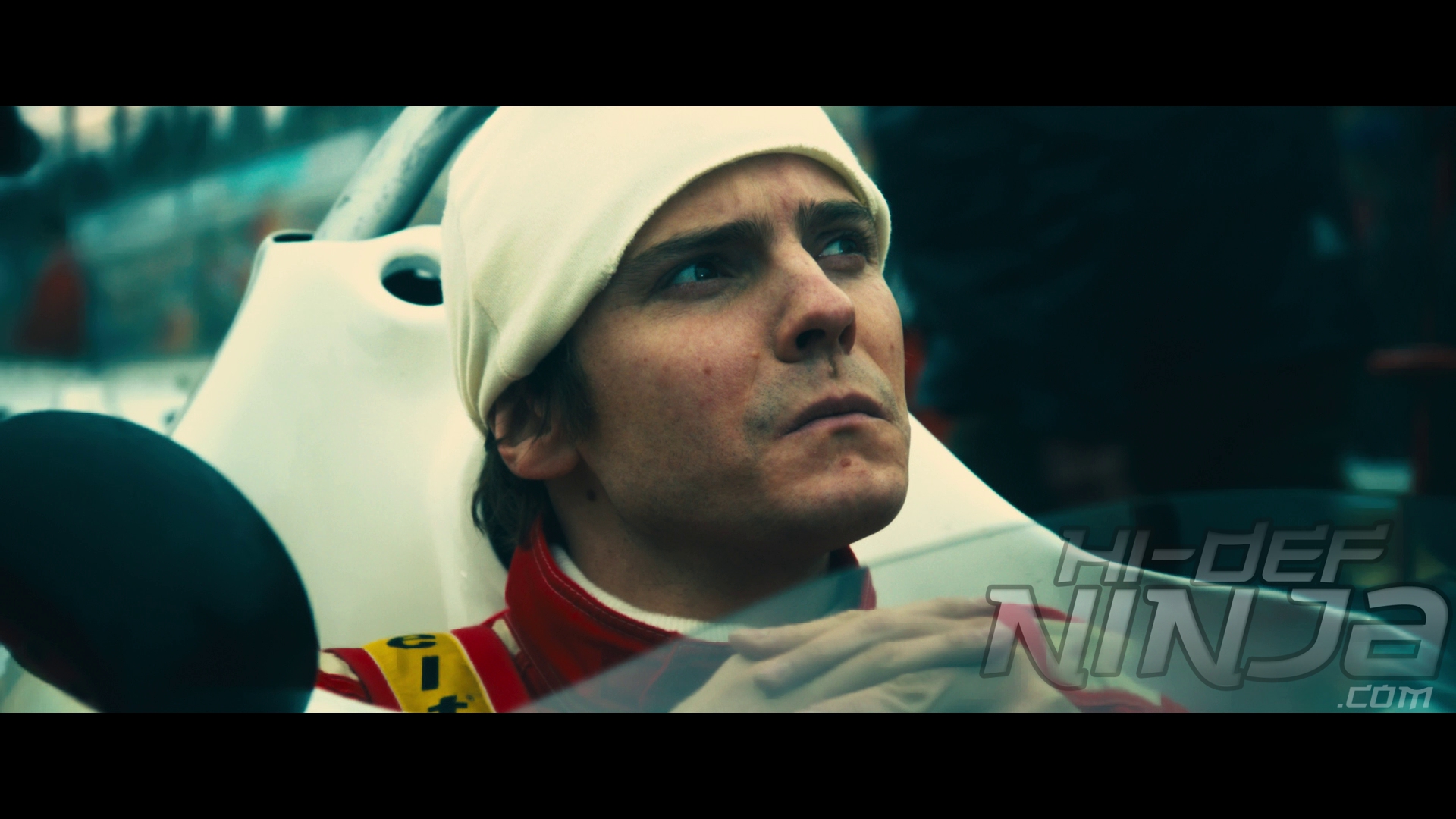 At this point, it just becomes a list of things I enjoyed about the film, but it is because Rush is such a satisfying feature.  Ron Howard excels at this type of feature, but the screenplay by Peter Morgan is so wonderfully constructed that it rarely feels like Howard would have had a chance to overdo anything.  The cinematography by Anthony Dod Mantle allows this modern film to really dive into having the look of a 70s drama.  Hans Zimmer has created a stirring and memorable score that suits what we are watching.  And the crisp editing by Daniel P. Hanley and Mike Hill allows for exhilarating race sequences, balanced with a well-tuned drama off the track.
It has been a while since I was this positive about a film by Ron Howard, a director who knows how to play it safe at times, but Rush really has him gunning for the finish line and he earns that checkered flag wave.  The film is exciting to watch for both its spectacle and its drama, with a very respectable performance from Hemsworth and a real star-making turn for Bruhl.  This is the kind of entertaining biopic that I was happy to embrace and I hope it finds an audience.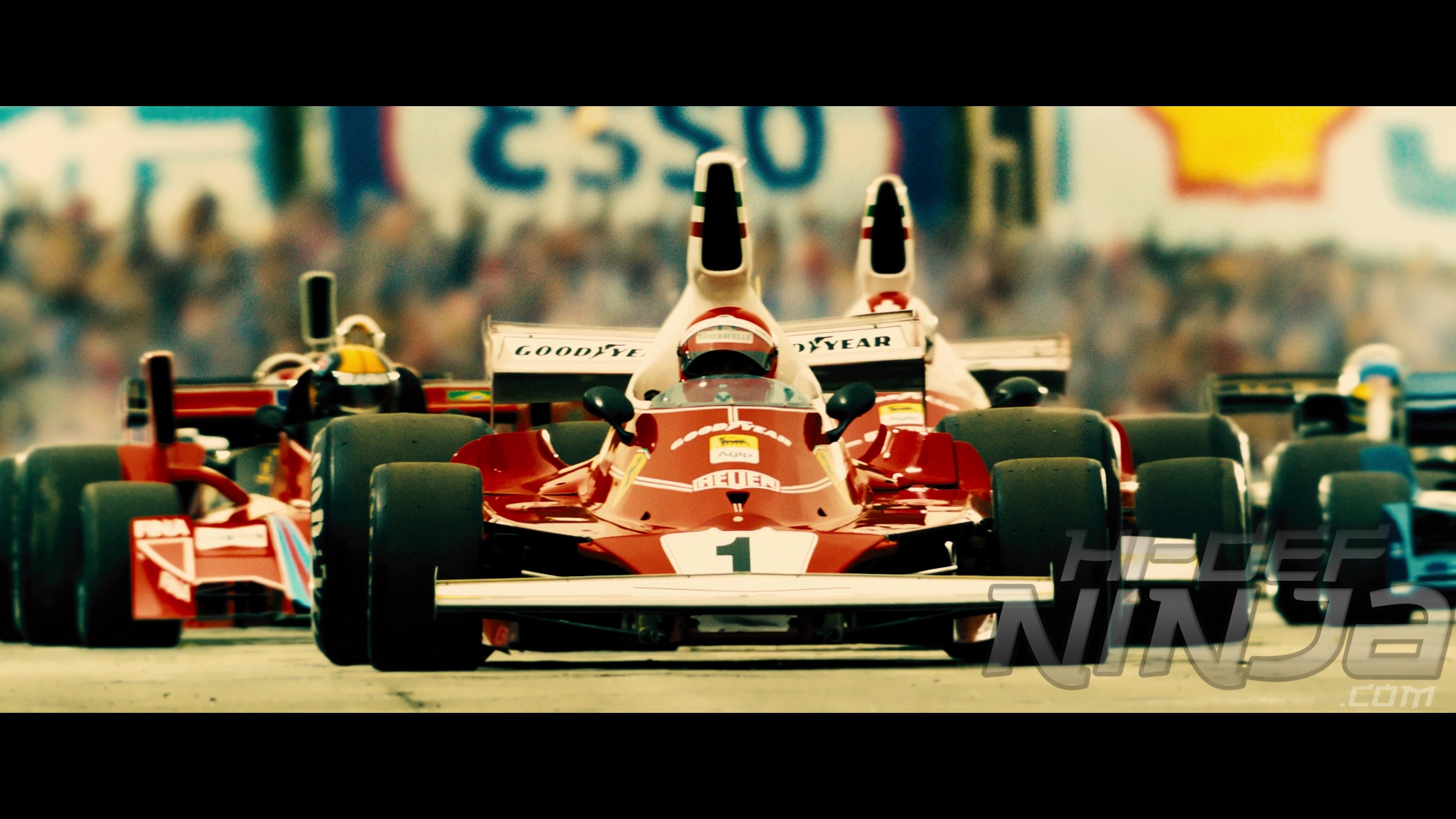 Rush arrives on Blu-ray with a terrific 1080p AVC-encoded transfer that is stellar.  Even with the very aggressive cinematography handled by Anthony Dod Mantle, this disc is able to truly and consistently deliver on the viewing experience at home, as the film looks great.  The various color palettes applied to the different settings create a lively and varied experience, with each location having a great feel, which plays very well on Blu-ray.  Textures, skin tones, black levels, and various other contrasts are all great here, with the film's look finding a great way to balance the big race sequences, the more glamorous sequences, and some of the really gritty scenes.  It is all wonderful to see on Blu-ray.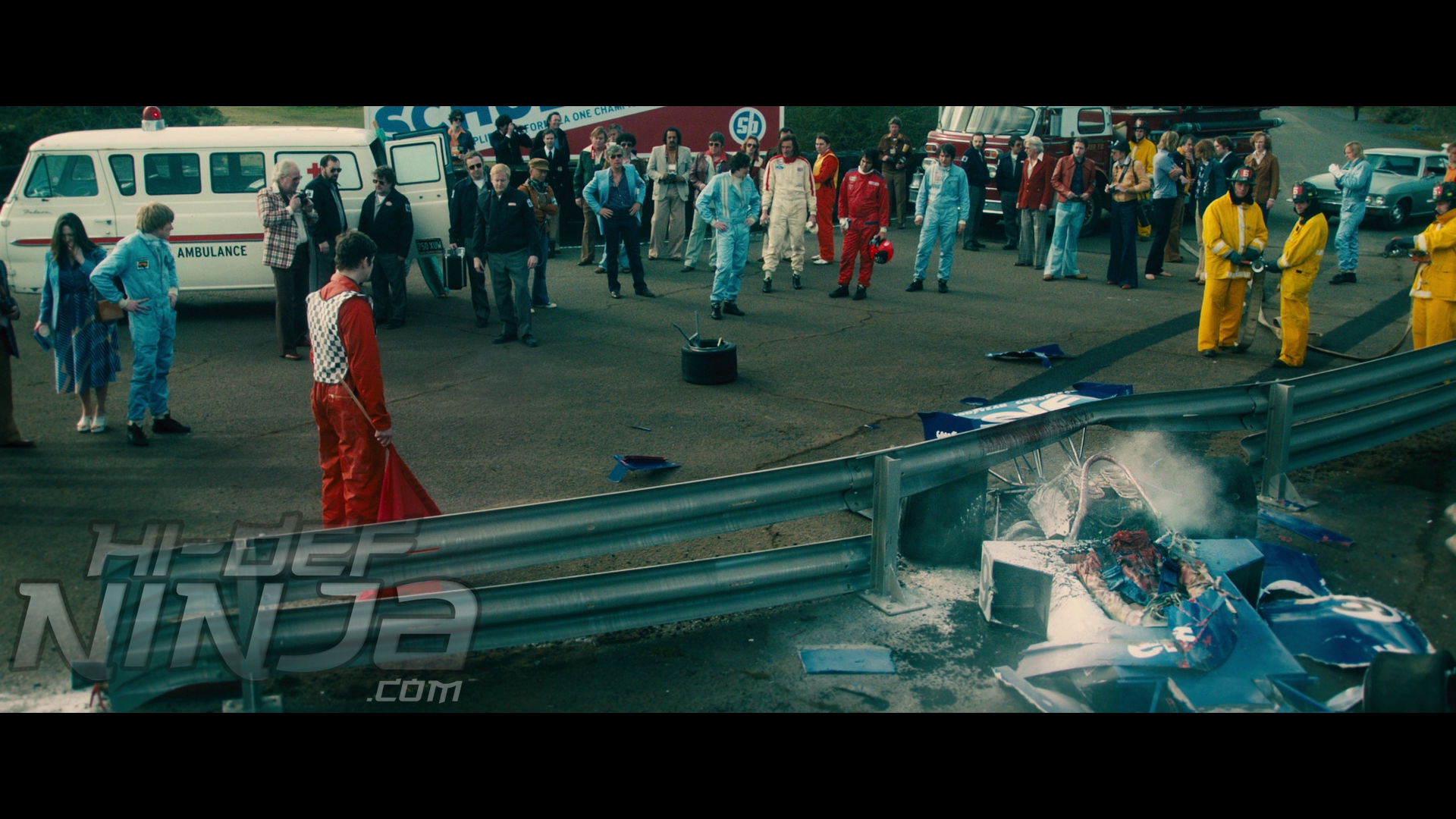 The aspect I was most looking forward to for this film on Blu-ray was the sound quality.  This Blu-ray disc contains a DTS-HD Master Audio 5.1 surround track that is spectacular.  Everything that I loved about seeing the races on film has a big debt of gratitude owed to those involved in the sound design and this Blu-ray does a great job of making that experience completely worthwhile.  The race sequences sound fantastic, but they do not feel overdone, when it comes to calming down and settling back into quieter, more dialogue-focused scenes.  Additionally, Hans Zimmer's wonderful score also adds to the overall experience.  All of this adds to a truly great audio track, very fitting for Rush's Blu-ray.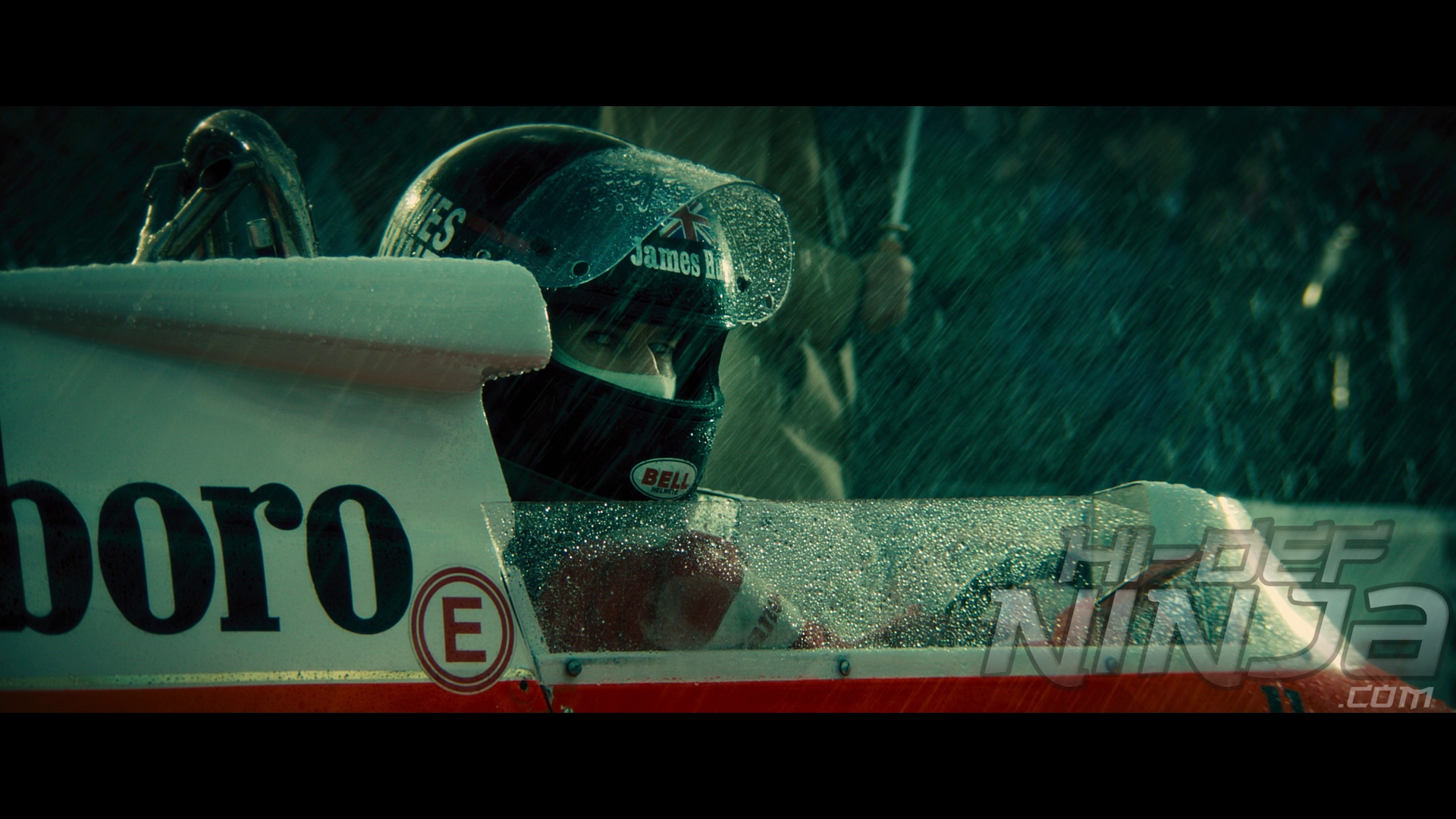 While I wish the special features section was more comprehensive in regards to not only the making of the film, but the true story of these racers (a commentary with Ron Howard, Peter Morgan, and the real like Niki Lauda would have been amazing), there is still enough here to achieve a respectable level of knowledge regarding how this film came to life and was put together.
Features Include:
Race for the Checkered Flag:  The Making of Rush – This is a 6-part look at the writing, filming, casting, locations, and costume design for the film.  It clocks in at just over 30 minutes and does a decent job at getting across the highlights of developing a project like this.
The Real Story of Rush – At just under 20 minutes, more could have been offered in regards to this aspect of developing this film, but there is still enough here to give you some general ideas about who these men were and what the times were like.
Deleted Scenes – There are 11 deleted scenes here, but they prove to be nothing necessary to the film, which is why they were deleted to begin with.  Still interesting to get more bits from the film and the actors.
DVD Copy of the Film
UltraViolet and Digital Copy of the Film
Trailers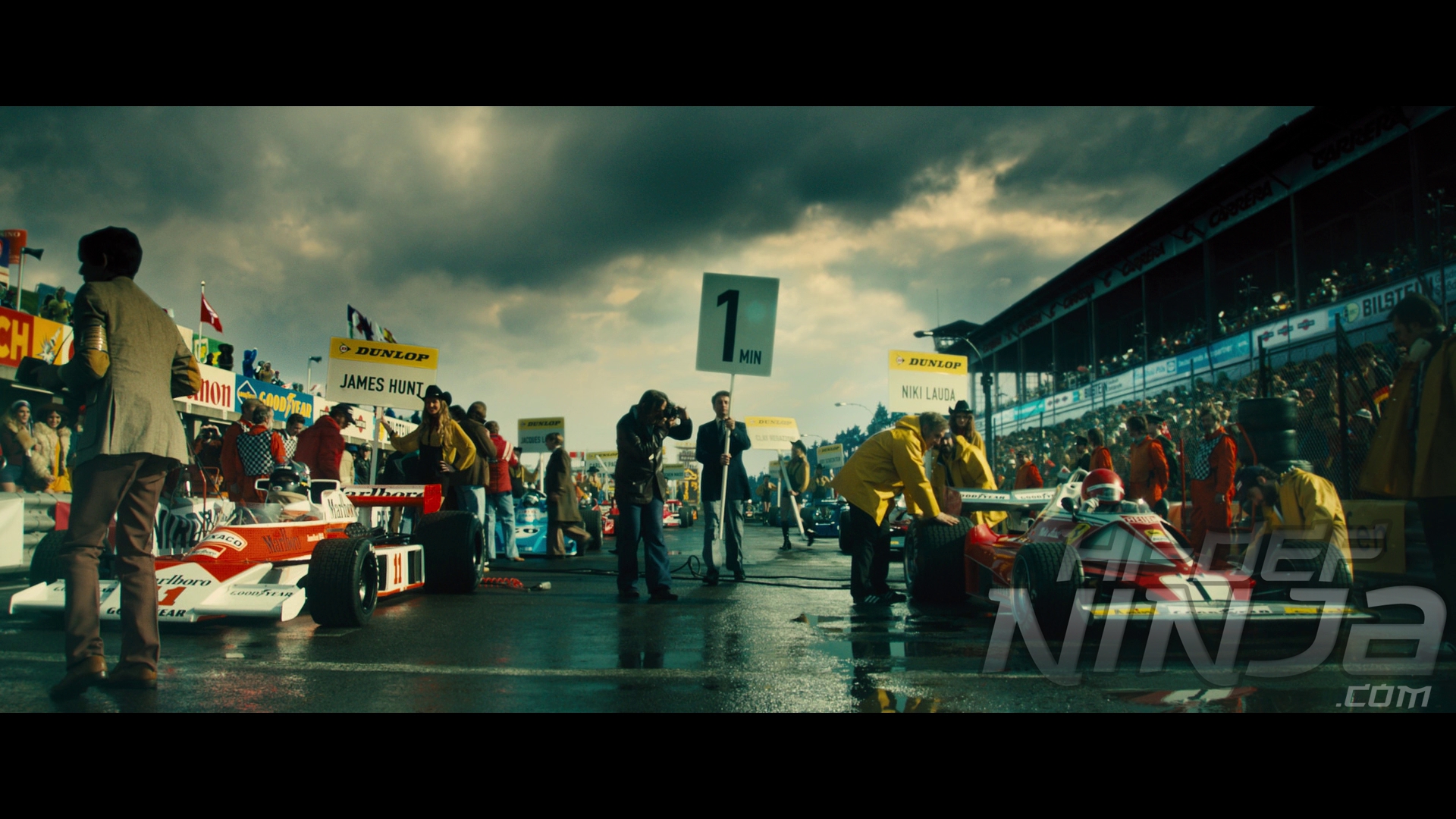 Despite a limited amount of additional features, Rush is a fantastic film that was unfortunately underseen by audiences in theaters in 2013.  The good thing is that it can now be found on Blu-ray and people can still experience how awesome the sound and picture were, along with getting to see a great story be brought to life on film, under the steady hand of director Ron Howard and Writer Peter Morgan, with great lead performances from its stars.  Definitely worth checking out.
Aaron is a writer/reviewer for Hi-Def Ninja and WhySoBlu.com.  Follow him on Twitter @AaronsPS4.  He also co-hosts a podcast, Out Now with Aaron and Abe, available via iTunes or at HHWLOD.com.