Ethan Embry (Can't Hardly Wait, Empire Records) and Michael Gladis (Mad Men) star as Kevin and Bruce, best friends and co-owners of a failing home security company in a town with no crime. As a last ditch effort to drum up some business, they start robbing the neighbours to instil fear and create a need for their services. Bullets fly when they unwittingly rob the wrong guy, Cary Elwes (The Princess Bride, Saw), who turns in a killer performance as a suburban drug lord with a penchant for kitchen gadgets! Clea DuVall (Argo, American Horror Story) and Adam Arkin (Sons Of Anarchy, The Sessions) co-star in this action-packed comedy featuring a host of hilarious performances from Ed Begley, Jr. (Arrested Development, Pineapple Express), Vinnie Jones (Snatch, X-Men: The Last Stand), and Golden Globe winner Ving Rhames (Pulp Fiction, Mission: Impossible franchise).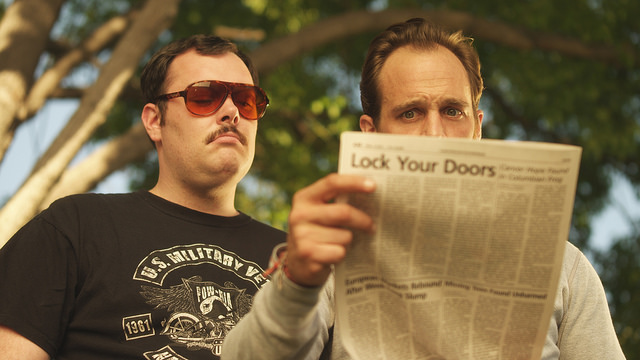 Coming in very low on my movie radar (I had never heard of it until I saw the press release), And not thinking I would enjoy it much, In Security turned out to be a pretty decent comedy that made me chuckle and also had me in shock at some of the violence that was briefly shown. Using a concept that I've seen played out a few times before in the past, there is enough here to make it feel fresh and new. Clocking in at pretty reasonable 90 minutes, it does feel like it's dragging it heels in a few scenes but it does pretty much stay on track and doesn't feel unwelcome at any point. The lead cast consisting of Ethan Embry and Michael Gladis does work well. The man child aspect of Gladis's character does seem a bit off putting at first but luckily he makes the character quite likeable and delivers a majority of the laughs throughout the film. The rather impressive supporting cast list sadly seem relegated to single scenes or extended cameos with the exception of Clea DuVall and a scene stealing Cary Elwes who really does deliver a humorous and over the top performance as the film's main villain. Viewers drawn to the fact that Vinnie Jones appears in this film will be disappointed / overjoyed that his screen time is limited to literally a minute during the opening and closing scenes.
Why this film is so low on the radar is beyond me. It's certainly better than some of the more mainstream comedy titles i've had to review and is pretty funny and enjoyable. Probably not one that is worth a rewatch too soon but certainly a title I would recommend watching.
In Security is available to buy or rent from the following Video on Demand vendors – iTunes, FilmFlex, Blinkbox, LoveFilm, Playstation, XBox, Google Play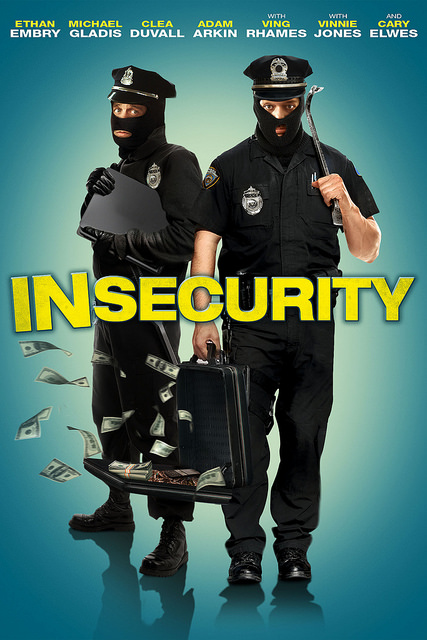 Many thanks to Maven Publicity for the DVD Screener