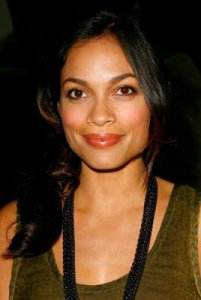 Marvel Entertainment announced last week that Rosario Dawson will be joining the cast of the Netflix Daredevil series. She joins the already growing cast that includes Charlie Cox in the lead as Daredevil/Matt Murdock, and Vincent D'Onofrio as the classic villain Wilson Fisk/The Kingpin.
As of right now, its unclear exactly what character she will be playing but my guess Murdock's love interest, Karen Page. Dawson is no stranger to comic book releated media as she has previously been in the Sin City movie and the upcoming sequel Sin City: A Dame To Kill For as the tough as nails character Gail.
Shooting will begin soon and the series should hit Netflix sometime next year. As the crew for the series gets established, let's hope that it does the comic book and character justice.