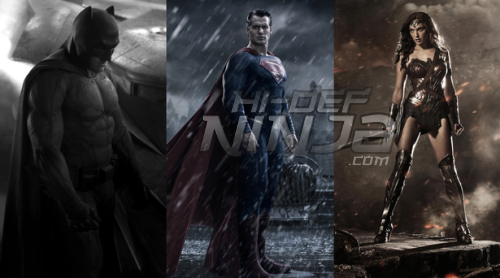 Warner Brothers and DC Entertainment recently announced their upcoming film schedule which not only includes 12 feature films, but also moves the release date of BATMAN V SUPERMAN: DAWN OF JUSTICE up from its former May 06, 2016 release.
As of now, the release schedule looks like this:
March 25, 2016 – BATMAN V SUPERMAN: DAWN OF JUSTICE
August 05, 2016 – Untitled DC Film
June 23, 2017 – Untitled DC Film
November 17, 2017 – Untitled DC Film
March 23, 2018 – Untitled DC Film
July 27, 2018 – Untitled DC Film
November 16, 2018 – Untitled WB Event Film
April 05, 2019 – Untitled DC Film
June 14, 2019 – Untitled DC Film
April 03, 2020 – Untitled DC Film
June 19, 2020 – Untitled DC Film
November 20, 2020 – Untitled WB Event Film
In my honest opinion, I'll believe it when I see it. They had to already push BATMAN V SUPERMAN: DAWN OF JUSTICE back a year from its original 2015 release date (and now ahead again by a few months to dodge the CAPTAIN AMERICA bullet). Then there's the fact that those dates are even closer together than Marvel Studios' usual release dates which means that certain actors such as Henry Cavill (Superman) and Ben Affleck (Batman) will have to work their butts off.
I'm unsure of the film that'll be released in that August 2016 timeframe. It'd probably be well into pre-production by now, so it's strange that we haven't heard of it yet. With Batman, Superman, Wonder Woman (Gal Gadot), Cyborg (Ray Fisher) and Aquaman (rumored to be played by Jason Momoa) all showing up in DAWN OF JUSTICE, that really only leaves a few major characters available for an August release date. Maybe a GREEN LANTERN reboot? I doubt it'd be THE FLASH or GREEN ARROW since they'll both be starring in their own television shows. Truth be told, I'd probably put my money on the rumored SHAZAM film that'll likely star Dwayne Johnson as Captain Marvel.
For June and November 2017, I'm going with an Affleck-lead BATMAN flick and – depending on critical response – a WONDER WOMAN solo film, respectively.
March and July 2018 will most likely belong to MAN OF STEEL 2 (that'd give director Zack Snyder a little break after the wrap of DAWN OF JUSTICE) and – again depending on response – AQUAMAN… followed by JUSTICE LEAGUE in November.
Then from there, who knows?
The thing with Warner/DC is that they have a hard time relying on the characters that aren't Superman or Batman. They gave chances to Catwoman, Jonah Hex, Constantine and Green Lantern, but the films were huge misfires which lead to them all failing at the box office.
I hope the inevitable WONDER WOMAN film is a hit so it can prove that a woman can lead their own superhero film (though non-Marvel/DC films like this summer's LUCY kinda proved that they can be successful). I'd just really love to see more women superheroes who aren't Halle Berry as Catwoman, though I'm sure it's only a matter of time before we see DC's Power Girl and Marvel's Ms. Marvel and Black Widow headline their own films.
Marvel has a very concrete plan for their characters and their films. Yeah, they've claimed a bunch of future dates, but all of those films are already well into pre-production. We know that AVENGERS 2 & 3, ANT-MAN, DOCTOR STRANGE, GUARDIANS OF THE GALAXY 2, CAPTAIN AMERICA 3 and THOR 3 are already being planned and we know that BLACK PANTHER will be showing up somewhere, too. With DC, they're just throwing out dates and expecting the films to land on those dates… yet not a single peep of a pre-production on any of them.
I hope Warner and DC can get smart and put together a stellar cinematic universe. They definitely have the characters and the potential to do so. My best friend is a massive DC fan and he's crossing his fingers that these films are good. I hope for his sake and all of the other DC fans out there that Warner can do these films justice (pun not intended).
So, what are your thoughts? Chime in below or head on over to this thread in the HDN forum!
~K