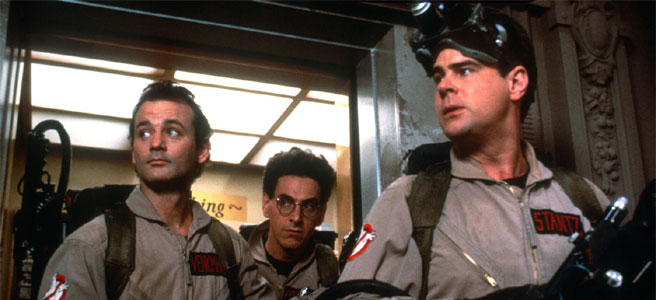 If former Ghostbuster Dan Aykroyd gets his way, we may be seeing a lot more than just a GHOSTBUSTERS 3 in the near-future. While speaking with the Belfast Telegraph in London, Aykroyd opened up on the subject, revealing that GHOSTBUSTERS has the potential to become a massive franchise for Sony Pictures.
My whole thinking on Ghostbusters now is it's beyond just a sequel, a prequel, another movie, another TV Show. I'm thinking now, what does the whole brand mean to Sony? What's Pixar and Star Wars mean to Disney? What does Marvel mean to Fox? Everybody, all of us on the team there now — the executives, the creatives, myself, Ivan (Reitman) — we're thinking more in terms of what do we build this thing into in the next ten years? Just not another movie or another TV show, but what's the totality of it? What's the whole mythology from the beginning of their lives to the end of their lives? Ghostbusters at 9-years-old, Ghostbusters in high school.
Aykroyd also discussed the rumored all-female cast that'll be taking over ghostbusting duties in the third film:
It's like taking on the model of Marvel, that type of thing, where you take all the elements that were in these movies and you put them out there as different ideas, so we'll see. I think a third movie with females or a fourth movie with females is definitely a possibility. Again though, we need to write it.
The latest draft for GHOSTBUSTERS 3 was written by Gene Stupnitsky and Lee Eisenberg — two writers from THE OFFICE that late Harold Ramis brought onboard after he directed a couple episodes of the hit show. 
The current top choice for director on the project is Paul Feig (THE HEAT, BRIDESMAIDS). Many actresses' names have been tossed around including Kristen Wiig, Emma Stone, Melissa McCarthy and Linda Cardellini. 
What do you think? Could GHOSTBUSTERS sustain its own cinematic universe?