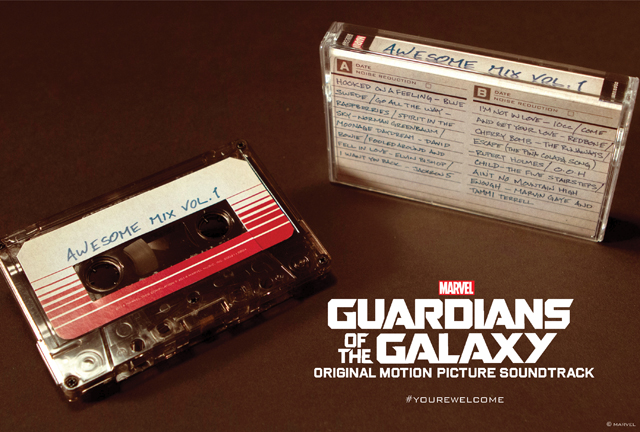 Not only has Marvel's GUARDIANS OF THE GALAXY been the biggest film of 2014, but now it's done what most would've thought to be impossible: it's made the cassette tape cool again. Don't worry; Record Store Day has taken notice.
Record Store Day launched in 2007 and continues to become more popular with each passing year. Held twice a year, the next RSD will take place on November 28th (Black Friday) and Star-Lord's "Awesome Mix Vol. 1" cassette tape will be amongst their massive list of exclusives.
Here's the track listing:
SIDE ONE:
1. "Hooked on a Feeling" – Blue Swede
2. "Go All the Way" – Raspberries
3. "Spirit in the Sky" – Norman Greenbaum (not featured in the film)
4. "Moonage Daydream" – David Bowie
5. "Fooled Around and Fell in Love" – Elvin Bishop
6. "I Want You Back" – Jackson 5
SIDE TWO
1. "I'm Not In Love" – 10cc
2. "Come and Get Your Love" – Redbone
3. "Cherry Bomb" – The Runaways
4. "Escape (The Pina Colada Song)" – Rupert Holmes
5. "O-O-H Child" – The Five Stairsteps
6. "Ain't No Mountain High Enough" – Marvin Gaye and Tammi Terrell
The print run has yet to be announced and RSD only holds the exclusive rights until the end of the year, so it's possible that this may become available elsewhere in 2015. If you don't want to chance it, though, you can find the closest RSD participating retailer to you here.
GUARDIANS OF THE GALAXY arrives on Blu-ray December 9.