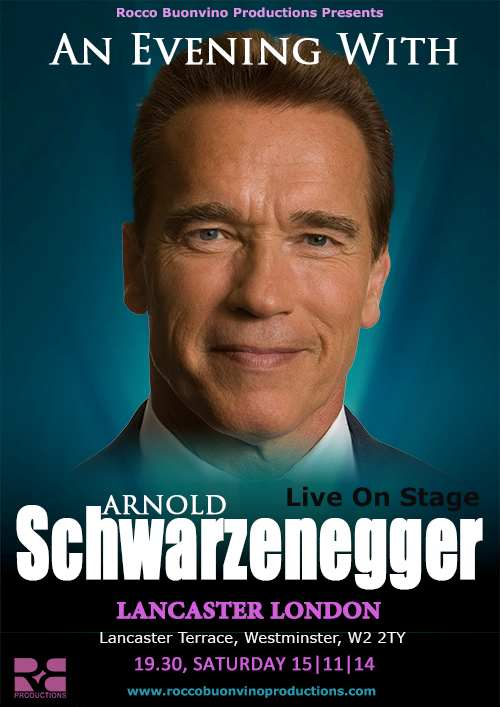 A moment that I never thought would happen… November 15th, 2014. I sat with a good friend in the lobby of the Lancaster Hotel in London, waiting for an event that I never thought I would see, let alone in the UK — 'An Evening With Arnold Schwarzenegger'! Yes! Arnold Schwarzenegger was here for a personal talk about his life and career, with an added Q & A session afterwards for a total of around 90 minutes.
Arnold was lined up to do two events; on the Friday he was in Leeds doing a similar event and then onto London before going back to the USA. I say through gritted teeth, a thank you to both Olexyfresh Productions and Rocco Buonvino Productions for making this happen. More on why my thanks are through gritted teeth later.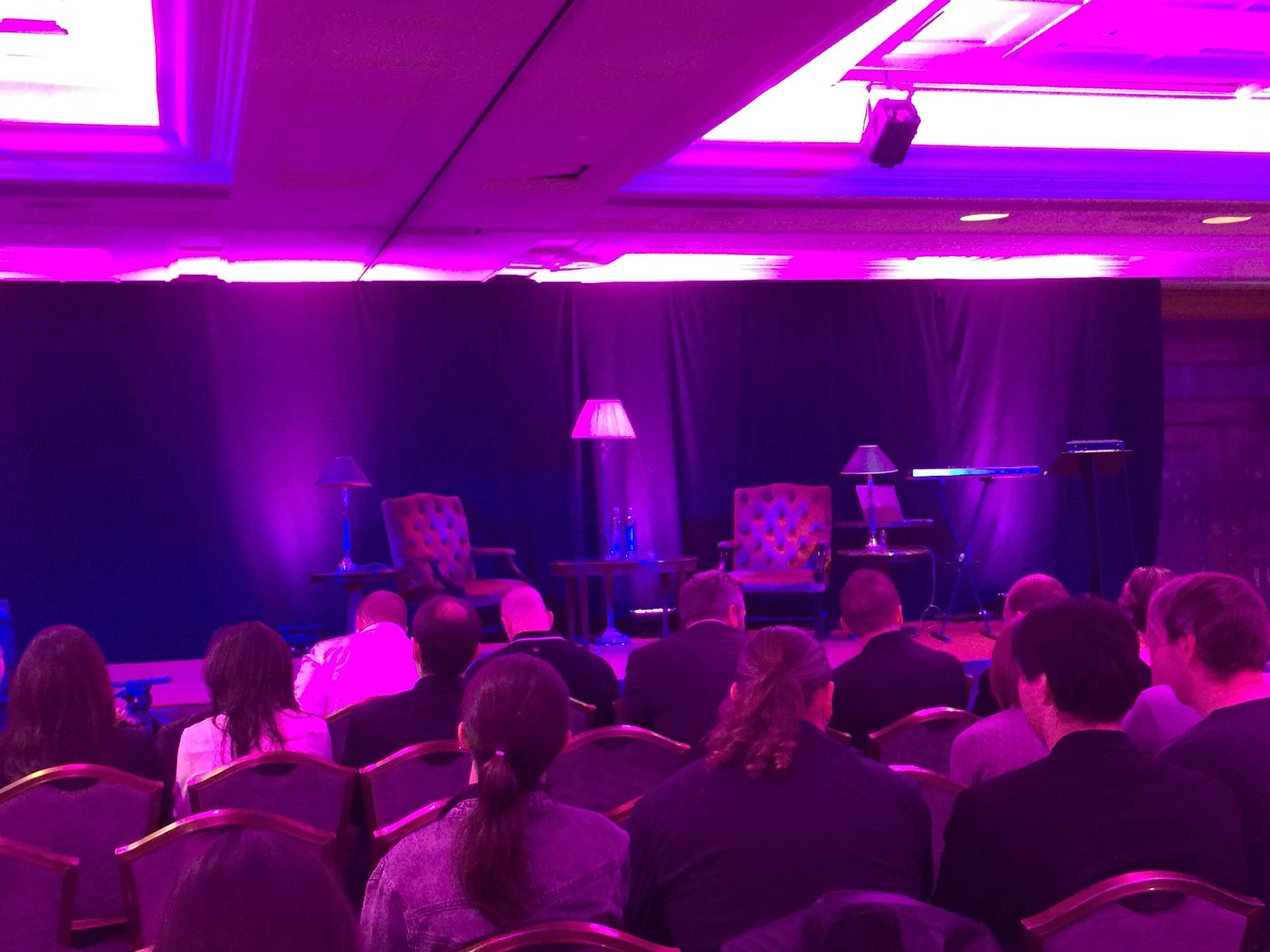 So 19:00 rolls around and we are invited to move towards the suite where the talk is being held. With around 1100 seats sold, there is a huge variety of different people. There were movie fans, budding body builders and people that were interested in Arnold's political side, which was quite nice to see as I had just imagined it to be full of movie nerds like myself. You forget just the kind of life the Arnold has lead; Champion body builder, politician and one of the world's biggest movie stars. We are directed to our seats where we wait patiently for the evening to start. A support band comes out to play an electro/rock version of the TERMINATOR theme tune; they are swiftly moved off stage ready for the main event. Our host/moderator for the evening is introduced, and after a small delay, Jonathan Ross appears on stage where he quickly introduces us to a two/three-minute video of Arnold with some of his more memorable moments. Now the moment has arrived: introduced on stage is none other than the man himself, Arnold Schwarzenegger! Everyone's on their feet, clapping and cheering as Arnie walks around the stage waving, smiling and giving a big thumbs up. He sits down, and the crowd follows. I'm not going to lie, watching him walk onto stage was simply awesome!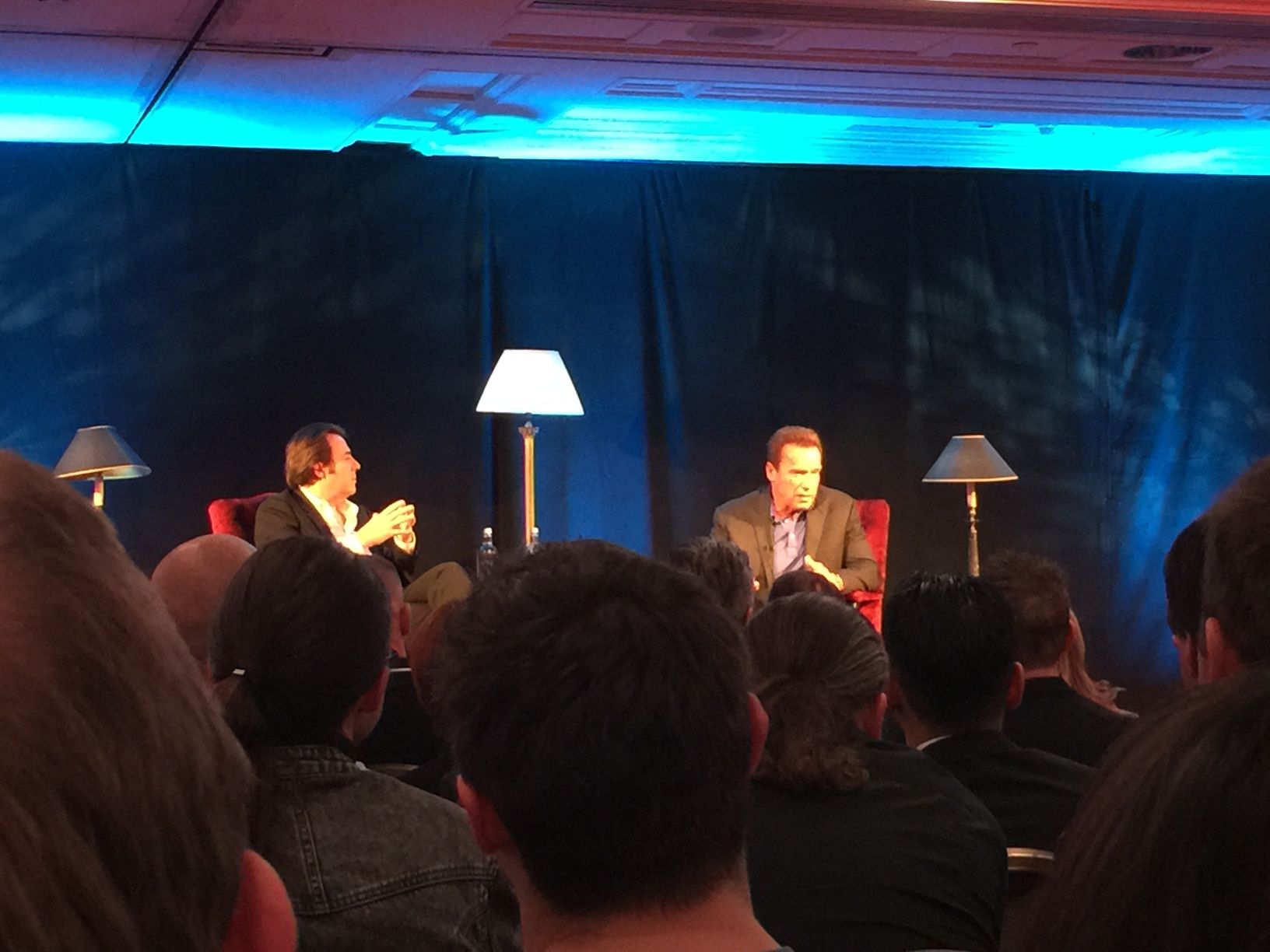 The talk kicks off and Arnold is in full swing. He recollects how he came to the UK when he started bodybuilding, and explained how former Leeds United football player Reg Park was his inspiration to get into making him the world champion of bodybuilding. He also spoke briefly about his short stint in the military, where at only 18 he was put in charge to drive a 15-tonne tank. He ended up reversing through the barracks, crashing through walls, breaking pipes and was soon put in solitary confinement. Shortly after this, he left to compete in professional bodybuilding. He spoke about how his parents did not really understand why he did what he did, especially his father who gave him quite a tough childhood. Arnold explained that his father actually witnessed his son win Mr. Universe in Germany, who then proclaimed to Arnold that he finally understood everything, and that he was proud of his son. He died two months later. Arnold looked back on this fondly with a great smile on his face. He explained how much he trained and that he wanted to be number one, which gave him the hunger to keep on going.
Leading on from this, Arnold got to talk about his movies that he has been a part of; how CONAN THE BARBARIAN was the real boost that got him into mainstream movies with THE TERMINATOR coming shortly afterwards. He joked about some of the disagreements he and James Cameron would have on set. Jonathan Ross was thankfully quiet for most of the event whilst Arnie was talking, simply prompting him along the way, but he mentioned something about everyone really associating Arnold with TERMINATOR 1 and TERMINATOR 2, in which Arnold jokingly said, "Hey what about 3?!" which raised a huge laugh from the crowd. He then spoke about some of his upcoming movies, and was clearly excited about TERMINATOR GENYSIS. He then confirmed that there will be a new CONAN movie that will start shooting next year and that he's read the initial script for the TWINS sequel, TRIPLETS, and he says he's looking forward to where that movie is headed. He's also been approached to star in a possible sequel for THE RUNNING MAN, which came as a huge surprise to the crowd. Arnold then recited some of his most famous movie quotes, which I must admit was amazing to hear in real life! "I'll be back!", "I hope you leave enough room for my fist, because I'm going to ram it into your stomach and break your god damn spine!" and "GET TO DA CHOPPAH!!" among others. You could tell he was really enjoying himself!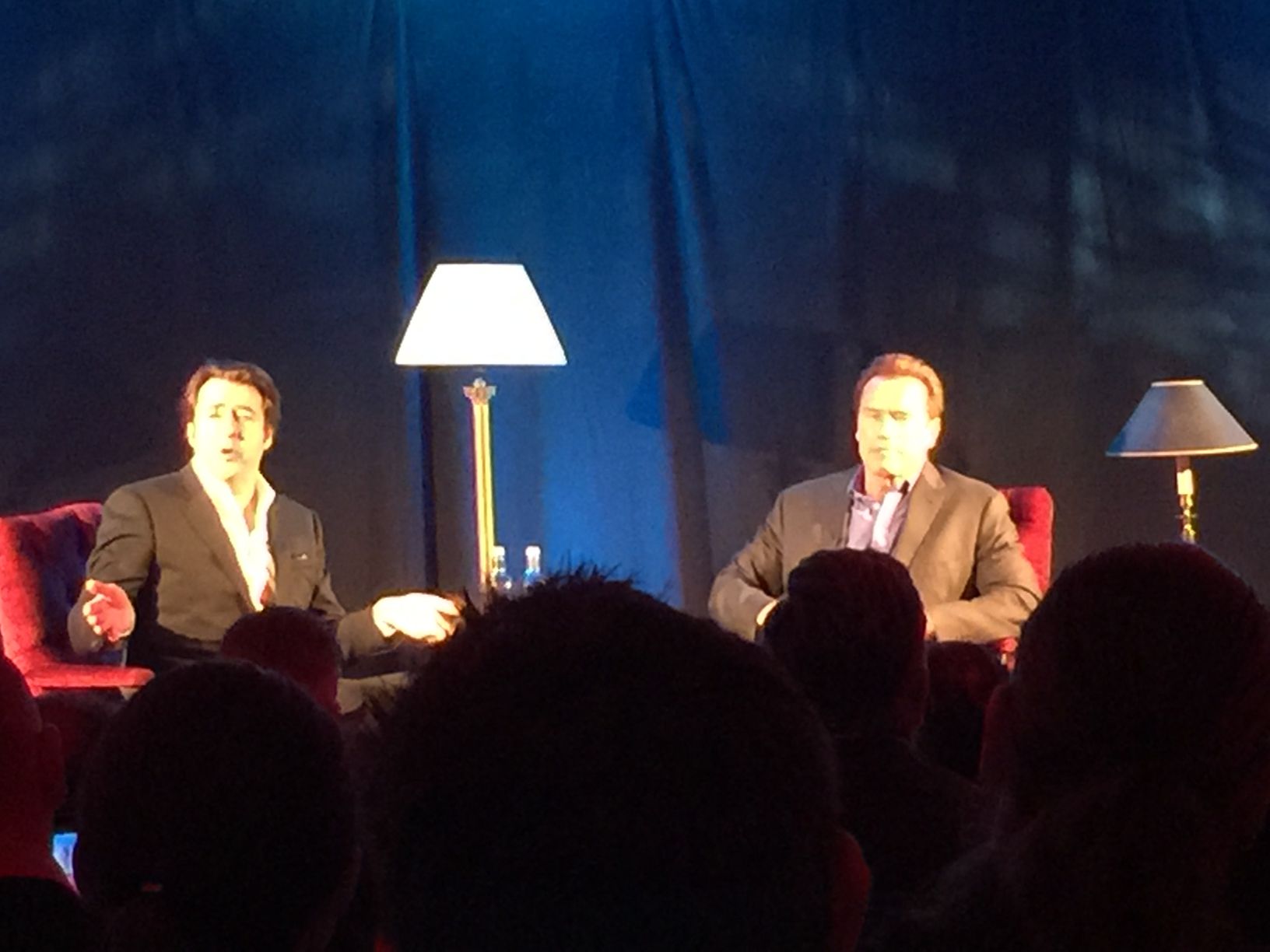 After this came a brief talk about the rivalry in the 90's between him and Sylvester Stallone. He explained that for a time there was a genuine rivalry there between the two, and without going into any detail explained that things were done, pranks we made between the two to keep the feud going. He joked by saying "I hated the son of a bitch!" "He was like a competitor that I had to go and destroy," said Arnold. "We were competing on who had less body fat, who was killing more people on-screen, who was killing people in the most unique way, who had the biggest box office, who had better reviews; it was an all-out battle for a decade. People asked me, 'What do you think of Sly's movies?' I'd say, 'They're s**t!'." The rivalry came to an end, however, when Arnold signed on for the Planet Hollywood restaurant franchise. Stallone was later brought in on the franchise, too, which saw them both make up and ever since then they have been the best of friends. Arnold explained that they regularly work out together and are both always there for each other. He said being part of THE EXPENDABLES movies and ESCAPE PLAN are some of the best fun he's had in years.
Arnold then spent some time talking about his time in Office as the Governor of California. He said that without a shadow of doubt that if he could have, he would have run for President if he was allowed. Arnold explained how Sylvester Stallone was one of the first people to show backing in Arnold's campaign. He explained how he offered advice to President Obama on his infrastructure design that he put in place for California to work across the rest of the U.S., and nothing ever came of it. You could tell he was slightly disappointed. He finished off the in-depth talk answering a question about his family, explaining some of the troubles and mistakes he has made in the past and how he has tried to make things right with his family.
Wrapping up the talk came the Q & A which Jonathan Ross handled, picking members from the audience at random. There were some stupid questions from fans who either wanted to just talk to Arnold, who had clearly not thought of a legitimate question to ask and one who was just downright pointless. "Have you seen DIE HARD?" was asked, which was met by a load groan from the audience. Arnold answered simply, "Yes". "Do you think Bruce Willis is awesome?" Arnold just nodded his head and quickly moved on to the next question. Thankfully, a sensible question was asked "Are there any worthwhile movies that you turned down?" Arnold explained that he turned down both THE ROCK and FACE/OFF! Huge gasps came from the audience; could you imagine either of those movies starring Arnold? Arnold did say that after watching THE ROCK, he did regret not taking the role, but for FACE/OFF, he was glad he turned them both down as he didn't think they would work and that they both ended up being great movies. Another question was asked about what keeps him aiming for the top, having that drive to keep going. He simply answered by saying that you need to have a clear vision on what you want in life, to keep going and never stop trying. He said winners and losers fall, but the only people that are losers are the ones that don't get up. Winners get up, dust themselves and keep on going. I have to admit, Arnold was very motivational. This was all wrapped up very quickly with Jonathan Ross ending the talk and Arnold saying, "Thank you everyone, I'll be back!" That came the end of the talk. Arnold shook a few hands at the front of the crowd and was quickly ushered off stage by his security team.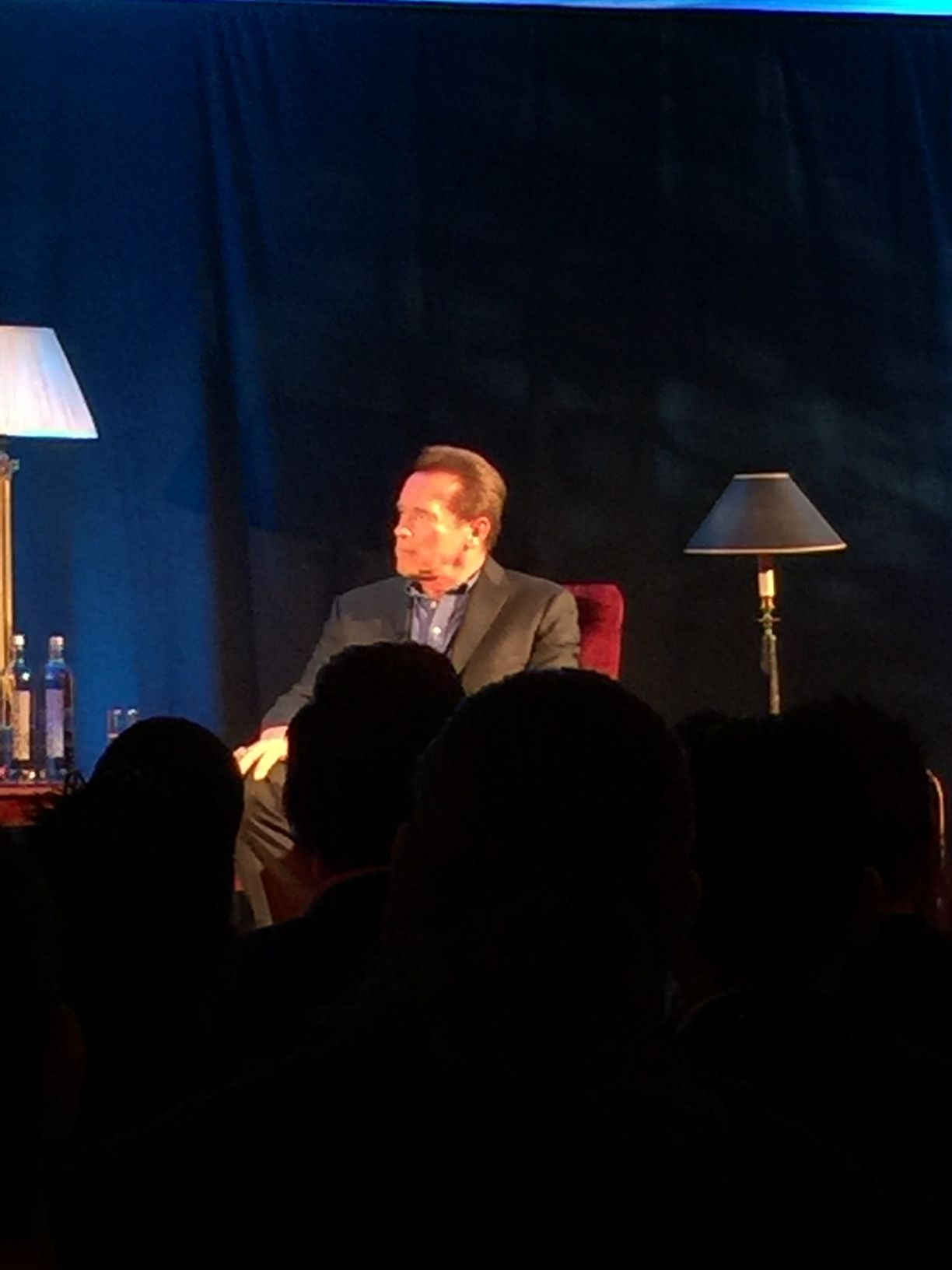 It pains me to say this, but I have to point out some bad parts of the event. Some may call it petty, but for me they are worth mentioning. First off, the ticket prices. The cheaper seats started at £120, with half decent seats ranging from £148 to £193 with premium seats costing a whopping £385. Like me, it would've been a dream to have a professional picture with Arnold, to shake his hand and capture the moment. Yeah, that would have cost you £1575, or like me, I was offered an upgrade on my initial ticket price, which was £193, of ONLY £825! The email made no bones about it, a roughly 15-second photo opportunity; for £825!! And if you wanted to meet the man in an up close V-VIP experience, be prepared to put down £2100! Granted, you could meet him and he would pretty much sign anything you brought with you (at least that's what he did at the Leeds event), but over £2000 for the privilege? Wow! To add insult to injury, the programme for the event was simply terrible. No more than 8 pages, with 4 of them being dedicated to the man himself offering a complete minimal amount of information on Arnold. Couple this with extremely poor pixelated pictures of Arnold in the programme and exceptionally poor spelling and grammar — whomever checked the programme needs to get their eyes tested. Also, the sound for the event was terrible. Real bad feedback from the microphones and sometimes it was way so quiet that it made it a little difficult to hear what was being discussed. Luckily I was dead centre seven rows from the front, but I feel for the people who were a little further to the rear of the room. I am just simply bemused at how much they were charging for tickets. I would've given anything to have met Arnold, but at those prices, it was simply impossible. Arnold said he wants to come back to London to do this again, so I can only hope that next time, the prices aren't so ridiculous and maybe they can have questions all ready to go before the Q & A.
However, I am thankful for the experience of being able to be there; it was certainly a chance of a lifetime for me. It was glaringly obvious that Arnold was loving being there talking about his life, and he could've easily carried on for hours and hours. At no time did he look bored or uneasy and you could tell he enjoyed it. I sincerely hope he comes back soon for another similar event.
Apologies for the poor pictures, photography was supposedly prohibited.