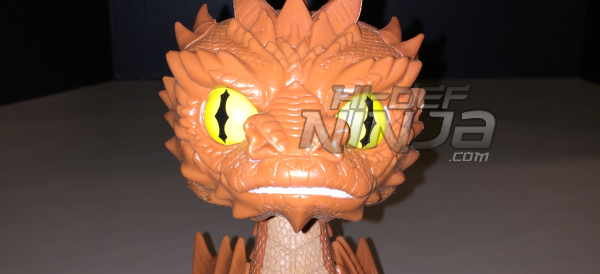 With the theatrical release of THE HOBBIT: THE BATTLE OF THE FIVE ARMIES, I wanted to review one of the newest Funko POP! Vinyl figures: Smaug the Dragon. He is a super-sized 6″ figure and, like all of the figures, has an almost caricature look to him. He's definitely a lot heavier than any of the other POP! figures that I own. He is also twice the size as the standard 3″ POP! Figures, but that makes perfect sense for him to be larger to be closer to scale.
As I said, he has been sculpted in a vinyl mold, but not as one complete piece. If I broke the figure down into pieces, it would be his head, body, wings, legs & feet, and his tail. You can easily see the meticulous detailing all over his body, but also in his face. He has several parts that are attached to his head and face that add the spikes and horns. Absolutely nothing has been overlooked. They even put a small black spot where he is missing a scale on his visible underside in the story.
The color of the paint that they use on him is a fiery orange with black accents. The standard version of the Smaug has pitch black eyes. Funko has a tendency to release some figures with subtle difference in the paint and call them Chase Figures. This makes them a little more valuable and rare. The box typically has a sticker indicating that it is in fact a Chase Figure. The Smaug that I have received is, in fact, a Chase. He has brilliant yellow eyes almost like cat's eyes and he looks incredible.
This figure gets the highest marks for quality, value, and artistic representation. It is a solid piece that represents Smaug perfectly. He looks just as cool in the box as he does out for display. Check out the photos and the video below to see the entire figure. Also, he costs about $10 more than the typical POP! figures. If you're looking for a gift for a fan of the movie, you really can't go wrong with picking this up.