With AVENGERS: AGE OF ULTRON right around the corner, I figured I would do a little review of the latest Thor figure from the second film, THOR: THE DARK WORLD. The version I'm reviewing is the "sleeved" version because, that's right, he has his metal armored sleeves as opposed to the "light armor" version where he's sporting his bare muscles.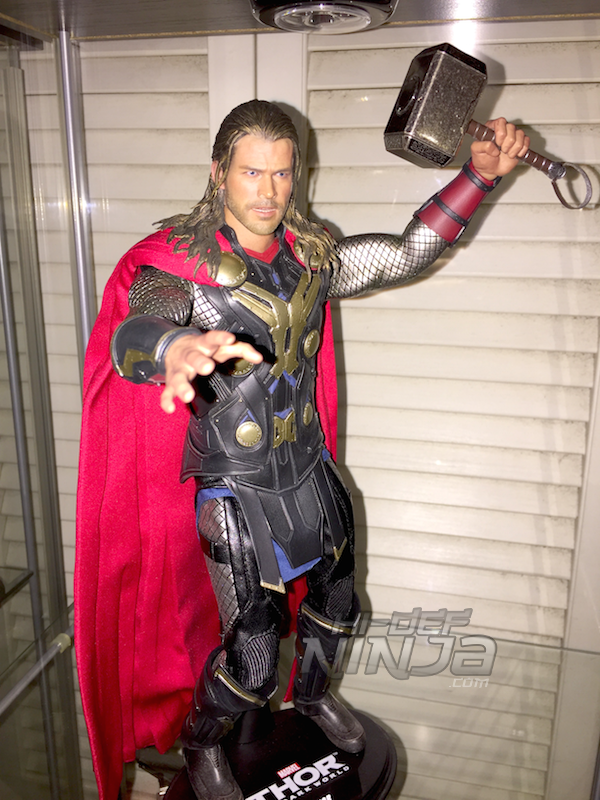 The first difference you'll notice between this and the Thor from THE AVENGERS movie is that he has longer hair on the new head sculpt. Because it is longer, it "lays" (for lack of a better word) on his shoulders and some of his locks look braided in some places. This would be the only tiny negative about the figure. You have to be incredibly careful to not let the sculpted hair catch on his clothing. According to the instructions, any head movement you do, you have to remove his head or you can damage the hair. His armor is a bit different with more of a medieval look to his legs and boots. His pants are a mesh-like material and the upper portion of the boots are separate from the ankles to make the posing easier. The bottom portion of his boots can point in every natural position possible.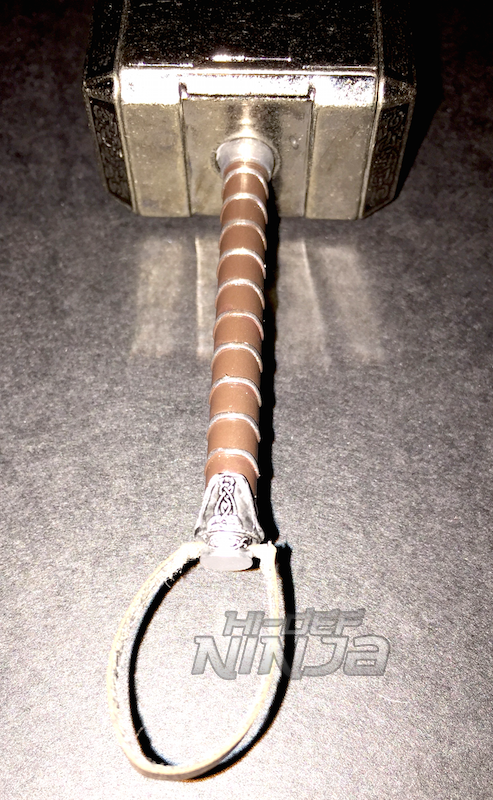 He comes with his hammer, Mjölnir, and it has a little weight to it. It is metal, has leather wrappings, and the details are uncanny. This is a perfect example of how Hot Toys has really stepped up their game in the last several years in creating more intricate figures. The "sleeved" version also comes with the black cloak that he wore almost the entire time not in combat on Asgard. Of course he also comes with his red cape and an extra pair of plugs that are used to hold his armor in place. One set for the cape and one extras in case they are lost.
For displaying purposes, he comes with the black standard Hot Toys base with his name on it and the movie logo. Also, there is a cardboard Asgardian emblem that is thick and not as flimsy as it may sound. It has a vinyl feel and the emblem is glossy, but it is made to be displayed under the God of Thunder.
Thor also comes with 4 (four) sets of hands which is especially helpful for making a lot of different poses. They are one (1) pair of fists, one pair of relaxed palms, one (1) pair of open palms, and one (1) pair for holding Mjolnir.
I have enjoyed posing this figure with all of the different ways that the included accessories allow. In some of the photos below, I did use a dynamic figure stand for him to have that "flying" effect or striking down with his hammer. He looks great posed with the Iron Man Mark VII that I have from THE AVENGERS and fits perfectly with his Marvel companions.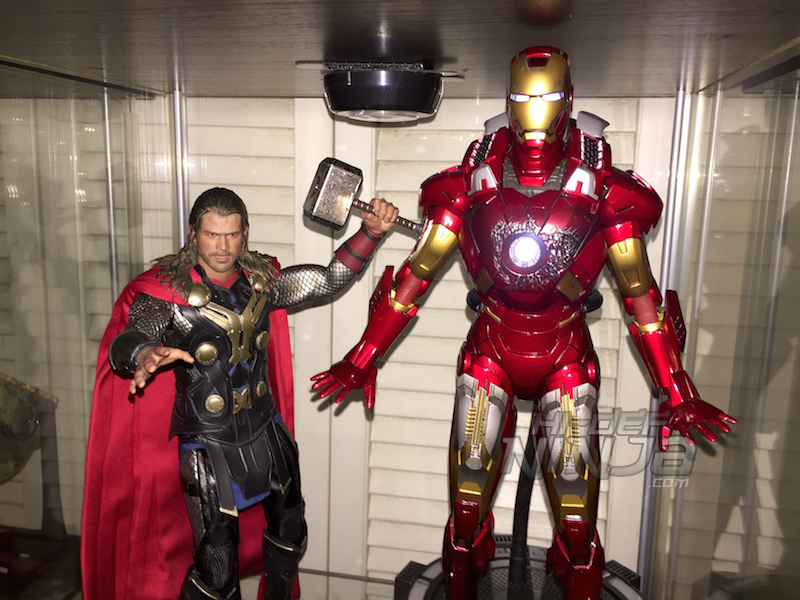 Truthfully, the cloak along with the armored sleeves are what made me pick this one over the "light armor" version. The head sculpt looks amazing and so detailed. Like I said, the only slight downside is the hair, but it isn't an issue. This is an awesome collectible and while the Thor for the movie AVENGERS: AGE OF ULTRON hasn't been announced yet, there's no reason not to get this figure. He looks incredible and I highly recommend it. Thoughts? Questions? Ask me below and I'll get you an answer! Thanks for reading!
Want to order yours? Here is the order and info link!
Order your Hot Toys' Thor Sixth Scale Figure
WHAT'S IN THE BOX?

The 1/6th scale Thor Collectible Figure specially features:

Authentic and detailed fully realized likeness of Chris Hemsworth as Thor in Thor: The Dark World
Movie-accurate facial expression with detailed wrinkles, skin texture and beard

Newly developed muscular body with over 30 points of articulations

Approximately 32 cm tall
Four (4) pair of interchangeable palms including:
One (1) pair of fists
One (1) pair of relaxed palms
One (1) pair of open palms
One (1) pair for holding Mjolnir
Each portrait is specially hand-painted

Costume:
One (1) red-colored cape
One (1) metal-colored patterned long sleeves
One (1) upper body armor with metal-colored circle plates
One (1) pair of black and metal-colored colored forearm armor
One (1) pair of black pants with patterned design on sides
One (1) pair of black and metal-colored boots

Weapon:
One (1) authentic metal Mjolnir with patterned holder and leather-like strap at the end

Accessories:
One (1) black poncho
Figure stand with Thor nameplate and the movie logo
One (1) cardboard Asgardian emblem

PRODUCT DETAILS

License: Marvel
Scale: Sixth Scale Figure
Manufacturer: Hot Toys
Product Size: 12″ H (304.8mm)*
Product Weight: 5.00 lbs (2.27 kg)*
Dimensional Weight: 5 lbs*
Int'l Dim. Weight: 8 lbs*
*Size and weight are approximate values.
Product Sku: 902140
UPC: 4897011175621

Artists:
Head sculpted by K.A. Kim
Head painted by JC. Hong
Head art directed by Yulli

TM & © 2013 Marvel & Subs.