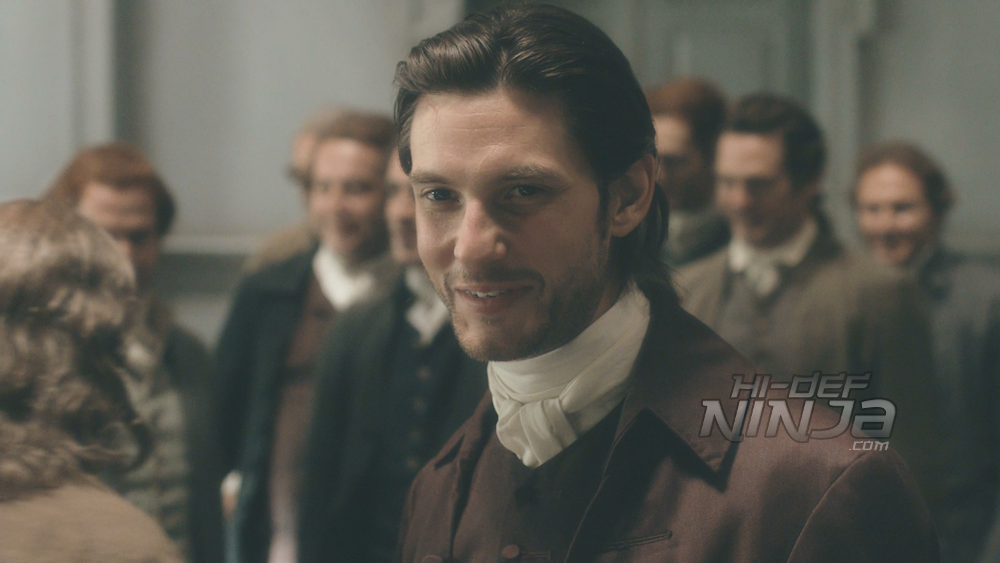 In 1765 in Boston, Massachusetts, the city was in turmoil and under British rule. Under the orders by the governor, the redcoats are out to arrest Samuel Adams. Adams had a job as a tax collector and he was not collecting taxes from his friends. This made Governor Hutchinson shift the outstanding debt of his friend's and put it on to Sam. When they tried to have him arrested, he gave chase through the streets and ran in to an angry mob. When his friend Kelly asked what was happening, Sam told him that they were trying to arrest him. The mob shifted their aggression to storm the governor's mansion and they vandalized it. Vandalized is putting it lightly, they destroyed the place including a painting of King George himself.
The governor won't dare to try and arrest him again because he doesn't want more trouble from he citizens so he bullies John Hancock into helping him with Adams. So Hancock goes to John Adams with a deal that is beneficial to the both of them, the deal is that if Adams can stop the rioting, he will pay the back taxes and toss the warrant. The governor doesn't like this plan and he send a letter to England that he needs more troops in the city to create some order. They send General Gage to deal with their issues.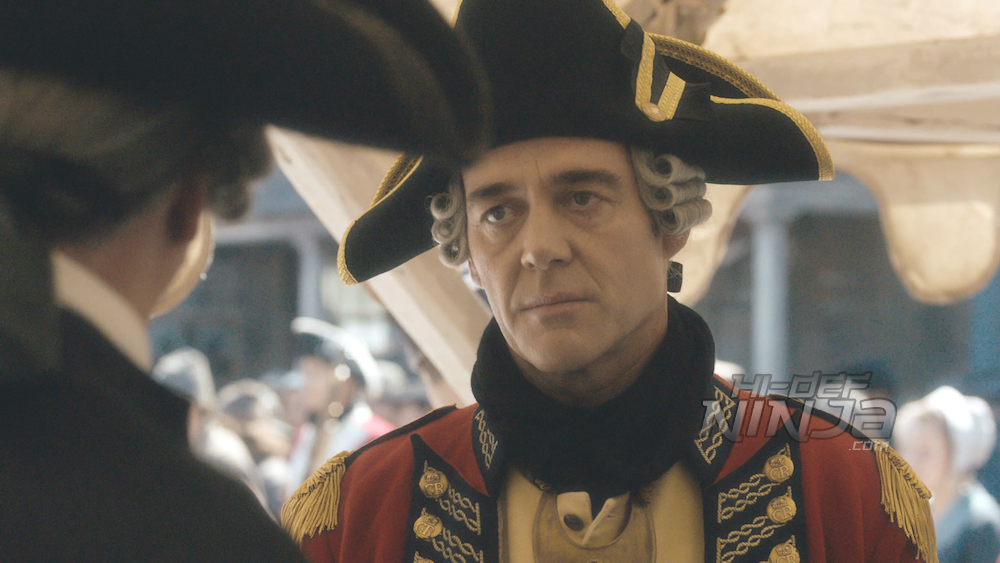 SONS OF LIBERTY is a 3-part miniseries directed by Kari Skogland whose resumé consists of mostly a few episodes here and there of different TV series. It is a different take from some of the other forms of entertainment from this era because it has some modern elements. For example, Sam Adams was running around Boston like Conner in the ASSASSIN'S CREED III video game. It was also set in Boston during the rise of the American Revolution with quick hand-to hand combat in-between the parkour. I know that parkour was not invented in recent times but it does make its way into a lot of places that it wouldn't feel natural.
I did enjoy watching this series because it is entertaining but I do have my gripes. I'm very big into history not only because it has always interested me but because my dad is a retired history teacher. There are a lot of names, dates, and facts swirling around in my head. There are a lot falsities in what this series is calling "history." It is more like historical fiction. The names of the people and some of the larger events are accurate but things have been changed for dramatic purposes. Some of the issues include Samuel Adams being about 20 years younger than he was during these events. I know that sometimes an actor will do a great performance of a character but that is a big difference. Our founding parents were older and it also changes a character's dynamic. With a younger Samuel Adams, his drunkenness looks like something a man in his 20s would do. If you made him closer to his 50s like he really was, then he might look sloppy and irresponsible. The one thing that I don't understand is that this was on the History Channel. Now, granted, I don't watch much of the series that are on that channel but I would imagine that a channel with that name would have accurate programming.
Cast
Ben Barnes as Samuel Adams
Marton Csokas as General Thomas Gage
Ryan Eggold as Dr. Joseph Warren
Michael Raymond-James as Paul Revere
Rafe Spall as John Hancock
Henry Thomas as John Adams
Jason O'Mara as George Washington
Dean Norris as Benjamin Franklin
Emily Berrington as Margaret Kemble Gage
Sean Gilder as Thomas Hutchinson
Kevin J. Ryan as John Pitcairn
Shane Taylor as Captain Thomas Preston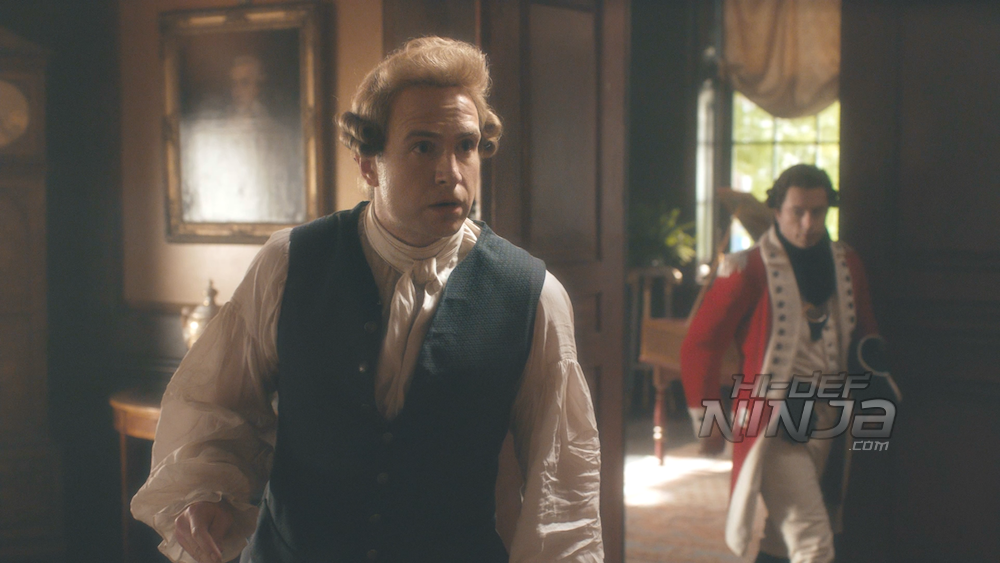 This Blu-ray has been authored to keep the elements that the director had in mind. It is a 1080p AVC transfer that looks sharp but not over-processed. The video has some excellent detailing with a light grain even though some of the edges are on the soft side. This makes the picture look little older and not sharp and digitally processed. With some of the grain and low lighting, there are some times where there are some contrasting issues. The low lighting can also create a little bit of black crushing and blocking.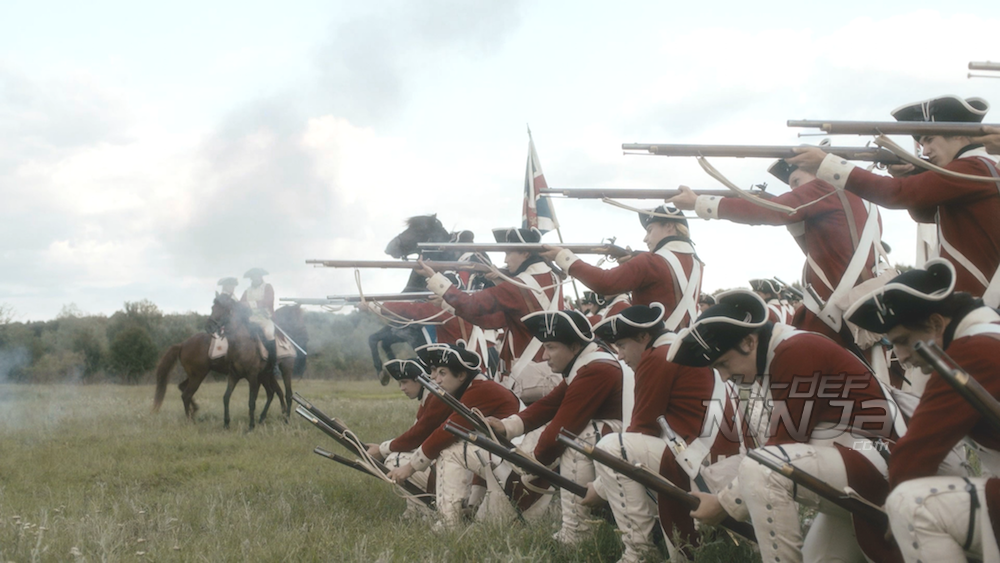 The audio is a mixed bag of dialogue, crowd noise, musket fire and the score. The DTS-HD MA 5.1 mix with both strong bass and clear treble. Exchanged dialogue is set in the front speakers and is heard the majority of the time. The voices are clean and are separate from the sound effects. Even the voices heard in the riots fill the surround speakers, leaving you feeling like you are in the middle of the crowd. The muskets use the bass when fired accompanied by the screaming bullets. The quick booms form the cannon fire hits the LFEs with power. The lossless mix doesn't disappoint and adds depth to the series.
The extras included with the release are not as loaded with information as I was expecting but they are still pretty good.
Bonus Features:
-Lensing Liberty: This featurette explains how some of the settings and backdrops for the series were tough to make exact to transport the viewer to the 1700s.
-Choreography of War: This featurette shows how the filmmakers planned for the fight scenes before filming them.
-Men of Independence: This featurette give some background information on the historical figures from the series.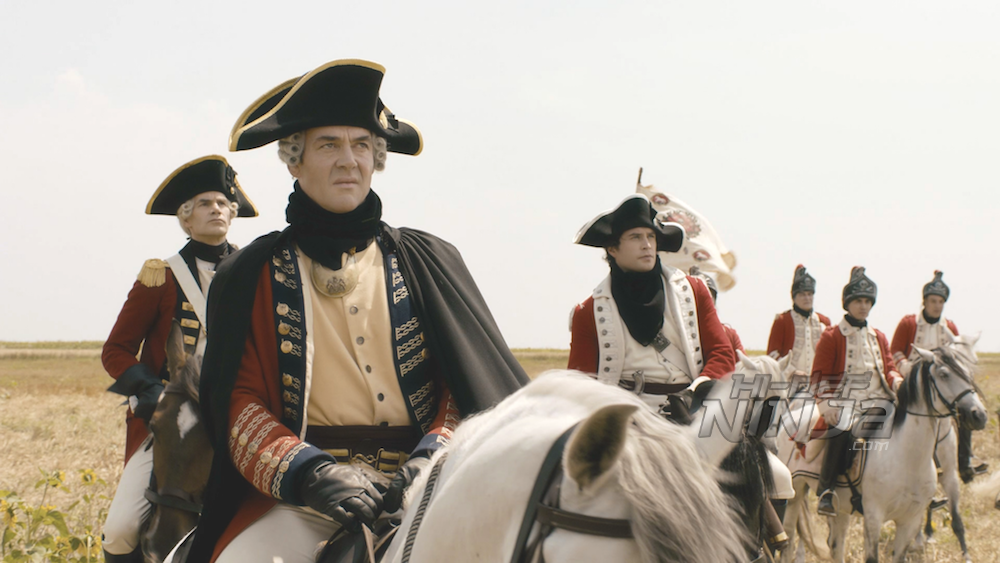 Disc Details
2 Blu-ray Disc Set
digital copy is included
Running Time
270 mins
Edition Ratings
Not Rated
Region Coding
Region Free
Video Resolution
1080p AVC MPEG-4
Aspect ratio: 1.78:1
Audio Mixes
English DTS-HD Master Audio 5.1
Subtitles
English SDH
Spanish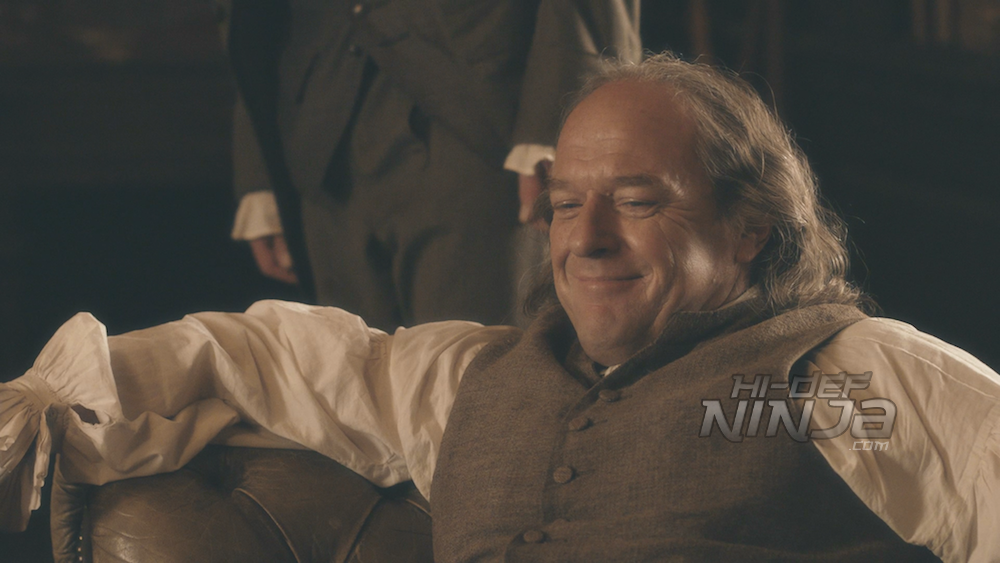 SONS OF LIBERTY may be a little like watching a video game at times but it does keep your attention. As I said, I'm a huge fan of history and correcting facts in my head while watching the Blu-ray happened more often than not. It seems trivial but it's just my opinion.
The Blu-ray looks good and the sound has been mixed really well. I was expecting a little more from the extras due to the subject matter but they were still fairly good. Overall, this is an entertaining series and is definitely worth checking out.