Grey Matter Art is releasing an exclusive poster for the film COCAINE FIELDS. This was a propaganda film in the 1930s and 1940s. It is designed by Timothy Pittides and is a part of the same series of posters as REEFER MADNESS. It will be sold exclusively at New York Comic-Con 2015 at the Grey Matter Art booth #2366. Any remaining copies will go on sale Monday, October 12th at 1PM EST on their shop page.
"Cocaine Fiends"
Artist: Timothy Pittides
Size: 18×24
Regular Edition: 75/$35.00
Paper: French Packing Chip Kraft-Tone
Printed By: VG Kids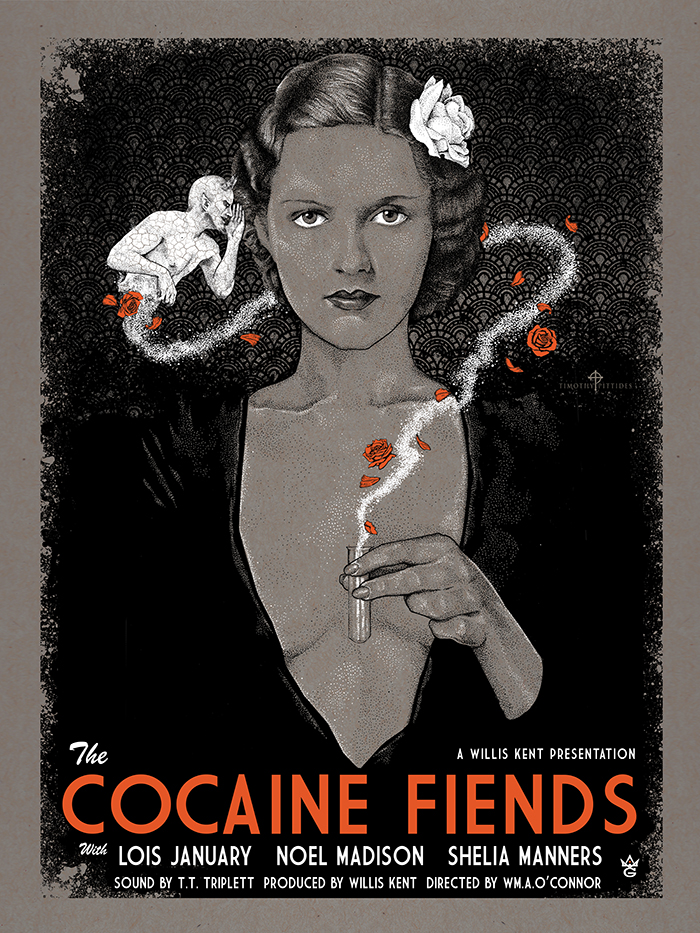 Follow Grey Matter on Twitter to get a jump on the drop. Also, follow them on Facebook and Instagram, and sign up for their Website newsletter for all future news and information.
Here is what Timothy had to say about the project:
" With the second poster in the VICES series, I wanted a central piece to fit in between Reefer Madness and the third and final poster and Cocaine Fiends seemed like a obvious choice. The film, while a bit more truthful in it's portrayal of the drug, is still over the top and comical. It tried to capitalize on paranoia that Reefer Madness created in the public but never reached the level it's predecessor reached. With the poster I wanted to use the women's eyes as a drawing in point, big and wide while still maintaining her beauty and innocence ( using the white rose). The Dope Demon (That's what I am calling him now) emerging from the vial, engulfing her, keeping her both comfortable while at the same time controlling her. He leaves a trail of orange roses which symbolize energy and passion, something this vice surely invokes.  I also wanted a synergy to the series and while in Reefer Madness, the demon is offering her a rose which is she is staring at (Seeing Evil), Cocaine Fiends offers the Demon whispering to her, tempting her (Hearing Evil). This series has been a blast to do and wanna thank Grey Matter for the support and get ready for the third and final poster coming in November!"