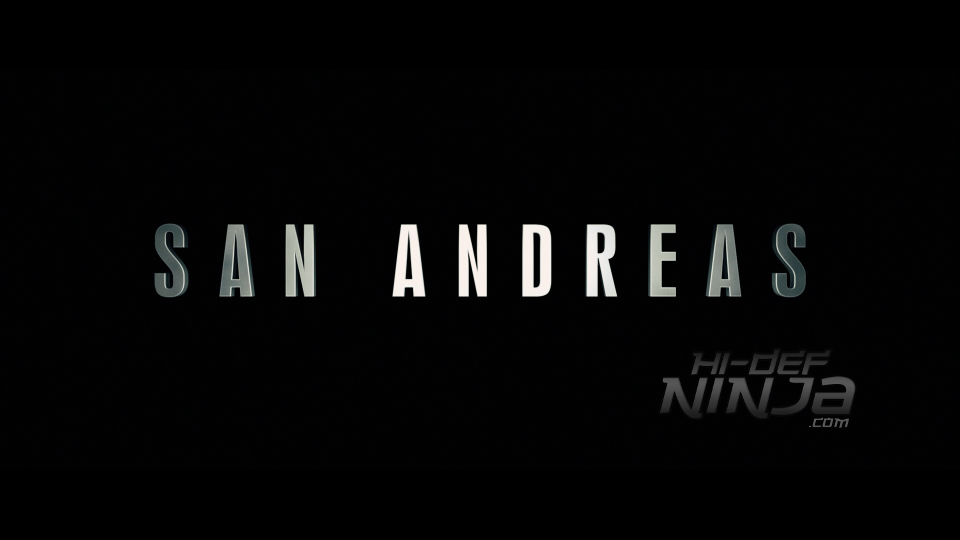 After the infamous San Andreas Fault gives, triggering a magnitude 9-plus earthquake in California, a search and rescue helicopter pilot (Dwayne Johnson) and his estranged wife (Carla Gugino) make their way together from Los Angeles to San Francisco to save their only daughter.
But their treacherous journey north is only the beginning. And when they think the worst may be over… it's just getting started.
I love disaster films. I grew up with the great's like The Poseidon Adventure and The Towering Inferno and any other film that Irwin Allen was attached to. I had a great time in the late 90's with the likes of Daylight, Dante's Peak and Volcano even if they were a bit cheesy in some places. Even the Roland Emmerich films like Independence Day, The Day After Tomorrow and 2012 are on my regular viewing pile as they are so entertaining, so it was predictable that I would be quite excited for San Andreas.
Let's get the negative stuff out the way. This film is super cheesy! Almost cringe worthy to the point where you are actually laughing out loud at some of the dialogue that's being spoken. It's amazing how Dwayne delivered his lines during the finale without a smirk on his face and twinkle in his eye. And some of the action scenes do feature scenarios that makes you question logic. A good example is during the opening rescue scene when The Rock just rips the door off a car with his hands, you kind of know what to expect for the rest of the film. It's also very predictable. The film definitely uses the cookie cutter of disaster films (only thing that was missing was the family dog) to the point where you start predicting some exaggerated scenarios whilst watching it only to find them actually happen later in the film. Despite those observations though, it is just 104 minutes of pure FUN that's wrapped in the best gung-ho flavoured cheese you'll ever taste. Even though I was laughing more than I was expecting to during the film, I won't lie and say that I didn't have a smirk on my face whilst watching it. I watch films that are entertaining and this one had me entertained throughout so mission accomplished.
Now the positive! Even though the character development and emotional side of the film is a bit of a write off, the film's action scenes are 100% spot on! Even if there are a quite few moments of disbelief (Can't break reinforced glass with a piece of scaffold but you can drive through it with an inflatable boat? Doesn't matter really does it!), San Andreas is just Hollywood roller coaster of thrills that amazes in both excitement and spectacle! Has it got a rewatch factor? Not sure yet but it's certainly worth a rent with a few beers thrown in for good measure!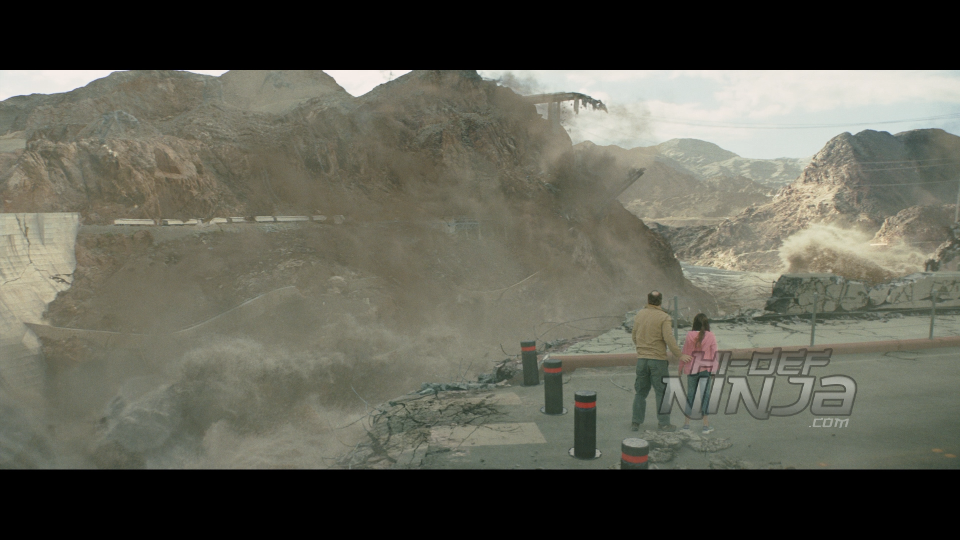 San Andreas 3D comes on two discs; disc 1 containing the 3D presentation of the film and disc 2 containing the 2D presentation of the film with supplemental features. Both films are sourced from the same digital master and are presented in 1080/24p MPEG4-AVC / MVC codecs that preserves the film's original 2.40:1 aspect ratio
The 2D version of the film is pixel perfection since it's a recently shot feature. Sourced straight from the original digital files, San Andreas features a very strong and razor sharp transfer throughout. The level of detail during the action scenes is immense and close up reveal every skin pore and facial hair you'd expect (also I shows some rather humorous eye liner that our heroes are wearing!). There was no issues with compression as the transfer handled the more active scenes brilliantly
The 3D version of the film was a real treat! Filmed originally with 2D cameras and converted into 3D during post. It's obvious that director Payton Reed had the film envisioned in 3D since it takes advantage with some playful framing and shots that give the film some superb depth and 3D imagery that takes advantage of the film's disaster scenarios.  The 3D transfer featured some great separation between foreground and background elements throughout and remains consistent with its quality and handled the fast paced action scenes really well
San Andreas crashes onto Blu-ray with a Dolby Atmos soundtrack for both its 3D and 2D versions. Since I don't have an Atmos equipped setup, this review will focus on the Dolby TrueHD 7.1 that it defaults to. To sum it up, if the emotional core of the story doesn't move you, this audio mix will! Utilising every speaker, San Andreas is pure demo material throughout. Strong use of directional panning gives the film a real three dimensional quality with plenty of action happening in every speaker. The LFE was also a monster and was aggressive and used incredibly well and will certainly have its work cut out. Dialogue was loud and clear and didn't involve any fine tuning of my setup to make the dialogue audible. A true cinema type audible treat!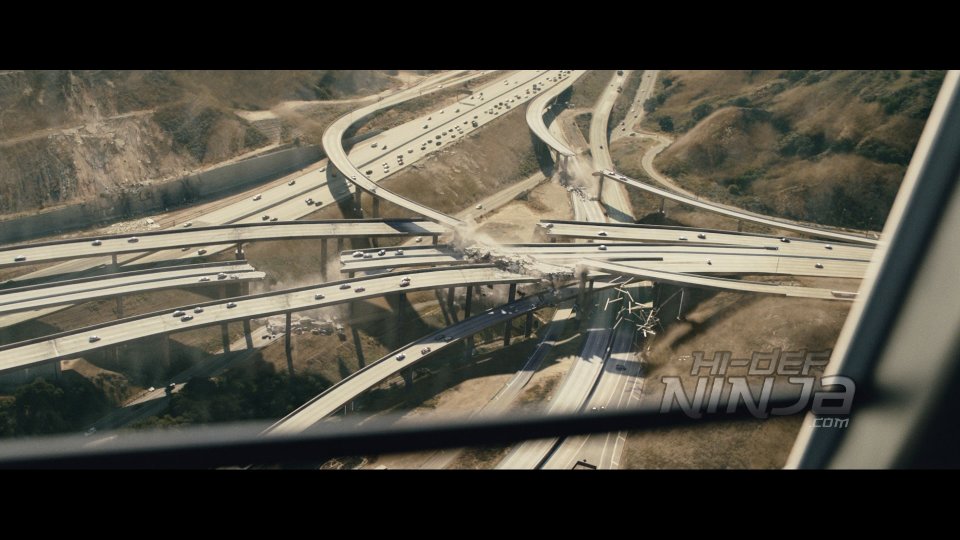 Audio Commentary – Director Brad Peyton delivers an insightful audio commentary about the making of San Andreas
San Andreas: The Real Fault Line (6:23) – Brief interviews with the cast and crew who discuss shooting the disaster sequences and how they tried to make them as realistic as possible
Dwayne Johnson to the Rescue (19:24) – This featurette focuses on Dwayne Johnson's key scenes
Scoring the Quake (6:13) – A brief look at the creating the music score for the film
Deleted Scenes (4:40) – Eight unfinished scenes with optional commentary by director Brad Peyton
Gag Reel (1:22) – Humorous moments from the shoot.
Stunt Reel (1080p, 2:56): A stunt work montage from the shoot.
Ultraviolet Digital Copy – For those disaster film fans who like to watch their movies on the go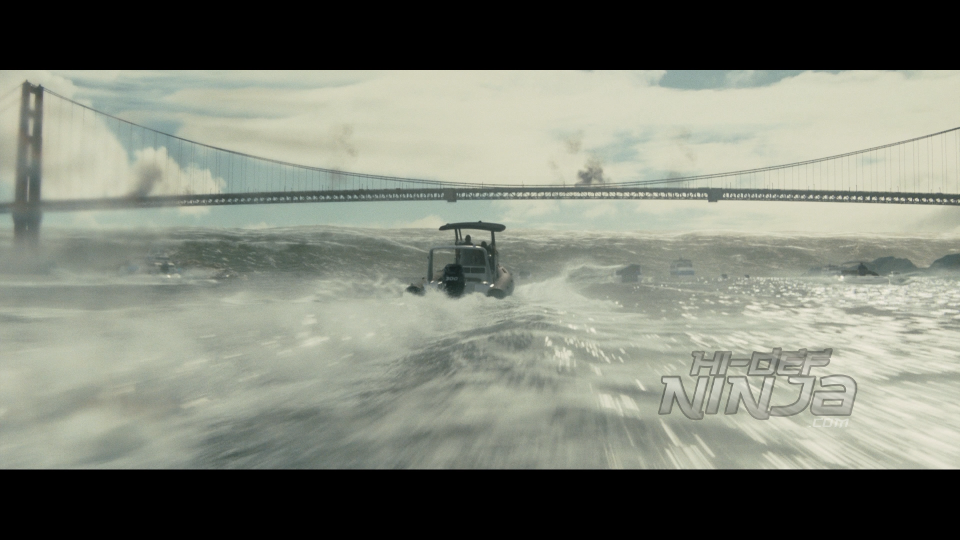 If you go into San Andreas with your tongue firmly in cheek, it's a cheesy but exciting rollercoaster of a disaster film. You can't help but think if there is suppose to be a slight satire to it but the action scenes are so exciting that you'll probably overlook this. Audio and Visual are spot on (especially in the 3D department) and will give any home cinema a thorough workout. Special Features are kinda average though and come across as promo pieces only. Certainly worth a watch with beer and like minded friends.