It's raining Blu Ray combo drives, let's go play! Or something to that effect. There's at least one new combo drive, and it's right here. Read on.
After the Samsung combo, we bring you another internal combo drive, this time by PLDS, a joint venture between Lite-On and Philips exclusively for making and marketing optical drive technology. This drive can play Blu Ray movies at full 1080p HD.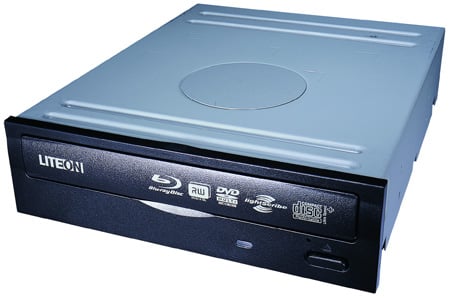 This one's a SATA drive, so don't try installing it on older Windows machines that most probably don't support SATA. The PLDS iHES208 reads Blu Ray discs at 8X and dual layer Blu Ray discs at 4X. It can also burn DVD+R and DVD-Rs at 16x, and DVD RW dics at up to 8X, while being able to read all DVD media at 16X and all CD ROM media at 48X. The iHES208 can also write CD ROMs at 48X, and CD RWs at 32X.
The drive's CD writing capability is accessible without any additional software, though for the iHES208 to deal with rewritable media and Blu Ray, you'll need to install the bundled CyberLink Blu Ray Dis Suite, which works rather well.
The iHES208 is also unusually quiet, making it an idle choice for watching movies on your PC since the last thing you want to hear when characters pause for effect, is the irritating whirr of an optical drive. More importantly, for the PC-movie buff, the drive and its bundled CyberLink software also support all sorts of multi-channel sound configurations.
Two companies working together to make this drive, y'know? Gotta be good.