Earlier this week we reported on the Pioneer Blu-ray 3d player line coming your way, and today we report on the first ever Blu-ray car player. Yes, you read that correct. I remember when I was younger and it was all the rage to have as many screens in your ride as you could pimp out. (or possibly afford) So now you can get to stuntin' in Hi-def! :p In any case, a trucker or those who go on long drives with the fam might find this more useful and be very interested in this new addition from Audiovox.
Specifically designed to be installed under a seat or behind the seats this blu-ray player can connect to any monitor via HDMI, composite, component. Power for the player comes from a 2-pin 12V connector to the vehicles accessory power source and boasts a full function IR remote.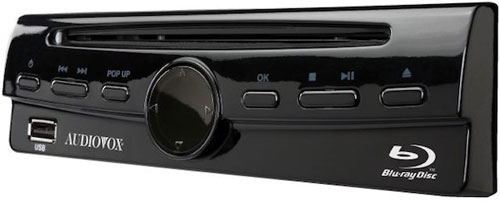 I know, I know … if your not thinking "Why the hell would I need this?" You may be thinking "How the heck would this remote work from the front seat?" Well … The player also includes an 18-foot IR extension to allow for control of the player while its out of sight. The player is set to get a firmware update to boast wi-fi as well this year. So if your a trucker, you could be enjoying wi-fi netflix at the truck stop I suppose. Ships in spring for a retail price point of $349.99.