In 1996, The Cable Guy was released and met with a mixed to negative response.  Now, the movie is looked at as an underrated dark comedy that was ahead of its time.  For some reason it was cool to dislike it back then, but now it is seemingly uncool to dislike it now.  I fall somewhere in the middle.  I like and admire some of the elements about this film, but I still feel it falls short overall of what it was going for.  I do not think it was Jim Carrey's fault as an actor, because I think he does very good work in creating the character for his performance.  I think it has more to do with Ben Stiller's work as a director, as I think he was still finding his footing as a director during this time.  Still, the movie is now celebrating its 15th anniversary, and plenty of people do find it to be a great, underrated flick.
The film stars Mathew Broderick as Steven.  Steven has just moved into his own apartment, after his girlfriend (Leslie Mann) has insisted them to take a break.  Among the first orders of business is to call the cable guy.  Once he finally arrives, it is in the form of a knowledgeable but goofy figure, in the form of Jim Carrey, who claims his name to be Chip Douglas.  Steven awkwardly asks Chip if he can help him out with an illegal cable upgrade, which leads Chip to believing that the two of them should become good friends.  Steven and Chip do begin to hang out a bit, and despite his oddball behavior, Steven has a bit of fun and gets some advice about getting his girlfriend back.  However, things begin to get a bit weird, as Chip starts to exhibit some more extreme behavior that borders on obsession.  Once Steven starts to confront his concerns with Chips, it eventually turns into a battle for supremacy, as the cable guy truly proves his value as either best friend or worst enemy.  If only Steven could change the channel…
The clear problem I have with this movie is its tone.  I do not think it is a matter of what I was expecting versus what I got (and I have seen this movie a lot over the years), it is that I think the tone of this film is mishandled.  There are scenes in this film that work very well comedically, but there are also scenes that stray too far into darker territory, without being properly setup.  And then you have scenes that are just frustrating and awkward (porno password).  I am very aware of the story this movie is trying to tell, but its assembly has never pleased me.  Stiller does have some touches of directorial style that benefit the film, which includes his handle on a lot of film's framing around the cable guy character; however, a lot of times it appears as if he shot the same movie twice, with different tones and intentions, and then merged them together.  I think Tropic Thunder is a much greater example of Stiller coming into his own as a director.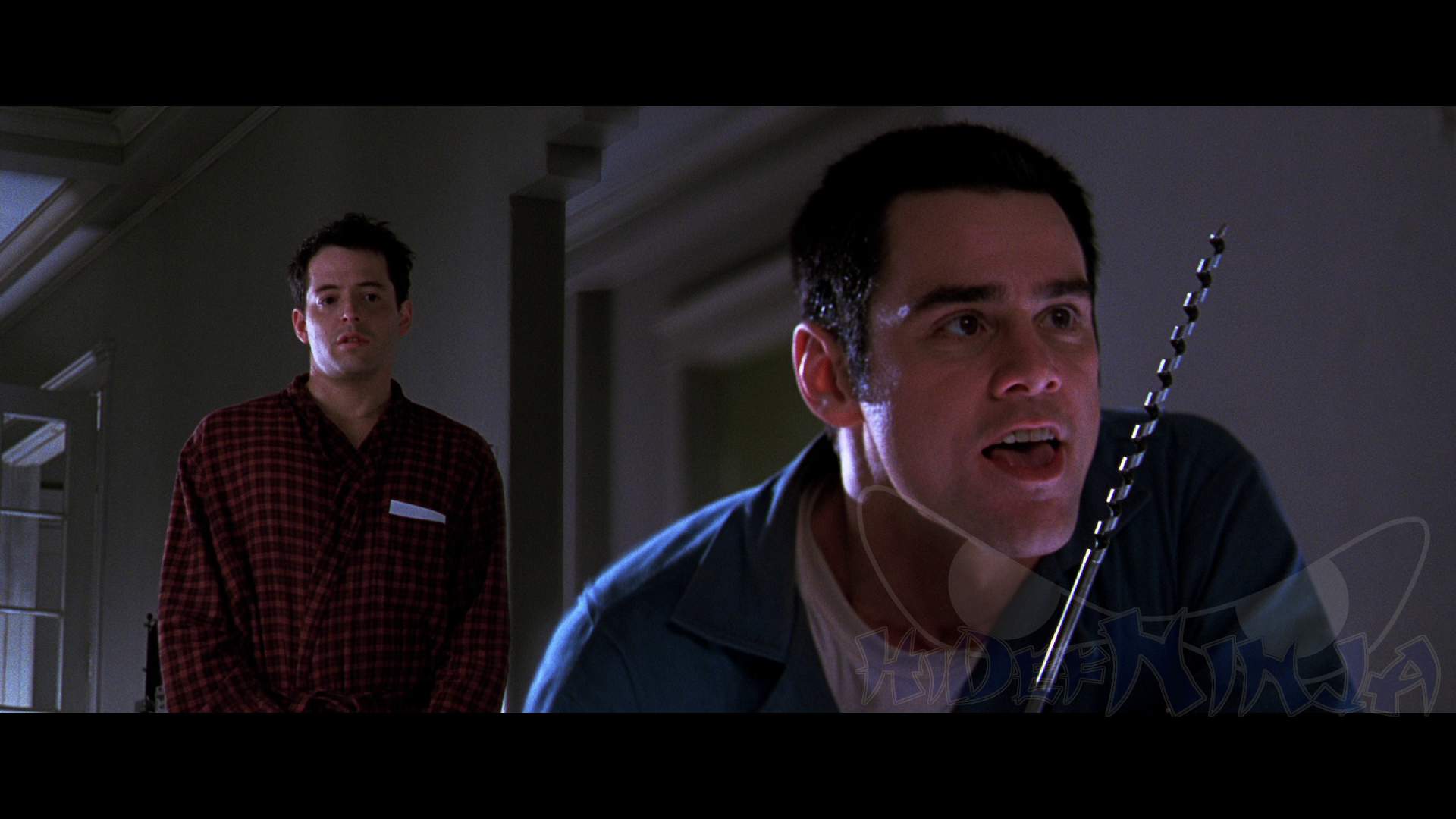 As much as I may come off as down on this film, I do think there are a lot of fun elements.  I do not think it is possible for Jim Carrey to not make me smile, let alone laugh, in movies when he goes for it, and he does go for it here.  He embodies the role of the cable guy, whether it is creepy or ridiculous.  The way he lisps, his demeanor, there is a lot of talent on display here.  I must also acknowledge the present of a ton of other comedians and actors who were up and coming at the time, including Jack Black, Owen Wilson, David Cross, Bob Odenkirk, Jeneane Garofalo, and Andy Dick.  Finally, Broderick is saddled with the straight guy role, exacerbated by all of "Chip's" antics, but he does hold his own quite well.  This film also managed to predict a number of things involving technology at the time, while also commenting on media in general.  This is an area where some of the satire is a bit too on the nose, but also impressive in some ways, which basically made the film seem a bit ahead of its time upon reflection.
Overall, the movie still does not register with me quite as well as those who have continued championing it and those others who have warmed to it over time.  It is a concept that maybe could have been handled better if made or written differently (and I should point out that Judd Apatow was the writer/producer here), but as it stands, I can only give so much faint praise.  I am happy that others find joy in this movie, but I am also glad that everyone involved would go on to have future success.
Given the 1080p transfer for the film, this is probably the best that The Cable Guy can look, which is quite good.  The Blu-ray version of this film does a great showing off the colors that this 15-year old film boasts.  I make notice of this, because Ben Stiller shot the film with intentions of keeping a specific color palette (mainly blues and blacks), and the film's transfer does a good amount of justice.  There is quite a bit of grain in a number of places and the black levels occasionally dip (quality-wise) in spots.  Still, as far as thought towards the video quality of this film is concerned, you are not going to need to call your cable guy due to picture problems on this disc.

The audio track of this film could be more impressive, given that the disc features a DTS-HD MA 5.1 lossless soundtrack.  This is very much a dialogue heavy film, and as such, the film sounds decent enough.  However, there are a number of over-the-top moments involving scenes such as the medieval times sequence or the general obnoxious door knocking that the cable guy does, which could have benefited from better surround support.  The film also relies heavily on its grunge soundtrack, which actually does come across quite well.  Plus, Jim Carrey related sound effects are always fun to listen to in any manner.  The disc also has a Spanish 5.1 Dolby Digital soundtrack, as well as several subtitle options.

This is a tricky spot, because the extra material section has one great bonus feature, another very entertaining one, and then a handful of other little extras.  However, all of the features are presented in standard definition.  This aspect brought things down for me considerably.
The features include:
Audio Commentary with director Ben Stiller, writer/executive producer Judd Apatow, and star Jim Carrey. This is easily the best feature the Blu-ray has to offer.  Three comedic talents reflecting on a movie they all created together.  Somehow, this is Carrey's first commentary, yet he is the most vocal of the trio.  The whole tone of this track is very laid back, funny, and quite informative.  Lots to learn about the genesis of this film, the reception it received at the time, and what has been learned since.  This was the highlight for me, when it came to revisiting the film.
Gag Reel.  Self explanatory, although Carrey has a lot of fun trying to nail his lines, while using the character's lisp.
Deleted & Extended Scenes. 25 minutes of footage left on the cutting room floor.  There are a lot of moments here that would have pushed this film into much creepier territory, including a pretty strange dream sequence.
HBO First Look.  A standard, but humorous behind the scenes episode about the film.
Comedy Central Canned Ham Presents:  The Cable Guy.  My other favorite extra.  It has a lot of funny interviews with the cast, it is hosted by Judd Apatow, and the 90s vibe certainly gives a whole time warp element to this making-of segment.
Rehearsals.  Almost 20 minutes of footage of the cast rehearsing a number of key scenes from the film, such as the basketball scene, the Medieval Times segment, and the ending fight scene.
Nightmare Camera Test.  After watching the deleted scenes, this was a nice little bonus to see.
Leslie Mann Audition. Since she is now Apatow's wife, this is a throwback to the first time they actually met.
"Leave Me Alone" Music Video
The Cable Guy Original Theatrical Trailer
Previews.  Additional Sony trailers.
Finally, the disc is BD-Live enabled.

You can take that score and adjust it a bit, if you are a bigger fan of this film than I am, but the fact is that the Blu-ray release of this film is probably the best release you can get for The Cable Guy.  While I feel the film is flawed, there is some great work from Carrey here and the film was actually ahead of its time in more than a couple ways.  Adding to that is the very good work on the film's video transfer, as well as the audio commentary track, which is worth the price of admission alone for this disc.  I am sure the fans of this film will find plenty to enjoy here.