Biopics, to me, tend to be films that are generally good, but need a lot more to become something greater.  There are obscure historical figures who participated in activities that may appeal to my interests or sensibilities more than others, but on average, I find that there is usually a really solid performance or two in a film that does enough to dramatize a situation to the point of making it a fine film.  For a film like Milk, for example, I found there to be much more than just as standard biopic to be present in the filmmaking, which made me truly enjoy that film a lot.  For the subject of this review, Made in Dagenham, I find the film to be good enough, but a lot to praise in the lead performance by Sally Hawkins.
Hawkins stars as Rita O'Grady, one of the workers at a Ford assembly plant in 1968 Dagenham, England.  The film centers around the 1968 Ford sewing machinists strike, where female workers walked out in protest against gender discrimination and the desire for equal pay.  This walkout would eventually help in the creation of the Equal Pay Act of 1970; however, the majority of the film revolves around how Rita headed up her female working team for the sake of getting proper wages.  In actuality, the Rita character did not exist, but the film does well enough by centering the strike on a single character, and incorporating other factors as well.
In addition to Hawkins, the film also stars Bob Hoskins as Albert, one of the higher ups at the plant, who support Rita, the women, and their cause.  Miranda Richardson also stars as British Secretary of State Barbara Castle, who is forced to deal with what is happening, serving as a woman in office, used to dealing with men attempting to control everything.  Richard Schiff and Rosamund Pike have small, but effective supporting roles as well.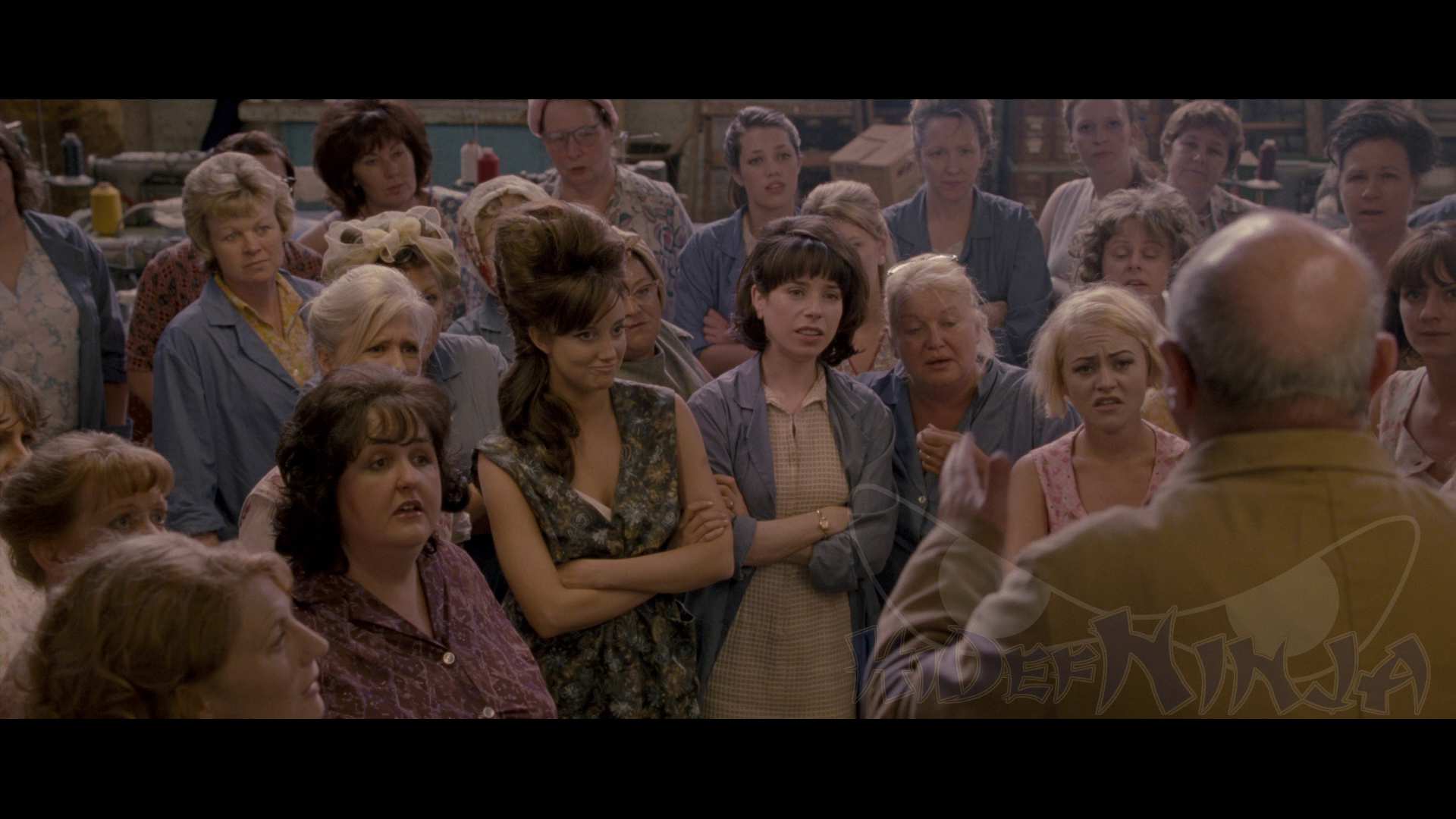 There are plenty of nice things about this film, from the 60s style of it, the way it plays out various story moments between the characters, and the light-hearted, yet effective tone of the film; but really, everything comes down to how good Sally Hawkins is in this film.  I would hardly say she's the same person that I saw in Happy Go-Lucky, which earned Hawkins a Golden Globe, and that speaks worlds of her versatility here.  In this film, the Rita character is a wonderful creation that goes through a number of developments, as she deals with the company, her marriage, and her friends.  It is the most engaging element in the film.
So I am going to give this film an average rating, mainly because little is done to make it truly speak to me more.  I will still easily praise the performances in this film whole-heartedly, and wish that they received more notice during the awards season.  While the subject matter is important and the film provides an interesting look at the material through the lenses of a fictional overall story, I was still not overwhelmed with how strong this film ended up becoming.  It is certainly worth a look though, and did enough to keep me invested.
True to form, Sony once again delivers a fantastic looking Blu-ray disc.  While Made in Dagenham is a period film, the visual style does not necessarily call so much attention to itself to be a huge factor, yet this disc looks fantastic.  All of the little details that clearly went into consideration, when making this film, show up here and look great on screen.  All of the textures, backgrounds, and nighttime moments are lived up to with a great 1080p HD transfer.  This may not be the go-to film when showing off how great your home theater setup is, but it certainly does proper justice to the format.

Just like the stellar video quality, Made in Dagenham's DTS-HD MA 5.1 lossless soundtrack is quite solid as well.  As this is a very dialogue heavy film, it is pretty low key in terms of how to handle the sound design, yet there is nothing to really dig into or comment on, which could have made the track better.  Various scenes involving crowds during the strikes or assemblies, along with factory scenes involving working machinery, all sound very good, working well in a surround sound environment.  The disc also boasts several subtitle options as well.

While one does not expect a bevy of extras for a film like this, the disc has some further insight contained in the extra material, but not that much.  Along with being BD-Live enabled, the Blu-ray has a few things of note:
Outtakes.  Self explanatory, but not a whole lot of fun to watch.
Deleted Scenes.  A handful of scenes that would have only padded the running time, without offering much to the film.
Commentary with Director Nigel Cole.
The Making of Made in Dagenham.  A pretty short feature that goes over the true story surrounding the film and has brief interviews with the cast and crew.  If this feature was longer, I may have given this section a higher rating.
Theatrical Trailer.
Previews for other Sony Titles.

Made in Dagenham is a fine film, with great performances.  I have less than the normal amount to say about it because it is just that, a fine film.  I was not anymore blown away by it than I have been other averagish biopics.  Still, the Blu-ray's video and audio quality is top notch.  The presentation is certainly solid, so I see no better way than this disc to be able to view the film.