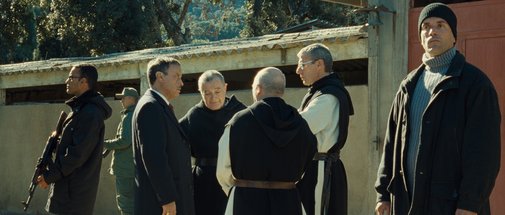 "I have said, Ye are gods; and all of you are children of the most High. But ye shall die like men, and fall like one of the princes." – Psalm 82:6-7
Of Gods and Men Blu-ray, also known as Des hommes et des dieux, is a 2010, award winning, French drama film directed by Xavier Beauvois that tells the story of eight French monks that live in a peaceful coexistence with the largely Muslim population of Algeria, for about 3 years, until one day seven of the monks are kidnapped and assassinated during the Algerian Civil War. The film, which is loosely based on the true-life story of the Cistercian monks of Tibehirine, premiered at the 2010 Cannes Film Festival where it won the Grand Prix, the festival's second most prestigious award.
Sony Picture Classics brings this stunningly perfect release to your system via a impeccable 1080p (2.35:1) transfer. I literally cannot compliment this release enough. From the flawless skin tones and textures to the excellent color pallet. The whites are white, the blacks are black, and the colors are vibrant. This is certainly a reference release if Sony has ever released one.
And to compliment the perfect video quality on this release comes perfect audio quality. The audio arrives to your ears via a DTS-HD MA 5.1, French Language, lossless soundtrack. Whether you want perfectly crisp and clear dialogue; or incredible sounding gunshots and rumbling vehicles this track has it all. While the audio track is largely centered on the dialogue there are a few moments where your bass gets a bit of a rumble which is nice; however this film isn't Transformers so don't expect a lot in the way of action-packed explosions.
The supplemental features are honestly the only let down on the disc. I'm not sure why there's a growing trend for releases to be so bare bones but this one follows suit. Check them out below:
The Sacrificed Tibéhirine: Further Investigation
Merrimack College Augustine Dialogue IX with Author John W.
Theatrical Trailer
Previews of Additional Sony titles.
DVD Copy
BD-Live
If you're looking for a great release to add to your collection, as far as video and audio quality are concerned then look no farther. This release is as close to perfect as you're going to see any time soon. I simply cannot say in words how great they did with this release. The only downside you may find is the subject matter, or that it's a subtitled release.
While I'm willing to get over the subject matter and I love foreign, subtitled, films I realize they're not for everyone so you'll have to take that into consideration. However I honestly hope you give this release a chance. It's not that often that such an independent film gets so many things right.