There was a time when Jim Carey could not be stopped. From his first television appearances on In Living Color, to his roles in Ace Ventura, Liar Liar, The Mask, and Batman Forever, Carey was the encapsulation of an insanely funny man on film. Littered around those gems were duds: Bruce Almighty, The Truman Show, Eternal Sunshine of the Spotless Mind, The Cable Guy, and Man in the Moon. Then came Yes Man, and it seemed to spark a return which I had long awaited. Imagine then my disappointment upon viewing Mr. Popper's Penguins, which is really nothing more than Hollywood kid-film sellout fair. Oh, Jim…what have you done?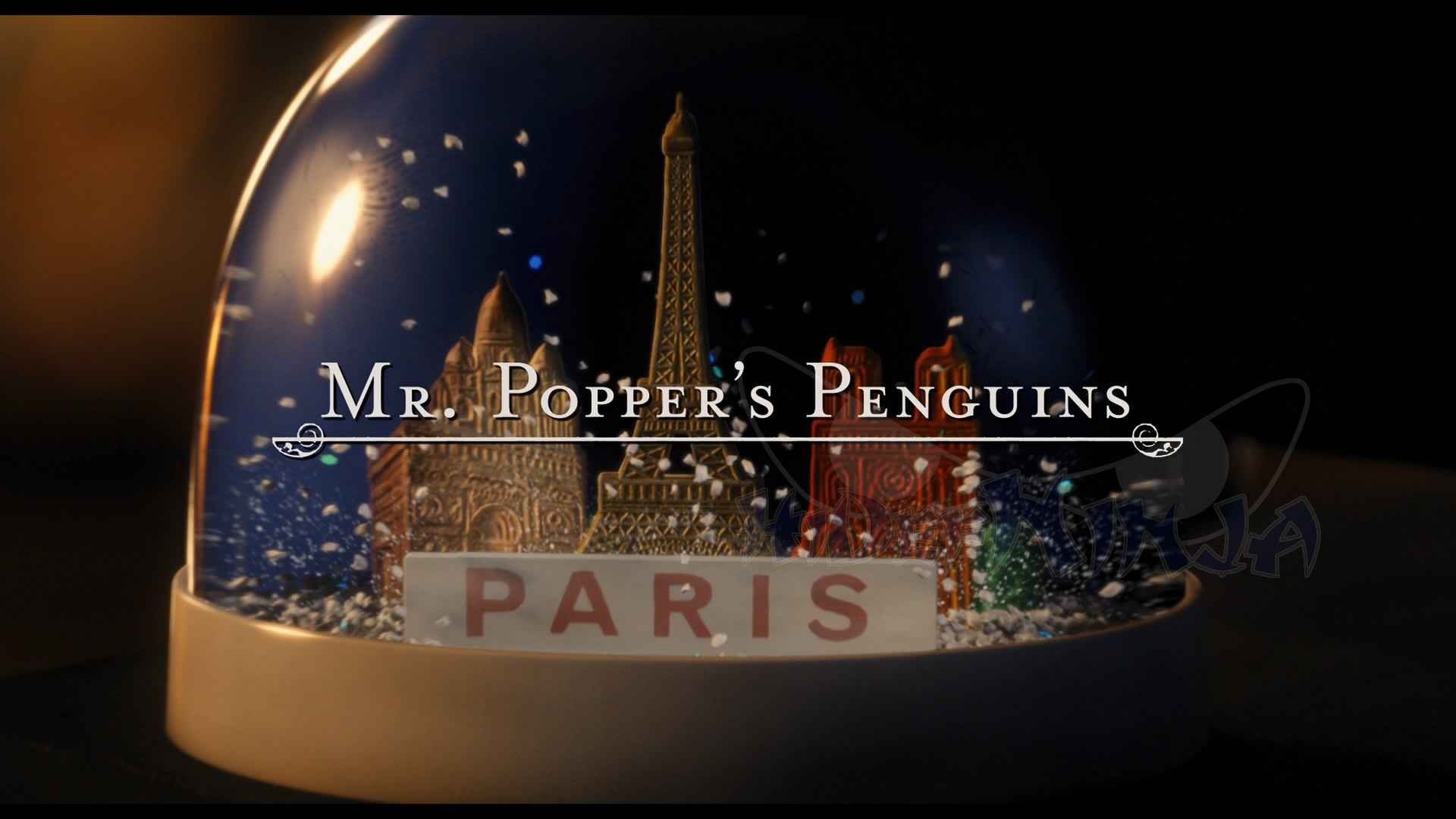 Based rather loosely on the classic 1938 children's book by Richard and Florence Atwater, the theatrical release replaces the poor house painter living in 1930's Stillwater with a successful real estate agent living in a penthouse suite that looks more like interior decorator attacked it than a single dad who's never home. Recently divorced from Carla Gugino (Watchmen) and granted shared custody of his two kids, Popper is a man on the career ladder with little time for fun. He learns that his estranged father – a world explorer – has passed away and willed him an Antarctic penguin named Captain. Really? Who wills someone a penguin? Anyways, this is meant to create chaos for our hero, who chases Captain through the apartment, ruining things along the way. After a failed attempt to send Captain back, the little tike is joined by five more: Lovey, Loudy, Nimrod, Bitey, and Stinky. Again, hilarity supposedly ensues.
There are several lame storylines supported by well-known actors that we've seen do better work, including appearances by Thor and Old Christine ex-husband Clark Gregg as the bad guy, who's neither funny nor a real threat to anyone here except our sensibilities, and Angela Lansbury (Murder She Wrote) who looked old back then. Now, she just gets in the way. Throughout the film, we are witness to various acts of penguin treachery: penguins sliding down things, penguins sliding on floors, penguins pooping…yes pooping. I didn't realize kid movies now including toilet humor.  I could bore you with further minutiae, but allow me to summarize: Popper gets the girl back, Popper's kids love Popper, all is well. There, now you can spend the ninety minutes you would have lost watching this engaged in meaningful exploits, like playing Batman: Arkham City. You're welcome!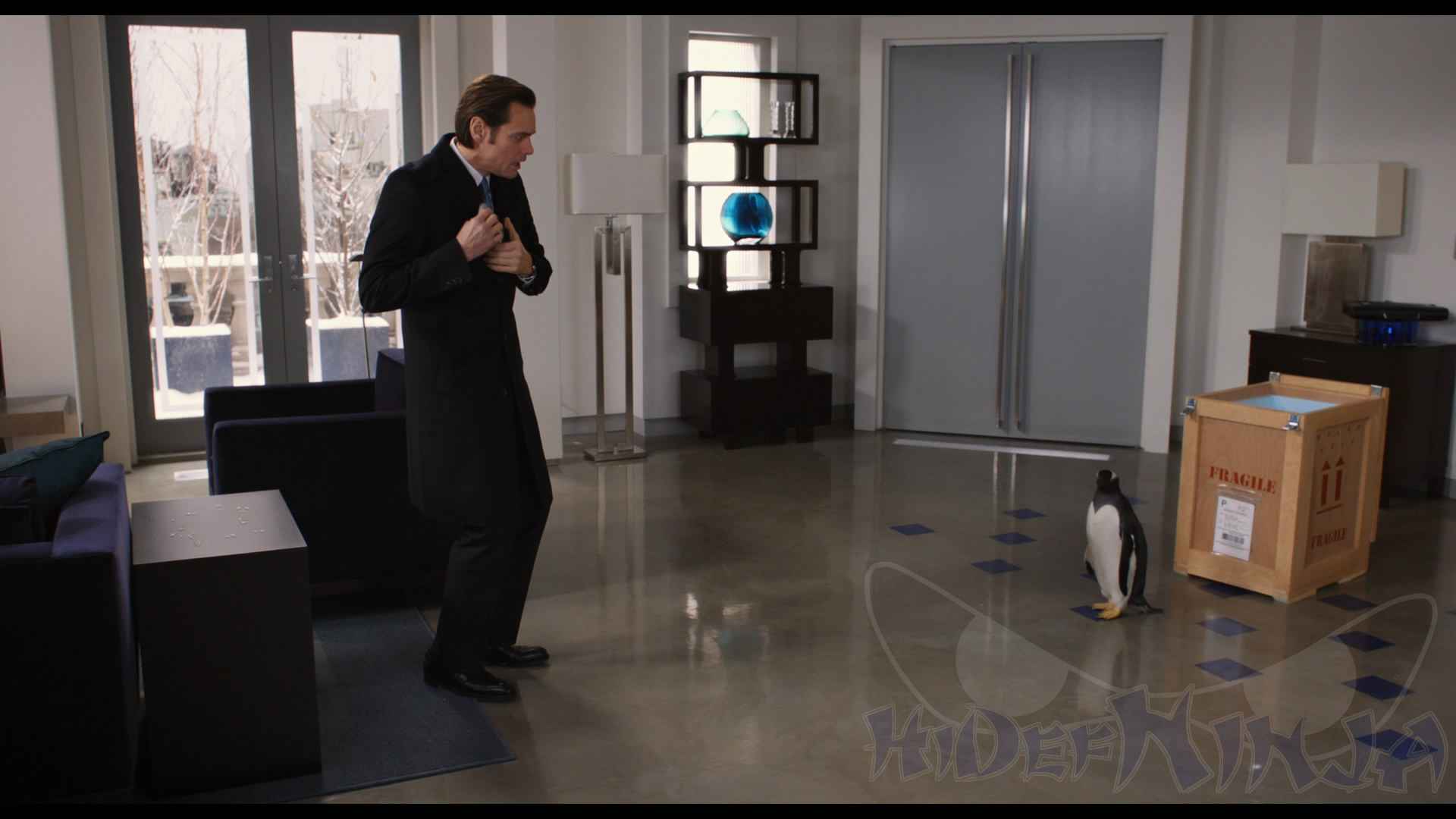 If the film does get one thing right, it's the digital transfer. The 1080p/AVC encode is clear, sharp, and without many faults. Whites are crisp and don't bleed into blacks. There's no Edge enhancement, and colors are vivid. Details, like pin stripes in suits and stitching in the couch, make for a fairly realistic environment. On the other hand, hi-def in general exposes issues with age, especially in bright scenes, which this films has lots. Carey's getting up there in age and his wrinkles and hair coloring are noticeable.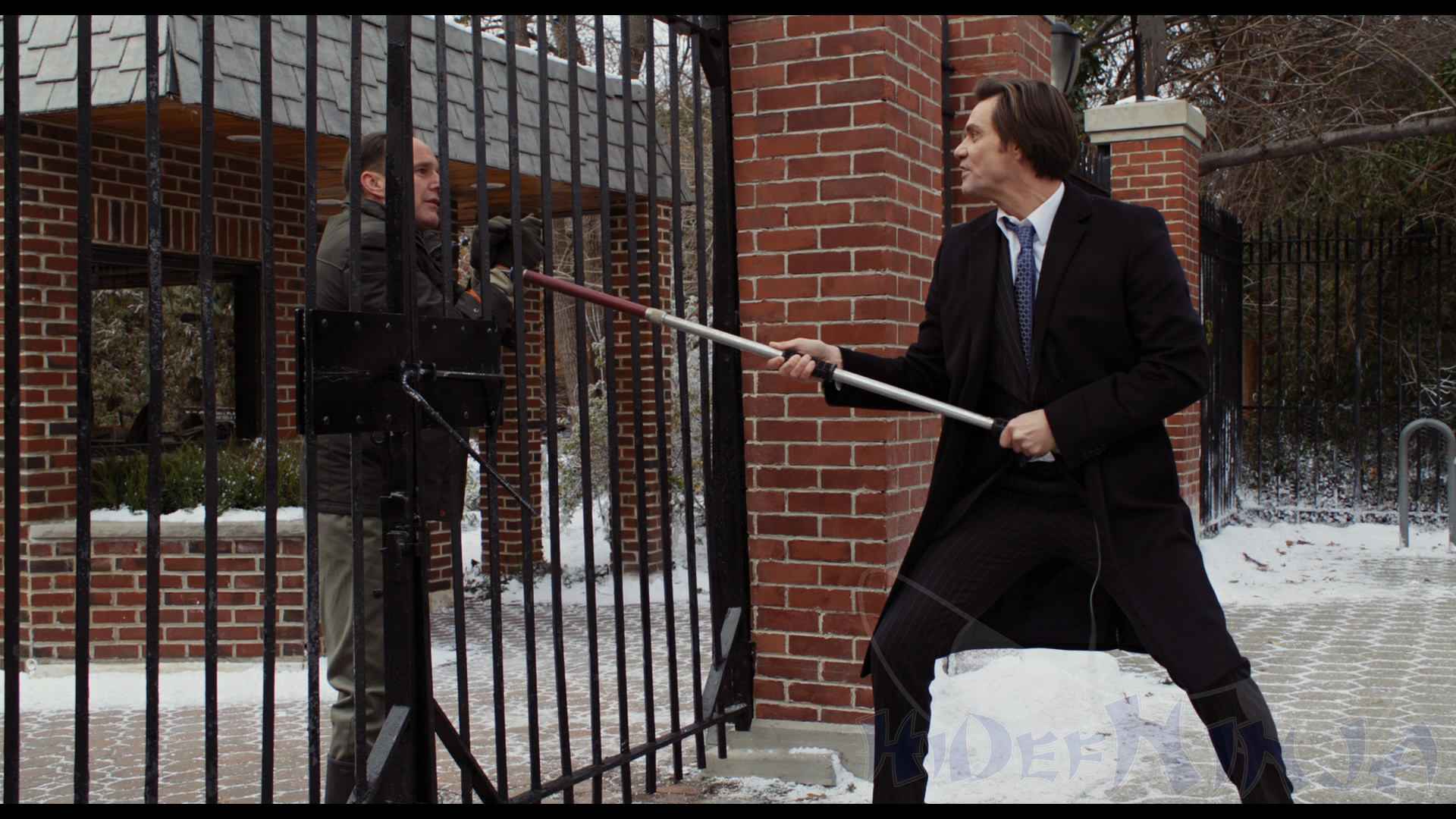 Audio is also crisp as an Antarctic afternoon, as we are given a lossless DTS-HD 5.1 surround track to enjoy squawking, squealing, and poop sounds. I don't remember buying my home theatre to hear such things, so some audiophiles might be turning off the receiver so they can hear properly afterwards. Seriously, the squawking is quite…loud. You have the choice of listening to the film with Spanish subtitles, or you might go all the way by staging your own version of Mystery Science Theatre 3000 with the French or Spanish dubs. I guarantee the laughs will come more often.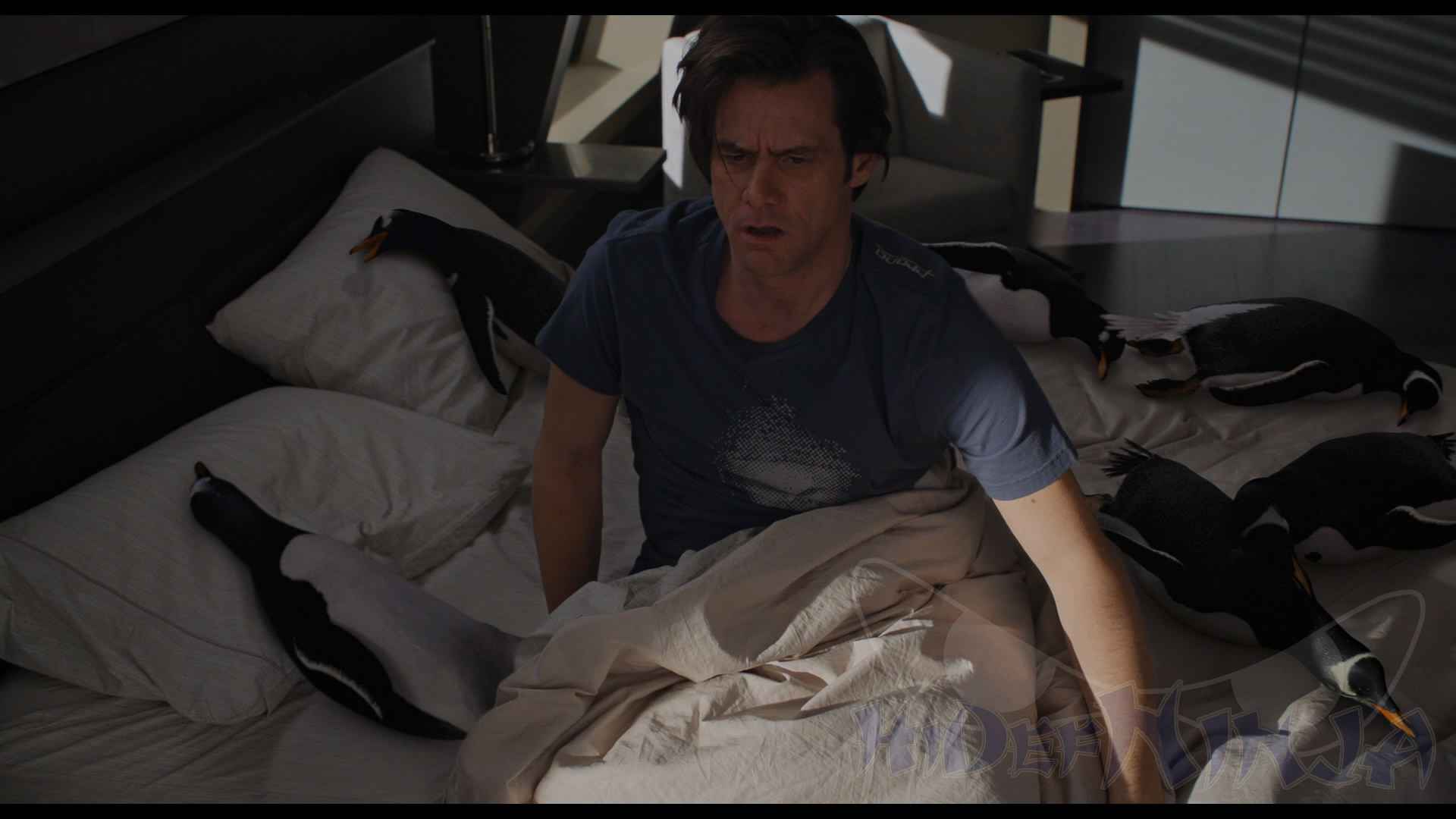 It's interesting to note that all the featurettes are presented in HD. While none of these attractions are worth investigating, it is interesting to note that 20th Century Fox is making a commitment to a total-HD release experience with this release.
• Audio Commentary with Director Mike Waters, Editor Bruce Green, and Visual Effects Supervisor Richard Hollander.
• Nimrod and Stinky's Antarctic Adventure: A short animated sequel.
• Twelve Deleted Scenes with optional commentary from the director, editor, and visual effects supervisor.
• Gag Reel
• The Legacy of Mr. Popper's Penguins: A short backstory on the book.
• Ready for their Close-up: A short about the live penguins used for filming.
• Ladies and Gentooman: A rundown by a SeaWorld scientist on penguins and their natural habitat.
• Stuffy Penguin Theater: A presentation on how the filmmakers used stuffed penguins as stand-ins for the eventual CGI creations. It really is hard to tell which scenes feature real penguins and CGI ones.
• Penguin Pandemonium: Another technical featurette.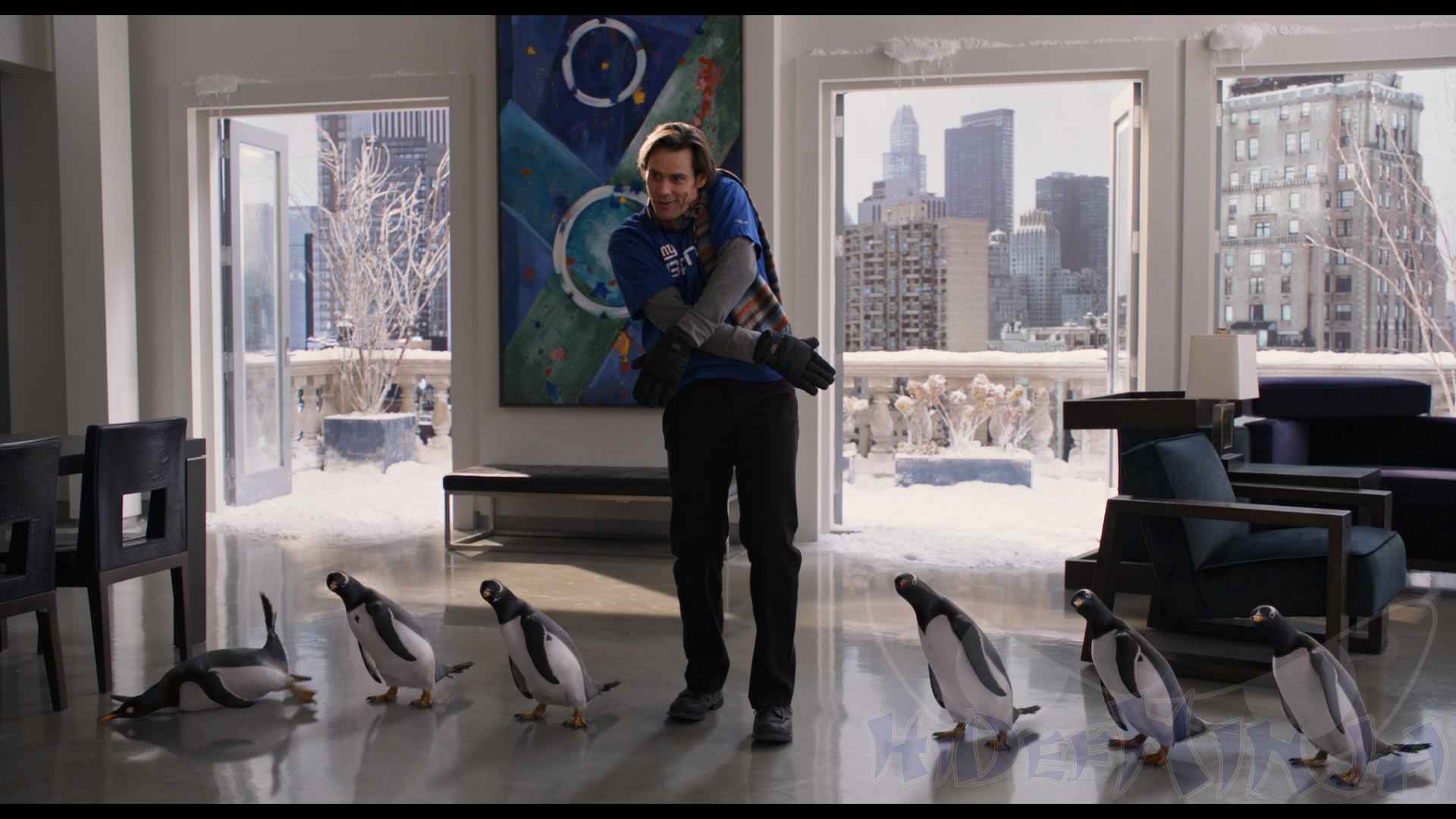 If Jim Carey's future is now locked in the Steve Martin-Eddie Murphy Hollywood kid-film sellout genre, we're in for a bumpy ride. Too much squawking, too much pooping, and not enough of the old Jim Carey, and It seems like the days of Vera De Milo and Ace Ventura are long gone. On the positive side, Fox is finally getting its Blu-Ray beaks in order, with Mr. Popper's Penguins looking good and sounding…loud. This is a fair release for 7-10 year old kids, but not a keeper by any stretch of the imagination. Seek this as a rental, or give it away to the next door neighbor with more holiday lights on his house than yours. You'll have the one more good laugh than this movie produces. Oh, Jim…where have you gone?