"Another tragedy prevented by gun violence!"
The Simpsons are an American institution.  Granted, it's not Sesame Street or 60 Minutes, but the evidence for their standing is compelling: 23 seasons, featuring over 1,000 guest voices, and a penchant for leaving few races or social issues untouched.  It's won 27 Emmys since it debuted in 1989 (although it got its first appearance on The Tracy Ulman Show in 1987).  They are funny, irreverent, ridiculous, even sacrilegious, but never crossed 'that line' which shows like Ren & Stimpy did early and often.  Their light flamed out years ago, but The Simpsons remain.  The adventures of Homer, Bart, and Lisa are always subject of water cooler discussion, even if Sunday nights are now owned by NBC's Football Night in America.  And although its quality had been inconsistent as the new millennium approached, season 14 (which was recently released by Fox) is a return to classic Simpson family tomfoolery.
This review will focus more on the technical aspects of the release rather than an episodic review of season 14. However, I'd like to acknowledge some episodes you might want to watch, including "How I Spent My Strummer Vacation," featuring the voices of Mick Jagger and Keith Richards, Elvis Costello, and other 60's/70's rockers.  "Large Marge" sees our blue-hair-towered mother accidentally receive breast implants, while Crusty is forced to adopt a kinder, gentler façade.  Under the 'sacrilegious' portion of our show, you are offered "Pray Anything," as Homer uses prayer to upend Springfield.  And then there are just memorable scenes that you'll watch over and over: check out Homer's psychedelic experience when tasting a Krusty's rib sandwich in "I'm Spelling as Fast as I Can."  The season has its duds as well, but they are few and far between.  And as always, The Simpsons do social commentary very well: "Helter Shelter," in which the family moves into an 1890's home (a la The 1900 Home), gives the chance for several astute and frankly prophetic comments on the pitfalls of reality television.
Every aspect of a successful release is apparent here: the set is delivered around the recurring Halloween episode "Treehouse of Terror," with a nice slipcover (showing off aliens Kang and Kodos) as well as a densely-packed amaray case.  In fact, it's one of the few releases I've seen which uses the traditionally bland case so effectively.  Even the artbook, an item lost to the bottom-line mentality of Hollywood, makes an appearance here, detailing each episode and presenting visual cues at the bottom of each page for director's commentary, etc.  If you're into packaging, it's a nice display and certainly proves that studios can use amaray to deliver a quality product.
"Life is a coffin and each child is nail!"
Although we're talking about analog here at a 1.33:1 aspect ratio, the result of this transfer is clean.  There is no pixilation or artifacting, colors are vibrant, and animation sequences only stutter once in a great while.  I didn't notice haloing or edge enhancement either.  The transfers frankly look terrific, given a number of very common factors surrounding older film – the truth is, these episodes will only look as good as the source material used.  While I have not seen the DVD version of  this season, I can tell you that the technical effort of these transfers minimizes any issues present in older technology.  Because the animation is relatively simple, colors do not bleed into each other, and the MPEG-4 AVC encoding is spot on.  At the same time, it should be noted that Blu-Ray exposes all: check out any of the openings to notice that creator Matt Groening borrowed footage from previous seasons.  You can really see the differences when comparing Homer's entrance into the house to the couch gag scene.  At the time, one would have never noticed this, but this is Blu-Ray, and no cheap effort goes unpunished.  If you're willing to get over that, and videophiles should, the quality of the transfer is terrific considering the master print that was probably available.
"I'm gonna go Super Dad on their asses!"
Even though these episodes premiered in 2003, the lossless audio quality is crisp and clean, with DTS-HD 5.1 surround sound tracks for each episode.  Clearly, you are not purchasing this set to hear fart sounds or 'Du-Oh!' in crisp 5.1, but it would have been nice if they had mixed in some ambient sounds (street noises, random conversations, etc) in the rear channel to round out the experience.  French and Spanish formats are also available, as well as subtitles.  I would suspect that as future seasons are released, the surround portion of these tracks will be improved.  Even with an excellent effort made, I can't give the audio a perfect rating because there the source material did not include these ambient sounds.   Granted, we're talking 2003, when surround sound for home theatre was first being presented as an economically viable option for a weekly television show, but the lack of a dedicated surround experience should not limit someone from purchasing this set.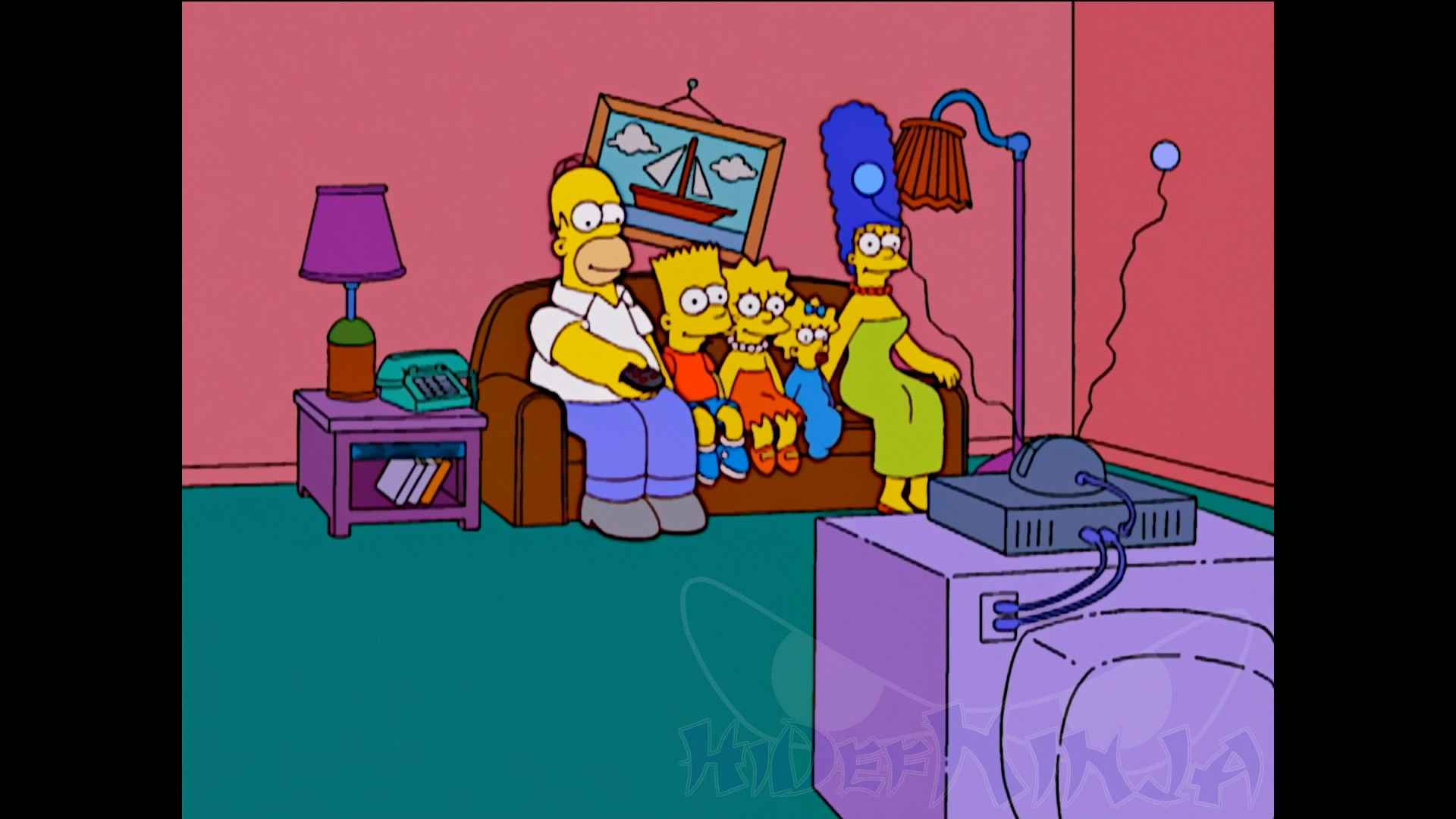 "Yank my teats and harvest my milk!"
There is so much to like on this set, from episode transfer to packaging.  However, the real treasure is the large amount of special features.  Let's start with the motion menus, as each disc features a selection of six Simpsons characters seated at a haunted mansion-esque table; they poke fun at each other using a variety of laughs, grunts, screams, etc.  These menus are fun to watch, especially if there are some viewers who might need introductions into the characters by the more astute people in the room.
There are at least three special features per discs, the totality of which are featured here:
Audio Commentaries: Every episode contains a commentary, which is unique for any television show.  It's safe to say that few people ever get to this portion; yet, I encourage you to do so.  The commentary, like the show, will make you laugh throughout.
A Haunting Invite from Matt Groening (1080p, 2:12): Matt Groening explains why season 14 was so memorable.  Nice to see a 1080p effort here.
In the Beginning (Standard Def, 12:43): A presentation of the opening sequences from the "Treehouse of Horror" episodes.
It's Only Rock 'n' Roll (Standard, 9:05): One of the best features of the set, this behind-the-scenes piece documents how the rockers from "How I Spent My Strummer Vacation" performed their lines.  Check out the always enlightening comments of Keith Richards.
Sketch Gallery I (1080p, 2:14): Sketches for "How I Spent My Strummer Vacation."
The 300th Episode – Barting Over (SD, 1:56): A short explanation about the airing of the 300th episode, featuring Tony Hawk and Blink 182 interviews.
Sketch Gallery II (1080p, 2:14): More early character drawings.
The Halloween Classics (Standard, 8:18): A collection of more Treehouse moments.
Bonus: Treehouse of Horror V (Standard, 22:53): Pretty funny parody on The Shining.
Deleted Scenes (1080p, 11:06): This is a neat feature, with introductions and optional commentaries by writer and producer Al Jean. There is also the ability for the viewer to see specific episodes with the deleted scenes re-inserted.
Animation Showcase: Moe Baby Blues (1080p, 5:26): Another nice feature, which gives you the ability to toggle your remote between the storyboards and the completed animations.  Yes, they made storyboards for an animated series.
Special Language Feature: Three Gays of the Condo: Watch this funny episode in German, Portuguese, Czech, German, or Italian.  This episode garnered the series its ninth Emmy, and it's well worth your time.
Foolish Earthlings (Standard, 3:44): The aliens Kang and Kodos are featured in a montage.
Bonus: Treehouse of Horror VI (Standard, 22:48): Another Treehouse episode, in which Homer is placed into a 3D CGI world.  This feature appeared back in 1995.
Booklet: As mentioned previously, the appearance of an artbook with comments by Matt Groening and summaries of each episode is welcomed.
"Who let her jugs out?!"
The Simpsons have redefined comedic television, outlasting more raunchy competitors (and really everyone else) with strong writing and witty commentary.  A very good audio and video transfer, coupled with appealing special features and well-designed packaging, makes season 14 of The Simpsons an excellent value.  I do hope Fox gets more of these earlier seasons out, lest we be forced to wait until 2020 or later to get fully caught up!