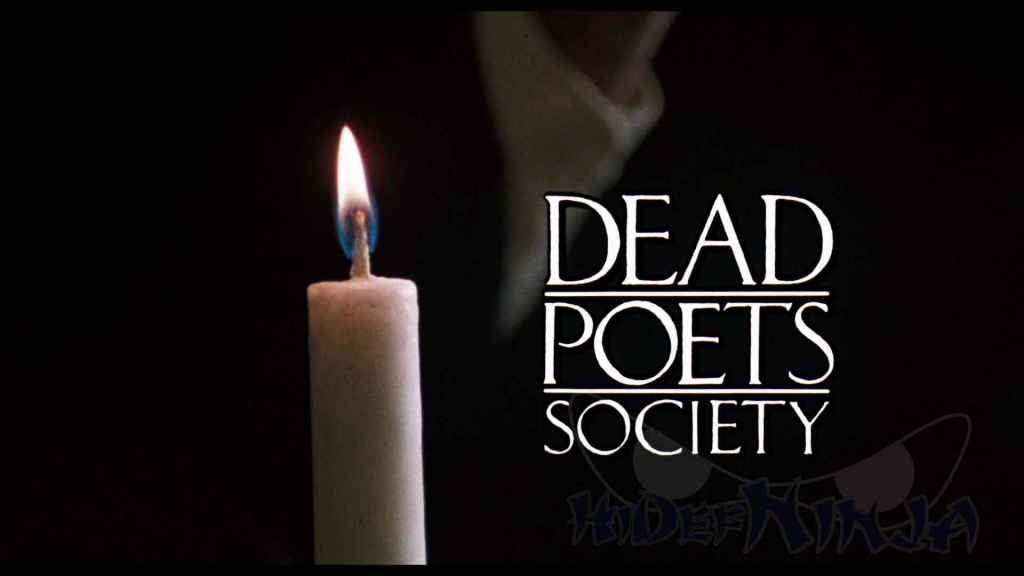 The Dead Poets Society is one of those films that you've either seen it or have definitely heard of it. It's directed by Peter Weir, whose films also include Gallipoli, Witness, and The Truman Show. He has done well here in creating a classic. It was one of the first movies where Robin Williams wasn't doing 100% comedy but maintained his signature energy. His personality works very well in a drama because it humanizes his character and but doesn't overshadow the others. It's an excellent story with tones of uncertainty, rebellion, love and inspiration.
The film has a fairly large cast of main characters which includes Robin Williams as John Keating, Robert Sean Leonard as Neil Perry, Ethan Hawke as Todd Anderson, Josh Charles as Knox Overstreet, Gale Hanson as Charles Dalton, Norman Lloyd as Headmaster Nolan, Kirtwood Smith as Mr. Perry, Dylan Kussman as Richard Cameron, Allelon Ruggiero as Steven Meeks, James Waterson as Gerard Pitts, and Alexandra Powers as Chris Noel. Chris is a girl that Knox meets that goes to a local public school.
The film is set in 1959 at Welton Academy for boys in Vermont. Knox, Charlie, Cameron, Neil, Pitts, and Meeks are the main characters in the film and live in the same dorm. They all come from rich or prestigious families aside from Neil. His parents want him to become a doctor and establish a social status. This year at school is John Keating's first as English teacher and used to attend the school. Todd Anderson is also a new comer this year and is rooming with Neil Perry. It is the start of term and they are all seniors so they have most of the same classes, including English.
He begins his first class by entering, whistling the 1812 overture, grabs a book and walks out. He takes the students to see the trophy room and asks them to either call him Mr. Keating or "Oh captain, my captain" from a Walt Whitman poem about Abraham Lincoln. He tries to teach his students that an appreciation of poetry is important to understanding how life works. He pushes them to make it as important as math or science. He also impresses on them that life is short so live it to the fullest.
After Neil discovers their English teacher's old yearbook, they see that he was a member of the Dead Poets Society. Upon asking him about it, he tells them that it was a secret club he was a part of that would meet in the woods and share poetry. They learn that sharing poetry shows them how to share their feelings and peruse their dreams.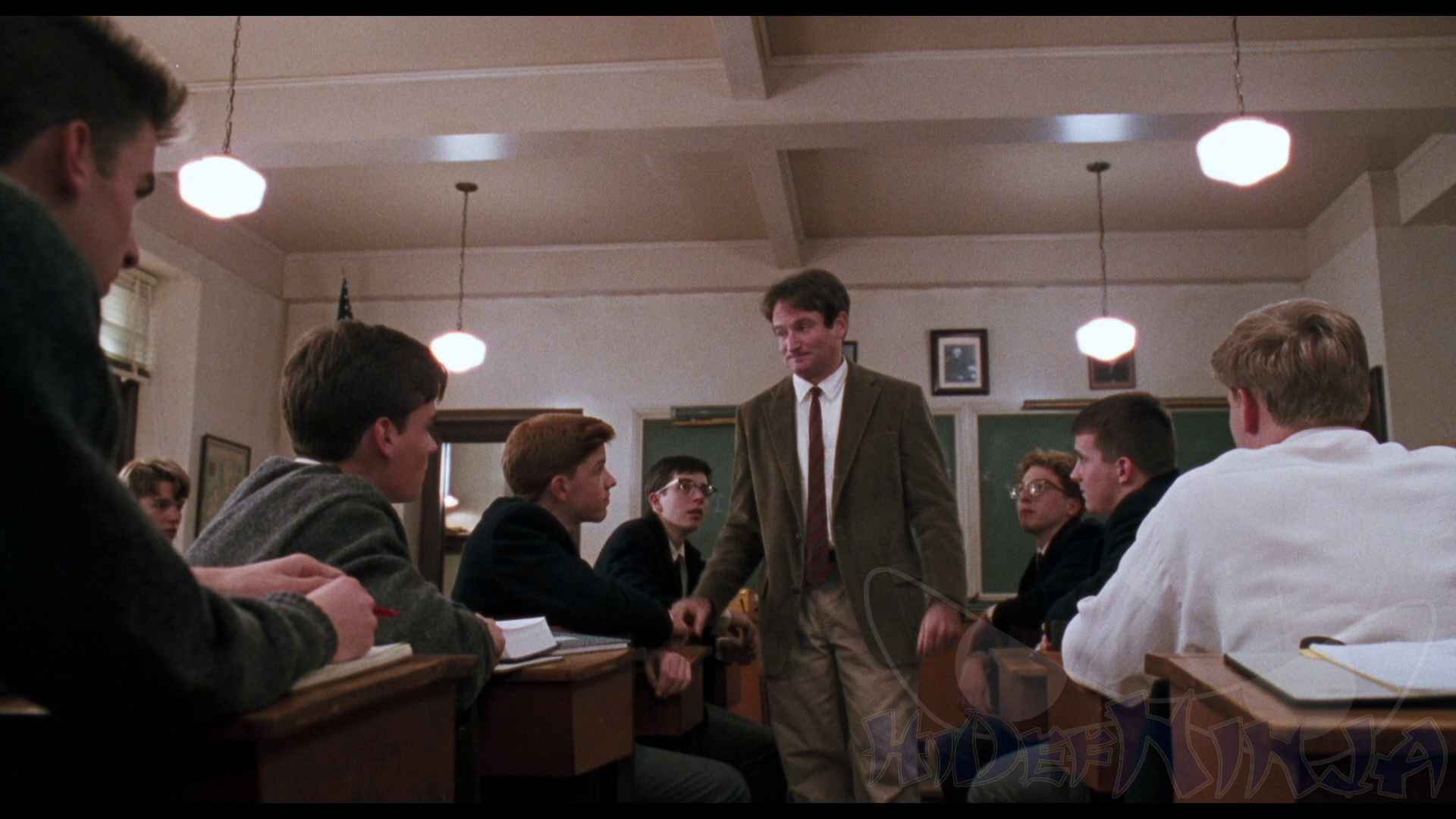 It was filmed in Middletown, DE at St. Andrew's Private school and not far from where I grew up. This is a perfect setting due to the older architecture and a large campus. As portrayed in the film, the area is full of large landscapes and beautiful scenery. As well as the perfect setting, the director also picked an excellent cast. They really do play well off of each other. It is very believable that they have been friends and going to school together for years. They also all give off that they care about their education but feel the pressure they have to follow in the footsteps of their parents.
All of the performances are amazing but there are four performances which stand out: Robert Sean Leonard, Ethan Hawke, Gale Hanson and, of course Robin Williams. These are the three characters that had, by far, the biggest internal changes over the course of the film. Leonard and Hanson had a bit of rebellion already but their teacher showed them not to be reckless but do something meaningful in life. Hawke's character is new to the school and he has a very timid way about him. In many ways, he can almost be seen as the main character due to the film following his personality's alteration.
---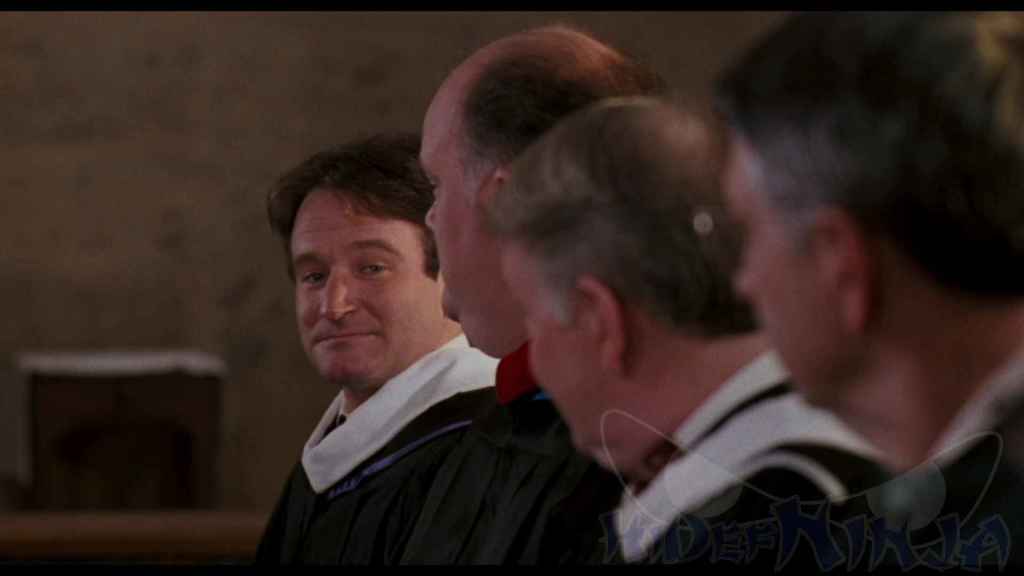 The transfer overall is very good. Right away during the opening scene, the murals on the wall have more detail and sharpness. There are some minor artifacts only in a few scenes. The grain looks like it belongs and is very subtle. The wide shots of the campus have bright, vibrant colors and give a depth that wasn't possible in previous formats. The upgrade to blu-ray for this film has a picture that is very sharp and clean.
---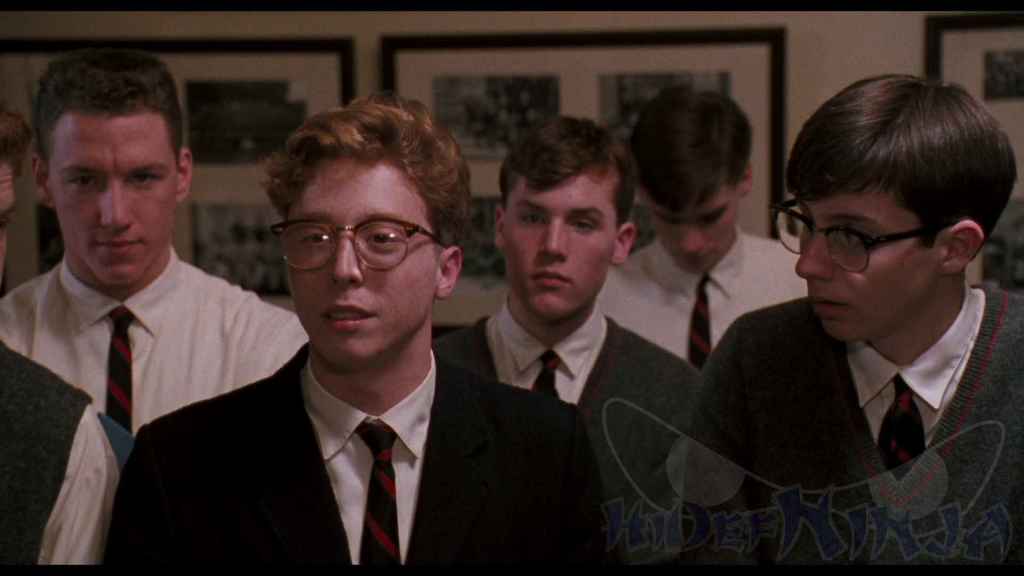 The audio is a lossless DTS HD-MA and is a great improvement over the DVD format.
It really shows in the music and score with a clarity made for a home theater. The ambient noise of hearing students in the halls or during meals is also very clear. There was a lot of dialogue and small sounds that I have never heard until this screening. Another place where the sound has a boldness in the classroom. When Mr. Keating has Todd Anderson get in front of the class and give him "a barbaric yawp!", the sound isn't overdriven. It sounds precisely how it would sound in a classroom.
---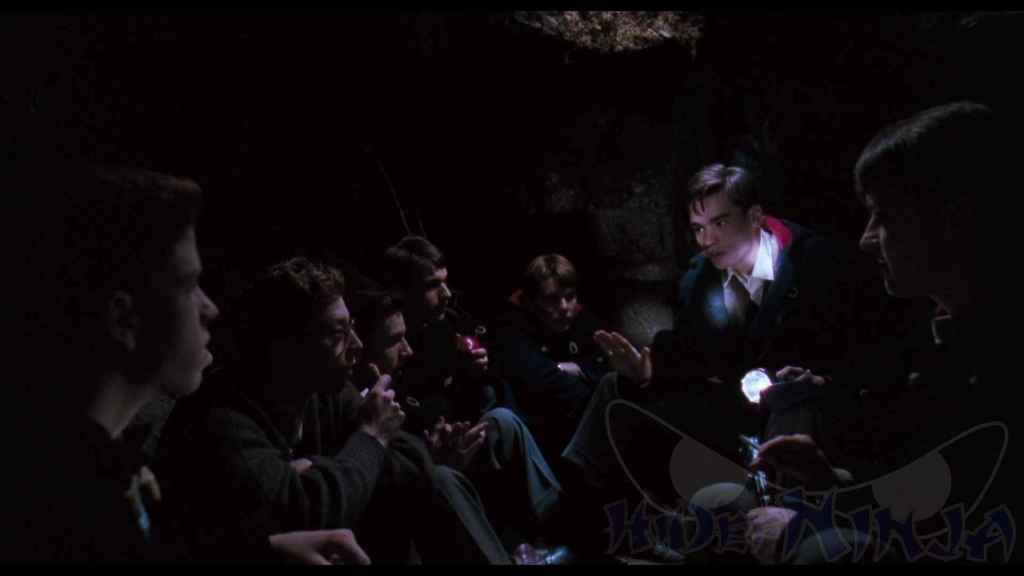 The score is due to the lack of supplements, not the quality. The best out of what's here is the look back with the cast and crew as well as master of cinematography featurette.
Dead Poets: A Look Back featuring interview footage with Director Peter Weir, Ethan Hawke, Robert Sean Leonard and many others
Raw Takes
Master of Sound: Alan Splet – interviews with David Lynch And Peter Weir
Cinematography Master Class – an intensive and inspirational lighting workshop with Cinematographer John Seale
Audio Commentary with Director Peter Weir, Cinematographer John Seale and Writer Tom Schulman
Theatrical Trailer
---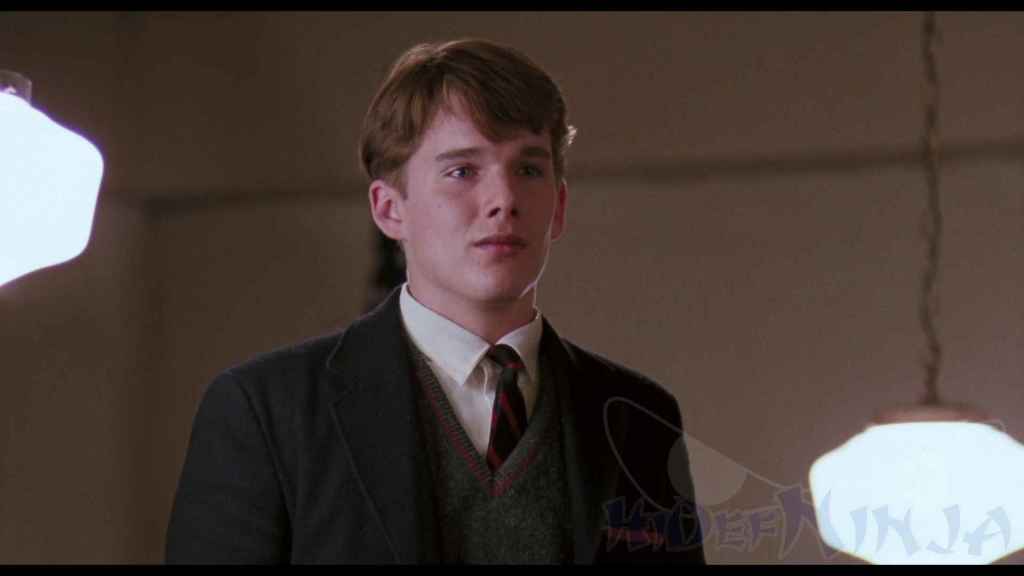 The Dead Poets Society is a movie that has been a favorite of mine for years. Even though it is 23 years old now, it has really held up. The new transfer had made it look very shiny and clean in high definition. I would recommend upgrading this if your a fan or just buy if you haven't seen it. It will make a great addition to any collection, and you won't regret it.