I recently saw Gary Oldman's performance in Tinker Tailor Soldier Spy.  This is a role that requires an incredibly quiet, authoritative individual, who plays things incredibly close to the vest.  It is some of Oldman's best work.  Of course, Gary Oldman has also been known for playing larger than life roles, including his villainous performances in films like Leon and The Fifth Element.  Is there an actor capable of going completely over-the-top, so often, but still commands the complete respect from critics and audiences all over besides Oldman?  Regardless, back in 1986, Oldman gave another wild performance as Sid Vicious, bassist for the English punk band the Sex Pistols, in the wild, but well made and very watchable biopic Sid & Nancy.  It was certainly a solid collaboration between director Alex Cox, co-star Chloe Webb, and Oldman.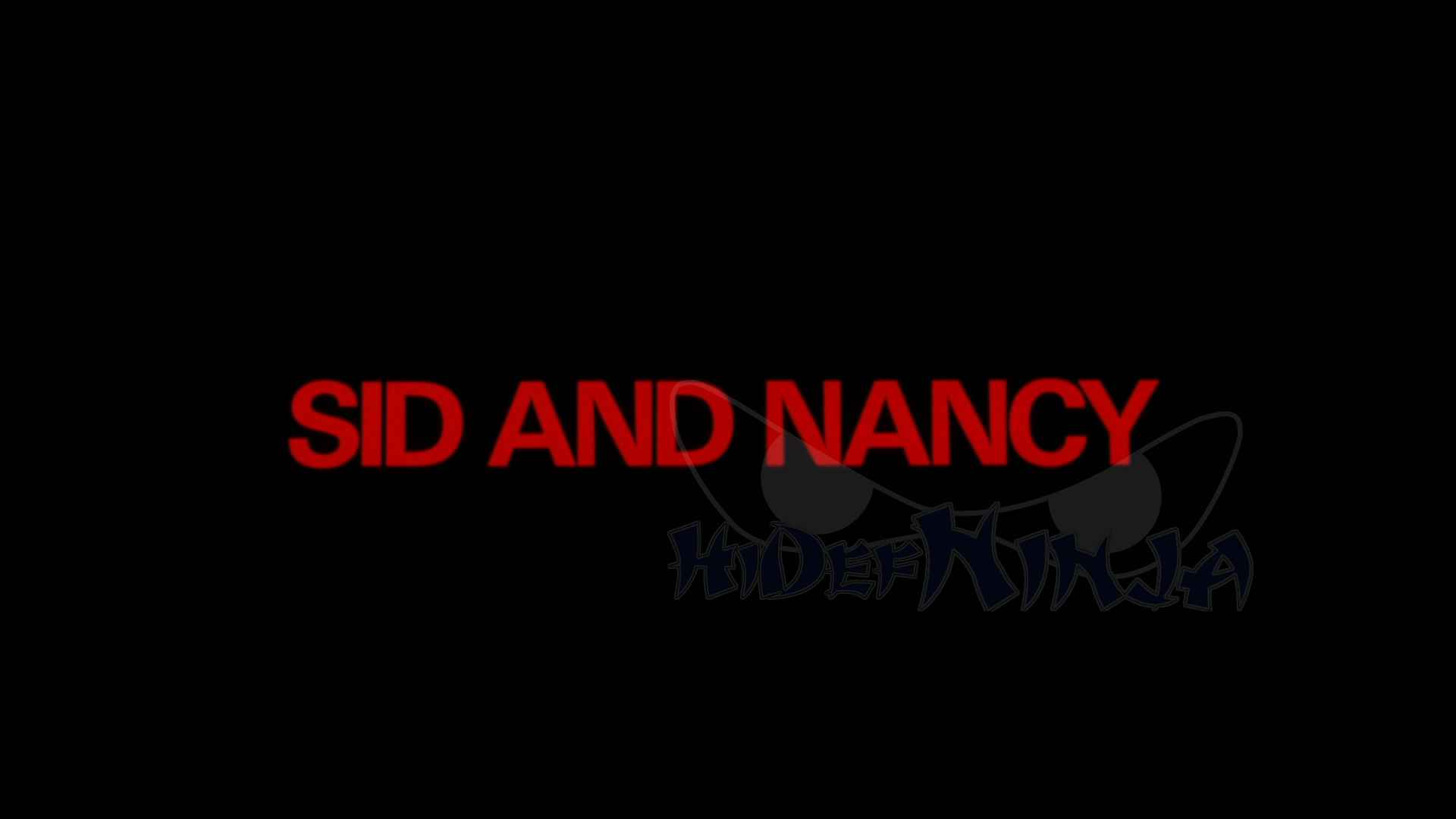 Sid & Nancy skips past the formation of the Sex Pistols and plays out as a punk rock romance, masked as a biopic of sorts.  The film starts in a pretty depressing place, which will come back later on the film, but then jumps to a few years earlier, where a groupie (Nancy, played by Chloe Webb) joins the Sex Pistols in bed, following a London rock show.  Initially, Sid Vicious (Gary Oldman) rejects Nancy's advances, but following a trip down heroin lane, the two begin dating and pretty much instantly fall in love (they actually get married pretty quickly).  As all of this is going on, Sid's relationship with his band has pretty much dissolved.  He eventually breaks off, with an attempt to create a solo career of his own and Nancy serves as his manager.  The rest of the film revolves around the couples frequent squabbling and use of drugs, leading only to tragic results.
This film comes from the mind of writer/director Alex Cox, who was previously responsible for one of the ultimate cult films, Repo Man.  Sid & Nancy feels like an appropriate follow up to that film, as it seems to exist in a stylized type of world.  While it does contain various elements frequently seen in a biopic, watching these characters move through the world depicted in this film is something that does not suggest a true reality.  The film plays like a tragic love story, with a punk rock edge that is certainly well served by the very strong performances, even if Chloe Webb can seem incredibly annoying in this film.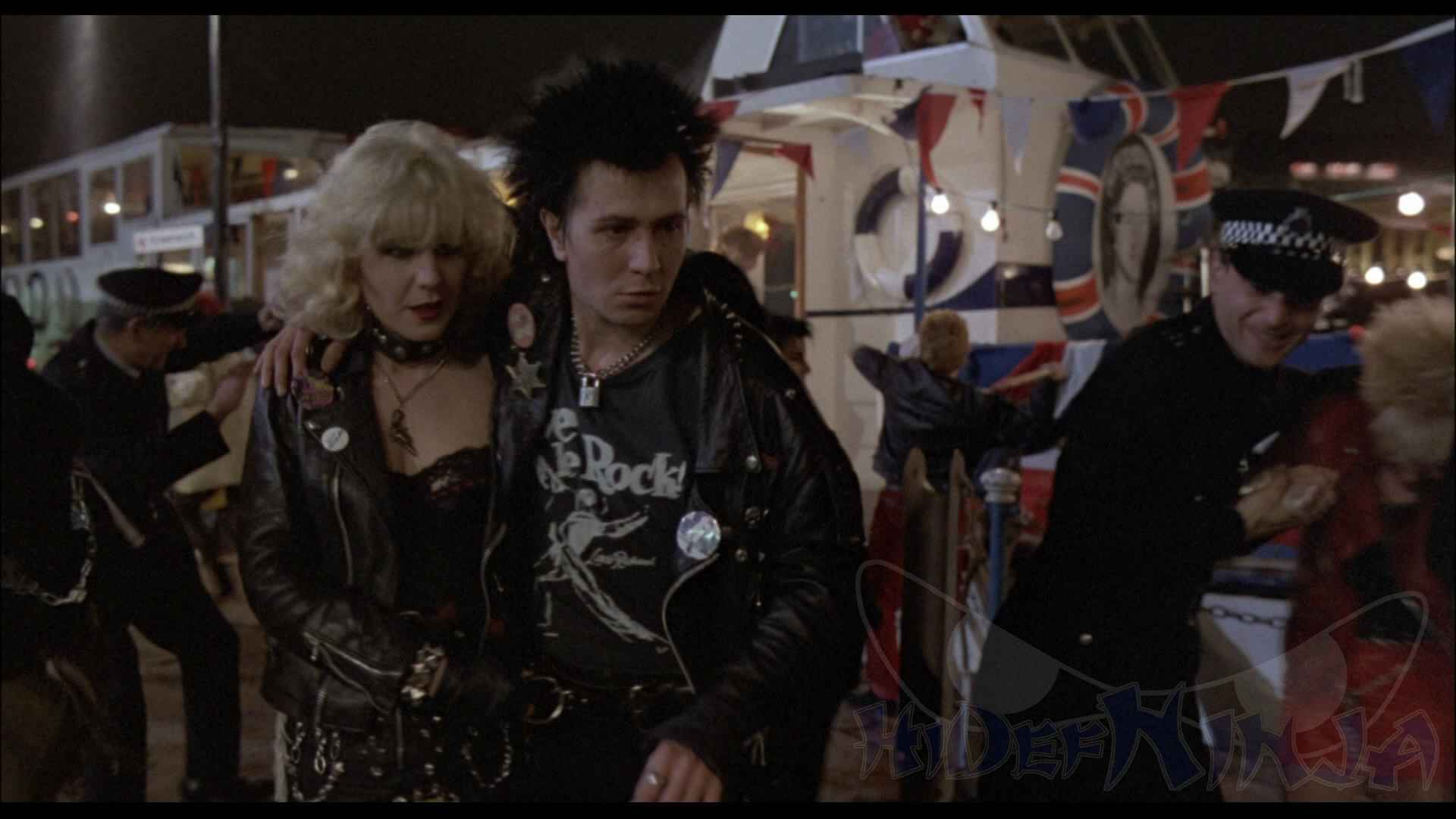 A lot of high regard should go to cinematographer Roger Deakins, who manages to make such a dirty, gritty film look absolutely beautiful at times.  A number of very cool and visually interesting sequences emerge in this film, including one sequence that was used in a lot of the poster art for the film, another that involves an unbroken shot of Sid and Nancy walking together amidst chaos, and of course the music video sequence, where Sid sings his rendition of "My Way".  Sid & Nancy is very well constructed in this sense and feels very fitting of the vision that Cox had in mind.
I have already commented on how great Gary Oldman is in this role, let alone in general, but I guess I can add a few more descriptives.  Oldman sinks his teeth into this role with all of his might, similar to basically all of the roles he takes on.  Everything he does in this film is the work of a dedicated actor who may seem to embody a silly look to some, but others can completely see how this emersion works for the role.  And balancing things out, Chloe Webb is very good in the role of Nancy.  Now that said, I can't stand this person, but that's not due her work, it's just the persona that she has taken on to play this person.  Both actors do great work in this film, which is a wonderful way to anchor the film with an emotional center, given the punk craziness that is seen throughout.  God Save the Queen.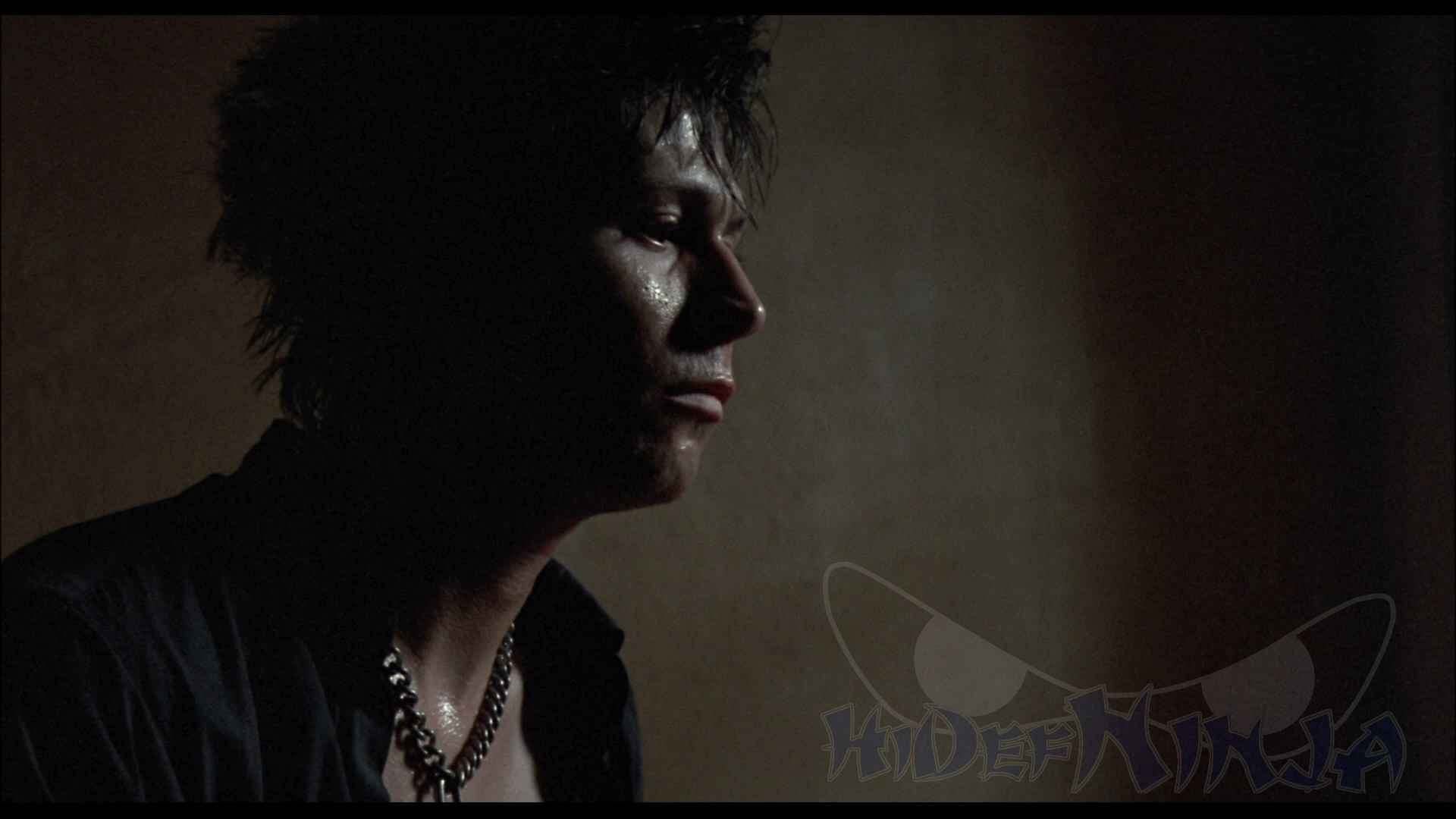 Sid & Nancy arrives on Blu-ray with a 1080p AVC encoded transfer that is quite impressive, given the grunginess of this film.  As I have already mentioned the fantastic cinematography by Roger Deakins, it is nice to see that it has turned out well in its transfer onto Blu.  The film goes back and forth between light and dark environments, something especially interesting to see, given all of the punk looks of the various characters, but the level of detail seems to properly represent the film as a whole.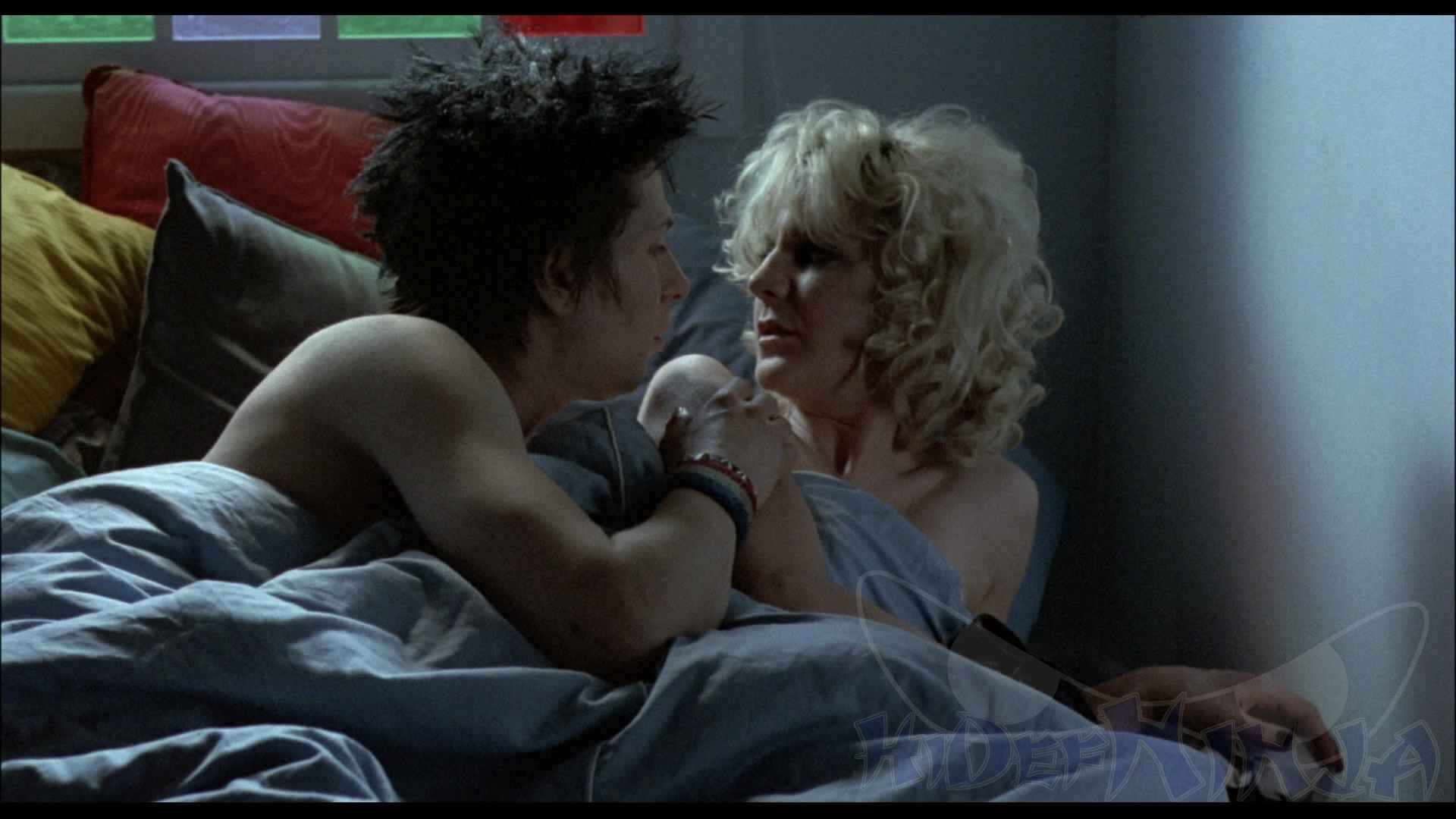 The DTS lossless 5.1 surround track is appropriately fitting for this film as well.  It manages to do justice the punk rock club environment in scenes that involve the band and large crowds all in the same room together.  The film is not a mess of noise, despite the concert setting of some scenes, and is in fact very dialogue heavy.  Fortunately, the audio mix for this Blu-ray is up to the task of properly doing justice to the film.  It is a quality audio presentation.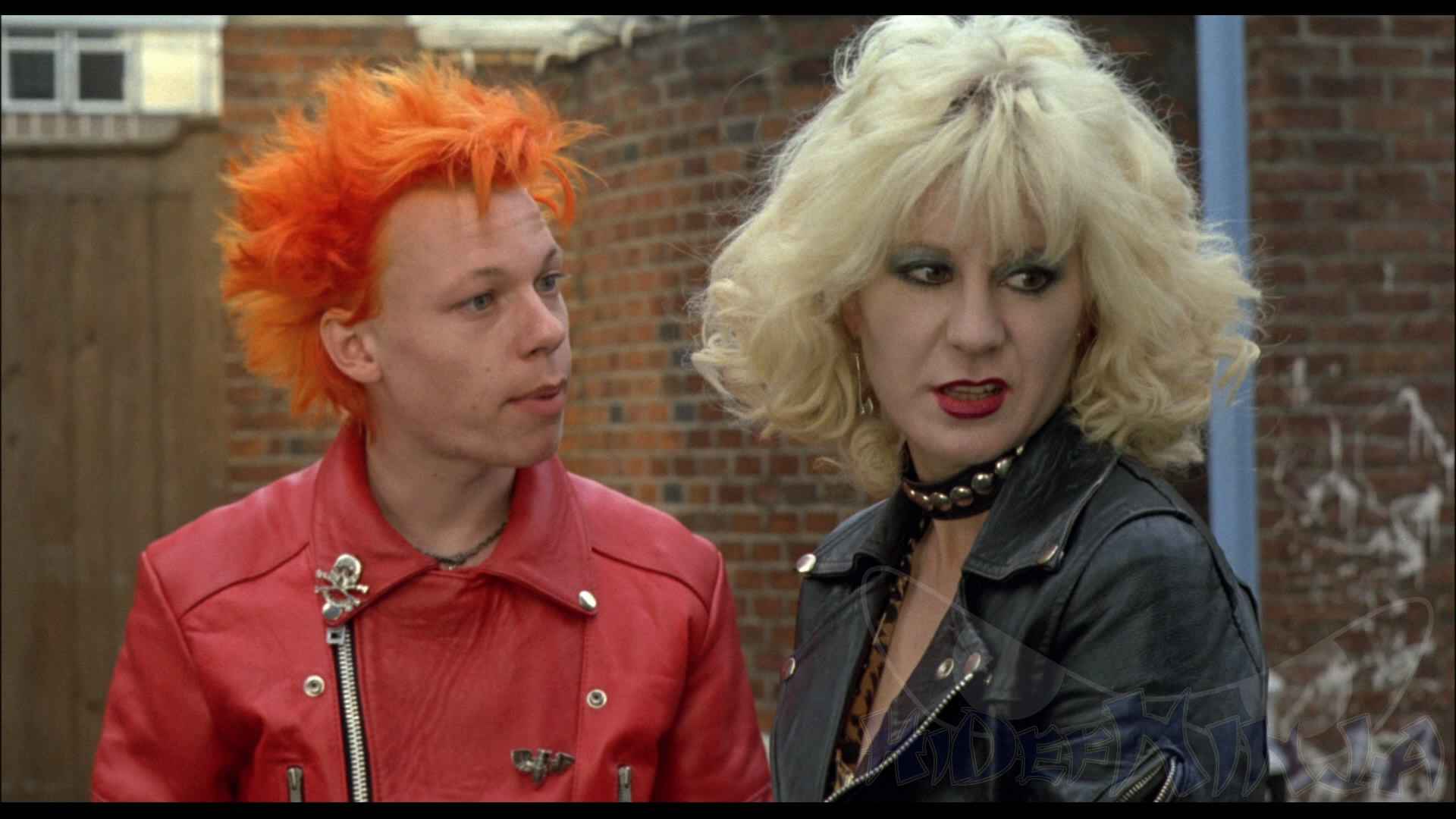 This is quite irritating.  For being labeled a "collector's edition", the scant amount of extras is disappointing; especially since a Criterion version of this film did exist on DVD.  The two featurettes that are available do benefit from being presented in HD and feature a good collection of interviews from people not directly involved with the film, but hearing from Cox, Oldman, or Webb would have been nice.
Features Include:
For the Love of Punk
Junk Love
Theatrical Trailer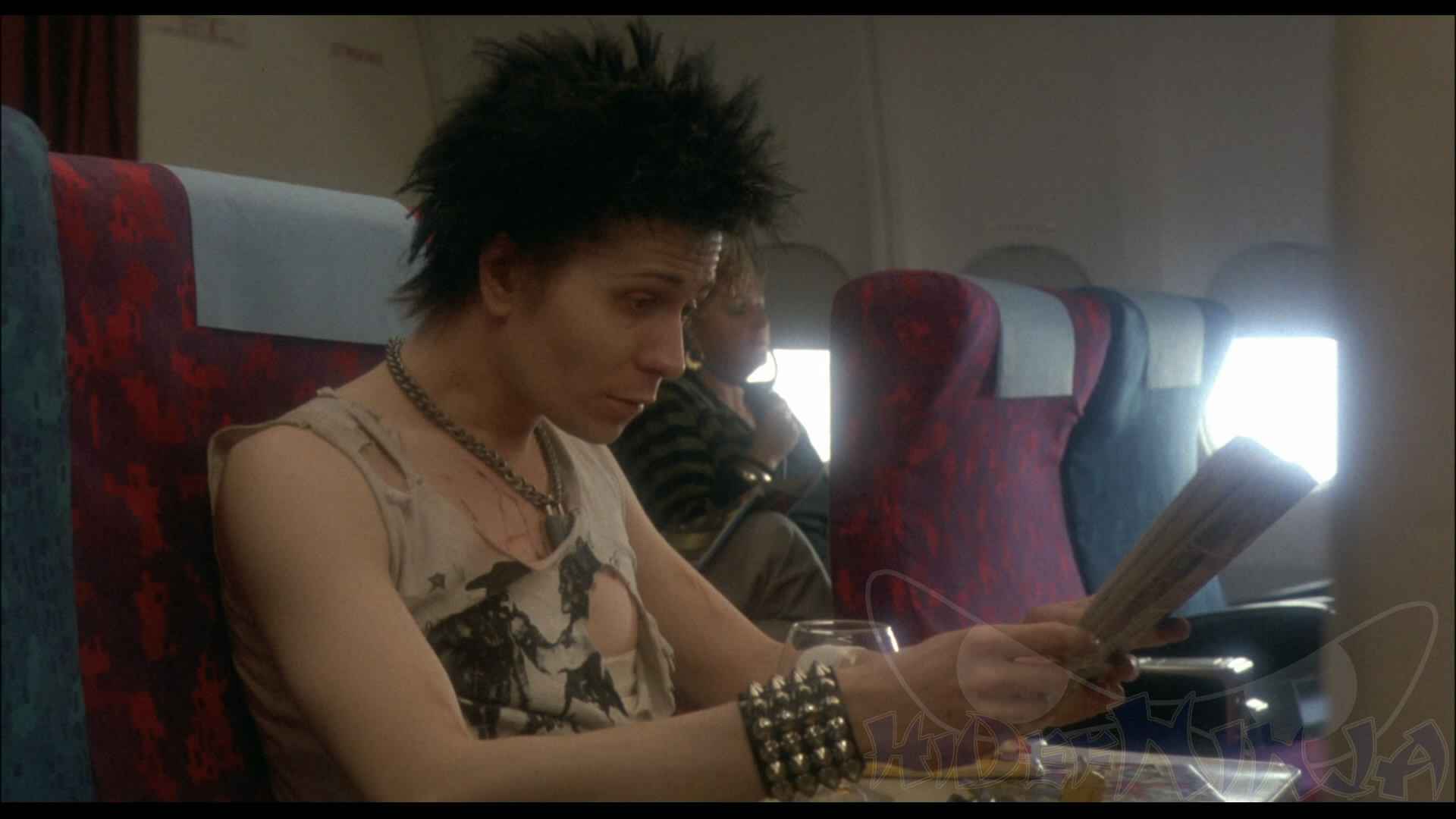 If you want to see a raw, gritty love story with lots of punk edge and the structure of a loose biopic, Sid & Nancy is a good choice.  The benefit is that the film is really solid thanks to the fantastic performances from Chloe Webb and especially Gary Oldman.  It is an intense tale, but it is entertaining, well performed, and quite well staged.  Fortunately the audio and visual presentation does great service to the film.  It is just unfortunate that this "collector's edition" does not really live up to that title.  Still, check this flick out and enjoy a little bit of anarchy.