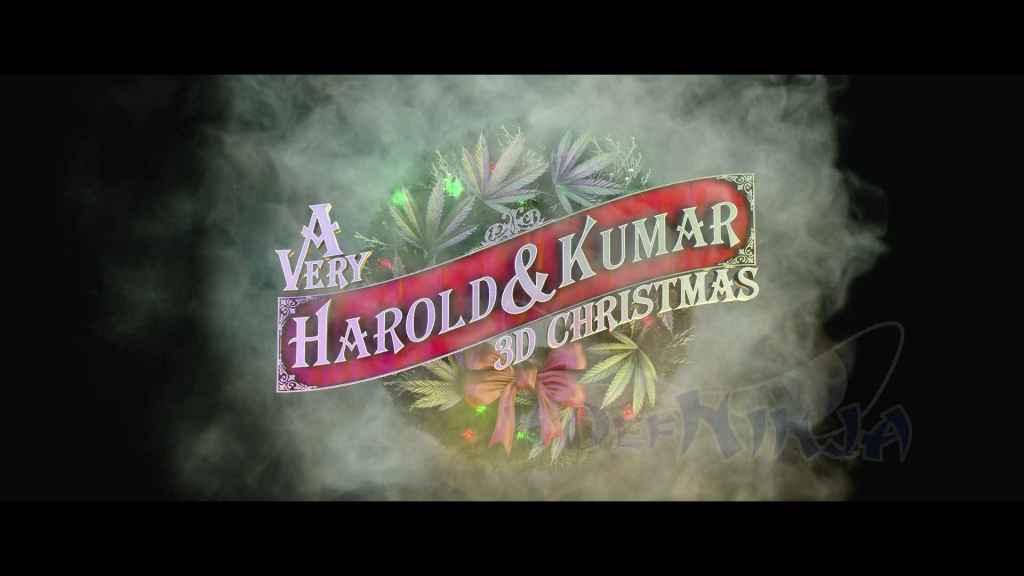 A Very Harold and Kumar Christmas: Extra Dope Edition is the third installment of the Harold and Kumar films. It is not a "family" Christmas movie so don't think that you will be watching this with them. This is definitely an "R" movie that earned its rating.
Returning to their leading roles, it stars John Cho as "Harold" and Kal Penn as "Kumar". It also stars Tom Lennon as Todd, Amir Blumenfeld as Adrian, Neal Patrick Harris (NPH) as himself, Paula Garcés as Maria (Harold's Wife) and Danny Trejo as Mr. Perez (Maria's father). The cast is the perfect mix to make an excellent comedy.
---
The movie takes place 6 years after the Escape from Guantanamo Bay film. It opens up showing what Kumar has been doing with his life. He has a thick beard and looks dirty. He is still smoking pot and failed a urine test to get into med school. Harold is now an executive who has climbed very high on the corporate ladder. He is now best friends with his straight edge, token suburban neighbor, Todd.
While Kumar is home getting high, his ex-girlfriend comes over and tells him that she is pregnant. When he comes up with nothing constructive to say, she becomes upset and leaves, telling him to think of what to do. While he shaves his beard off and cleans up his appearance, he receives a package at the door addressed to Harold. His neighbor across the hall, Adrian, convinces him he should go to this party with him and so he can hook up with a girl he met online. He agrees but only if he'll take him to Harold's house to deliver the package.
Meanwhile, Harold and his wife are expecting Maria's father, Mr. Perez, to spend Christmas with them. He suddenly realizes that Mr Perez has brought the entire family. After Harold has worked so hard to over decorate his home for Christmas to impress Mr. Perez, he is told that the fake tree he picked is a "cancer" to Christmas. Mr. Perez tells a story about why Christmas and trees are so important to him. He brings a tree with him to Harold's house that he has been growing for 8 years but they need decorations. To try again to impress his father in law, he tells Mr Perez he will handle it.
Kumar arrives at Harold's house with the package and they open it. Inside is a very large joint that Kumar tries to smoke and accidentally lights the Christmas tree on fire. So, Harold, Todd and his daughter set off to find a replacement tree but what they don't know is that Kumar and Adrian try to do the same thing and do more damage rather than helping.
This is a very funny movie. It does an excellent job of not relying on the audience needing to see the previous movies at all. There are a few moments where they tip their hat to the first two but that's all. If you are sensitive of stereotypes and racial jokes, this is not the movie for you. It doesn't overdo it but it just pokes fun. There are moments where things go over-the-top but, if you're familiar with the other films, it doesn't seem so far fetched.
---
I have very mixed feelings about the video transfer. There are points where it is clean and the colors are bright. Then again, there are a few scenes where the contrast seems to be an issue. This was when the scenes are dark and there is a lot of black crushing*. It becomes very distracting and takes away from the film.
One other thing i should mention, which is neither good nor bad, is this movie was originally released and shot in 3D. I didn't screen this in 3D but there are moments of action that are obviously made for that technology.
---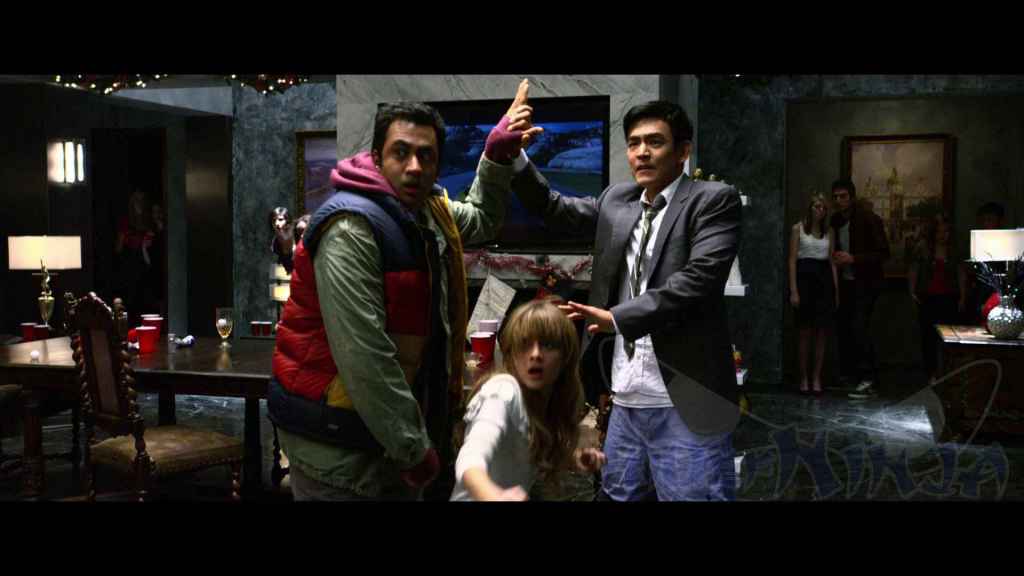 The audio is probably the only disappointing part about the release. The extended version only has a Dolby Digital 5.1 where as the theatrical version has a DTS HD-MA audio track. I noticed about 15 minutes in that the audio sounded a little weak. The few explosions sounded "tinny" and it was very noticeable that the audio had a problem.
Going back through the theatrical version, the HD track was very nice. It fixed the issues that had but being that only one version of the movie has it, its not good.
---
Through the Haze with Tom Lennon- This is a series of Tom Lennon doing improv in an interview like setting. If you're a fan of his, this will really make you laugh.
Bringing Harold & Kumar Claymation® to Life- A brief overview of how the Claymation® scenes in the movie were brought to life from story board to the final film.
Additional Scenes– just a few deleted scenes.
Though there aren't a lot of extras, the "Through the Haze" series is excellent.
The disc is a blu-ray/DVD flipper disc. This means it has both formats on a single disc. It also includes a digital copy of the theatrical film.
---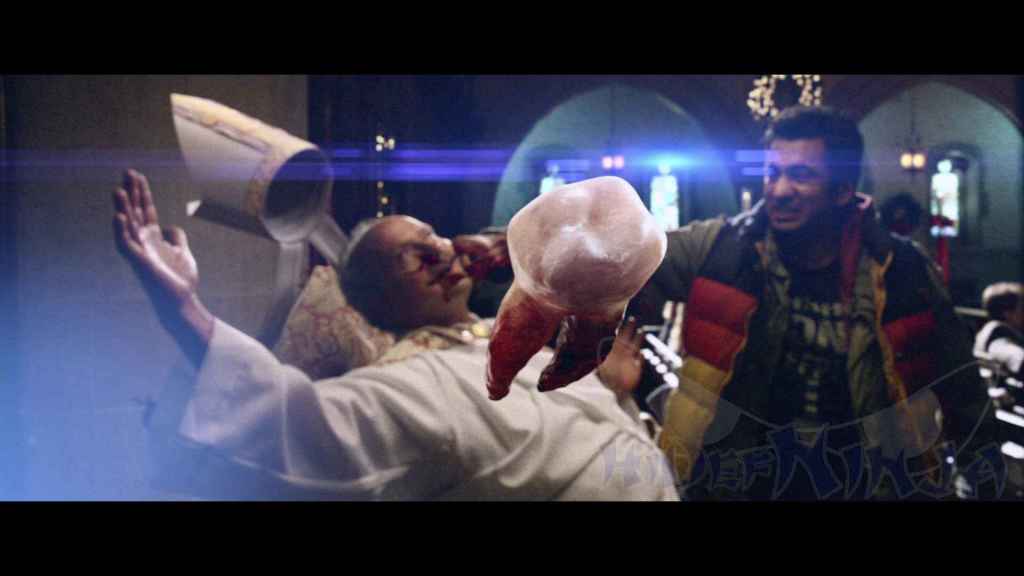 I really enjoyed this movie. It has a lot of hilarious moments and the extended version adds a little more comedy. The transfer is good for 2D but I'm sure aside from the crushing issues, it would really shine in 3D. My only real complaint is with the lack of HD audio. I realize that there is only so much room on a 50gb disc but then the release should have been 2 discs: 1 for each version of the HD movie and 1 for the DVD. In my household, this is now being integrated into our holiday movie line up. If you like comedies and Christmas, I highly recommend adding this to your collection.
*black crushing is what happens when a scene is dark and the "blacks" in the picture over-power the scene.