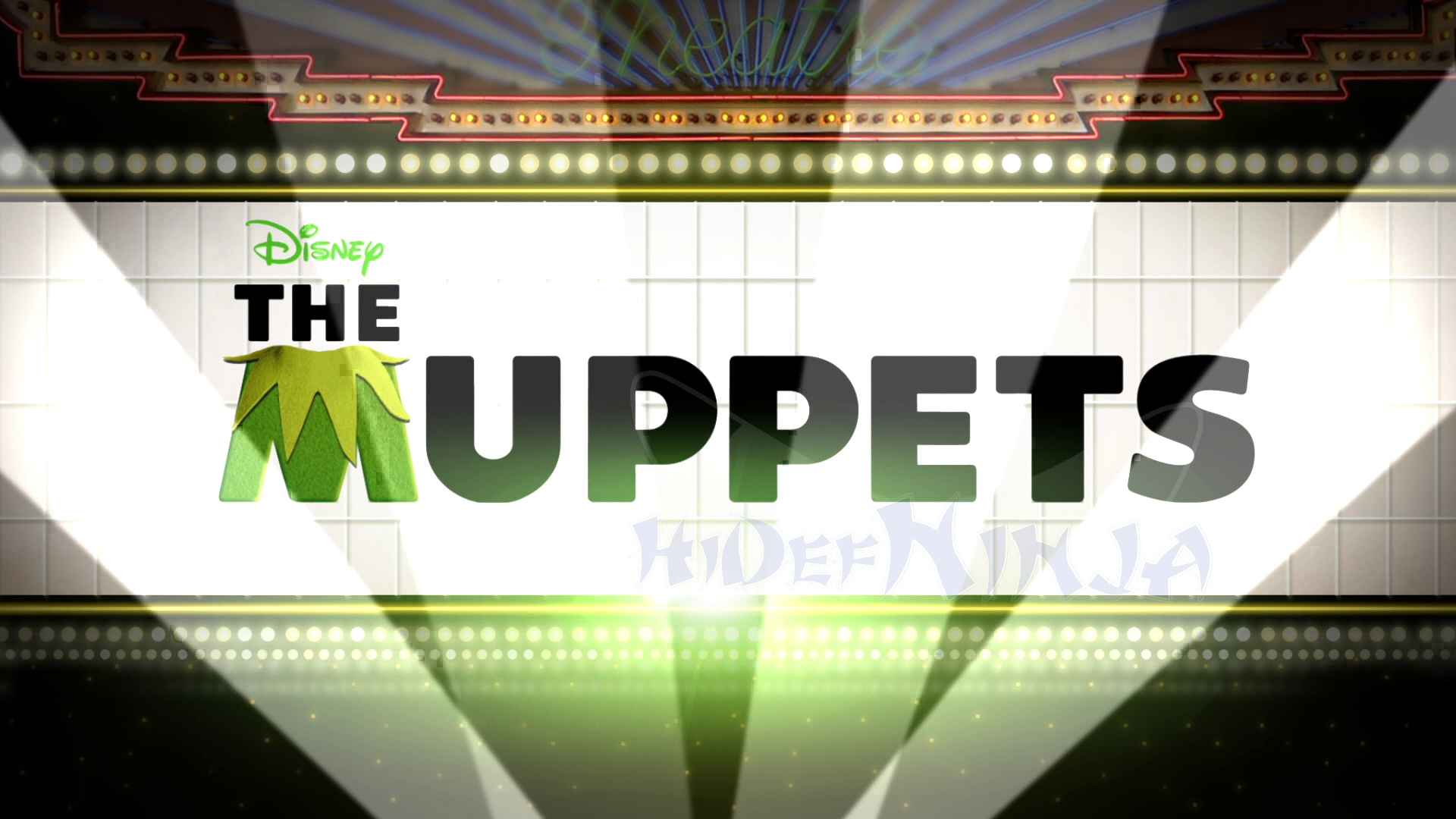 The Muppets' release to Blu-ray comes ready to play the music and light the lights!
I love the Muppets. From my earliest memories of Sesame Street, to The Muppet Show and Muppets Tonight, these insanely funny little puppets have been making me laugh for the better part of my life. I think it's both the zaniness ("Upstairs, Downstairs" and "One Way") and adult humor ("Pigs in Space" and "Elvis Throughout History") which makes them so memorable. When the Muppets could make a crusty old man like my father laugh, you knew they were on to something. Marred in legal limbo for seemingly decades, Disney in 2004 bought the rights to The Muppet Show franchise (minus those characters from Sesame Street that weren't exclusively owned by creator Jim Henson). The result was a few funny telefilms (A Very Merry Muppet Christmas Movie), which left us salivating for a big screen treatment. That wish came last year when The Muppets was released in theaters on November 24th 2011, to both critical acclaim and box office success. The Muppets remind us of a simpler time, if not a better one, by filling us with a nostalgia that few things can. And while the voice actors have changed, their keen ability to bring humanity to these puppets is nothing short of extraordinary. Who could say no to a flatulent, felt-covered, furry, or fabulously self-enamored Muppet? If you can, then you're soulless and suck the blood of humans. In these and many other ways, the return of my childhood friends is just what our negative, Big-Brother-trust-no-one time needs.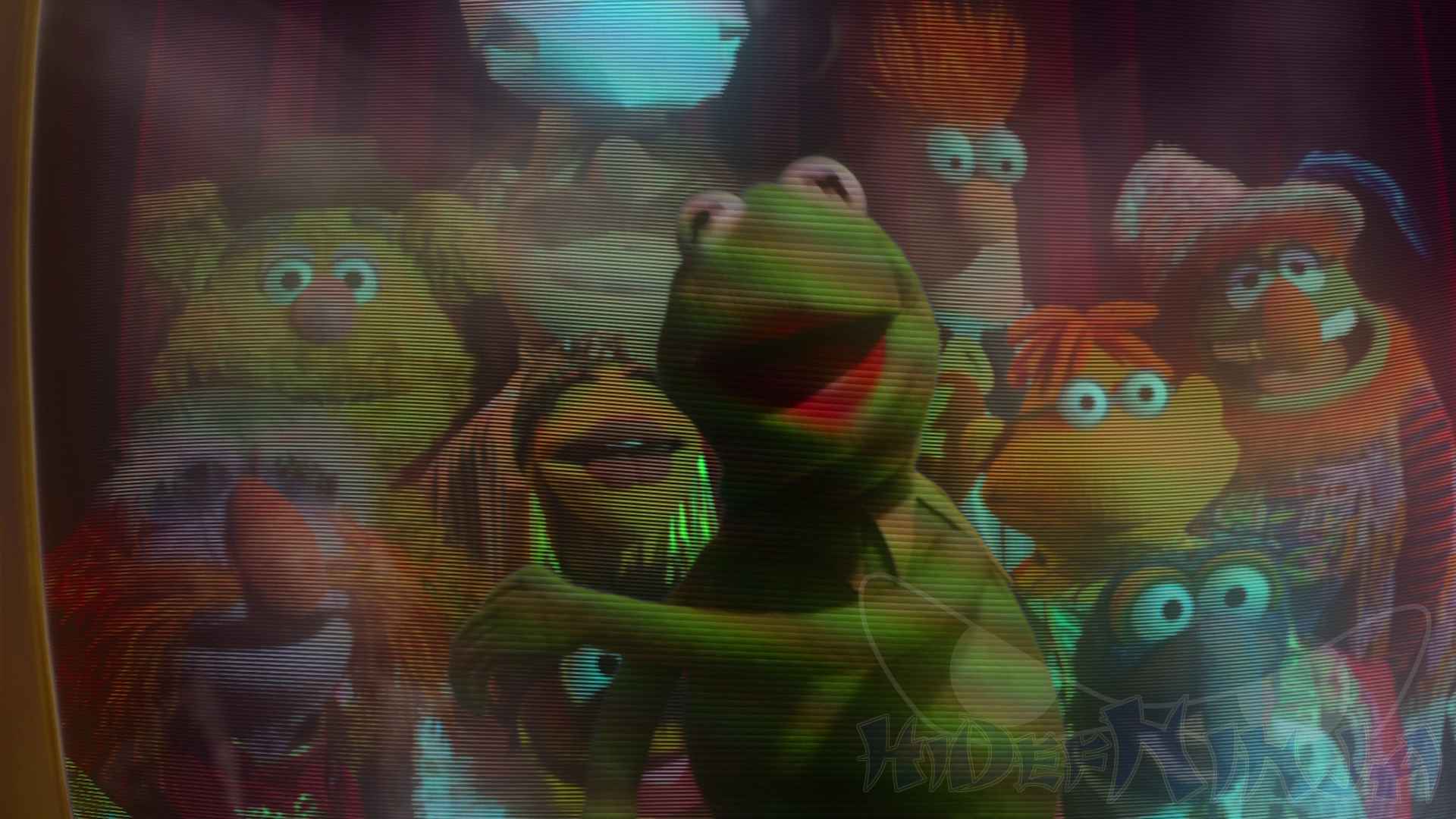 The brilliance of this film lies not in over-produced CGI, but in old-fashioned puppetry combined with true Muppet humor. Our story centers on a fresh new character in Walter (puppeteer Peter Linz), who idolizes Kermit, Fozzie, Miss Piggy and the rest of the gang. In this world, Muppets and people co-exist, so when Walter's brother Gary (Jason Segal, I Love You Man) announces that they and Gary's girlfriend Mary (Amy Adams, The Fighter) are going to Los Angeles to meet the Muppets, the trio sings about it with youthful exuberance before boarding the bus. To their surprise, they find that the Muppets are long since broken up, scattered, and out of contact. When Walter learns that evil businessman Tex Richman (Chris Cooper, Seabuscuit) plans to raze the dilapidated studio and take over the Muppet name, Walter convinces Kermit to get the gang back together for a hastily-arranged telethon. We find Fozzie in a Reno nightclub, The Electric Mayhem Band playing in subways, and Gonzo running his own toilet/plumbing business, each of whom are eventually wooed back by Kermit's compassion and Walter's unflinching respect for his childhood heroes. When Kermit and the gang drive to Paris to convince Miss Piggy to return (utilizing map miles for a quicker trip), the scene is so bittersweet that we actually feel bad for our friends' chances.
As Kermit reassembles the team and prepares for the telethon, we are treated to another terrific aspect of any Muppet movie: cameos. They are as plentiful as the Muppets themselves, with appearances from Alan Arkin, Emily Blunt, Jack Black, Neil Patrick Harris, to (my favorite) Jim Parsons. It's clear that the cavalcade of actors who lined up for their few minutes of screen time love their Muppets almost as much as we do. It's also great to see that director James Bobbin (Flight of the Conchords) knows his Muppet history by sticking to what makes the thing work: let them be goofy, dorky, and even a little crude (Fozzie's fart shoes never get old). The Muppets' constant realization that they are in fact in a movie about themselves is also tremendously entertaining. And while the film isn't perfect (the misfiring of the Muppet Uncle Deadly, the lack of Johnny Fiama/Sal and Andy/Randy Pig, and the ridiculously small part for Pepe) we don't need them to enjoy ourselves here. What Segal and Bobbins brought to the table was nothing short of perfect nostalgia, culminating in an Oscar win for Best Song ("Man or Muppet"), and ushering in a Muppet renaissance that I hope will continue for years to come.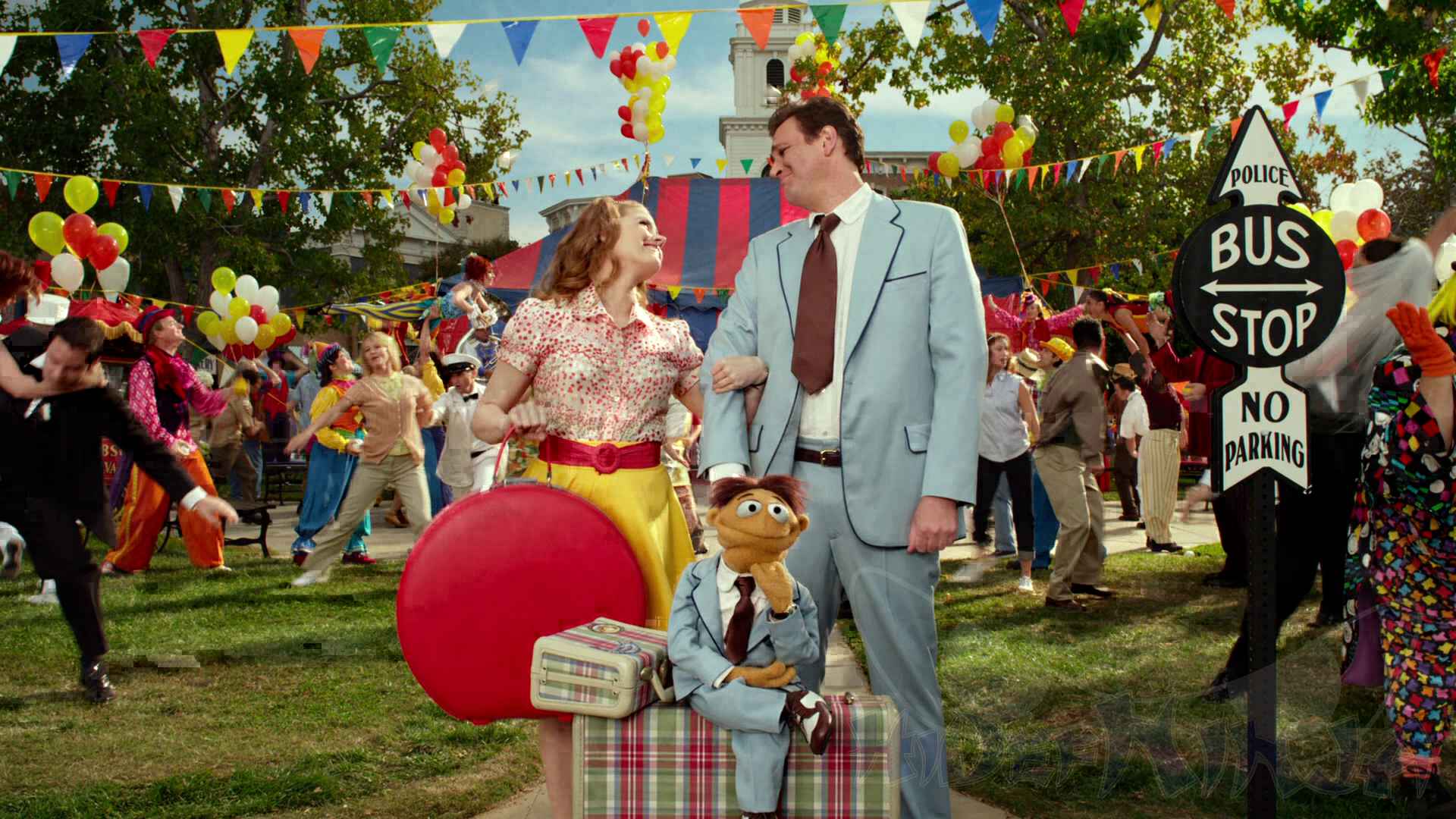 The Muppets are presented in glorious 1080p/MPEG-4 AVC, which shows off every detail of felt, every trace of wiry fur, while perfectly embracing the details of the human actors. Clothing and set pieces are detailed and clear, and place nice against shadows and blacks. There's no edge enhancement, no haloing whatsoever, and color saturation is spot on. It's great to see that 21st Century Muppets come complete with legs, and any CGI or other human tricks used in pulling this off are not exposed by the absolute clarity of the transfer. From a technical standpoint, this is one of my favorite transfers of 2012, with nothing given up from the theatrical copy.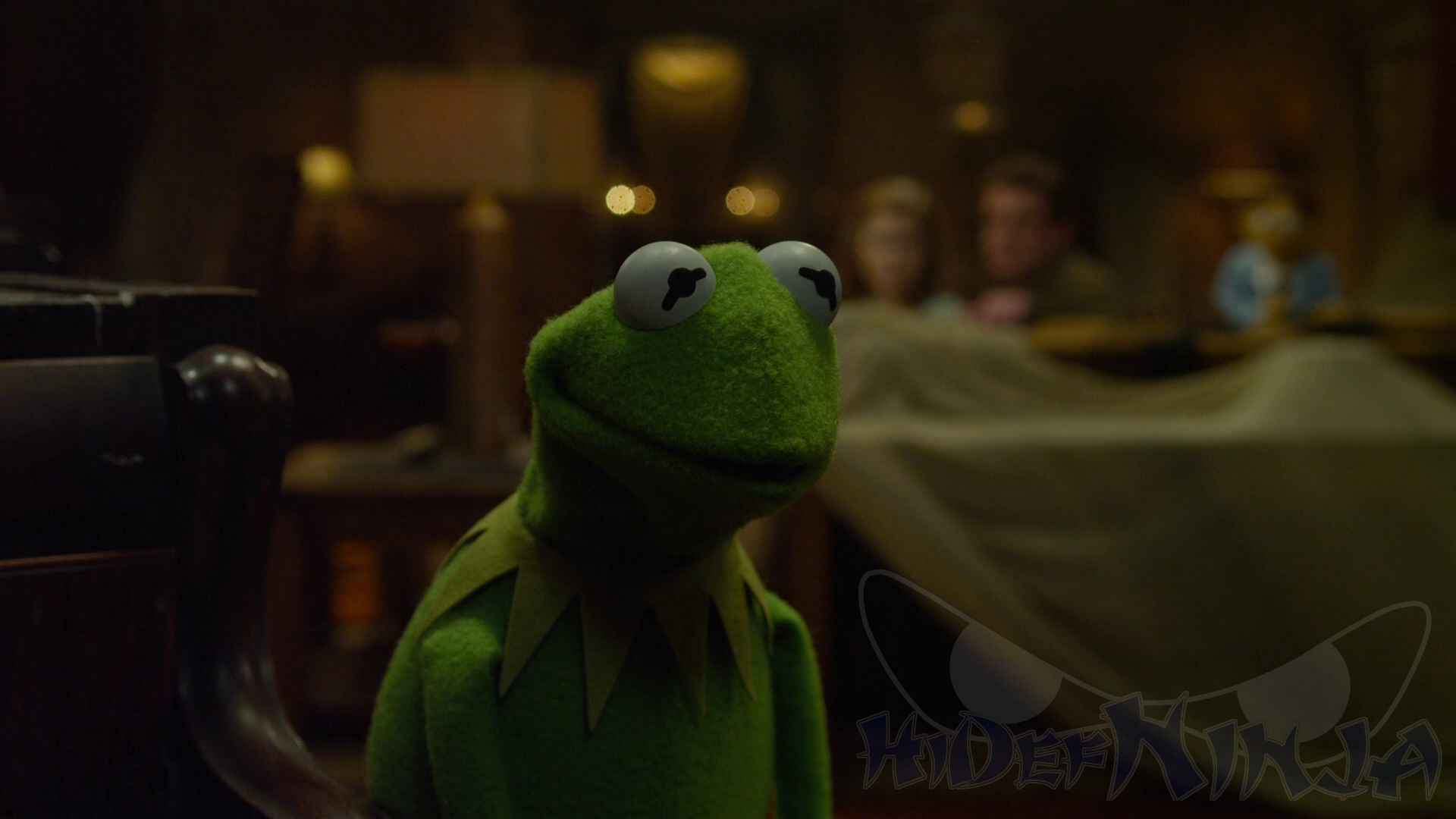 The high production value of The Muppets continues in a superior DTS-HD Master Audio 7.1 surround track that will certainly play the music and light the lights. Dialogue is clear, and never gets in the way of the many musical numbers, which sound absolutely terrific. Muppet side conversations, music playing in cars, explosions, kidnappings (one of my favorite scenes) all serves to wrap the listener in true Muppets glory. The LFE is solid and powerful, lending the right punch when needed. It's clear that Disney placed a high priority on a quality release, and the results do not disappoint.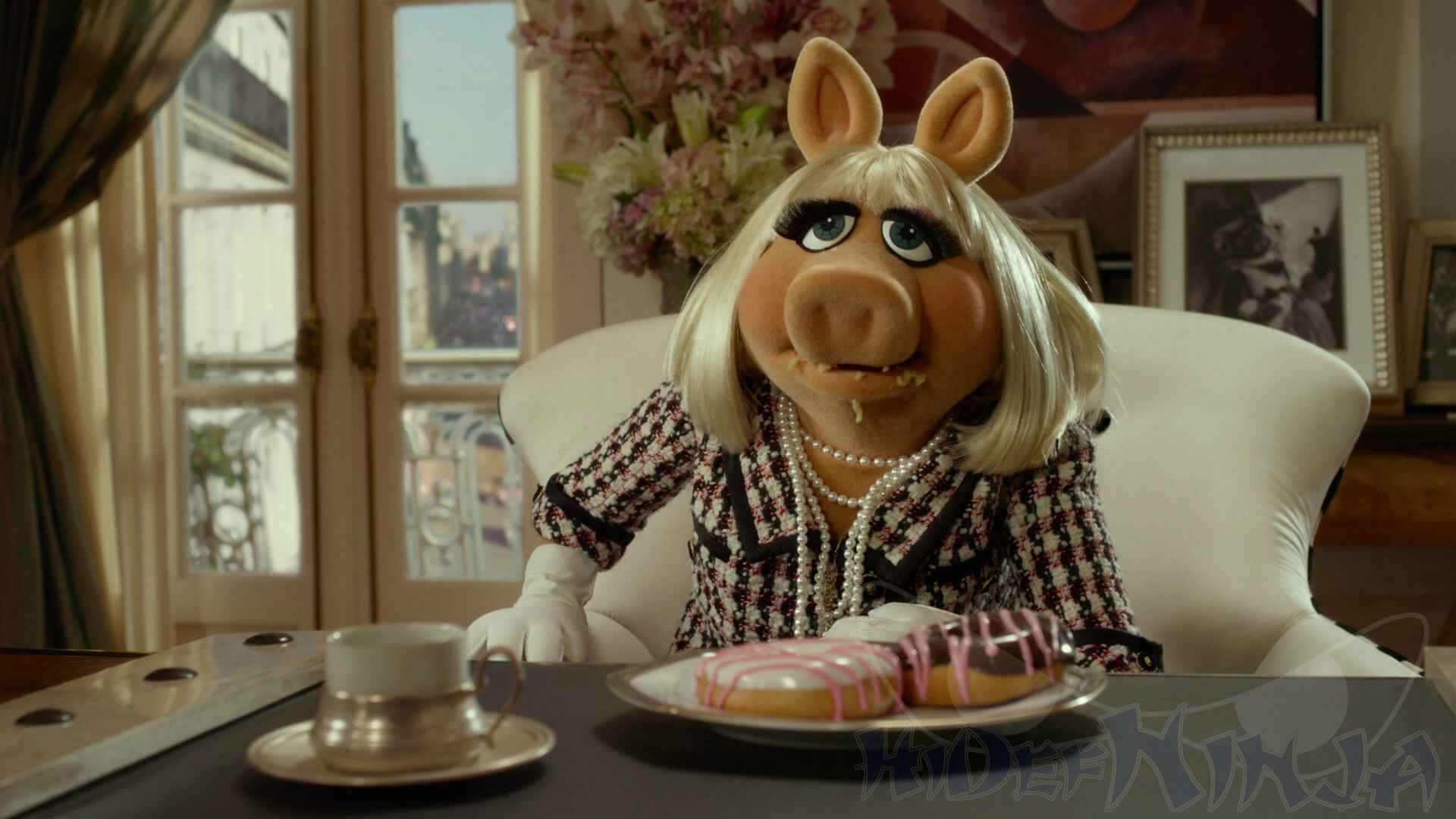 Some will lament about the seemingly bland and uninspiring supplements, but I disagree. Granted, the audio commentary wasn't stellar, but those are always a mixed bag to begin with.  Fear not about rest of these features, as everything else (including the very funny motion menus) demonstrates Disney's total commitment to the final product, with all features in HD:
• Filmmakers Audio Commentary
• Scratching the Surface: A Hasty Examination of the Making of Muppets (HD, 16 minutes): A well-made mockumentary about the film is classic Muppets tomfoolery. There is no real production details reviewed here, but you're left laughing at how well the Muppets mock themselves. An instant classic.
• Deleted Scenes (HD, 10 minutes): Eight deleted scenes are available — "Walter's Nightmare," "Life's A Happy Song Missing Verse," "A Hero in Hollywood," "Credit Card Club," "Muppets in Jail," "Bowling for Beaker," "The Strip Mall Awards" and "The Complete Muppet Telethon Opening & More." None of these probably deserved to be in the film, but it's fun to watch them anyways.
• Explaining Evil: The Full Tex Richman Song (HD, 3 minutes): I loved Cooper's rapping in the film, as we're so used to seeing his dramatic side. I know some fans bashed Cooper's performance, but this longer version of the rap scene is really enjoyable.
• The Longest Blooper Reel Ever. At Least In Muppet History… We Think (HD, 9 minutes): I love how the Muppets can exist in two worlds – that of their completely hatched existence, and of the human world. Once again, we are treated to this by way of a blooper reel where our characters act within themselves, further proving that Muppets somewhere exist in real life. Forget about aliens or JFK missing files, this is the REAL news!
• A Little Screen Test on the Way to the Read-Through (HD, 3 minutes): Another short involving Kermit, Fozzie, Walter and others from the gang as they make their way to a read-through of the film's script.
• Theatrical Spoof Trailers (HD, 9 minutes): Another classic part of the movie campaign was the appearance of several hilarious spoof trailers. These created so much buzz prior to the films' release, and solidified any early concerns people had about quality control. Trailers includes "Rise of the Muppets," "Never" "Green with Envy," "The Fuzzy Pack," "Being Green," "The Piggy with the Froggy Tattoo" and "Green with Envy, the Spoof Spoof Trailer."
• Full-Length Original Soundtrack: The Wocka Wocka Pack comes with a code to download the film's full soundtrack. It's funny, and straight-up legit in its coolness. Some versions do not come with this offer, so choose wisely.
• Various exclusive packaging, including the Best Buy Exclusive Lunchbox, Target Wocka Wocka Pack with 6-episode sampler of The Muppet Show, and Walmart Finger Puppets: It's nice to see Disney offer so many versions of the film. Of course if you're not into gimmicks, just purchase the Blu-ray Combo Pack, which will leave more of these exclusive sets out there for me.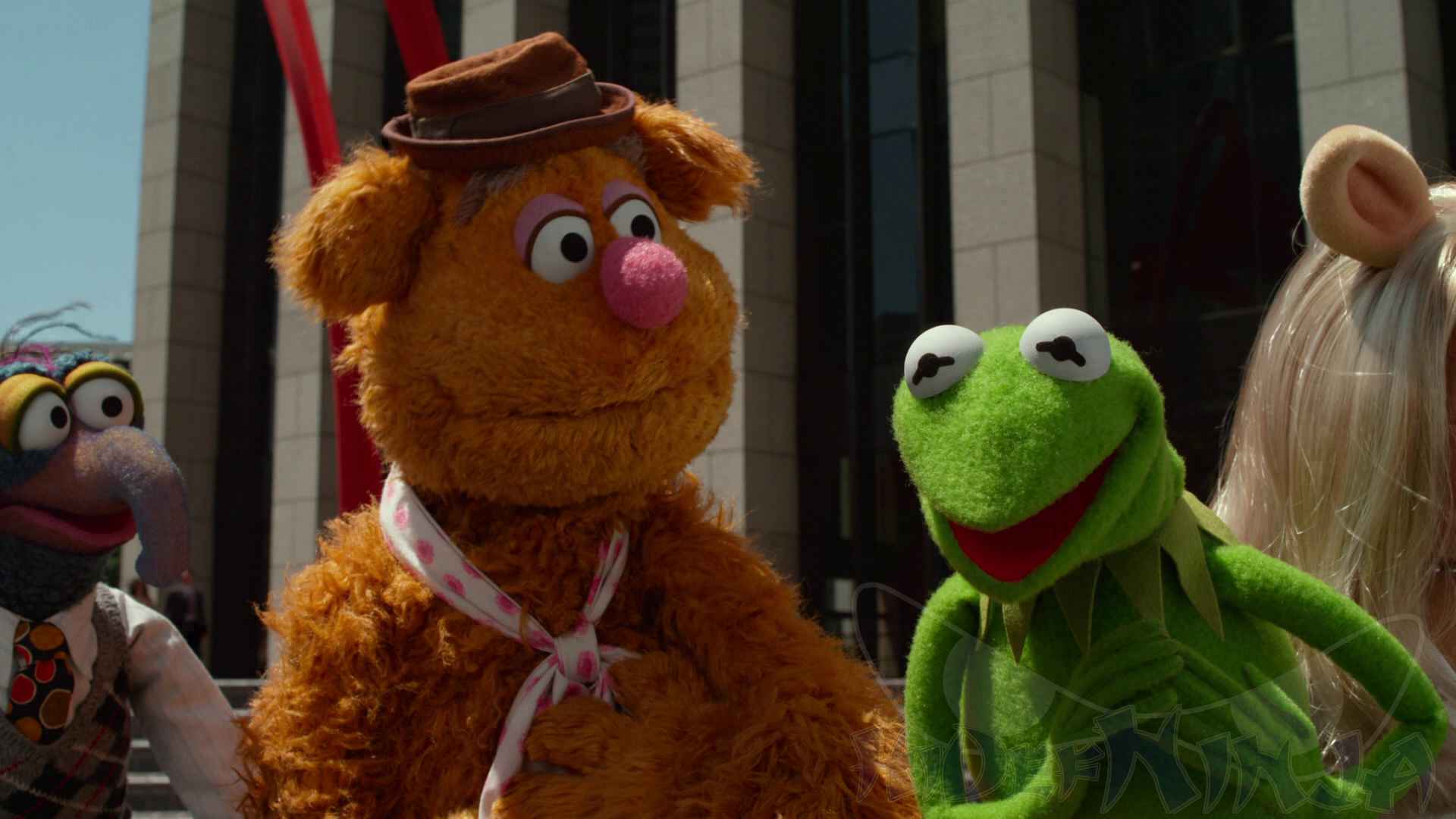 The Fuzzy Pack is back. A solid release to home video, complete with funny supplements and a variety of purchase options, backed by my favorite video and audio transfers of 2012, makes this purchase an absolute necessity. Revel in the glorious return that is the Muppets, and remember a time when Mahna Mahma, rainbow connections, and King Prawns were the order of the day.