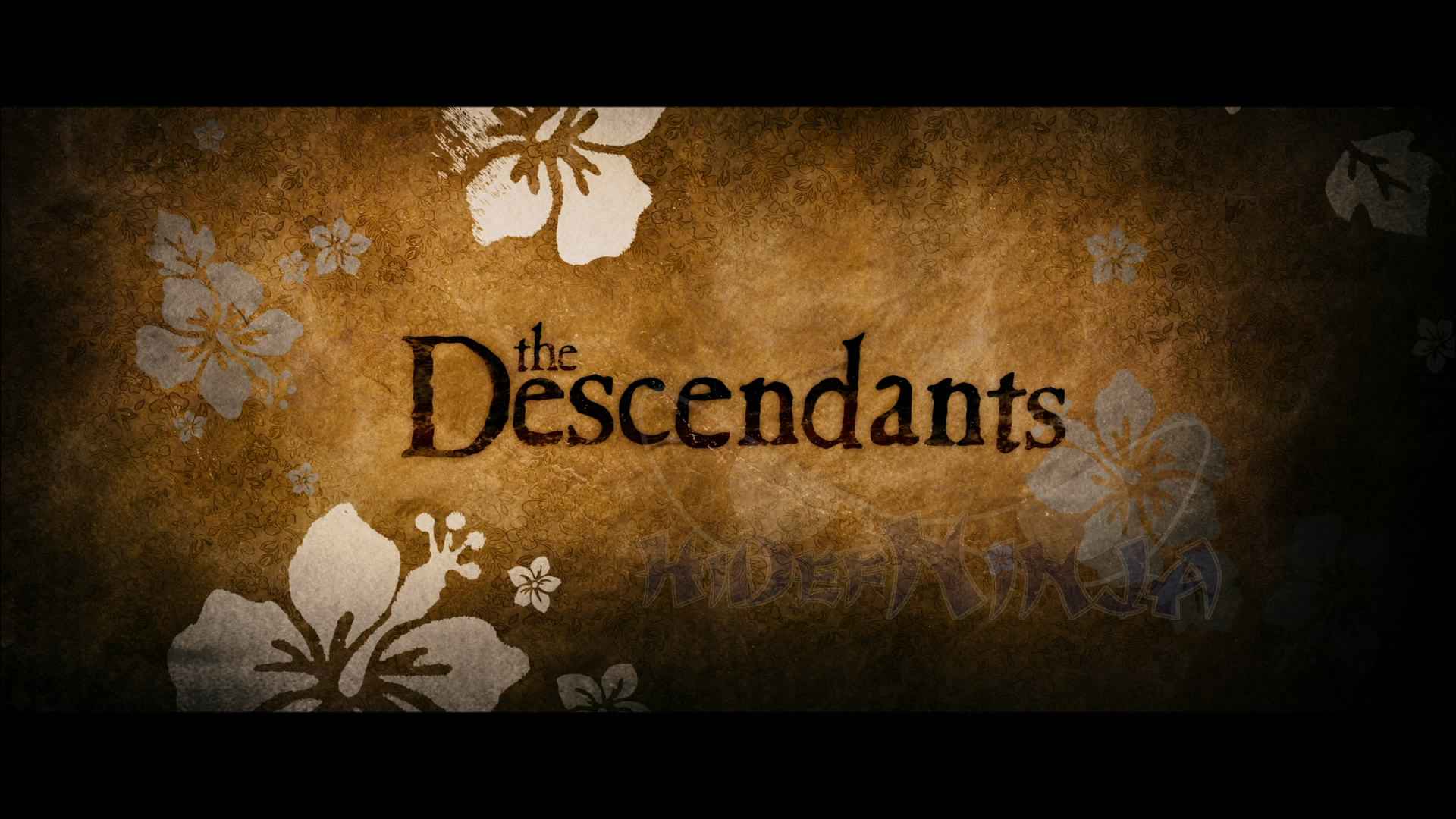 The Descendants is a well-made, touching, and sometimes funny look at the worst kind of death.
Death is uncompromising.  When it's your time, you better have your affairs in order.  To those who know about the slow descent to death, either through witnessing a family member or friend deal with a long-term illness, you know that feeling of helplessness as you stand silent witness to the end.  But when death slowly unravels in the form of an accident, it's a strange middle ground.  The victim has instantly ceased to be the person you knew, but they still occupy the space of their former life.  When such a death happens, those closest to the victim are forced to pick up the pieces, sometimes learning things they weren't meant to know.  That's the premise behind The Descendants, a well-acted, beautifully-shot and sometimes funny movie from director Alexander Payne (Sideways).  While its premise, about a dad who has to put his family back together after the mother is left comatose after a boating accident, might not sound 'funny,' Payne (who wrote, directed, and produced) allows his story to breathe, weaving in funny moments just at the right time to keep the sad, dramatic ship from descending too far into darkness.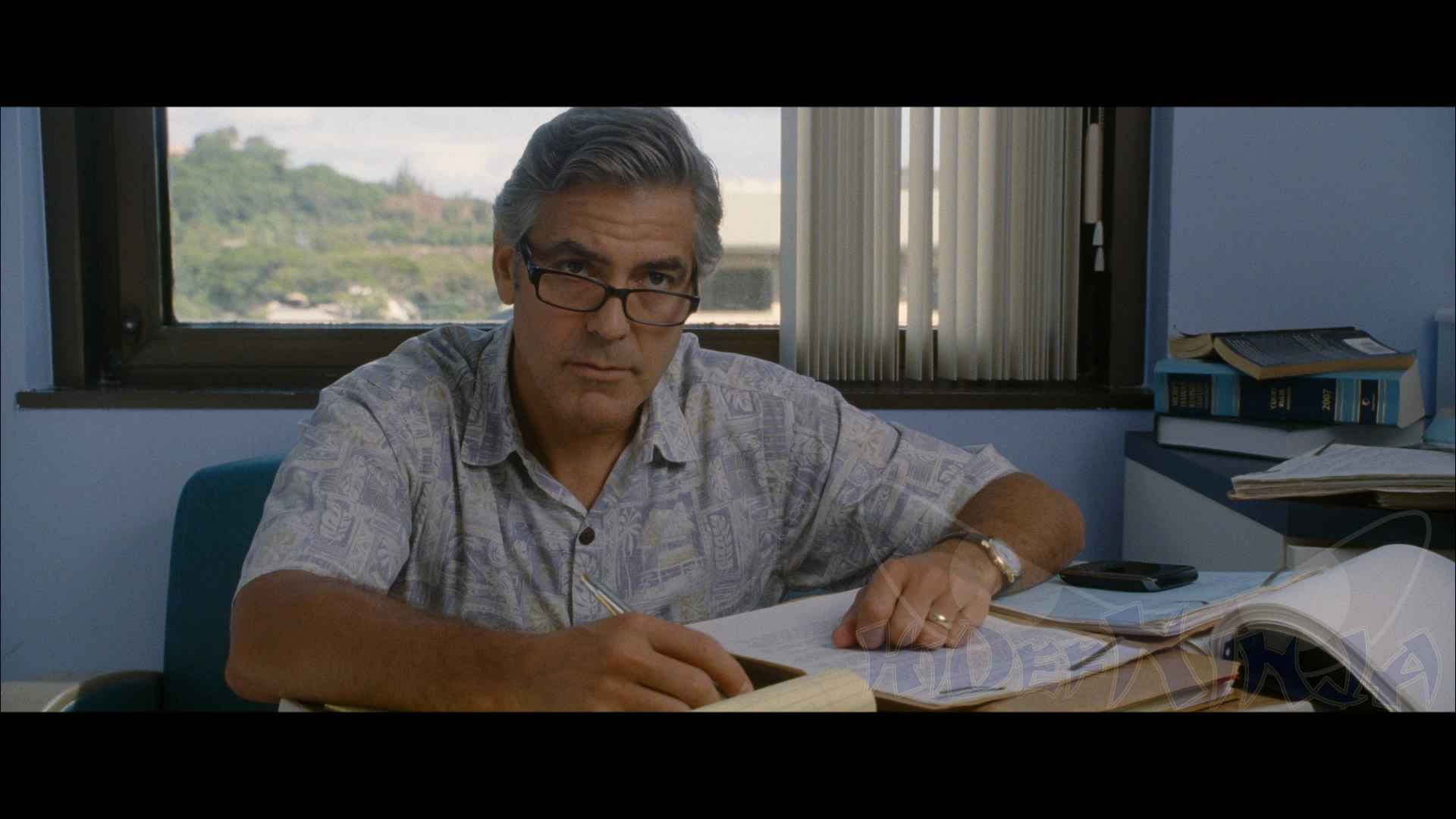 George Clooney (O Brother, Where Art Thou?) plays Matt King, a successful lawyer but a terrible dad to his two girls (played well by newcomers Shailene Woodley and Amara Miller).  Clooney is a dad out of touch with his daughters, who carry on like younger versions of George W. Bush's girls.  Woodley is 16 going on 21, and Miller is 9 but sounds like she's worked on Merchant Marine ships during her summer breaks.  Stuck in the middle of this is Clooney, who seems like a fish out of water, forced to carry the heavy burden of his wife's impending death, along with her dark secret of infidelity that he only learns later in the film.  He knows her death will greatly affect his already dysfunctional children, but like a good dad, Clooney tries to hold it all in, even after meeting her boyfriend (Matthew Lillard, She's All That), who happens to represent the buyers of a large piece of Hawaiian land that King and his family must sell.  Clooney plays this slow descent very well, allowing his face to wear the emotions as each new piece of news is laid before him.  One powerful example of this takes place at a local eatery when he learns of Lilliard's role in the land deal; the stress is almost too much to bear, and we see it in Clooney's eyes: the rage of learning how close Lilliard has gotten to his family, the embarrassment of dealing with his wife's infidelity, the pressure of soon being two parents, all comes through Clooney's eyes.  It's the scene I'm convinced which nabbed him yet another Oscar nod, although his performance in The Ides of March earlier in the year which should have taken him all the way.  But there are also wonderfully funny moments to reflect upon: Clooney's 'run' when he learns of his wife's infidelity, the 'exchange' between Lilliard's wife and Clooney's, the dry wit of Robert Forster (Fastlane, The Black Hole).
Payne could have set this film in any state in America, but it's his choice of Hawaii which is so revealing.  Much like Elizabeth's slow descent into death, Hawaii operates at the same speed, never letting you see its truth until it's ready.  Payne captures this reality well, painting serene landscapes and weaving Hawaii's slow pace into the story.  Payne and Clooney help keep the story from becoming a total tear-jerker and losing the audience by finding the right times to slow down the emotion and inserting comedy at the right points.  I understand why The Descendants would have been nominated, but I also understand why it didn't win.  For all its dark premise, Payne is really creating comfort food for the audience; you can't not hate this film, but it takes too long to develop and even Lilliard's involvement with the land deal is easy to see as soon as the infidelity is exposed.  Besides, no one was going to win against The Artist, and Descendants wasn't even Clooney's best movie of 2011 (again, see Ides of March).  But its performances are strong, its story (well-adapted from the best seller by Kaui Hart Hemmings) is well adapted by Payne, and its directing is top-notch.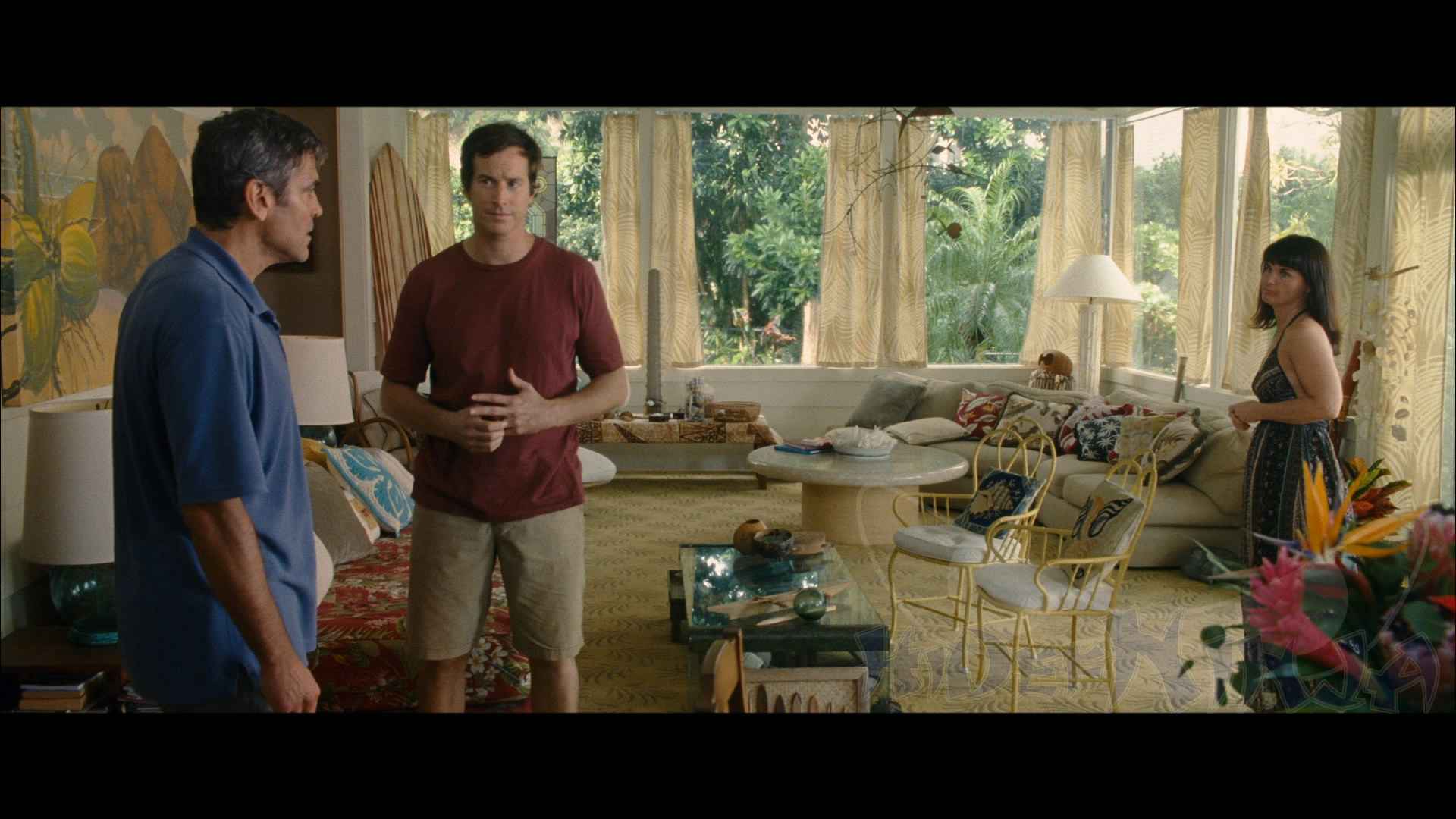 Say what you want about Fox and Searchlight and their films, but their recent Blu-ray efforts have not short of exceptional.    The Descendants is served up in a beautiful 1080p/AVC-encoded transfer that brings out all the beauty of Hawaii while presenting our actors in very realistic tones.  Clooney's unkept hair and unshaven face display well on the screen, as does wrinkles in shorts and detail in buildings.  There's no haloing, banding, or edge enhancement.  Considering how often Hawaii transitions from sunny skies, to building clouds and rain, it's amazing that such detail is present.  Blacks, shadows, and colors each have their maneuvering room in The Descendants, and this transfer respects each very well.  It's nice to see Fox take the time to place this one on a 50GB disc, to remove any and all issue with compression.  It's a very good transfer.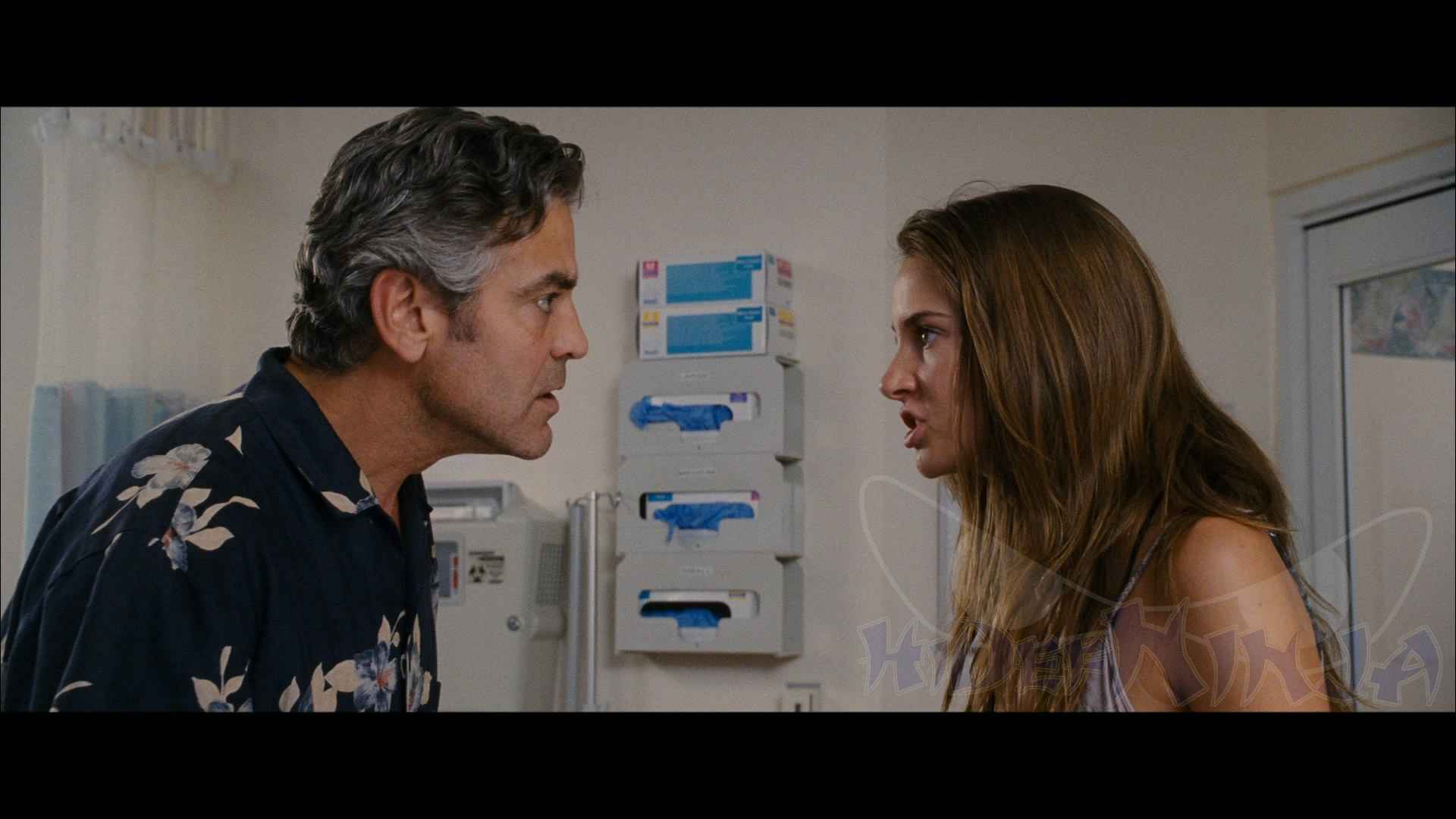 If there was one issue I had with the film was its lack of excellent surround track in the rear speakers.  Although The Descendants is presented with a DTS-HD Master Audio 5.1 lossless track, there is a lack of audio in the rear speakers.  This is especially noticeable in scenes involving the beach or any naturalistic environment; I would have expected to be immersed in the beach.  Instead, we're offered a little bit of ocean spray, some background beach dialogue, and some medical sound effects for the hospital scenes.  It's not as bad as maybe I am expressing, as dialogue is very clear and the Hawaiian music score sounds beautiful.  I also liked the descriptive audio track, and there is French and Spanish dubs for those interested.  Overall, it's a nice track, but the surround could have been better.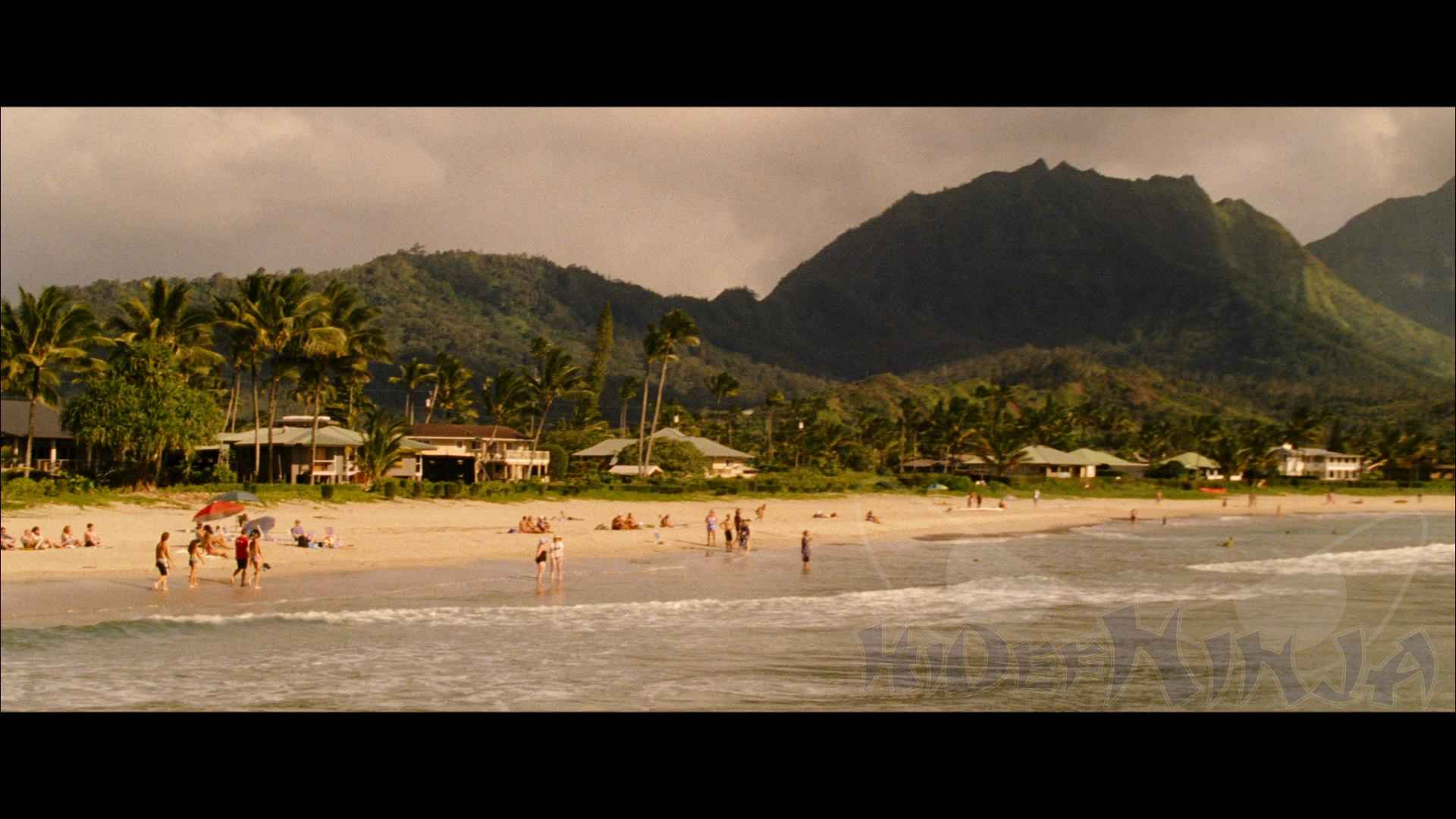 Again, nice to see Fox step up with a genuinely interesting set of supplements.  You get a nice mix of the comfort supplements (like everyone extolling the virtues of George Clooney) to some meaty background about the story and beauty that is Hawaii.  It's one of the best supplement sets I've seen this year, with all features shot or transferred in HD:
Deleted Scenes with Director Introductions (1080p, 5:46): Two short deleted scenes, which describe why they were cut.  None were necessary to the movie's outcome, but it's interesting that these are offered a text comments instead of Payne introducing them himself.
Everybody Loves George (1080p, 7:27): Clooney gets the star treatment from the cast, as they talk wonderfully about him.
Working with Alexander (1080p, 13:34): Director and Chef Alexander Payne shows us how to make an omelet, with the cast explaining why they like to work with him.  The best directors seem to maintain the same staff for each film, and Payne is no exception.  Learning more about his 'family' is insightful, and his omelets don't look so bad either.
The Real Descendants (1080p, 12:06): One of my favorite featurettes offers us the history of the real family who controls a large swatch of Hawaiian land.  John Morgan, president of the Kualoa Ranch, takes us through this very enlightening piece.
Hawaiian Style (1080p, 16:47):  A nice featurette on how a traditional Hawaiian blessing kicked off shooting for this movie.  The offering also takes us through how and where the film was shot, as well as testimonials about the crew shooting in Hawaii.
Casting (1080p, 8:11):  Payne takes us through the fairly remarkable casting process for the film which nailed its youngest cast member at almost the last minute.
Working with Water (1080p, 10:58): It sounds like shooing scenes on water can be tricky, and this feature only verifies that.  We learn how Hawaii's 'water patrol' kept the production running smoothly.
Music Videos (1080p, 10:28): Three very nice music videos present gorgeous views of Hawaii, and remind all of us of the beauty that is The Islands.
Waiting for the Light (1080p, 2:52): As mentioned previously, Hawaii's environment changes rapidly, creating issues for the director in terms of lighting.  This featurette strengthens that argument by using the environment to tell the story.
The World Parade – Hawaii (1080p, 9:55): One of the best featurettes of the year, this little addition is a silent, one-reel documentary-style film on turn- of-the-century Hawaii.  If you like history, don't skip this one!
A Conversation with George Clooney and Alexander Payne (1080p, 11:58): Clooney and Payne sit down post-production to discuss a litany of issues, from The Descendants to directing drama and comedy, the 'food chain' in film and television, as well as Clooney's E.R. memories.  As always, Clooney looks relaxed; Payne clearly doesn't like the chair in which he's sitting.
Theatrical Trailer (1080p, 2:14)
The Descendants was released in two versions: a single-disc DVD and a two-disc combo pack with a slipcover in an eco Amaray case.  With the Blu-ray set, you also get a Digital Copy of the film.  While interior artwork or art books are missing, the special features more than make up for Hollywood's shortsightedness in denying us things that helps complete our home entertainment experience.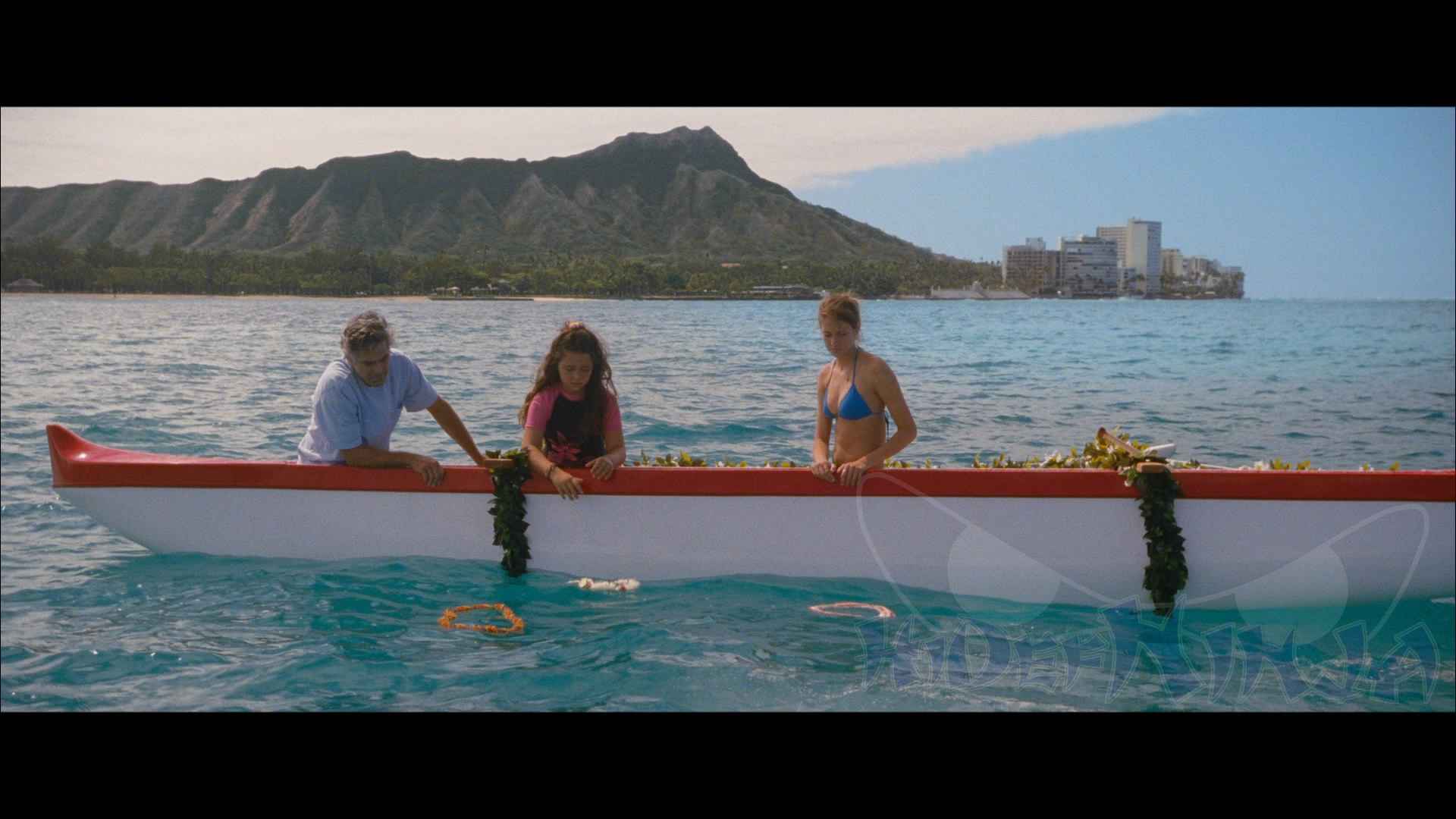 The Descendants is a good film and would have taken home several more Oscars, had it not been for some of the best-released films of the 21st Century being offered at the same time.  It's bittersweet, a little sad, a little funny, and our actors (especially Miller and Woodley) do a good job from start to finish.  It looks awesome, sounds pretty good, and has one of the best allotments of supplements I've seen in 2012.  Death is never an easy topic to breach, but The Descendants uses a little bit of the dramatic, the beauty, and the humor to assess the human condition in its darkest hour.  I recommend this one.