On May 28th The Beatles Yellow Submarine will be releasing to blu-ray in Digipack form. The film's songtrack album will be reissued on CD on the same date all digitally restored.
Currently out of print, the film has been restored in 4K digital resolution for the first time by Paul Rutan Jr. and his team of specialists at Triage Motion Picture Services and Eque Inc. Due to the delicate nature of the hand-drawn original artwork, no automated software was used in the digital clean-up of the film's restored photochemical elements. This was all done by hand, frame by frame.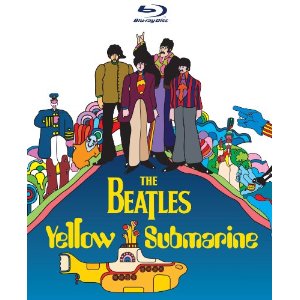 Bonus Features Include:
– Short making-of documentary titled "Mod Odyssey" (TRT: 7:30)
– Original theatrical trailer
– Audio commentary by producer John Coates and art director Heinz Edelmann
– Interview clips with others involved with the film
– Storyboard sequences
– 29 original pencil drawings and 30 behind-the-scenes photos
Both Digipak packages (DVD/Blu-ray) will include reproductions of animation cells from the film, collectible stickers, and a 16-page booklet with a new essay by Yellow Submarine aficionado John Lasseter (Chief Creative Officer, Walt Disney and Pixar Animation Studios).
The Beatles Yellow Submarine Official Site
Audio options:
English 5.1 DTS
German 5.1 DTS
Italian 5.1 DTS
English Dolby Stereo
Original Mono
Subtitle languages (feature only):
English, French, German, Spanish, Italian, Portuguese, Dutch, Swedish, Norwegian, Danish, Polish, Finnish