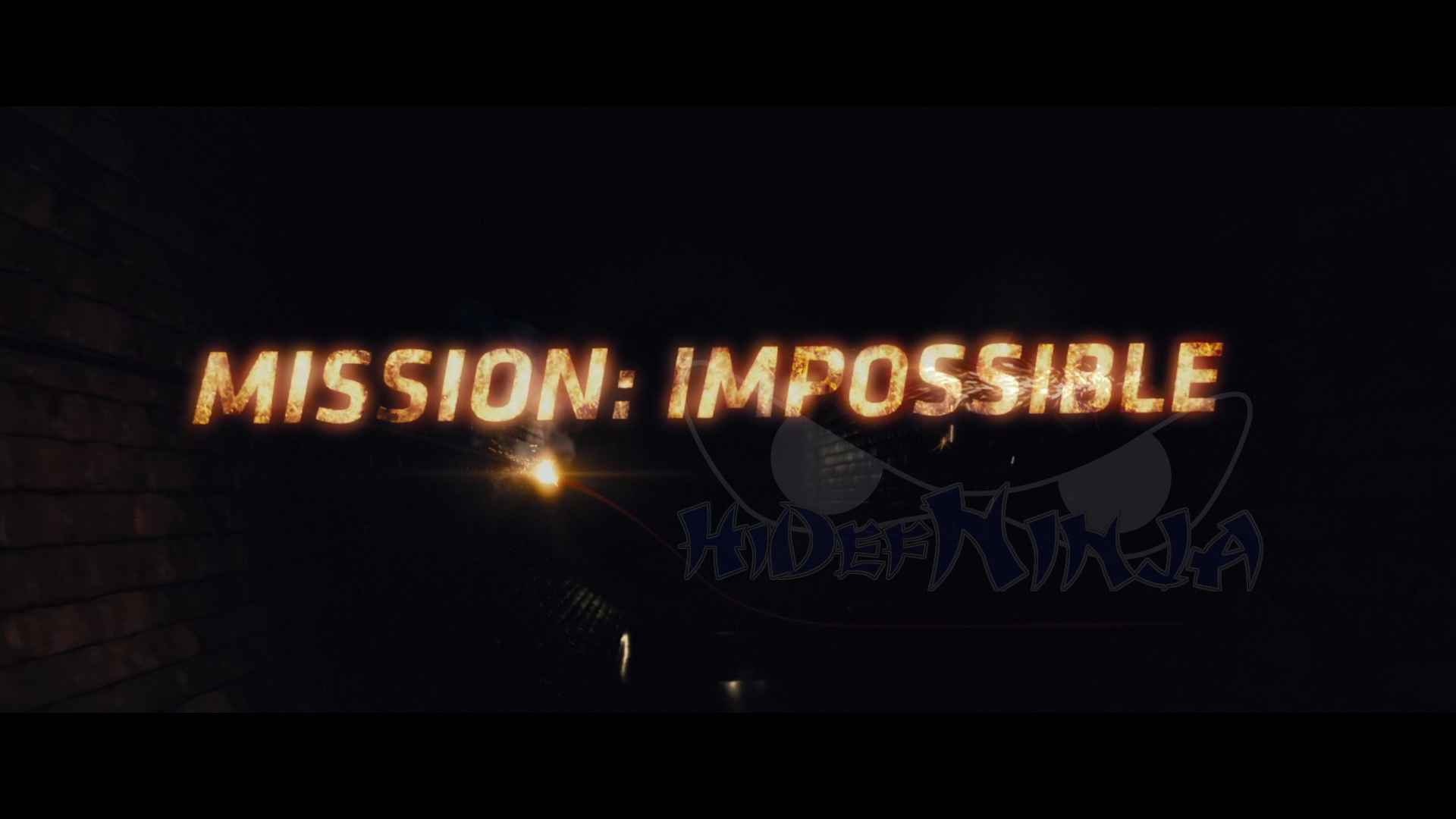 Does Mission Impossible IV: Ghost Protocol return Cruise to Top Gun status, or do further damage to his once legendary reputation?
For many people, a singular decision sends them down a path that determines the rest of their lives.  For Tom Cruise, that decision came in the form of a couch, and the person who put him there in 2005 was Oprah.  Having developed a strange obsession for Katie Holmes, we scratched our heads as Cruise jumped on top of the couch to declare his love.   Then came news of his deep devotion with Scientology, followed by the media blow up with Brooke Shields.  A string of flops (Vanilla Sky, Collateral) had already plagued him; but these events, stemming from 'The Couch,' sent Cruise on a path that almost wrecked him.  It wasn't always that way: from Risky Business and Top Gun, to A Few Good Men and Jerry Maguire, Cruise almost single-handedly owned the movies.  His name was part of some of the highest-grossing films from the 80's and 90's, and he drew top-name talent and directors with his high standards.  Any actor would kill for that sort of film legacy and work ethic, but audiences have short memories, and the semi-recent mystique surrounding Cruise's private life created a gray area that kept audiences away from good movies like Valkyrie and War of the Worlds.  By the time really bad movies like Mission Impossible III and Knight and Day had flopped, people began to think that Cruise was finished.  So, is MI:IV Cruise's equivalent of a light at the end of the tunnel?  Are both Cruise and the Mission Impossible franchise back?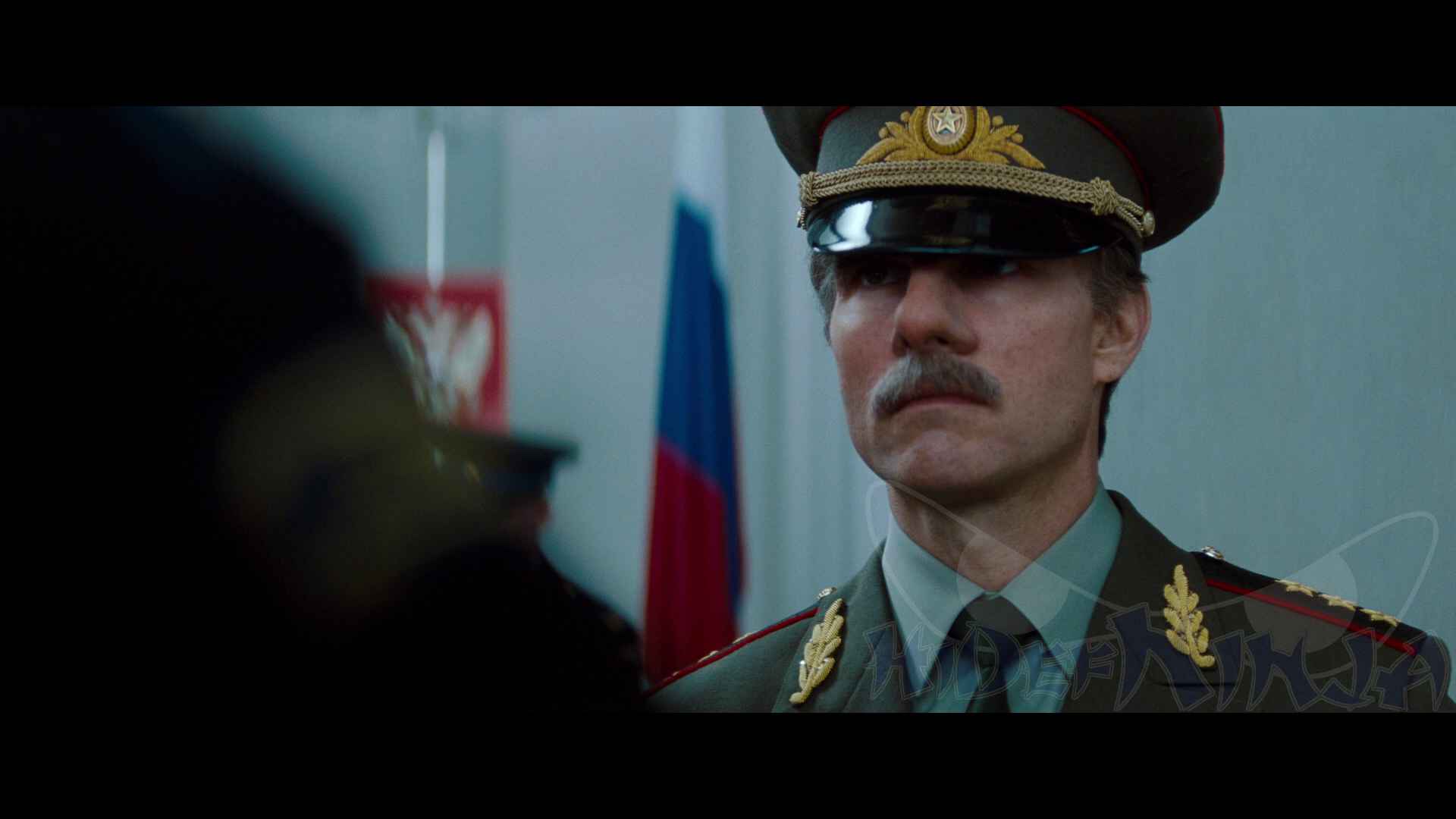 The answer is an enthusiastic yes.  MI:IV is terrific from start to finish, complete with everything one expects from a well-made action thriller: amazing stunts (performed by Cruise himself), fresh faces, great character development, and the always appreciated cameos, with one that supposedly should have materialized (read further for more). As with all the MI movies, Cruise performs his own stunts, and his beaten, tough, aging face proves it; that's not a bad thing, as it's given him the Daniel-Craig-bar-fight look.  As Hunt is scaling the windows of Dubai's Burj Khalifa Tower, that's really Cruise doing the stunt work.  Acting as both soldier and general when on screen (he co-produced with J.J. Abrams), Cruise takes the spotlight when needed but always gives his cast a moment to shine if it furthers the story.  He's in his element here, and the results are spectacular.
When Hunt and fellow IMF agents Jane Carter (Paula Patton, Deja Vu) and Benji Dunn (Simon Pegg, Star Trek) are implicated in an attack on The Kremlin, the President initiates Ghost Protocol, basically disavowing the entire IMF corps.  Agent Hunt and his team escape after a deadly attack and learn that the event in Moscow is just a warm-up for the real game.  I liked the way the film doesn't spell everything out to the audience, yet relates every piece of the plot to something done or said later in the film.  The mistakes present in MI: I and III are not repeated here.  Instead, Hunt's team pursues a Russia extremist and his henchman much like one might complete a video game: by completing levels, sometimes missing the hidden icon before moving on, but not knowing quite the whole picture until the end.  Gladly, this method doesn't get in the way of the film's story, which is tightly woven but very smart in its construction.  Large action set pieces cozy up to tense build-up scenes that are relieved at the right moment by small comedic one-liners that don't feel forced.  Like every MI film, our heroes come complete with serious secret agent baggage, and half the fun of the film is peeling those layers back and letting them run free for a moment.  Among the most interesting of these is Cruise's marriage from MI: III, which helps to create a welcomed sense of continuity as well as Carter's relationship to fallen IMF-er Trevor Hanaway (Josh Holloway, Lost).  Although the action (which is as good as any previous incarnation) is totally unrealistic, it's ok because the toughness of our heroes is to be expected.  When Cruise disappears amongst the Kremlin explosions, only to later sling down a wire from the hospital, we react with cheers rather than scrutiny.
Another great aspect of this film is casting of Jeremy Renner (The Town, The Hurt Locker); his arrival as analyst William Brandt breathes fresh air into the franchise, giving Hunt needed competition.  Renner is the perfect rough-hewn protagonist, and seems cut from the same fabric as Matt Damon, Daniel Craig, and Cruise himself.  Hunt and Brandt's meeting isn't perchance, but the story doesn't tip that card too early.  Renner bears a lot of weight in this film, filling in nicely when Cruise isn't around.  The long term plan is to make Renner the centerpiece of future MI films; if he's given this sort of meaty role and actors who can keep up with him, we're in for some seriously good fun.  Simon Pegg is funny as always, and Paula Patton is a tough competitor, especially in a cat fight that I wish had continued a while longer.  Of course, there is a bad guy here, but the movie is less about getting to know him as it is for IMF to kill him.  He's really a mouse to Hunt's cat.  Personally speaking, I would like to see Hollywood embrace bad guys over several films, giving audiences a chance to really 'hate' one (think Darth Vader) before taking him/her down.  Director Brad Bird (Ratatouille, The Incredibles) makes an elegant and impactful transition from the animated world to that of live action; several of his sequences are sweeping, demonstrating technical proficiency, but he doesn't allow himself or the actors to get lost in them.  Bird's game is a tightly-focused action piece that also has the chance to breathe when it needs.  As always, cameos are present in this franchise, but it seems there should have been one more involving Vanessa Redgrave's Max character from MI, when Hunt learns about the role of a satellite Max's replacement sold to our Russian baddie.  Fans of the franchise will laugh at the way the film makes fun of itself at times, and will be excited at the hint that The Syndicate might make a future appearance.  The 133-minute runtime feels nothing that long, with the right mix of comedy, dramatic exposition, and intense action apparent from the opening scene.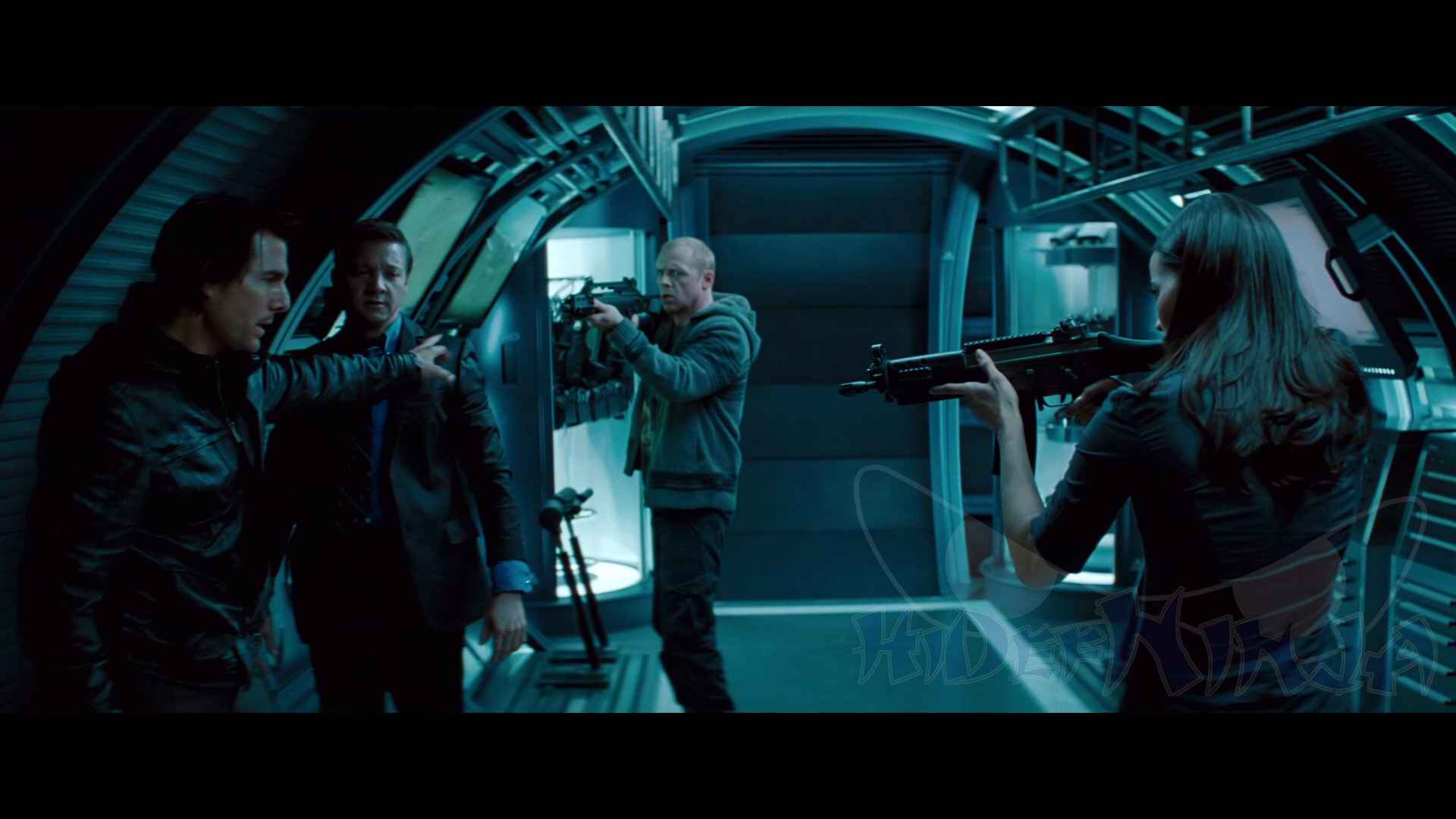 Paramount continues to lead the pack in delivering high-quality transfers to its home entertainment line with its release of Ghost Protocol.  Simply stated, this is a stunning transfer and one of the best I've seen in 2012.  The film, presented in MPEG-4 AVC, delivers a picture that is sharp, with no haoling, edge enhancement, or pixilation present.  Colors are crisp but do not bleed into each other, and blacks and shadows in alleyways are just dark enough to create real depth, making you want to look over your shoulder.  Hair and skin features are amongst the sharpest I've ever seen; Cruise's bruised and battered body, Renner's sweat at film's end, and skin features in general stand out, making you feel as if you were there.  The stitching in suits and wrinkles in dresses are very detailed, with the shine of Renner's silk suit announcing its high price tag.  Exterior shots (such as those in Dubai and at The Kremlin) show off beautifully.  You can see roofing titles, cracks in pavement, and aged color in old European buildings.  This is a superior transfer.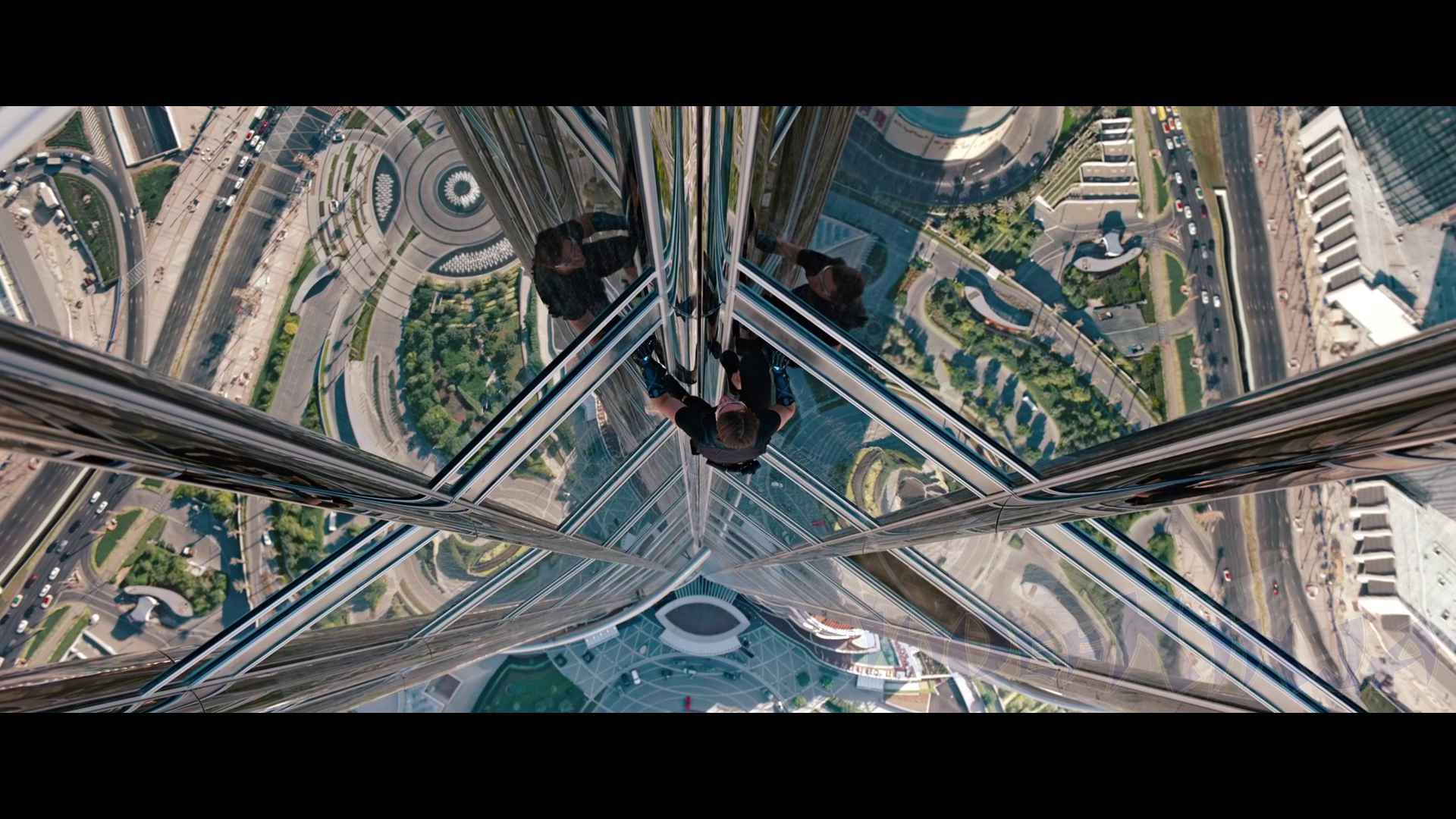 Paramount's absolute command is also demonstrated in the audio transfer.  MI:IV is presented in an incredible DTS-HD Master Audio 7.1 lossless track, which creates an immersive experience that must be heard to be appreciated.  Broken glass, gunfire, explosions, and hand-to-hand combat pack a terrific effect throughout the film.  You can feel the bruises inflicted by Cruise and Renner, as they take out the bad guys in a Dubai hotel room.  These bone-jarring hits are helped by a terrific low-end presence.  But it's also the sound effects in other scenes which surpass any other surround track I've experienced recently.  You can hear just-barely audible side conversations at fashionable parties and on the pier; as Hunt scales the Burj Khalifa Tower, you can hear the sound of flesh on glass.  Dialogue is always clear, and never messes with the LFE, which keeps the audience from being forced to play The Remote Game between action sequences.  Composer Michael Giacchino (Alias, Star Trek) creates a soundtrack that features the always-enjoyable theme song, but also gets out of the way of dramatic interludes, existing (like the IMF itself) best in the shadows.  In terms of overall impact, the audio represents one of the best of 2012.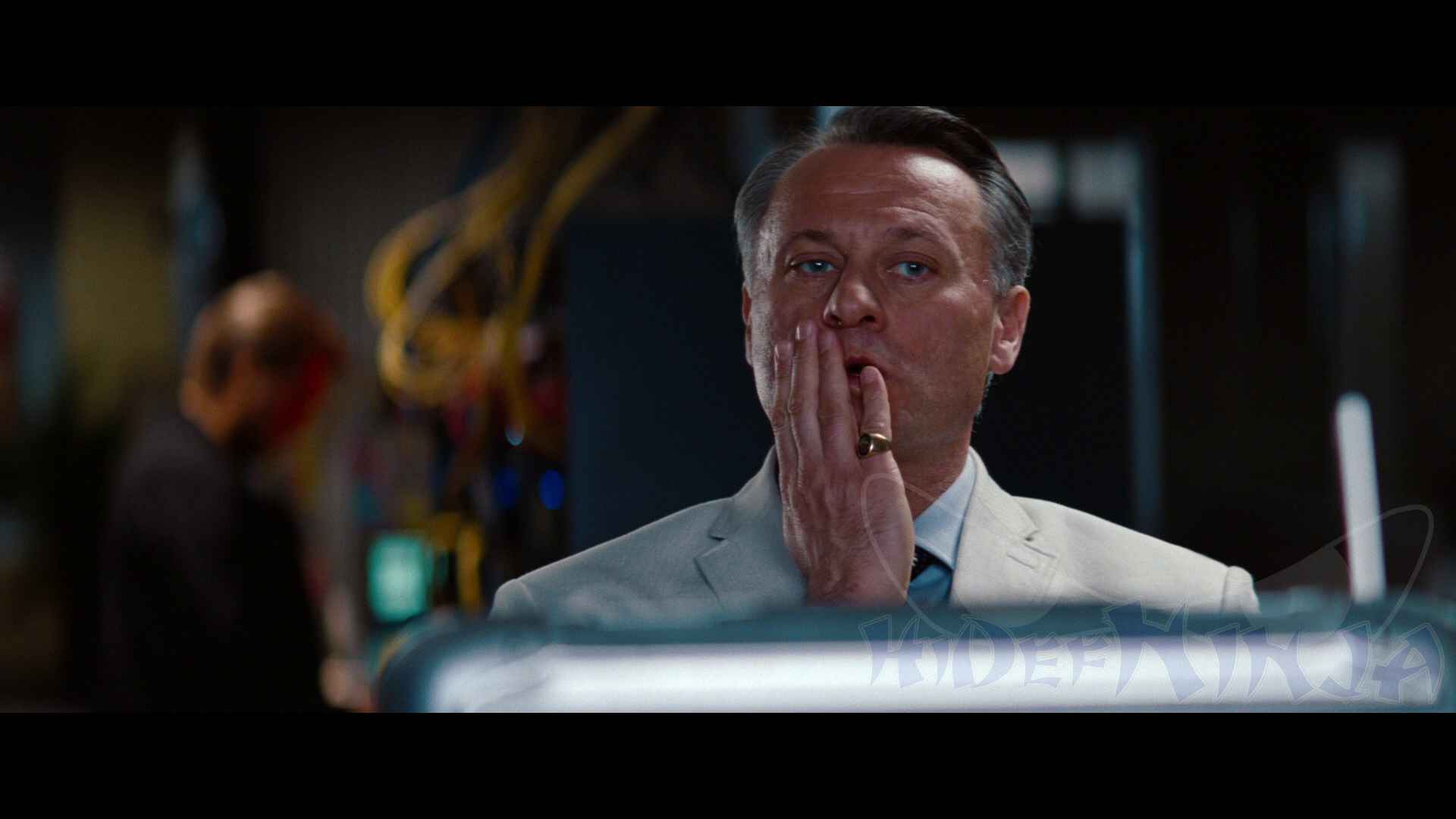 I love a release that features lots of supplements: they help guide the audience through the film in new and constructive ways, and in many cases helps complete the experience.  If you're a supplements whore like me, pick up the Best Buy Exclusive, which I used for this review.  It's got an embossed slipcover along with a 3-disc Combo Pack.  Although there's no director's commentary, this three-disc set makes up for it by presenting all of the following in HD:
Mission Accepted — Suiting Up in Prague (17:58): 

Shot like its own short film, director Brad Bird, Tom Cruise, and J.J. Abrams discuss various aspects to the production side of the film.  If you have any doubt that Cruise does not perform his own stunts, watch this featurette.

Mission Accepted – Heating Up in Dubai (17:36): The city of Dubai and the Cruise's amazing ascent along The Burj Khalifa are presented.
Vancouver Fisticuffs (12:01): Shooting in the city of Vancouver is front and center, along with the use of Pre-Viz, a computer aided design to storyboard the various action scenes, including the climatic chase at the film's end.
The Russian Prison (11:49): An abandoned Czech prison is featured here, along with several extras and their attempts to get screen time.
Shooting in IMAX (3:33): If you saw this film in IMAX, learn more about the process.
Art Department (2:56): Prague is transformed into Russia during this featurette.
A Roll of Film (2:33): If you love the technical backstory of making a film, watch this one with Post-Production Coordinator Robby Stambler.
Life Masks (1:40): Trust me, a stone mask of your face is out there somewhere.
Stepping Into the Storm (2:02): The sand storm sequence is practiced and shot.
The Sandstorm (3:06): More information of how the sandstorm sequence was shot over two continents.
Dubai Car Crash (8:15): Another nice featurette about challenges experienced during the car crash scene involving a couple of BMW's.
Lens on the Burj (0:57):  Cruise's ascent of The Burj Khalifa is featured again.
Props (3:07): A very insightful presentation about some of the props used in the film.
Composer (10:42): Another terrific featurette, this time with composer Michael Giacchino.
Deleted Scenes (15:02): Alternate Opening: Hendricks Practices His Speech, Mission on the Train, Confusion in the Van, Benji Almost Caught in the Kremlin, Hendricks and Leonid in the Hangar, Arrival at the Burj — Original Version, Ethan and Jane in the Jet, and Wistrom and Chips. You can choose to hear Brad Bird's commentary for each.
Trailers (1080p): There are two trailers for the film here (2:24 and 2:30).
People have rightfully slammed Tom Cruise over the recent past, but I say it's time to give the guy his credit for delivering a top-notch action spy thriller.  Mission Impossible IV: Ghost Protocol is excellent in every way, and if possible its release onto Blu-ray outdoes the film itself with a nice set of supplements and a video/audio transfer.  This a first-day purchase to be sure.  Welcome back, Tom.  Highly recommended.