Does the Blu-ray release of War Horse match the Oscar nominations and critical acclaim it received?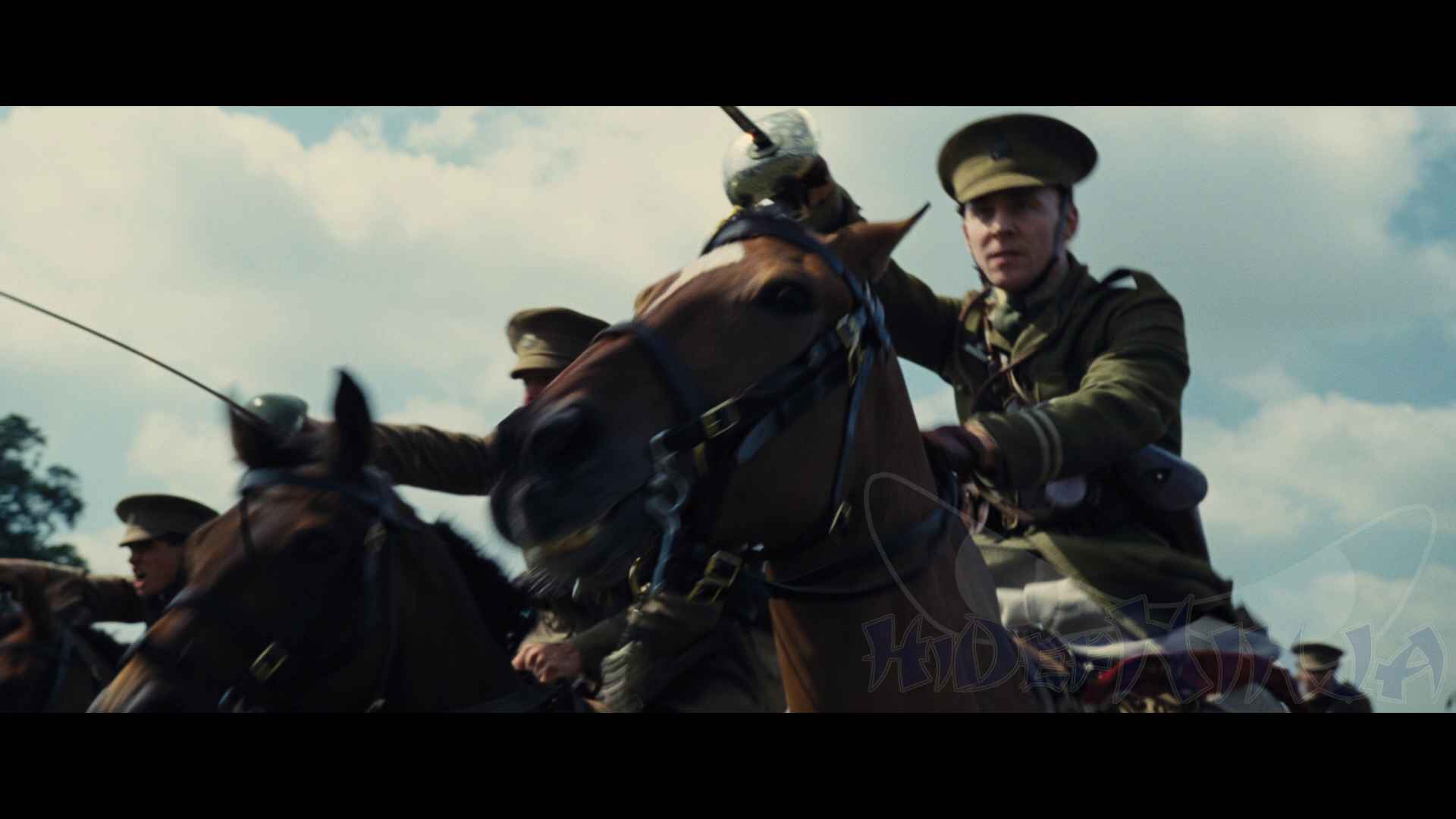 "Some days are best forgotten; today ain't one of them."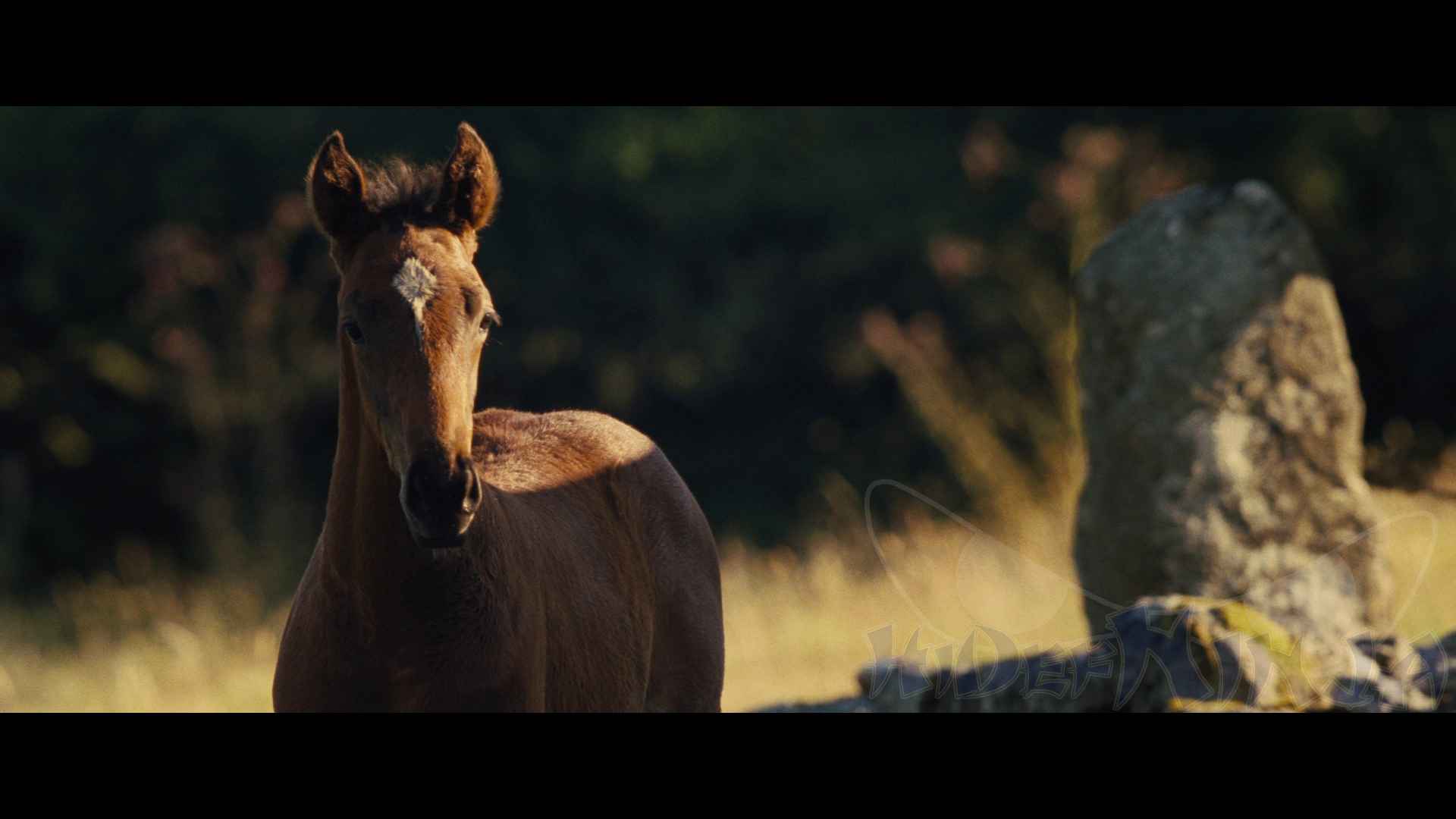 War Horse represents a curious entry among the nine films nominated for Best Picture in the 2012 Oscar season.  While dripping with early 1900's nostalgia, it's also a film that attempts to mash up gritty war drama, period piece, and tear-jerker into feel-good Oscar worthiness.   One can't really tell what it is half the time, and perhaps this was the reason why it was snubbed so thoroughly at the Oscars.  War Horse is told through the eyes of a thoroughbred horse named Joey, as he endures all manner of tragedy surrounding the events of World War I.  Torn from trainer and best friend Albert (Jeremy Irvine), Joey sees the horrors of the War close-up, as he is first sold to a British Captain (Tom Hiddleston, Thor), then forced to pull heavy German artillery, and finally suffering on the battlefield before he is rescued by one sympathetic soldier from each side of the line.  Director Steven Spielberg (Raiders of the Lost Ark, Saving Private Ryan) doesn't choose war sides throughout the film, instead allowing the story of Joey and the way he touches so many people to stand center stage.  But, Spielberg's decision to let his story run free is also its fatal flaw.  Far too often, we wait for a conclusion, for Joey and Albert to be reunited, only to have some other ugly twist of the War turn itself upon them.  By film's end, we're more relieved that the film is over than happy for our duo.  But the acting is top notch, led by Hiddleston, Emily Watson (Cradle Will Rock), Tony Kebbell (RockinRolla), David Thewlis (Harry Potter Series), and Peter Mullan (Trainspotting); and Spielberg is a master craftsman, shooting absolutely breathtaking scenes (especially at the end).  The overall effect is lost however, due to its 146-minute epic runtime. There's just too much emotion required to stick around that long.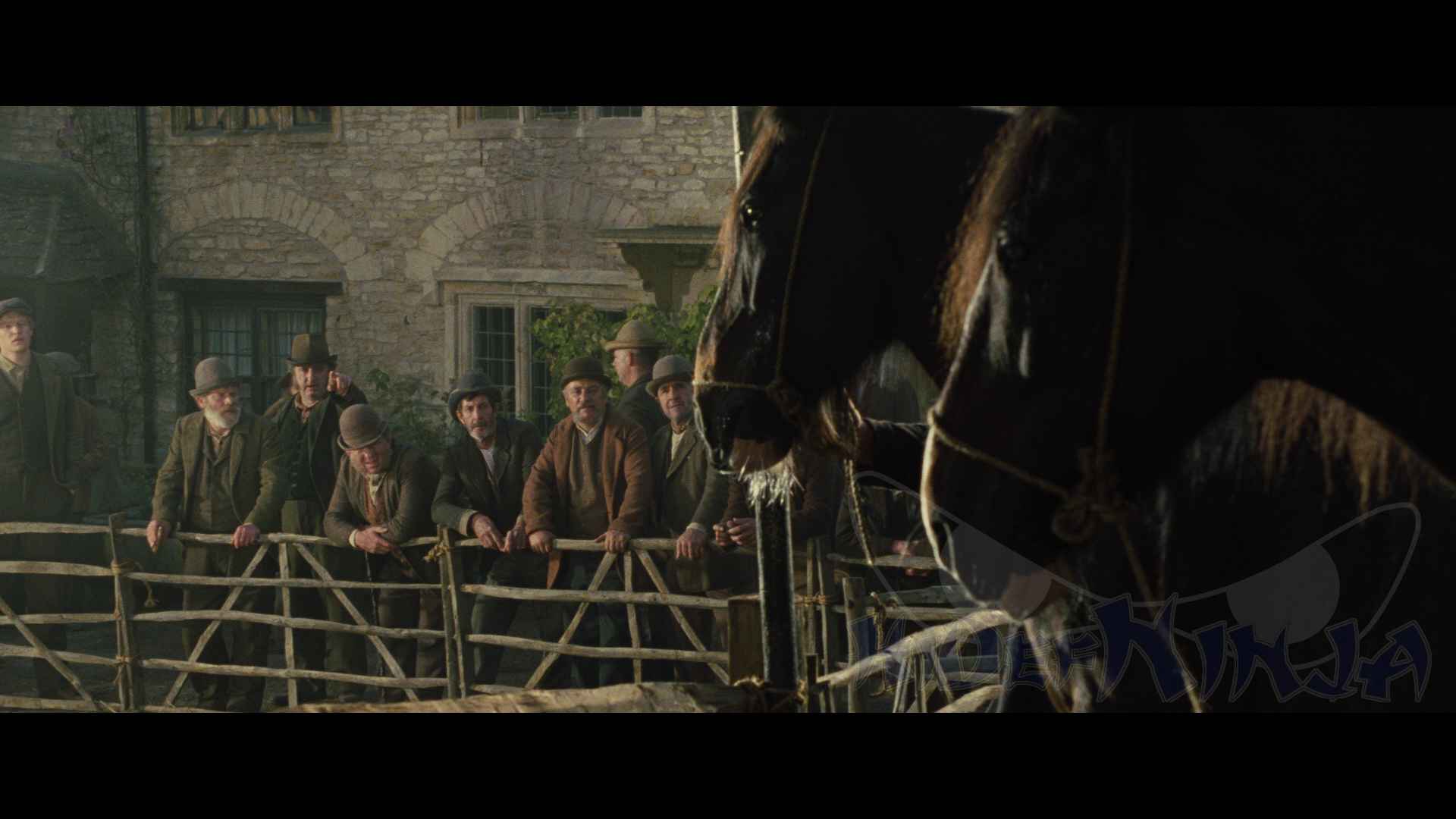 War Horse is presented in a 1080p/AVC-encoded format which is at points stunning and in others ho-hum. First, the good: there is absolutely no trace of artifacting, haloing, or edge enhancement. Detail on buttons and stitches in thread are easily seen, as is hair and dirty war faces. The rolling hills of Dartmoor, Devon serve as amazing backdrops to the story's from beginning to end, and Spielberg and Director of Photography Janusz Kaminski (Schindler's List) capture these scenes with incredible precision. Here's the bad: there were several outdoor scenes in which clouds were lost, and others in which contrast left little gray detail; in these scenes, shadows and details were literally lost to black. There was also a tad bit of softness to some scenes which I wonder were more tips-of-the-hats to the epics of Spielberg's youth. Overall, it's a pretty solid transfer, with zero color bleed and nice enough detail at points to make your HDTV happy.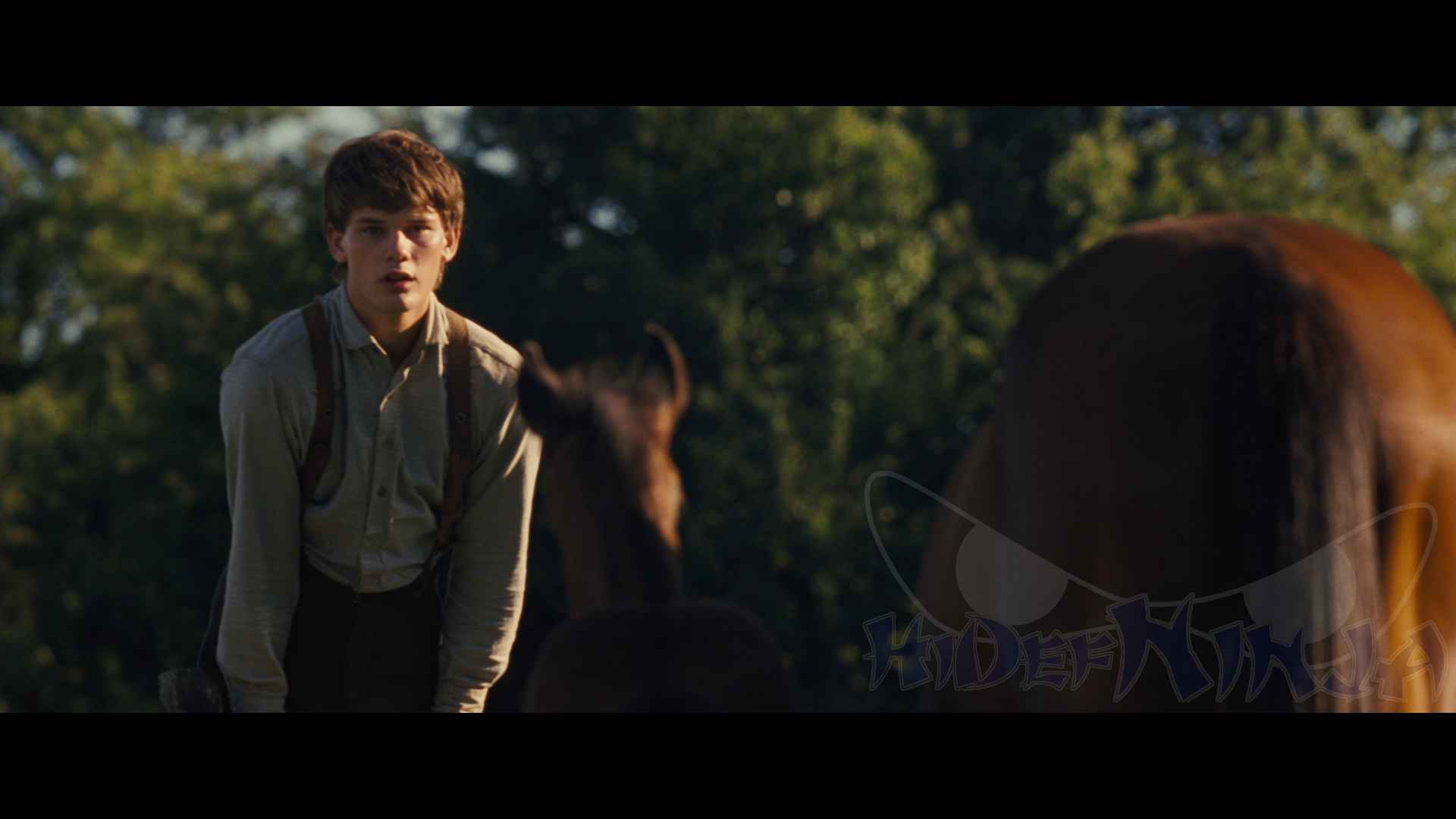 If there is one thing Hollywood is getting right with these transfers is the amazing and flawless audio track, and War Horse is no exception, arriving in DTS-HD Master Audio 7.1. This lossless track immerses the listener in both the big and small elements of the film, respecting and celebrating each side. Battle sounds are thumping and impactful, and machinery sound effects have their place here without overpowering everything else. Dialogue is very clear and does not require The Remote Game between scenes. There's also a nice surround track that mixes town chatter, farm noises, wind, and horse effects into a truly believable environment. Sound designer Gary Rydstrom wraps the listener in a mix of war sounds, music, and dialogue that is superior in every way. The LFE is put through its paces as well, delivering powerful sounds of horse charges and thunderous explosions. Composer John Williams (Star Wars, Jaws) provides both a rousing war chorus as well as touchingly simple pieces that resonate throughout the film. I was worried about "Johnny" as Spielberg calls him in the supplements, as his symphonic arrangements seemed strangely out of place in the world of Hans Zimmer and others; it's nice to see him back with such a first-rate effort.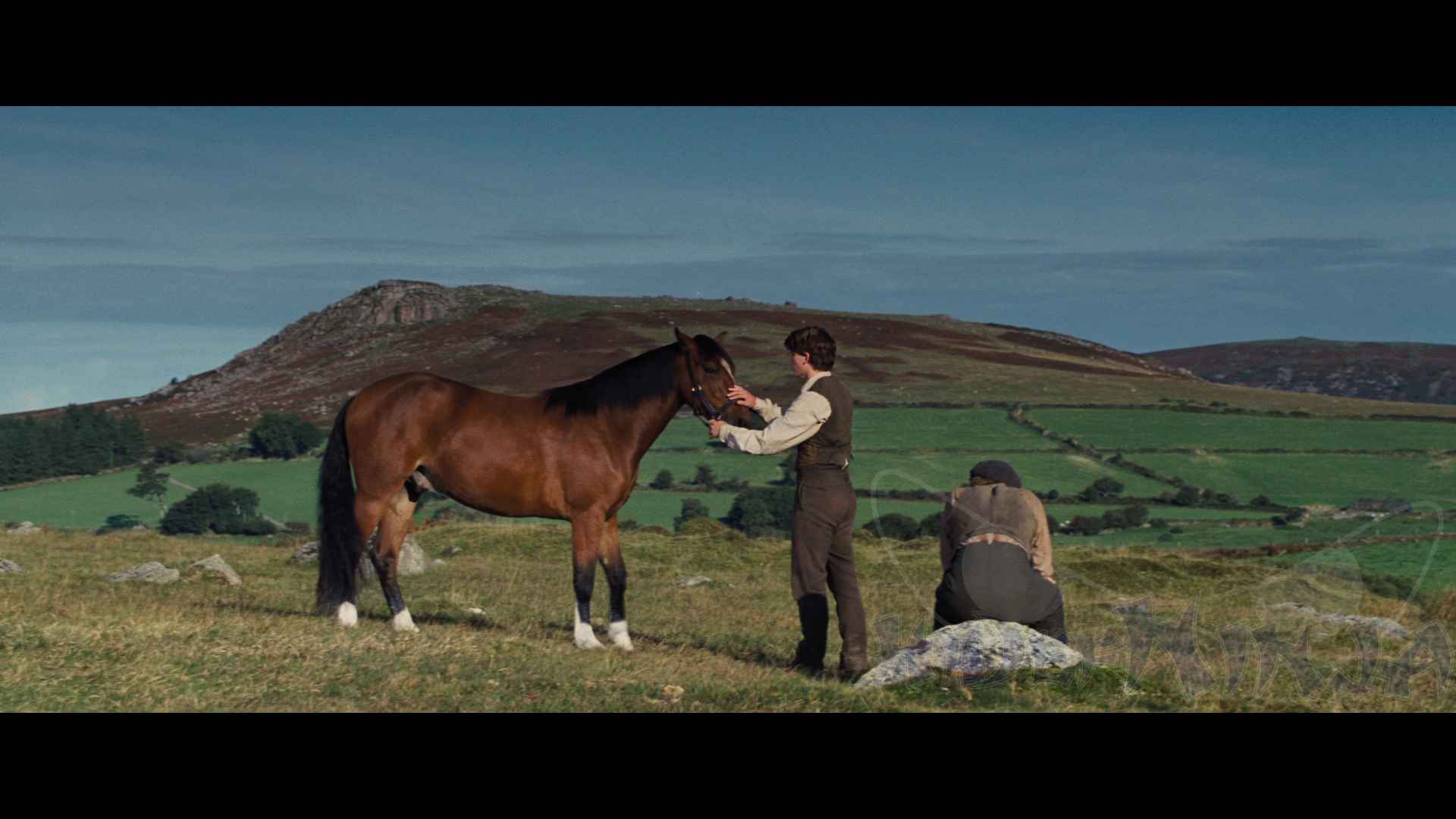 Another curious aspect of this release is in the lack of extras. Although there are 'over 85 minutes' of special features on the 4 discs, there is no director's commentary. Overall, the features themselves are pretty insightful, but don't hold a candle to other Spielberg releases. All items here are presented in HD:
War Horse: The Journey Home (20 minutes): Spielberg invites cast and crew to separate roundtable discussions. While they discuss the film's meaning and their experiences on location, we are treated to quick edits from the shooting. Listen to Emily Watson's take on Joey's hijinks during a pivotal scene.
An Extra's Point of View (3 minutes): It's interesting to note that many of the same 250 extras performed duties on both the British and German sides of the campaign. Featured here is Martin D. Dew, who worked on almost every day of the shooting. Nice to see a regular guy get all that exposure.
Filmmaking Journey (64 minutes): This is a mammoth featurette which takes the viewer into many aspects of production, from storyboards used to construct scenes, to equipment used and the training of the horses for their various scenes. I know Spielberg fans might be disappointed at the seemingly paltry runtime of this one, but it's more than enough information to experience information overload.
Editing & Scoring (9 minutes): A good featurette on the great composer John Williams. Personally, it's nice to see Spielberg recognize the importance which music plays in a movie. I personally wanted this to last longer, as I really enjoy Williams' music. Editor Michael Kahn (Jurassic Park) is also featured.
The Sounds of War Horse (7 minutes): Sound designer Gary Rydstrom (Terminator 2: Judgment Day) brought a very realistic sound to the film, and his story is featured here.
Through the Producer's Lens (4 minutes): Producer Kathleen Kennedy, who has worked with Spielberg since 1981, shares her memories of the film mixed in with some very beautiful photographs taken during shooting.
I reviewed the four-disc set, which features two Blu-rays, one DVD, and a stand-alone Digital Copy. The slipcase is embossed, and the distressed-looking leather front cover looks realistic enough.
War Horseis truly caught between too many genres to find its real footing. The home release experiences some of that as well, providing an exceptional lossless audio track, but an inferior set of supplements and a pretty good video transfer.  Believe me, it's not a horrible movie, but certainly one which takes some time and patience to see through to the end.  I recommend it as a rental, but only consider a purchase if you are a die-hard Spielberg fan.