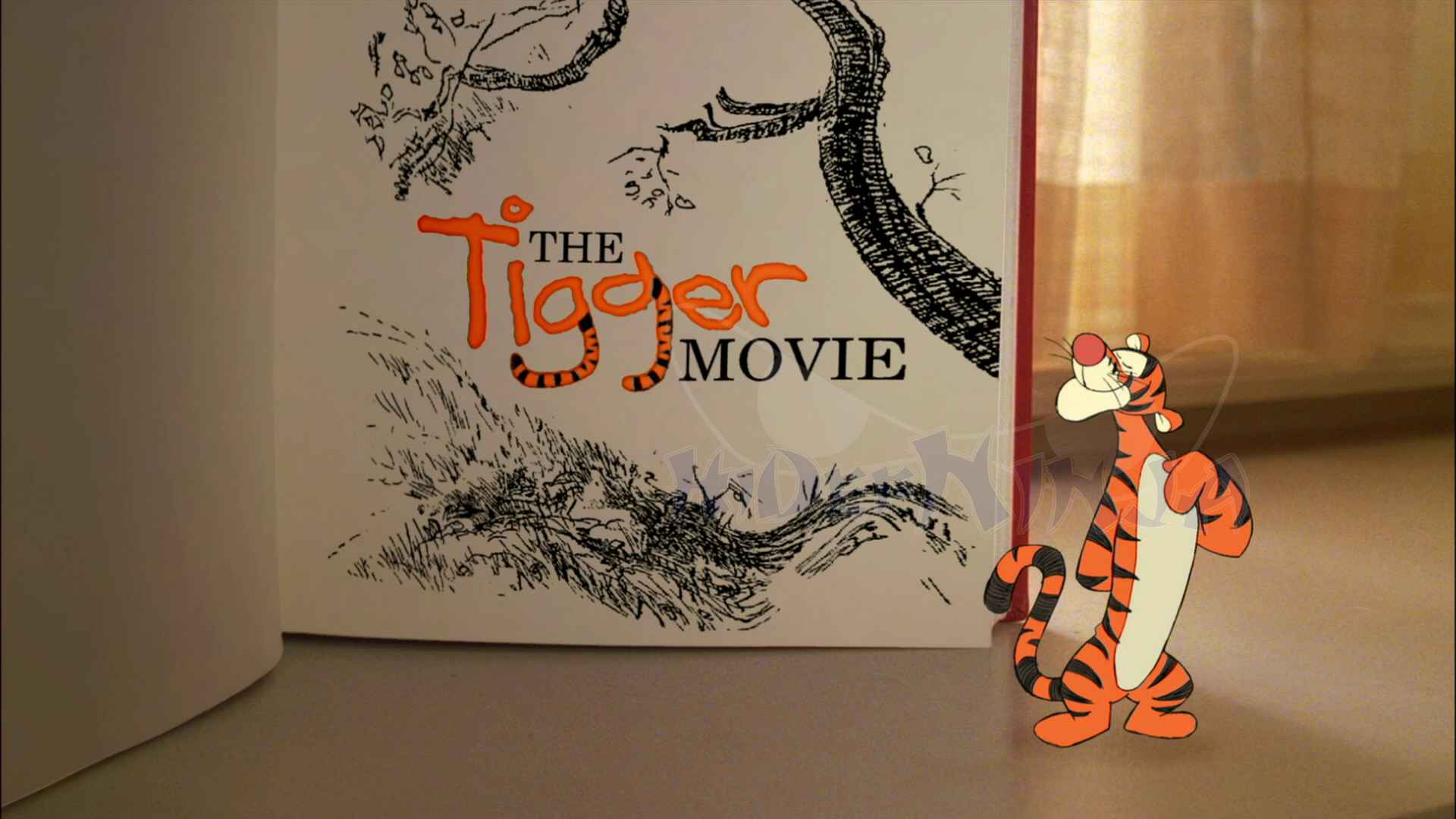 Disney's (sort of) classic features a nice release, but misses the mark with its lack of relevant supplements.
In my youth, the tales of Winnie the Pooh stand out among the most memorable and satisfying. Led by the fearless (if also bumbling) Pooh and set against the backdrop of the Hundred Acre Wood, the exploits of Eeyore, Rabbit, Kanga/Roo, and Owl served as much of a moral anchor for me as did Sesame Street. Stuck within this loveable cast of forest creatures was Tigger, an obnoxious but adorable…something…that struck a balance between Rabbit's super-serious nature and Eeyore's generally negative outlook. The physical comedy which the artists envisioned was nothing short of brilliant; had Winnie the Pooh not had Tigger, Pooh would simply be a cute, fat (but ultimately boring) teddy bear. Same for Tigger, who would have been viewed as a loud-mouthed…something…whose giggling always threatens to become irritating. Credit creator A.A. Milne for recognizing the hole and plugging it with such a memorable protagonist. But like most franchises, a decision was made to grow the product beyond the confines of its lead character to tell the larger story of its supporting cast. Such was the case with The Tigger Movie and it seemed like a good decision at the time; a successful release led to two DVD offerings, with a 10th-Year Anniversary Edition providing a deep and welcomed set of supplements. But does the 12th anniversary (huh?) of the film onto Blu-ray keep audiences entertained? The answer is yes…and no.
As fall descends on the Hundred Acre Wood, Tigger (voiced by Pooh actor Jim Cummings) begins to wonder whether he is truly the 'only one' of his kind. His curiosity takes him to the far corners of the Wood, leading to nothing but falling orange leaves and reflections of himself in a local stream. Hoping to rescue Tigger from his doldrums, Pooh (Cummings), Owl (Andre Stojka), Rabbit (Ken Sansom), Eeyore (Peter Cullen), Kanga (Kath Soucie), Roo (Nikita Hopkins) and Piglet (John Fiedler) write him a letter signed "your family," but don't include their names, leading Tigger to believe his real family is preparing to pay him a visit. As his friends scramble to spare him from a broken heart, they decide to dress up as fellow Tiggers, which ultimately leads to disastrous consequences. With the arrival of a fierce winter storm, Pooh and company must hurry to save Tigger, who's run away in search of his real family.
The film is filled with songs and important messages about friendship and generosity without becoming too preachy. Some scenes, including one between Kanga and Roo in the boy's bedroom is filled with a warmth that will remind everyone of their childhood. John Hurt is serviceable as our narrator, but it's the voices of Cummings and Peter Cullen which provide the greatest satisfaction. Cummings is Pooh, but his portrayal as Tigger is also worth mentioning. Tigger's hoo-hoo-hoo-hoo! does geta bit overused, but it's forgivable when balanced with his hilarious restructuring of common words. Cullen plays a wonderfully morose Eeyore, even though I could not help but be reminded of his alter-ego, Optimus Prime. Whether Tigger deserved his own movie is debatable, but the final effect is not. The Tigger Movie is a delightful 77-minute romp that's more about identity, loneliness, and the sense of belonging which family provides than as exploitation of the characters for revenues sake. It's not perfect, and really should not be considered in the same realm as true Disney classics, but for children ready for the semi-heavy concepts the film dishes out, it serves as a sure-fire winner. If only the world would take heed to Pooh and Tigger's simple messages…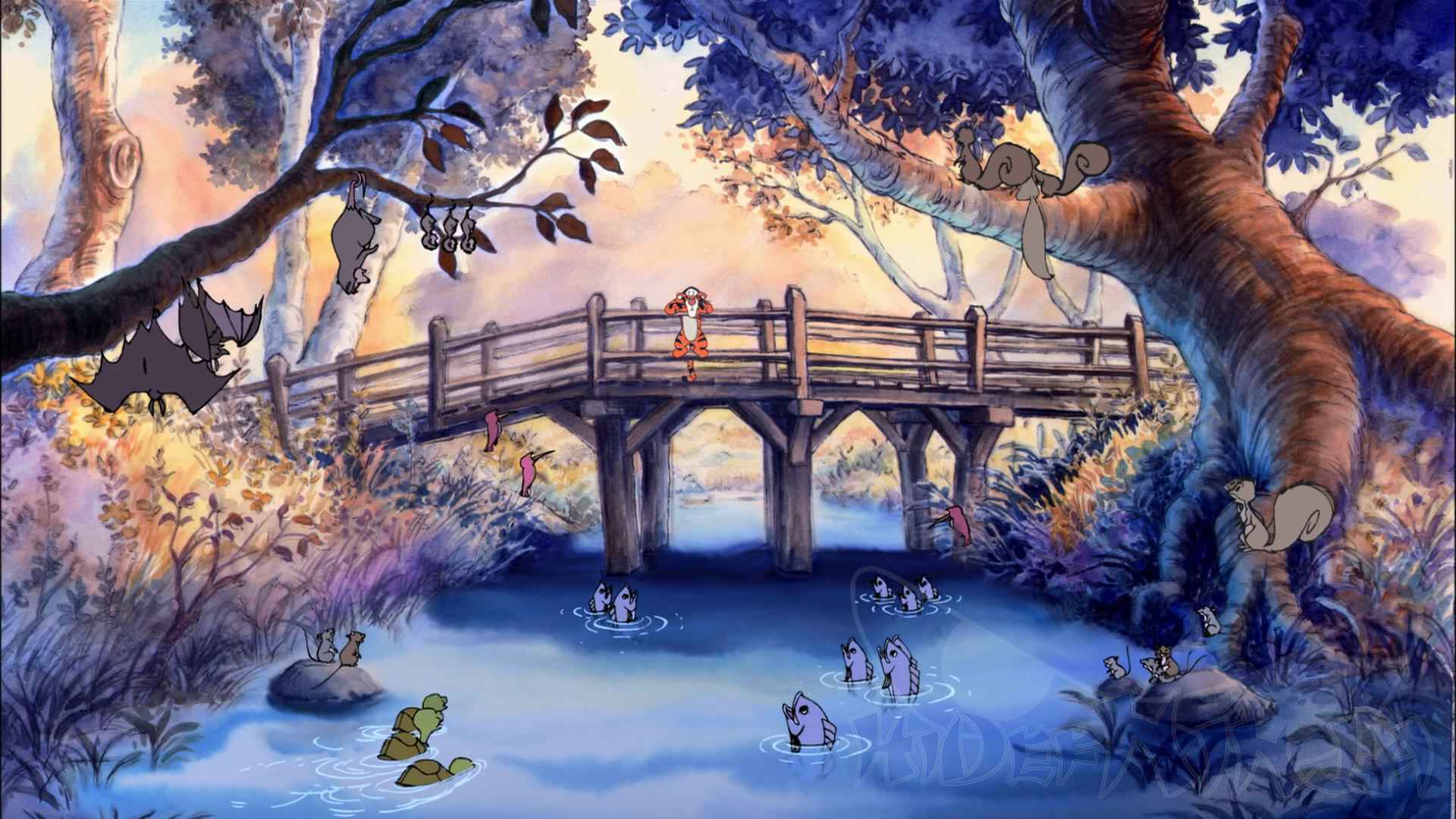 The Tigger Movie is presented in a glorious 1080p MPEG-4/AVC transfer that's one of the best of the year. The Hundred Acre Wood comes alive in a menagerie of beautiful fall colors and razor sharp winter detail, from the trees and homes of our characters to Pooh and company themselves. Character drawings are bright and wonderfully inked without causing a single act of bleed; Tigger's stripes are clearly brushed, standing out against Pooh's honey jars and Eeyore's signature tail. The water-colored backgrounds and painted grass play as wonderful backdrops to our story, standing out when needed but mostly lending a real sense of place. Action and animation are fluid without blurring, locking in the perilous climax to keep even the most discerning viewers on the edges of their seats. In fact some scenes are so clear you might be tempted to mistaken reach to turn off your 3D glasses. With no banding, artifacting, or edge enhancement present, we see another great demonstration of Disney's absolute commitment on placing the finest point to this or any project it undertakes. It's an impressive, dare I say stupenderous!, transfer.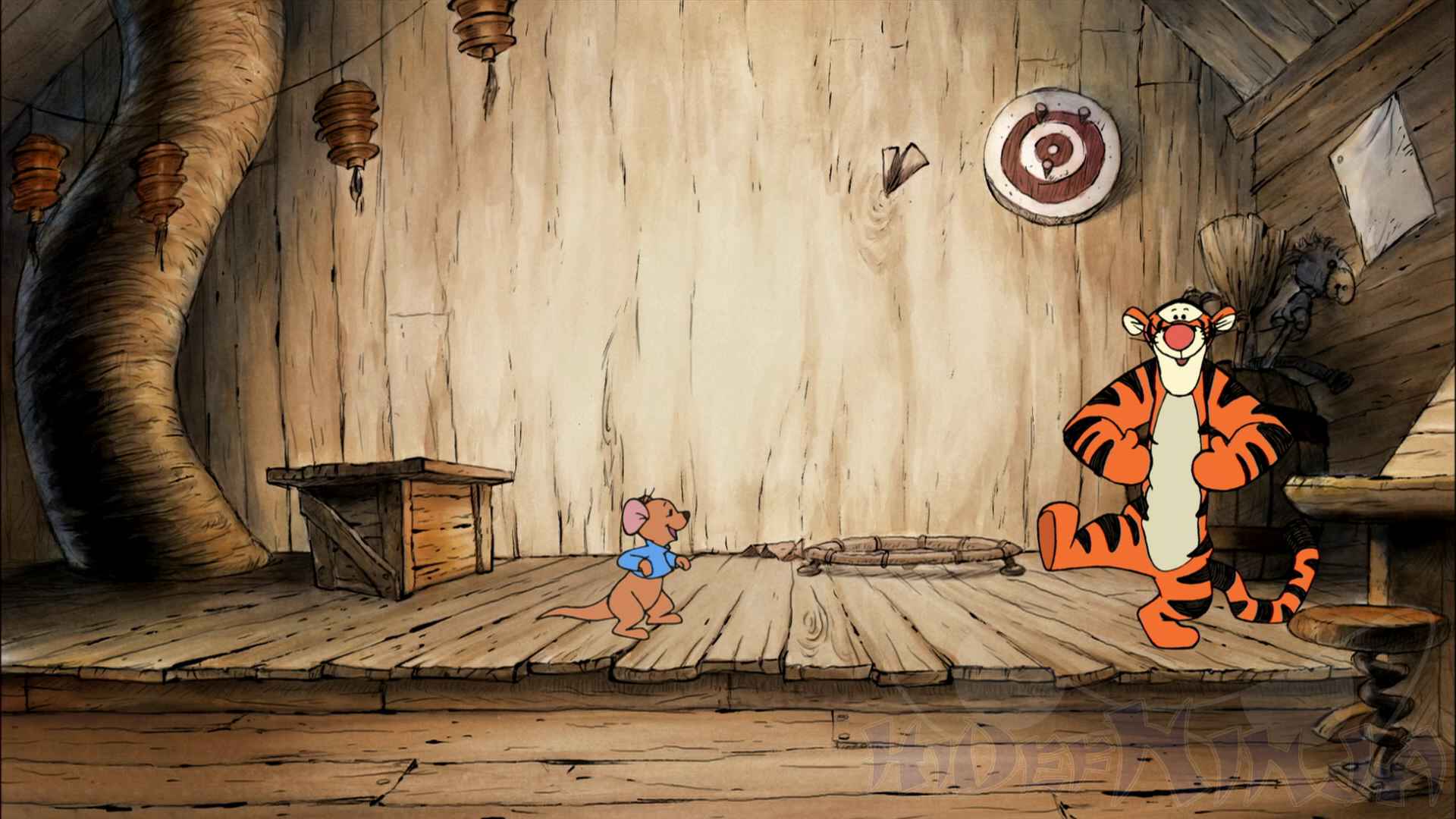 Disney also hits a homerun with an impressive 5.1 DTS-HD Master Audio track that's ready for every bounce and thud that a Tigger can deliver. Dialogue and singing are clear without being too loud, and sound effects play nicely in the background while Tigger springs, bounces, ricochets, and laughs throughout the film. As I own the DVD release, it was a relief to hear the presence of a vastly improved lossless track that sounds cleaned and pumped up for any speakers it might meet. And while the forward speakers solidly deliver, it's the surround end which impresses me the most. There's plenty of environmental sounds to enjoy, from chirping birds to wind whistling as fall descends into winter. The DVD missed most of that, so it's appreciated to see it here. Even the LFE gets a little workout near film's end, pushing out waves of terrific rumbling bass at just the right times. While it might not pack the audible thunder of a typical action film, The Tigger Movie excels in improving upon the previous release with an audio experience that's as playful as Tigger himself.
If there's one thing that's lacking from the release, it resides here. It appears that very little of the 10th Anniversary DVD was ported over – no Interactive Tigger Trivia Game, no How to Make Your Own Family Tree, not even the film trailer. Instead, we are given an odd combination of less-effective older material that was really meant for another disc. What is new is either too short or only somewhat related to the story. Worse off, the DVD (which should have contained much of the 10th Anniversary features) is merely filled with half of the material which already appears on the Blu-ray. Oh bother, indeed:
A Tigger Tale (HD, 6 minutes): The Tigger Movie filmmakers meet to quickly summarize their memories of making the film, including the appearance of Tigger in The Many Adventures of Winnie the Pooh.
Mini Adventures of Winnie the Pooh (HD, 24 minutes): There are 10 Winnie the Pooh mini-movies from The Many Adventures of Winnie the Pooh and The Tigger Movie, all narrated by John Cleese.
Sing-Along Song (HD, 3 minutes): Tigger sings "Round My Family Tree."
Music Video (SD, 5 minutes): The song by Kenny Loggins "Your Heart Will Lead You Home," is featured.
Our evaluation copy contained a nicely-embossed slipcase and a fold-out family tree and sticker set. Strangely, no Digital copy was present.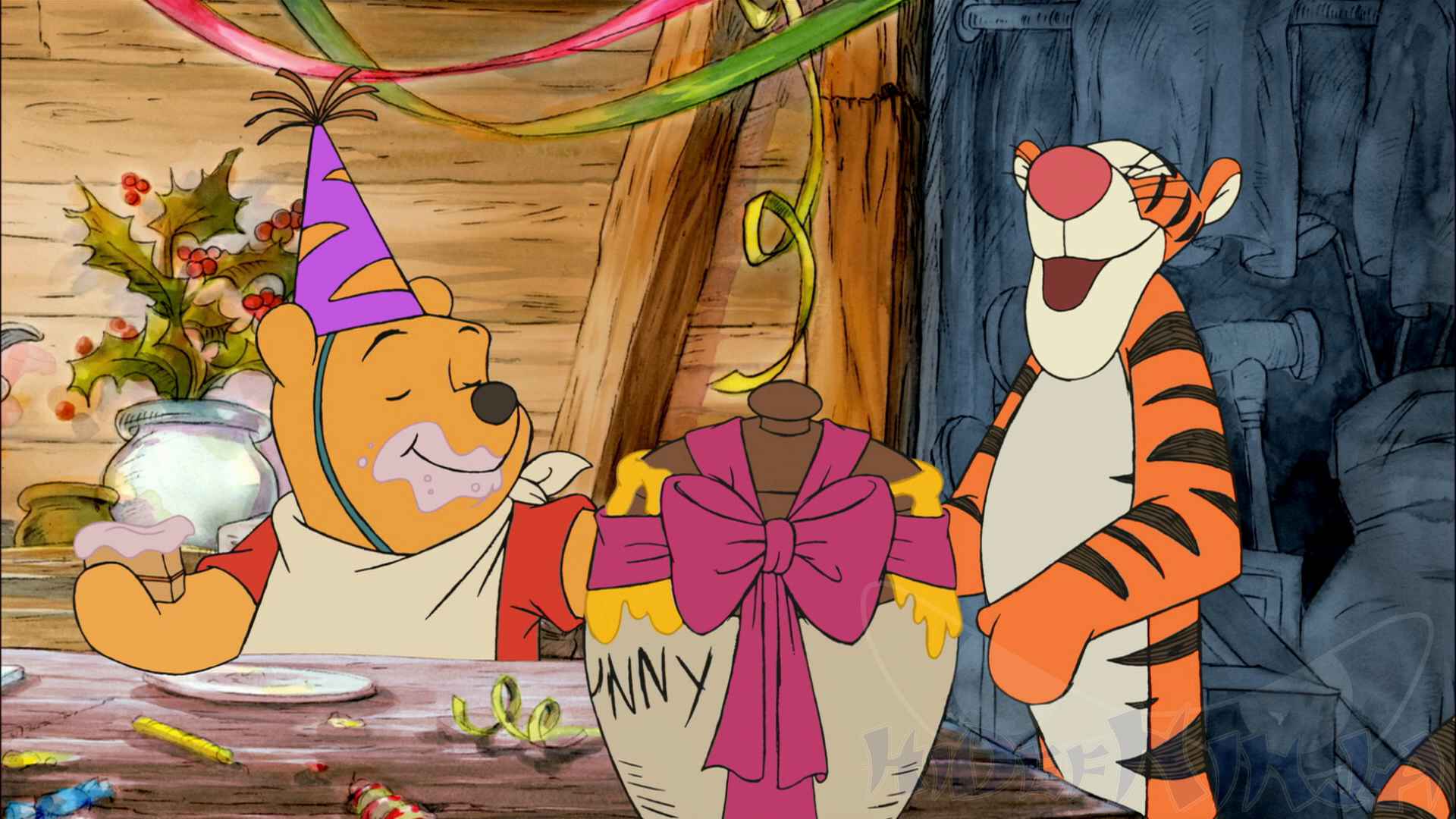 The Tigger Movie is a nice, unoffending film about finding your place in the world. Sadly, the Blu-ray release offends in its lack of supplements, most of which were not ported over from the 10th Anniversay DVD. Still, the video and audio are terrific and will delight younger audiences and fans of the Coily One. Honestly, try to find the 10th Anniversary DVD before you consider the Blu-ray for purchase. Your family might enjoy the overall experience with a more relevant set of supplements.