The $700 Million Worldwide Box Office Hit Swings onto Blu-ray™ 3D, Blu-ray™ and DVD with UltraViolet™ on November 26th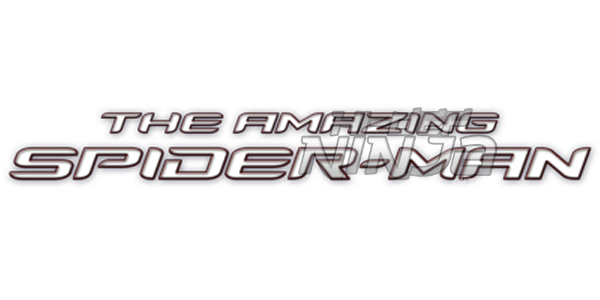 Directed by Marc Webb Starring Andrew Garfield and Emma Stone
One of the most beloved and iconic super heroes of all time reemerges in THE AMAZING SPIDER-MAN™, debuting on Blu-ray™ 3D, Blu-ray™ and DVD with UltraViolet™ on November 26th from Sony Pictures Home Entertainment. Presented for the first time in at-home 3D, THE AMAZING SPIDER-MAN tells the story of teenage Peter Parker, who grapples with both high school and amazing super-human crises as his alter-ego Spider-Man battles The Lizard.
Directed by Marc Webb ((500) Days of Summer), THE AMAZING SPIDER-MAN stars Andrew Garfield (The Social Network) as Peter Parker, a.k.a. Spider-Man, and Emma Stone (The Help) as Gwen Stacy.
The film also features Rhys Ifans (Notting Hill) as Dr. Curt Connors, a.k.a. The Lizard, Denis Leary (TV's "Rescue Me") as Captain Stacy, Campbell Scott (TV's "Damages") as Richard Parker, and Irrfan Khan (Slumdog Millionaire) as Rajit Ratha. Rounding out the all-star cast are Martin Sheen (TV's "The West Wing") as Uncle Ben and two-time Academy Award® winner for Best Actress, Sally Field (Norma Rae, 1979; Places in the Heart, 1984), as Aunt May.
The Blu-ray comes with two discs:
· Disc one is a Blu-ray containing the feature film, as well as the "Amazing Spider-Man Second Screen App," which can be used with the Sony Tablet™ S, Xperia Tablet™ S and iPad. The App syncs with the film as it plays in "Timeline" mode and features "Production" mode allowing users to "sling" content from their tablets to the TV screen for a greater and more interactive HD experience. Content includes interviews, storyboards, concept art, pre-visualization sequences, stunt rehearsals, and more. Also included on disc one are deleted scenes, The Oscorp Archives, an image gallery featuring production art stills, and audio commentary with director Marc Webb, and producers Avi Arad and Matt Tolmach.
· Disc two is a Blu-ray featuring 90 minutes of behind-the-scenes documentaries, taking viewers behind the scenes of the development and direction of the film, casting, costumes, location shoots, visual effects, and more.
· The Blu-ray 3D contains all the features included on standard Blu-ray as well as exclusive special features including an image progression reel and the "3D 101 with Marc Webb" featurette, providing a look at the 3D techniques used for the film and allowing viewers to toggle through three scenes from the film at different levels of 3D.
Synopsis:
THE AMAZING SPIDER-MAN™ is the story of Peter Parker (Garfield), an outcast high schooler who was abandoned by his parents as a boy, leaving him to be raised by his Uncle Ben (Sheen) and Aunt May (Field). Like most teenagers, Peter is trying to figure out who he is and how he got to be the person he is today. When Peter discovers a mysterious briefcase that belonged to his father, he begins a quest to understand his parents' disappearance – leading him directly to Oscorp and the lab of Dr. Curt Connors (Ifans), his father's former partner. As Spider-Man is set on a collision course with Connors' alter-ego, The Lizard, Peter will make life-altering choices to use his powers and shape his destiny to become a hero.
Based on the Marvel comic book by Stan Lee and Steve Ditko, THE AMAZING SPIDER-MAN was directed by Marc Webb from the screenplay by James Vanderbilt and Alvin Sargent and Steve Kloves, and a story by James Vanderbilt. Stan Lee, Kevin Feige and Michael Grillo served as executive producers, with Laura Ziskin, Avi Arad and Matt Tolmach as producers.
DVD Special Features
· Deleted Scenes
· Filmmaker Audio Commentary
· The Oscorp Archives – Production Art Gallery
· Stunt Rehearsals
Blu-ray Special Features:
All of the DVD Special Features plus…
Disc 1: 2D Blu-ray feature film
· The Amazing Spider-Man Second Screen App, including interviews, storyboards, alternate takes, costume tests, pre-visualization sequences and more. Allows you to "sling" content from your tablet to the TV.
· Disc 2: 2D Blu-ray featuring 90 Minutes of Behind-the-Scenes Documentaries, including:
o Development and Direction
o Casting
o Costumes
o On Location: LA
o On Stage: Sony Studios
o On Location: NY
o Post Production and Release
· 16 Pre-Visualization Sequences
· Developing The Amazing Spider-Man Video Game
Blu-ray 3D Special Features:
All of the DVD/Blu-ray Special Features plus…
· 3D versions of the film
· 3D 101 with Director Marc Webb
· 3D Image Progression Reel
The Amazing Spider-Man has a running time of 136 mins on Blu-ray and 131 mins on DVD and is rated 12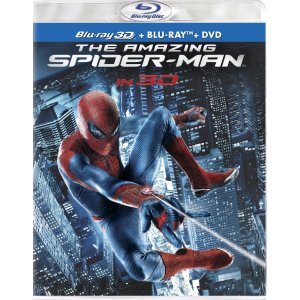 httpvh://www.youtube.com/watch?v=GRPNWh6rDj8&feature=plcp