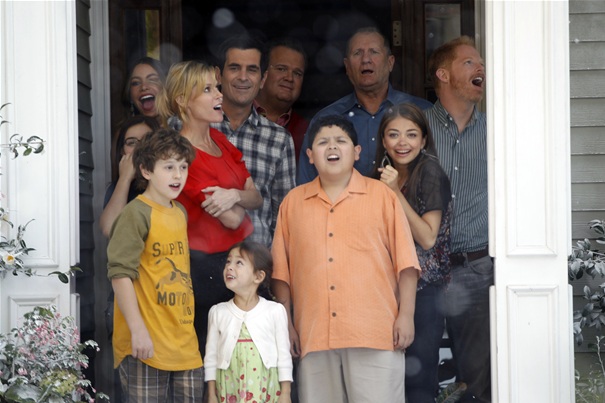 This release sets the bar where other TV shows should level their standards.
I love this show. It really makes me laugh at how different these families are but it reminds me of a mix between my family and some of my friends. Maybe some of the situations are a bit far fetched but the core of the show could happen to anyone. It was created by Christopher Lloyd and Steven Levitan who have collaborated on making the hit shows Frasier and Wings. It stars Ed O'neill, Sofia Vergara, Julie Bowen, Ty Burrell, Jesse Tyler Ferguson, Eric Stonestreet, Rico Rodriguez, Nolan Gould, Sarah Hyland, Ariel Winter and Aubrey Anderson-Emmons. Perfectly cast. They really have that good mix of personalities that give a good sense that they really are family.
The show is about 3 families which are interrelated and their relationships with each other. There are the Pritchetts Jay (O'neill), Claire (Bowen), and Mitchell (Ferguson). Jay and Gloria (Vergara) raise her son Manny (Rodriquez). Claire is married to Phil Dunphy (Burell) and their kids names are Hayley (Hyland), Alex (Winter) and Luke (Gould). Mitchell and his partner Cameron (Stonestreet) have an adopted little girl •Lily (Emmons) from Vietnam.
---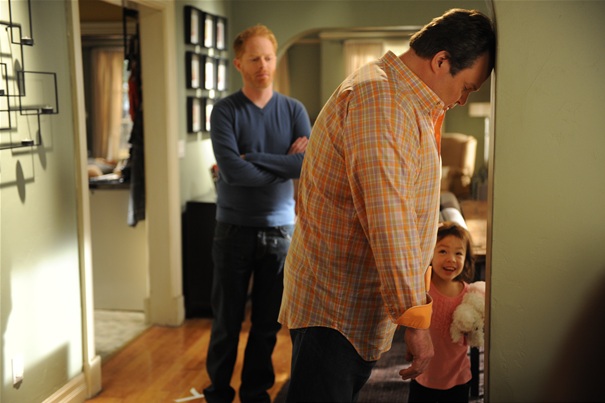 The video transfer looks great. Most cable broadcasting is in 720p or 1080i but the Blu-ray is in 1080p. It has no issues with crushing or contrasting. It has very vibrant and clean colors. They really pop in the clothing and decor. The tones are warm and are completely natural. Where the release really shines is in the excellent details. I noticed in Cam and Mich's house, they have a room that has walls with textures that were so clear, it felt like I was sitting with them. This release sets the bar where other TV shows should level their standards.
---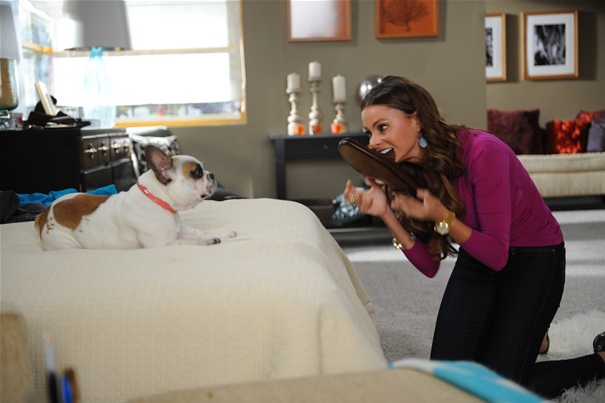 There is only one language recorded on the release and its English DTS-HD Master Audio. It is mixed very well and the surround sound is really surprising. Like most TV shows, the audio sounds as normal in stereo as in surround sound. There is not a whole lot surround moments but it does it with ease. The low tones are minimal aside from few times in the car or there was a scene at a horse track. There is some bass in the galloping of the horses and the ambient sound of the track. Very solid sound.
---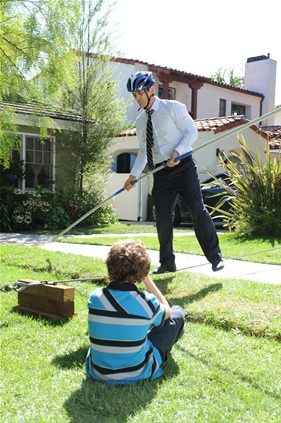 The release is loaded with extras, interviews and behind the scenes. These are hilarious features on each disc.
Disc details
3 disc blu-ray
Video Resolution
1080p
Audio
English DTS-HD Master Audio 5.1
Subtitles
English SDH
French
Spanish
Supplements
Deleted and Alternate Scenes: a look at a few deleted and alternate scenes from the show. Each disc has them and they're very nice extras.
Disc One
Destination: Wyoming: The cast fly out to Wyoming for the premier episode. It shows some behind the scenes footage and interviews from the episode.
A Day on the Set with Ty: this hilarious look at how Ty acts on set and apparently he is exactly the same whether being filmed or not.
Adventures of the Modern Family Kids: a look at the kids and how they have fun together on and off set.
Disc Two
A Modern Family Christmas: A behind the scenes look at the Christmas episode from this season. It has a few interviews with the director and actors. Also, the director breaks down what happens in the episode and how they did it.
Driving Lessons: a behind the scenes look at seeing the kids driving a car for an episode.
Ed O'Neill Gets a Star: a behind the scenes look at Ed O'Neill receiving a star on the Hollywood Walk Of Fame.
Disc Three
Modern Family Goes to Disneyland Resort: a look at the behind the scenes of filming at the theme park.
Gag Reel: a series of laughs and comedy on set that is around 1 hour and a half.
---
I really feel like this show is going to be a lasting classic like say Friends or Seinfeld. This show is hilarious and watching it a second time around you catch jokes you maybe missed. I think that the show gets funnier with every season and the Blu-ray surprised me. I know that with cable companies transmitting in HD is now typical but this release really does have a cleaner look than the original broadcast. Fans of comedy and the show will not be disappointed with buying this Blu-ray.