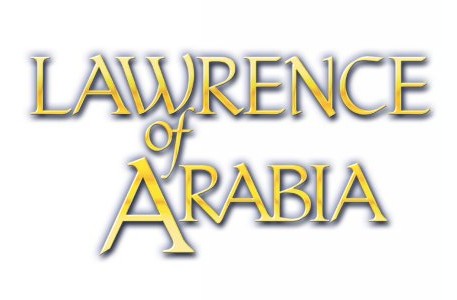 Winner of seven Academy Awards, including Best Picture of 1962, Lawrence of Arabia stands as one of the most timeless and essential motion picture masterpieces. The greatest achievement of its legendary, Oscar-winning director David Lean (1962, Lawrence of Arabia; 1957, The Bridge on the River Kwai), the film stars Peter O'Toole – in his career-making performance – as T.E. Lawrence, the audacious World War I British army officer who heroically united rival Arab desert tribes and led them to war against the mighty Turkish Empire. Newly restored and remastered at 4K resolution, the massive scope and epic action of the Director's Cut of Lawrence of Arabia can now be experienced like never before in this landmark 50th Anniversary Edition.
Widely considered one of the greatest and most influential films in the history of cinema, David Lean's epic masterpiece Lawrence of Arabia, celebrating its 50th Anniversary, is available now fully-restored on Blu-ray™ and will also be released on November 12th as a limited-edition, four-disc collector's Gift Set from Sony Pictures Home Entertainment. The director's cut was meticulously restored by Sony Pictures Entertainment in 4K at Sony Pictures' Colorworks from the original negative. The film was nominated for 10 Academy Awards® and took home seven, including Best Picture and Best Director, and will be re-released in cinemas across the UK and Ireland from November 16 in its original roadshow format with Overture and Intermission. Academy Award nominees Peter O'Toole (1962, Best Actor) and Omar Sharif (1962, Best Supporting Actor) star in the classic.
"Lawrence of Arabia is universally considered to be one of the greatest epic films of all time and is certainly the crown jewel in the Columbia Pictures library," noted David Bishop, President of Sony Pictures Home Entertainment. "Finally, the long anticipated and much in-demand release of David Lean's masterpiece will be available on Blu-ray, which will provide consumers the chance to experience the sheer spectacle and beauty of this movie with the finest image and sound available. Additionally, in honor of Lawrence of Arabia's 50th Anniversary, we have created a special gift set composed of a coffee table book and soundtrack, which will add further dimension to the enjoyment of this film."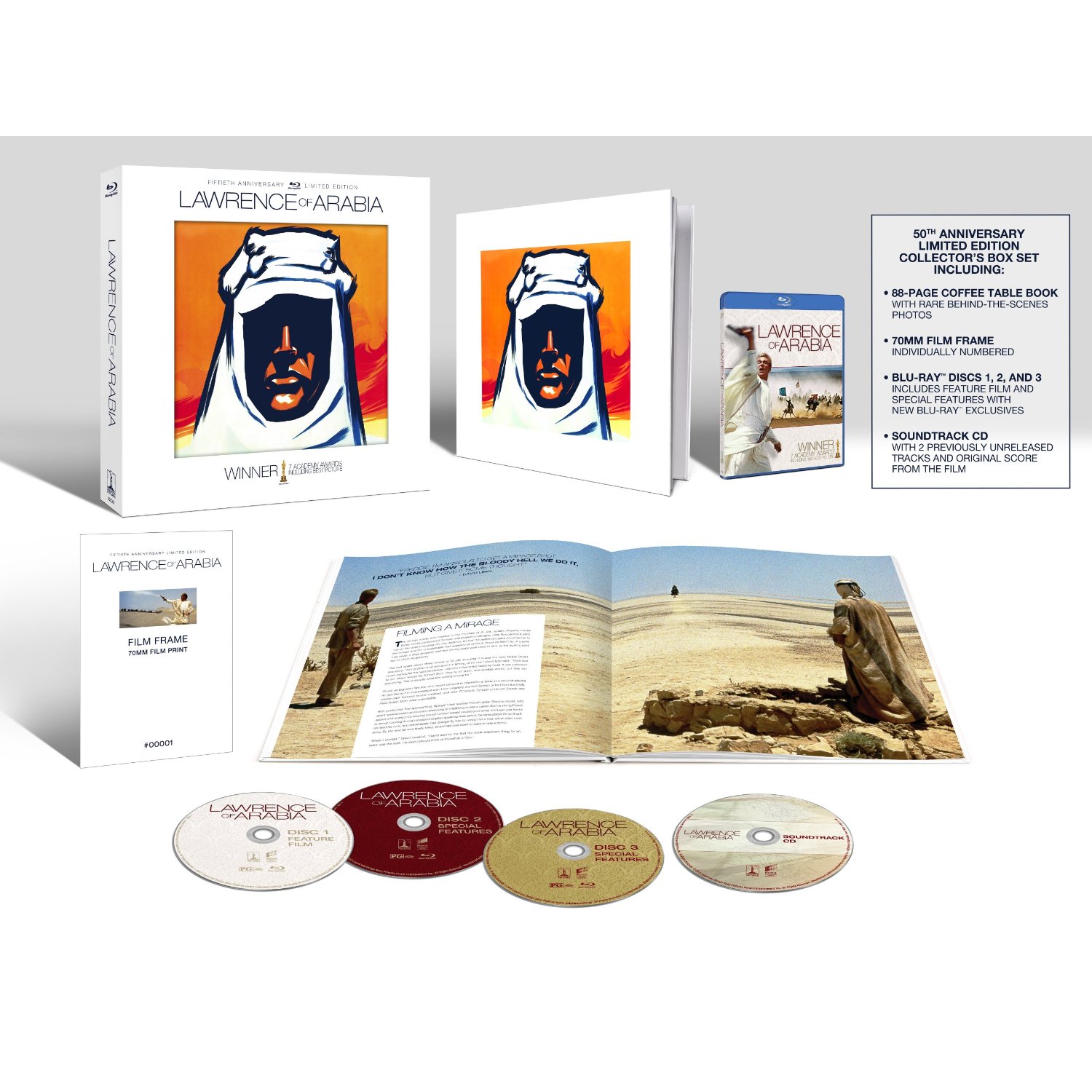 The Gift Set is an essential addition to any film lover's collection. The four-disc set is comprised of three Blu-ray discs plus a CD of the original soundtrack featuring previously unreleased tracks. Special supplemental items include an authentic 70mm film frame (newly printed and numbered) and an 88-page hard-bound coffee table book that features rarely seen photos, the film's history and significance, and insight into the making of the film.
Never-before-seen bonus content included in both the four-disc Gift Set and the two-disc release include the "Secrets of Arabia: Picture-in-Graphics Track," which allows the viewer to become immersed in the world of Lawrence of Arabia and learn about the customs and rituals of desert existence. The set also comes with the "Peter O'Toole Revisits Lawrence of Arabia" featurette, as well as the previously released, hour-long behind-the-scenes documentary "The Making of Lawrence of Arabia," and the featurettes "The Camels are Cast (Maan Jordan)," "In Search of Lawrence," "Romance of Arabia," and the 1970 version of "Wind, Sand and Star: The Making of a Classic." Both sets include newsreel footage of the New York premiere and advertising campaigns.
Exclusive to the Gift Set are featurettes including "In Love with the Desert," "King Hussein Visits Lawrence of Arabia Scene," the original 1963 35mm version of "Wind, Sand and Star," and conversations with Steven Spielberg and Martin Scorsese. Also included is a never-before released deleted scene complete with an introduction by Lawrence of Arabia's Oscar® winning film editor Anne V. Coates, A.C.E.
A full breakdown of this Gift set is as follows:
Bonus Features:
DISC 1: The Film (Brand new 4K restoration from the original 70mm prints)
• Feature Film, including overture, intermission, entr'acte and exit music (run time 227 mins)
• Newly re-mastered DTS-MA 5.1 English audio
•"Secrets of Arabia: A Picture-in-Graphics Track
DISC 2: Featurettes:
"Peter O'Toole Revisits Lawrence of Arabia" – All-New Interview
"The Making of Lawrence of Arabia" documentary
"A Conversation with Steven Spielberg"
"The Camels Are Cast"
"In Search of Lawrence"
"Romance of Arabia"
"Wind, Sand and Star: The Making of a Classic" (1970 version) • Newsreel Footage of the New York Premiere
• Advertising Campaigns
DISC 3 (Gift Set Exclusive Disc):
• Never-Before-Released Deleted Scene with Introduction by Anne Coates
•"The Lure of the Desert: Martin Scorsese on Lawrence of Arabia" All-New Interview with Martin Scorsese
• Featurettes:
"In Love with the Desert"
"Lawrence at 50: A Classic Restored"
"King Hussein Visits Lawrence of Arabia Scene"
"Wind, Sand and Star" (original version, 1963) • Archival Interviews with William Friedkin, Sydney Pollack, Martin Scorsese and Steven Spielberg
• Trailers/TV Spots:
Theatrical Trailer
Teaser Trailer #1
Teaser Trailer #2
70mm Restoration Trailer (1989 Release)
TV Spot #1
TV Spot #2
DISC 4 (Gift Set Exclusive Disc):
• Exclusive Lawrence of Arabia Soundtrack CD including original score and two previously unreleased tracks
The Critics say….
"Sweeping, epic, majestic, awesome, sumptuous, with amazing performances and gorgeous visuals" – Empire
"If ever a film was made for Blu-ray, it was this one" – Total Film
"One of the most incredible restorations I have ever encountered on Blu-ray" – Anton van Beek, Home Cinema Choice
Lawrence of Arabia Collector's Edition Gift set will be released in the UK 12th November