Marvel's The Avengers (Four-Disc Com
Price : $34.96

Marvel's The Avengers (Two-Disc Blu-
Price : $24.96

Marvel Cinematic Universe: Phase One
Price : $197.10
The best film of the year, The Avengers, receives a very good Blu-ray release and a number of intriguing options to own it.
After a long dance and a number of drinks to get her drunk, the comic book fan-gasm known as The Avengers has finally come home with us, ready to wow us with her wonders.  For some, the idea of the ultimate superhero sleepover promised to be bigger than anything we had ever seen (no offense to X-Men).  But as those lights dimmed in the theatre during the Summer of 2012, nagging questions had remained: Could Director Joss Whedon (Firefly) keep the consistency between characters originally envisioned by other directors in the previous films? Was there enough time for each hero to have their moment without handing out chemical toilets to every moviegoer for fear of another Lord of the Rings: Extended Edition? Would everyone accept yet another actor playing The Hulk?  And while we would stand up and emphatically shout 'YES' to all of those questions, new questions arose for the home release: would the fabled 40 minutes of cut footage appear?  What sort of packaging would tempt us with double (or in my case) triple-dipping?  Would the overall experience translate onto the home theatre as well as it did at our local venues?  And like a cheap date, The Avengers still looks good the next morning, more so because she's home with us.
When The Tesseract/Cosmic Cube is stolen by Thor's half-brother Loki (Tom Hiddleston, War Horse), who desires to use it as a doorway for an alien invasion of Earth, Nick Fury (Samuel L. Jackson, Jackie Brown) assembles a 'response team' of superheroes to capture Loki and retrieve the device. Fury has wanted this mash-up about as long as the fans have, even donning the project with the coolest name around: The Avengers Initiative. But, getting this team of blatantly independent heroes together will be no small task. Captain America (Chris Evans, Fantastic Four) has been recently discovered in the ice and thawed, Iron Man (Robert Downey Jr, Sherlock Holmes) is finishing the new Stark Tower, Thor (Chris Hemsworth, Star Trek) is stuck on Asgard, and David Banner/Hulk (Mark Ruffalo, Shutter Island) is playing Doctors Without Borders in Calcutta. As our heroes assemble (no pun), we soon learn that some team building will be necessary, only the 'activities' involve a lot of fighting and trading memorable quips with one another. These hero fights are the best from the franchise because they take place in unlikely locations, such as the forest battle between Thor, Iron Man, and Cap. Our heroes eventually join forces with SHIELD agents Black Widow (Scarlett Johannson, The Spirit) and Hawkeye (Jeremy Renner, MI:IV) to defend New York City when it falls prey to Loki and the Chitauri, a race commanded by none other than Thanos. As the invasion begins, The Avengers race against the clock and nuclear annihilation  using every ounce of their strength and new-found teamwork to defend the people of Earth.
Simply put, The Avengers delivers in every way, hitting every mark with a perfect mix of humor, action, and story. Whedon definitely understands and appreciates every aspect of these characters, and crafts a story that is as funny as it is true to canon. The quibbling between Cap and Iron Man is terrific, as it is between The Hulk and Thor. When Loki invades Stark Tower, he and Iron Man engage in a verbal sparring match that's perfect in tenor and run time. But there's also a serious tone to the film, as Cap struggles to deal with what Stark refers to 'doin' time as a Cap-cicle,' while Black Widow and Hawkeye realize that their training never prepared them for this line of work. Loki's character is much more diabolical this go-around, as if his interaction with The Tesseract has fundamentally damaged his psyche. But it is The Hulk who steals almost every scene in which he appears, including the famous 'Puny God' sequence that has become an instant classic. Whedon's story is so dense, so multi-layered, that one would have to see the film a couple of times (probably the point) to catch everything. Another standout feature here is the four large action pieces, each one achieving a higher level of perfection than the latter. The scale of the battles is simply amazing, with every character getting their fair share to demonstrate their abilities, and sometimes using each other's weapons in tandem (think about the video game Ultimate Avengers). Even the music by Composer Alan Silvestri (The Quick and the Dead) stands proud and tall, perfectly complimenting the epic scale of the film. When our heroes assemble in a 360 degree money shot near the end, Silvestri hits us with a theme that knocks your socks off, reappearing at the end credits as Whedon takes us through our hereo's 'tools of the trade.' This 2 hour, 22-minute nerd-gasm doesn't feel long at all, passing by with a speed only Iron Man seems capable of achieving.
The Avengers embodies all the best qualities of the franchise, perfectly weaving every strength of the Marvel film universe into a tale that redefines the genre forever, upping the ante for future filmmakers and studios who wish to cash in on the comic book universe. It is a film of gigantic proportions, exceeding every expectation I had, putting to rest every question and concern raised, and proving itself as the greatest superhero movie ever. But be warned: if you have not seen the single-hero movies preceding The Avengers, you might get quickly confused; and we wouldn't want you going all Green Rage Monster on us.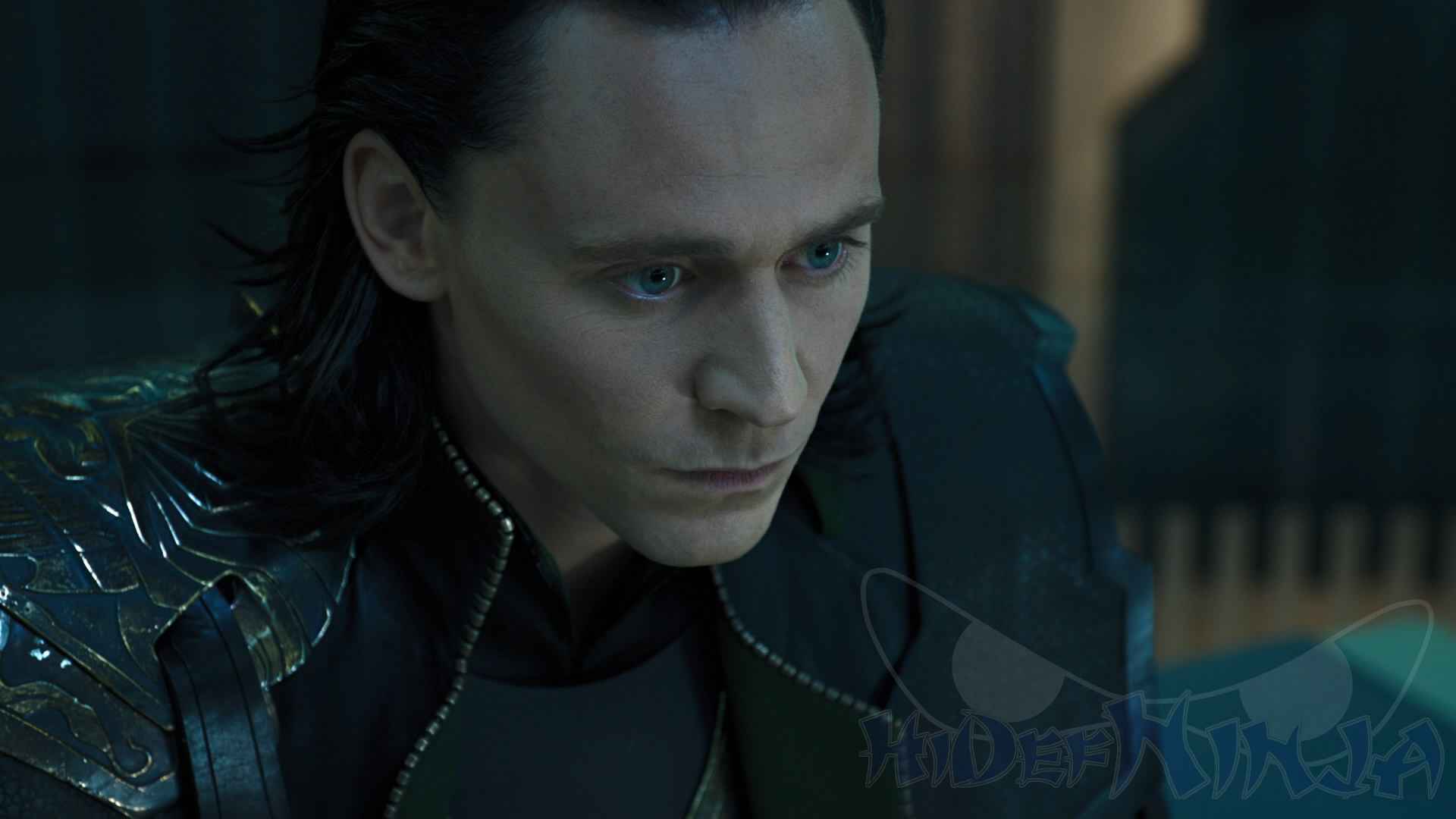 The Avengers is presented in an MPEG-4/AVC transfer that's as pretty as they come.  I would concur with most reviewers that the first half of the film is a bit too dark, but this is due more to Whedon's decision to make the film appear dark than Disney offering a poor transfer.  Once the action gets going, particularly in the third act, it's visual rock and roll.  Details on Thor's uniform and Mjölnir, as well as the 'shine' of Cap's shield, are clear and highly detailed, while sweat, blood, and Iron Man's battle-damaged suits all look realistic.  Hulk is wonderfully green, as is Cap's red boots and Loki's bronze warrior uniform.  Sharps and softs mix very well here, whether it be the battle-damaged streets of New York (sharp) or the special playtime between Hulk and the Chitauri (soft), all without looking cartoon-like.  Shadows, while dominating most of Act I, blend far better with brighter images in later ones, providing a near-3D experience in some scenes. There's no evidence of haloing, aliasing, or edge enhancement, leading to a digital print that's actually better at home than in the theatre, minus the loss of the big-screen element.
Unlike the ever-so-slightly suspect video transfer, The Avengers is presented in a stunning DTS-HD Master Audio 7.1 surround mix that's the best of the year.  One of the real strengths of this lossless track is that it was originally mixed for an IMAX environment, lending to what I believe is an extra punch to any film which plans to be shown in that format.  Front speakers soar with gunfire, explosions, and Iron Man's rocket suit, while the center channel provides a great stage for the dialogue; there's never a need to play the Remote Game between quiet and action scenes.  Another strength lies in its superior use of environmental effects –  I could hear officer chatter on the Helicarrier bridge, wind effects as Hawkeye's team lands on the deck, and crowd noise as the Chitauri attack.  This sort of attention to detail wraps the audience in a blanket of sound that never penetrates too deeply, allowing us to enjoy the experience without having to yell to other people on the couch.  If on the other hand, thundering sounds are your thing, then you'll love the workout which your subwoofer will no doubt deliver.  In fact, the LFE is among the strongest I've ever heard, pulsing and pounding during every explosion and Hulk roar.  This occurs along the entirety of the film, providing the audience with excellent source material shouod one desire to test their surround sound system.  Silvestri's music soars through all channels, especially in the now-classic "assemble" scene.  This is a full-on experience that rewards the listener throughout the film, but demands one's attention as well.  Its experience should not be missed.
If there's one thing that has generated the most discussion about this release to home video, it's been the supplements. Fans hearing about 45 minutes of footage that never made it into the theatrical cut, and hoping for it to show up on the home release are going to be seriously disappointed, while new fans to the genre might be happy enough with what Disney and Whedon have provided.  Compare this to the massive extra disc of footage from Mission Impossible IV and you too might call for a Chitauri invasion:
Commentary by Director Joss Whedon Whedon:  The almost desert-like dry humor of Whedon is on display, as he takes listeners on a journey that's both self-deprecating and extremely hilarious.  From his comments, you at once get the sense that his selection as director was truly a match made in comic book heaven: the absolute dominance as a proficient director is on display, as he educates us on several nuances, including his thoughts on shooting in 3D.  It's one of the best commentaries of the year, and certainly paints Whedon a very grounded human being.
The Avengers Initiative: A Marvel Second Screen Experience: This gives users access to an interesting S.H.I.E.L.D. database which includes dossiers on the various characters and story elements via your iPad, iPhone, or laptop.
Marvel One-Shot –  Item 47 (HD; 11:20): This is the third short movie of the series (Thor and Captain America had their own), featuring Jesse Bradford (Flags of Our Fathers) and Lizzy Caplan (Cloverfield) as bumbling thieves who stumble onto a piece of Chitauri weaponry and use it to break into several banks.
Gag Reel (HD; 4:05): This is one of my favorite features of the disc – if you're having a bad day, watch this one to turn your frown upside down.
Deleted and Extended Scenes (HD; 14:59): Another of my favorites, we're presented with eight scenes, including an alternate opening and ending. These in particular provide some of the most insightful aspects into the depth of story that Whedon was contemplating.  Be sure to check out the Captain America apartment scene as well.
Featurettes (HD; 14:37): This section includes A Visual Journey and Assembling the Ultimate Team. Most of cast shows up to lend their insights into the strengths which their fellow actors bring to the film.
Soundgarden Music Video "Live to Rise" (HD; 4:49): Can't say I was overly impressed with this, although I love Soundgarden and the song itself; but the strange and overly fast cuts of the video are lame to be sure.  Now that my venting is concluded, it's back to my gushing review…
If you've been tempted to buy The Avengers, but the sheer number of versions have kept you from doing so, here's the skinny on which one might be for you:
2D and 3D versions (available in most stores): As follows the name of this site, DVD was left out for obvious reasons.
Target: Their release features the very good fifth disc Marvel Studios: Building a Cinematic Universe, but was only available in the first pressing.  Miss this, and you're out a very good 'Big Picture' presentation of all the Marvel films leading up to The Avengers.
Walmart: Not willing to be left out, they have released a two-disc set that includes a beautiful graphic novel.
Best Buy: Among the most intriguing, Best Buy produced a Viva Metal Pack that could used to upgrade their 2D and 3D collections.  For those of you lucky enough to pick up one of these, you might have gotten your hands on one of the best cases of the year.
Digital Copy and Soundtrack: While not for some, I always fall in line to buy these as well.  Marvel's marketing domination continues, continuing to give me things I think I need.
All copies came with embossed slipcases, which look very good.
With a stellar audio track, great supplements, and a very good video transfer, The Avengers is the culmination of every fan's wet dream.  To see these characters intersect in such a grandiose, funny, and action-packed adventure demonstrates the absolute brilliance of Marvel Studios and Joss Whedon to produce a connected universe of likeable heroes who together know few equals.  Add to this a number of appealing options for owning the film, and you clearly have the best movie of 2012, demonstrating with authority that sometimes Hollywood does get it right.  Mission accomplished here, and highly recommended.