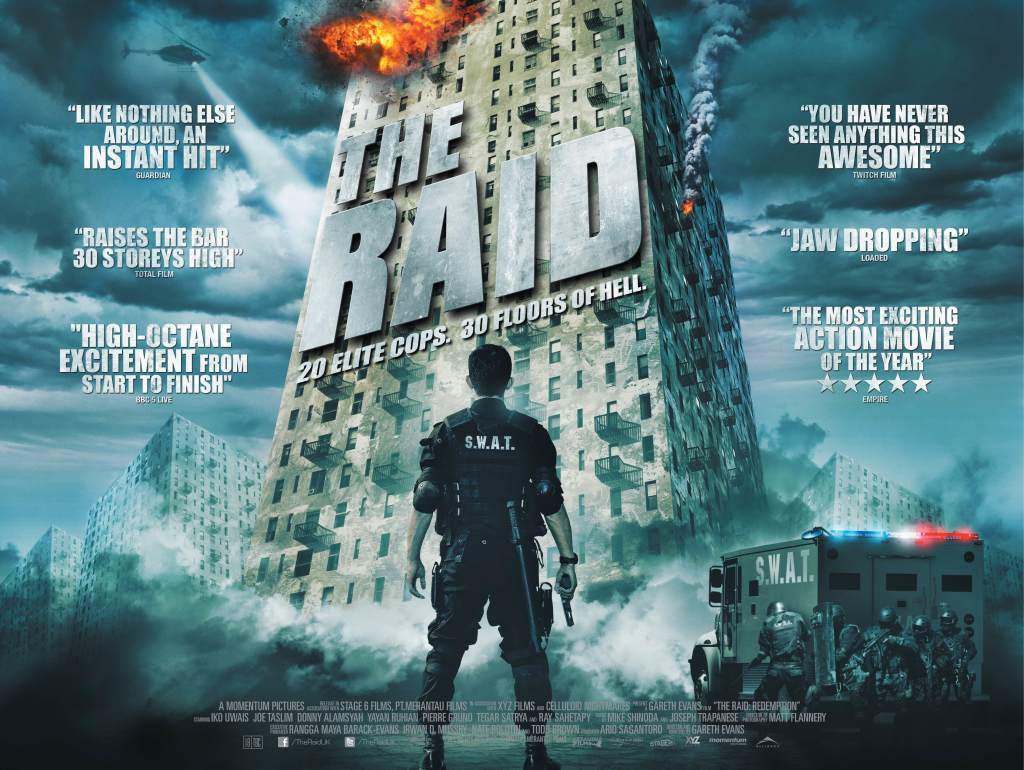 Deep in the heart of one of Jakarta's most deprived slums stands an impenetrable high-rise apartment block. To most it is 30 floors of hell to be avoided at all costs but for many of the city's most dangerous killers and gangsters, including the areas most notorious crime lord, it is a fortress-like safe house protecting them from the law. Even for the bravest and most experienced police officers it is considered a no-go area.
In a desperate bid to flush these violent criminals and their leader from this safe-haven once and for all, an elite SWAT team is tasked with infiltrating the building and raiding the apartments floor by floor, taking out anyone who stands in their way. Cloaked under the cover of pre-dawn darkness, the SWAT team make their move and enter the block not realising that this is the easier part of their mission. Once inside, it soon becomes terrifyingly apparent that the real problem at hand is surviving long enough to make it out alive
To most AV enthusiasts, I'm probably going to be considered too generous with this rating as some people would argue it doesn't look very good at all.
Considering the budget of the movie was only $1.8 million, I personally think the Blu-Ray's 1080p AVC-encoded transfer looks very good. It's not the best looking Blu-Ray in the world, but the picture is nice and sharp, but not as crisp as you would come to expect from a new-release Blu-Ray. There's a lot of grain, which I think is intentional. It certainly adds to the films grittiness and brutality and draws you in. It is a very dark film, so dark colours come through very well, with the odd outside shot looking good. No visible edge enhancement or ghosting throughout the film. Needless to say, this is the best the film will ever look and certainly shouldn't be criticized.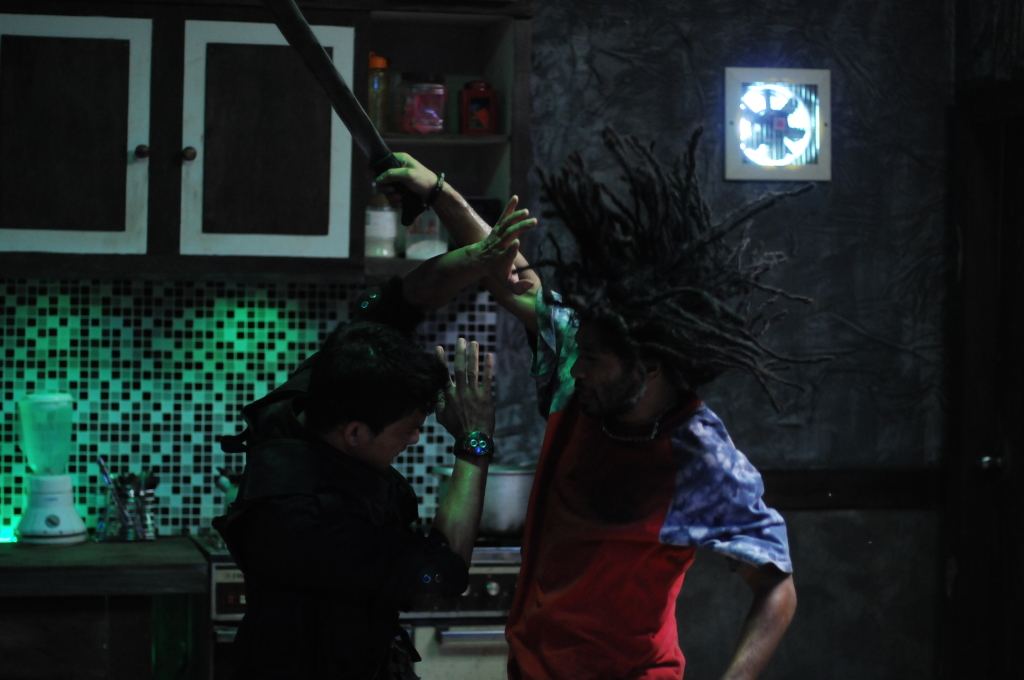 On the disc we are treated to the original DTS-HD 5.1 Indonesian language with English subtitles, or a new English DTS-HD 5.1 dub track.
I opted for the English dub track with a score composed by Linkin Park's Mike Shinoda. The English dub is very reminiscent of that to the old 80's martial arts movies that I know and love, sometimes laughable with how it's portrayed on the screen, but no dialogue is missed. The original Indonesian track, with being the original intended soundtrack, is much more natural to the film. The subtitles flow very well and move at a good pace, making them easy to keep up with whilst not missing anything from the film.
Back to the English dub track, the 5.1 mix is put to great use. Kicks, punches, bone breaking and gun shoots give your sub an awesome workout, and makes full use of the of the surround although because of the dub, you do tend to lose a little of the background noise (i.e chinking of cups, etc).
The score arranged and composed by Mike Shinoda is fantastic. Whilst very minimal, when it kicks in it really adds to the atmosphere of the film and draws you into the film even more bringing you to the edge of your seat ready for the action to kick in. Once it does, and let's be honest there isn't much time when there isn't much action going on, your room will quake from the electrically-influenced sounds.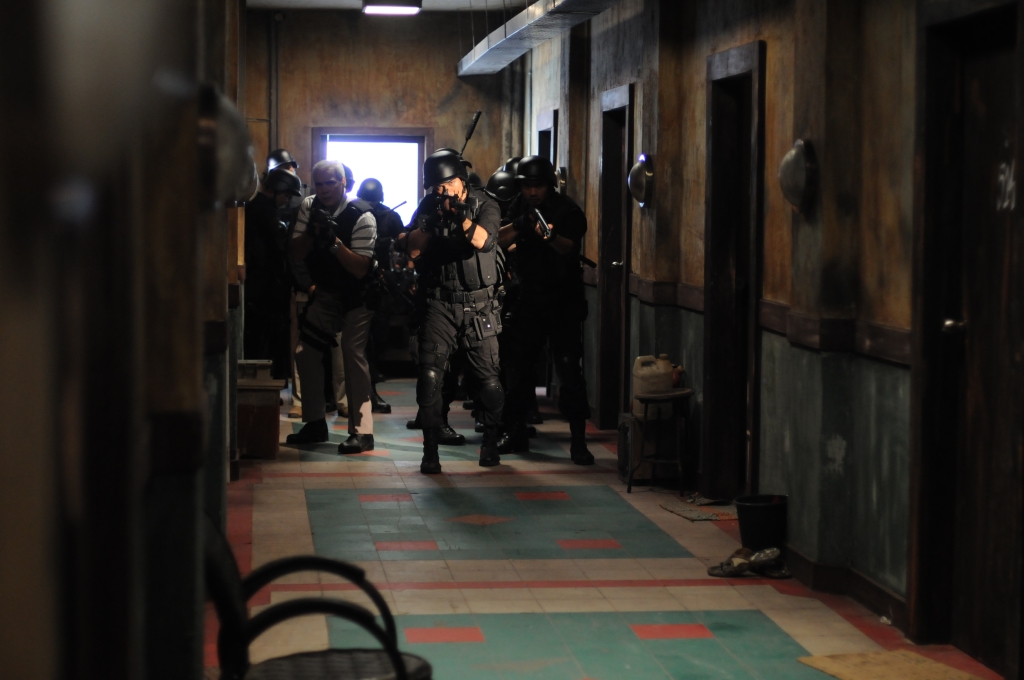 We do get treated well here with a good wealth of extras to get your teeth stuck into.
First off, we have a Directors commentary with Gareth Evans which is worth noting is exclusive to the UK disc. It is very strange listening to a Welsh man speaking about directing an Indonesian martial arts/action film! Something you don't hear every day.
Next up there's a series of six video blogs that are behind-the-scenes running in at almost 40 minutes go through all aspects of the film to the training the actors went under to the make-up to the special effects. Well worth a watch. We are then treated to a featurette called 'An Evening with Gareth Evans, Mike Shinoda and Joe Trapanese' which runs at just over 40 minutes who answers questions about the film and the making of the film. Some more featurettes we are also treated too are 'Anatomy of a scene with Gareth Evans', 'In Conversation with Gareth Evans and Mike Shinoda', and 'Behind the Music with Mike Shinoda and Joe Trapanese'. These offer a little more information of production of the movie including some interesting tidbits about the music.
The usual trailers are included on the disc, but we are also treated to two real fun little things. 'Claycats: The Raid' is a 3 minute movie of The Raid made in 'Claymation' and uses cats instead of people and also a 'The Raid TV Show Ad (circa 1994)'. This is a vintage style animated TV advert for the movie.
All in all a good set of extras that will keep all fans happy. It's also worth noting that the disc includes both the US theatrical cut and uncut versions of the movie.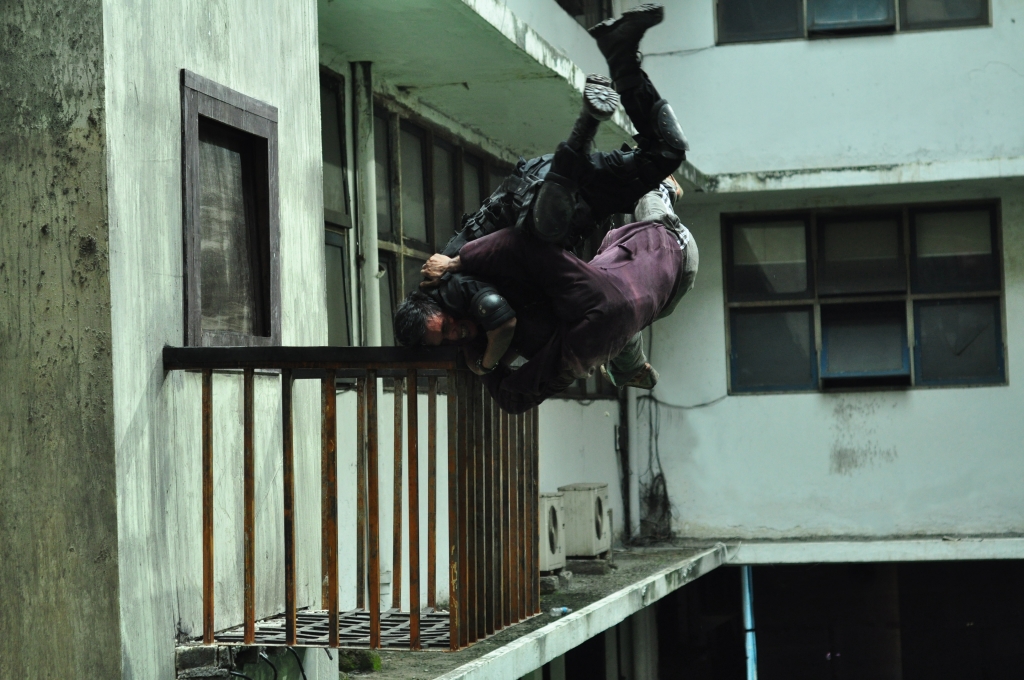 To say I was excited when I first heard about this was an understatement. I am a massive martial arts movie fan and love all of the old Hong Kong movies of Jackie Chan, Bruce Lee, Sammo Hung, Yuen Biao, Donnie Yen, etc. And The Raid certainly didn't disappoint.
Watching the trailers, I likened this very much to Ong Bak, which was the last movie to literally make my jaw drop to the floor with the balls-to-the-wall action that it had. I was hoping The Raid would be the next one to do that.
What I liked about The Raid is that it's ultra brutal and violent, and surprisingly realistic. Fights are shot in full frame so you get to see everything. You don't miss a thing! The choreography is such that it's not too fancy and it's that which gives it it's extra sense of realism. You 'feel' the punches and kicks that our hero dishes out, and when knives come into play you feel like it's you who's getting sliced up. The Raid draws you right into the action and doesn't let you go until the final scene. The film's star, Iko Uwais' is not only a fantastic fight choreographer, but is also one to watch when it comes to a new uprising action star (who also looks very similar too Ong Bak's Tony Jaa!). I have high hopes for him after seeing what he could do with The Raid.
One thing worth mentioning is the similarities between this, The Raid, and the recent 'Dredd' movie starting Karl Urban. I won't spoil too much but if you've seen both you'll know what I mean and there seems to be a bit of a debate at the moment on who stole what from who, etc. But don't let this put you off, both are very very different films.
Were my expectations met? Oh yes! It's very over-the-top, kick ass action that doesn't let go from the offset. It's an awesome, bloody, brutal and violent action movie that needs to be seen!!