Abraham Lincoln: Vampire Hunter is a wickedly-appealing, over-the-top vampire slashfest that looks and sounds great in its Bu-ray release.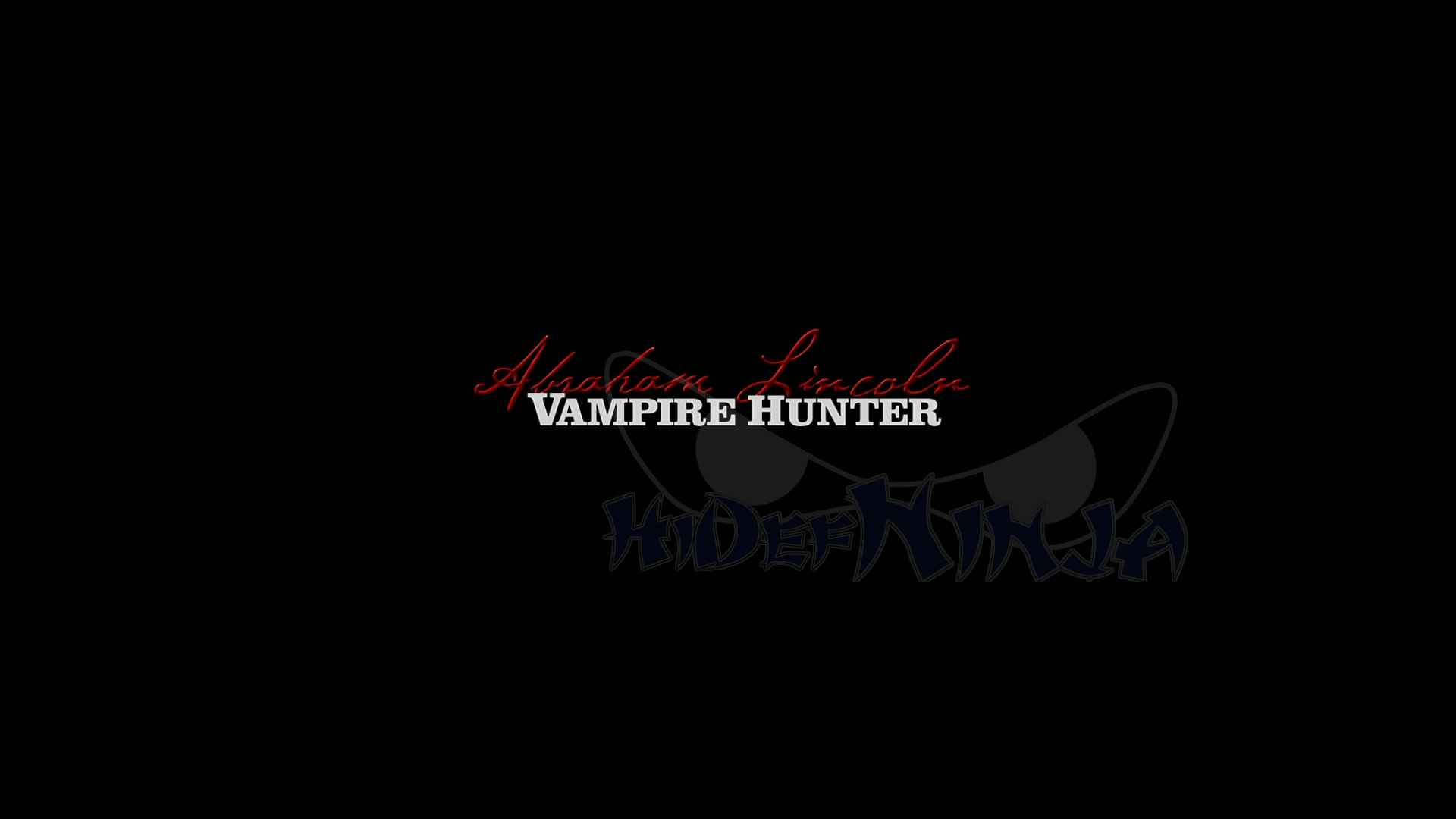 The genre of historical fiction has been played out many times in both the novel and on the big screen, using real historical time periods but fictional characters and situations to tell its tale. When done right, such as Russel Crowe's take on Patrick O'Brien's Master and Commander, the reality of privateers and the fantasy of pursuit are agreeably blended. Abraham Lincoln: Vampire Hunter is another winner, existing as a highly-stylized period piece, filled with ultra-violence and slow-motion edits, but whose central character is one of the most beloved figures in American history. Brought to the big screen by author/screenwriter Seth Grahame-Smith (Dark Shadows), Hunter is historical fiction on steroids, requiring total suspension of disbelief and a healthy appetite of the macabre to take it seriously. But once those barriers are removed, it's a thoroughly enjoyable ride, challenging its audience with such a ridiculous plot that no amount of presidential historian Doris Kearns Goodwin can be snuck into your home theater.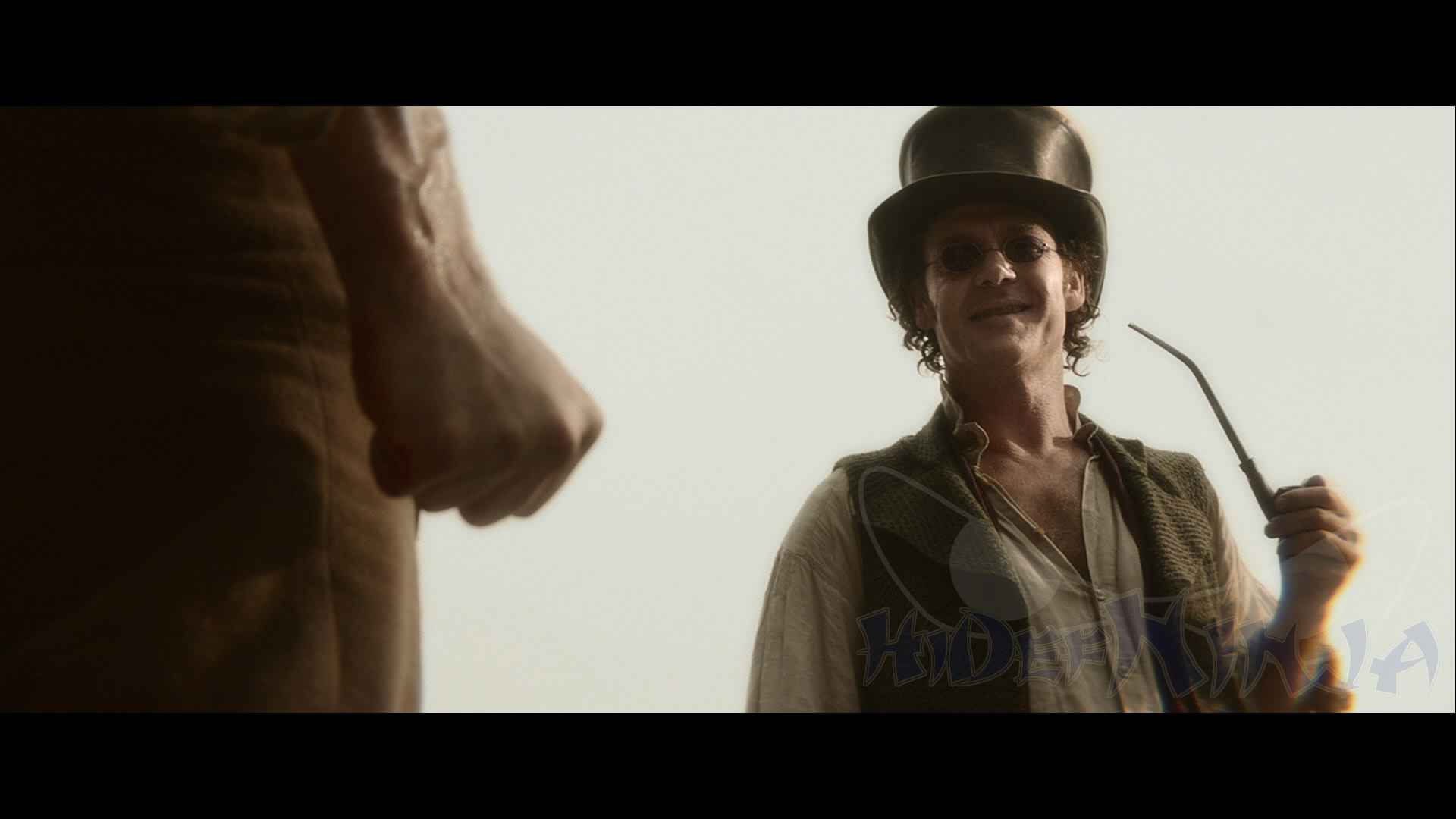 After witnessing the murder of his mother when he was nine by his father's former slave boss Jack Barts (Martin Csokas, Alice in Wonderland), the now-adult Abraham Lincoln (Benjamin Walker, Flags of Our Fathers) decides to exact revenge by growing his fortitude at a local bar. There, he meets the European-stylized Henry (Dominic Cooper, Captain America: TFA), who attempts to discourage Lincoln from carrying out such a foolish plan. Soon, Lincoln has Barts dead to rights, or so he thinks – Barts is really a vampire, and the human trafficking he conducts represents food for the growing vampire population in the South. Henry steps in to save Lincoln's life, and the two form an instant bond, with Lincoln joining Henry's blood campaign to slay the escaped Barts and the other blood suckers. Henry cannot kill other vampires (an interesting notion developed by Smith and Director Timur Bekmambetov), which is why he needs humans like Lincoln to carry out his goals. Soon, the former rail splitter is making cool spin moves and chopping off heads with an unconventional weapon: an axe with a single shot rifle in the stock. Covered in silver, it becomes the anvil for his war against those who killed his mother.
Because the work of a vampire hunter is a night job, Lincoln maintains a low profile by working as a store clerk for Joshua Speed (Jimmi Johnson, Zodiac), who will later work for him in the White House. There, Lincoln meets Mary Todd (Mary Elizabeth Winstead, Scott Pilgrim vs. The World), quite against Henry's wishes, who demands 'no connection, no children' from his disciple. Assailed by Senator Stephen Douglas (the uncredited Alan Tudyk, Serenity), Grahame-Smith interjects a bit of historical irony, as Douglas and Lincoln will eventually debate the issue of slavery throughout Illinois in 1858.  Lincoln wins Mary's hand and begins his ascension through the ranks of political society, increasing his vampire body count along the way, and meriting the attention of head vampire Adam (Rufus Sewell, The Illusionist) and his assistant Vadoma (supermodel Erin Wasson). As the movie fast-forwards to the Civil War and then to the critical Battle of Gettysburg, the now-President Lincoln must decide if he'll continue to fight Adam, protect his family, or try to save the nation from a South littered with vampires and slaveholders.
From plantation murals coming to life to the spectacle of war and a horse chase that is an instant classic, Director Timur Bekmambetov (Wanted) bathes Vampire in a variety of (Fox's) Fastlane-like ramming stunts, inventive transitions, and featuring a completely new style of fighting which could be called 'Axe-Fu.'  Unlike some green-screen directors whose actors appear stolid, uncomfortable, and perhaps incapable of imagining the action (George Lucas, I'm talking to you), Bekmambetov's subjects flow through each sequence, carrying out bloody acts of aggression in a way that looks and feels like gruesome ballet.  Walker plays a terrific Lincoln (although original frontrunner Tom Hardy would have been interesting as well), as does Cooper's playboy Henry.  There's not one miscast here, with the beautiful Winstead offering nice visual breaks from all the carnage. Composer Henry Jackman (X-Men: First Class) leads the audience through a soundtrack that's dark and pulsing, providing a rousing complement to the period-piece styling. The A-list cinematography by Caleb Deschanel (The Patriot) lends a beautifully painted quality to many scenes, resting the argument some have made that Hunter's script was no better than B-slasher fare.
There are some bumps and misfires along the way – the 'punch' between Adam and Lincoln feels incomplete as a final battle, and there's some script issues that Smith discusses in his commentary – but once one gets past them, Bekmambetov's style works very well in telling an alternate view of Lincoln's history.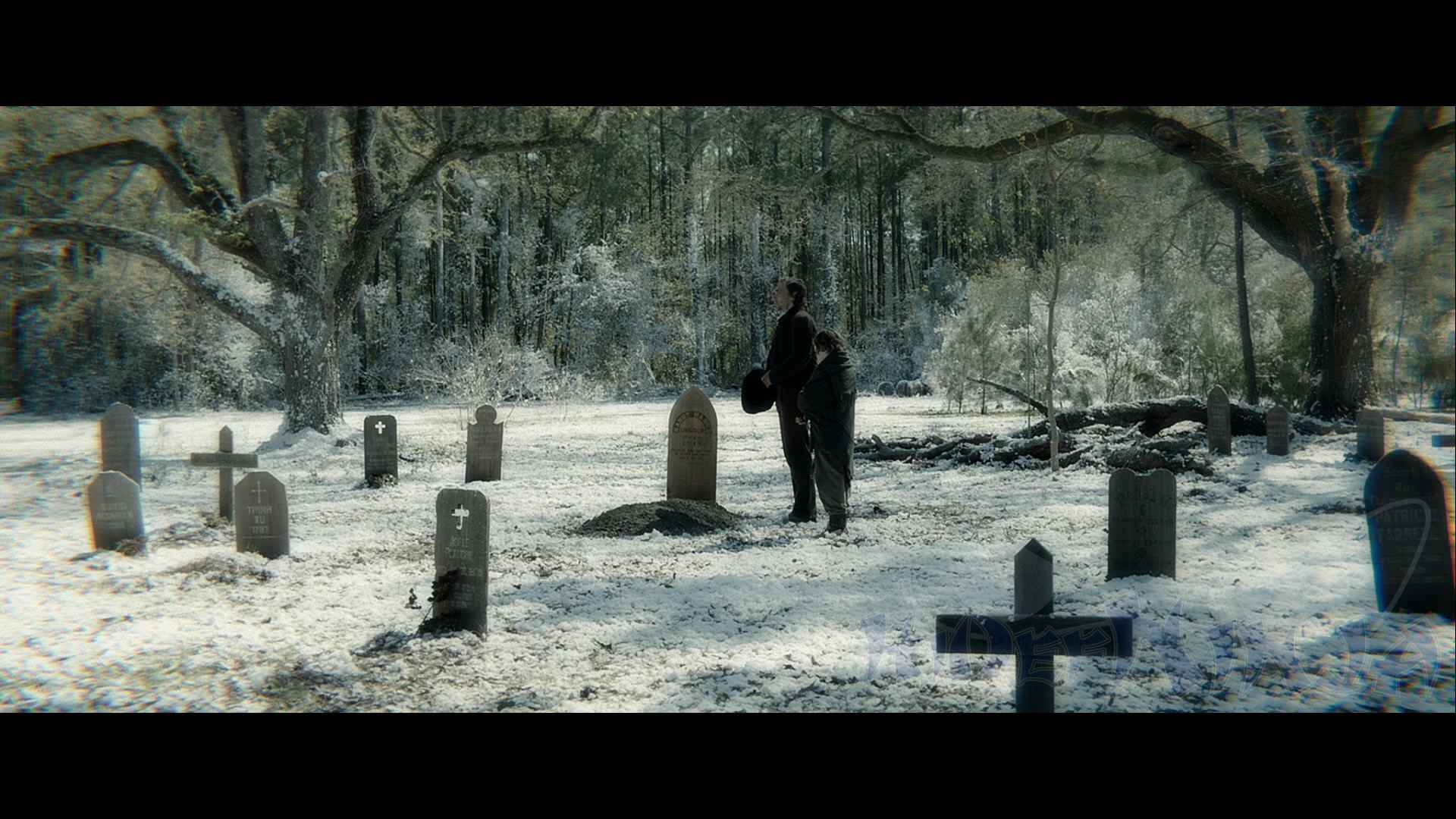 Abraham Lincoln: Vampire Hunter is presented in an MPEG-4/AVC-encoded transfer that solidly slashes its way onto high definition. Deschannel's picture book cinematography and Bekmambetov's style mix effectively, leading to a transfer that's at once grainy and over-stylized but absolutely clear throughout. Shadows and differing camera styles could have been a real problem here, but Fox's transfer successfully merges the bright outdoors with the darkness of vampire hunting.  Colors are deep in non-filtered memory scenes, and our cast's 19th Century clothing and hair are beautifully realistic. Dirt on faces and uniforms during the Gettysburg battle accurately reflect the ugliness of war, and even 'processed' memory scenes are very sharp.  And even with all the blood (and there's a lot of it), the transfer shines in its ability to make highly-stylized splatter and dismemberment a realistic possibility. There's zero edge enhancement, aliasing, banding, or haloing, leading one to conclude that Fox did its job in bringing Hunter to home video. If one considers that the whole look of this film was meant to feel unnatural (with the undead as key players), then count this transfer as a success.
Abraham Lincoln: Vampire Hunter is presented in an absolutely brutal DTS-HD Master Audio 7.1 surround track, delivering one of the best releases of the year. Believe me when I say that the 19th Century is on display here, complete with nearly-constant ambient effects, from the sounds of chatter on the street, to the scraping sounds of boots on squeaky floor boards, to the pouring rain and everything in between. Dialogue is clear throughout, which keeps the viewer from having to play Remote Games between fight sequences. Speaking of which, these scenes will pound through the front speakers, making every contact with Lincoln's axe sound like we're there witnessing the battle with him. Probably the nicest surprise is the LFE, which pulses, moans, and explodes with crushing and constant effect.  There are no less than 8 different audio tracks you play, from English to Ukranian (5.1 only), making me wish that Burton or Bekmambetov had contributed a commentary in lieu of so many. Otherwise, this lossless experience is one you can tune your surround sound system with, but don't surprised if you find yourself wanting to dodge bullets or slay vampires while listening.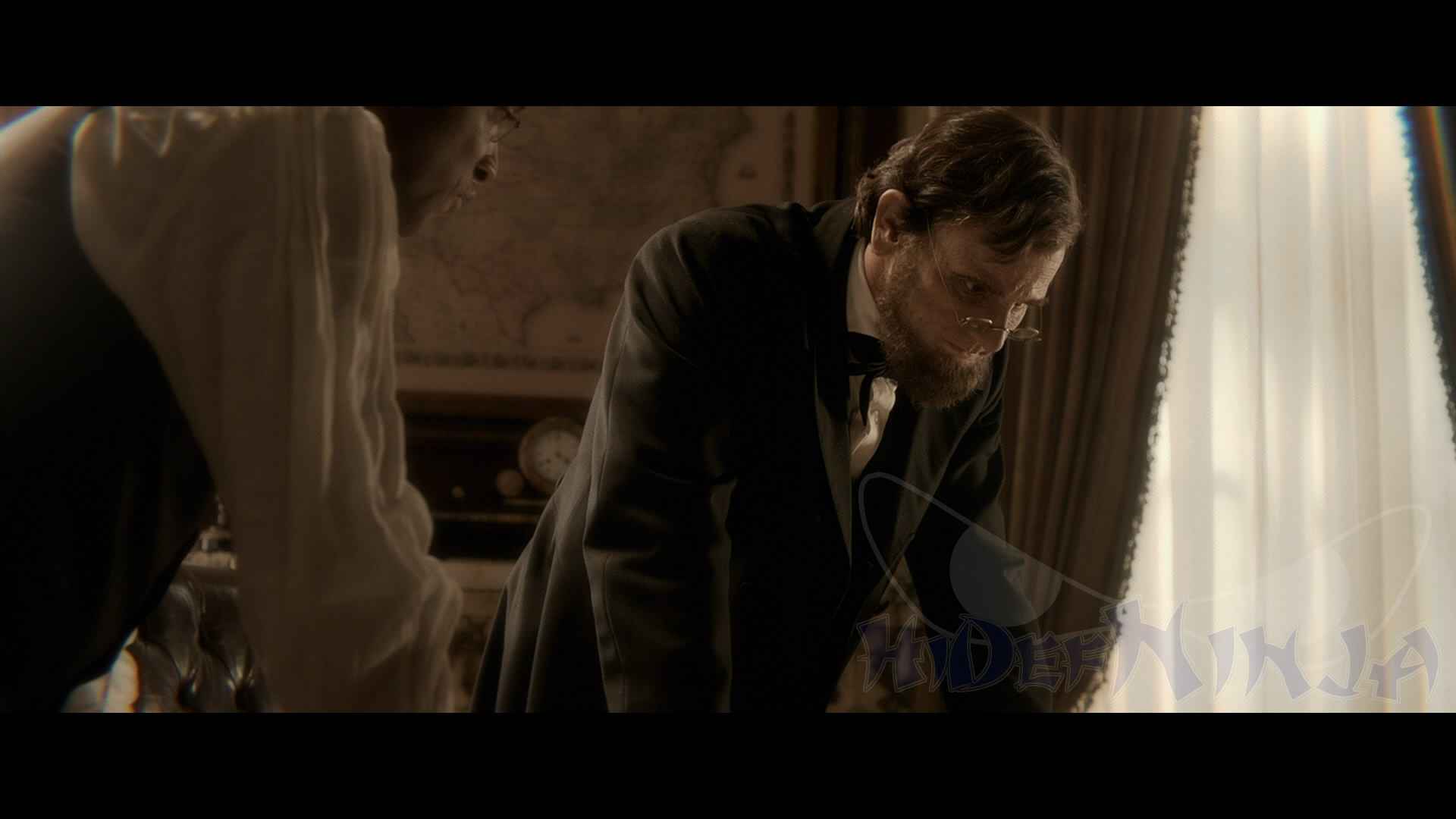 The only frustrating aspect of the release is the uneven set of supplements, some of which are very good, others seeming unnecessary, and still others that should have been added.
Audio Commentary with Writer Seth Grahame-Smith: The novelist and screenwriter talks about creating the alternate world of Lincoln, including the balance that had to be achieved between what we know about his life and the fictional version of his days as a vampire hunter. It's always interesting to learn how a film develops through the three phases of production – writing, shooting, and editing – and Smith does just that, taking us through Hunter with a ton of insights.
The Great Calamity (1080p, 7:43): A comic motion-style CGI short film with Edgar Allen Poe telling Lincoln the story of Elizabeth Bathory, known as the "Blood Countess."  Read on to learn why this feature could have worked better.
The Making of Abraham Lincoln: Vampire Hunter (1080p, 1:15:21): A very good, very comprehensive five-part making-of featurette, covering every aspect of the process. My favorite is Vampire Hunting: Fight Choreography, in which Bekmambetov and stunt choreographer Tsay Igor discuss the "Waltz of Death" tone to the stunts. Very insightful, with interviews and behind-the-scenes footage (including selected Pre-vis sequences) throughout the entire piece.
"Powerless" Music Video by Linkin Park (1080p, 2:51): I really could done without this one.  Why the studio missed a featurette on Composer Henry Jackman is beyond me.
Theatrical Trailer (1080p, 1:15)
Sneak Peeks (1080p, 6:25)
Our evaluation copy came with a Blu-ray Combo set, complete with a DVD and Digital Copy. There's no interior artwork but the well-designed non-embossed slipcase is appreciated. The only alternate US version was a lenticular package offered by Target.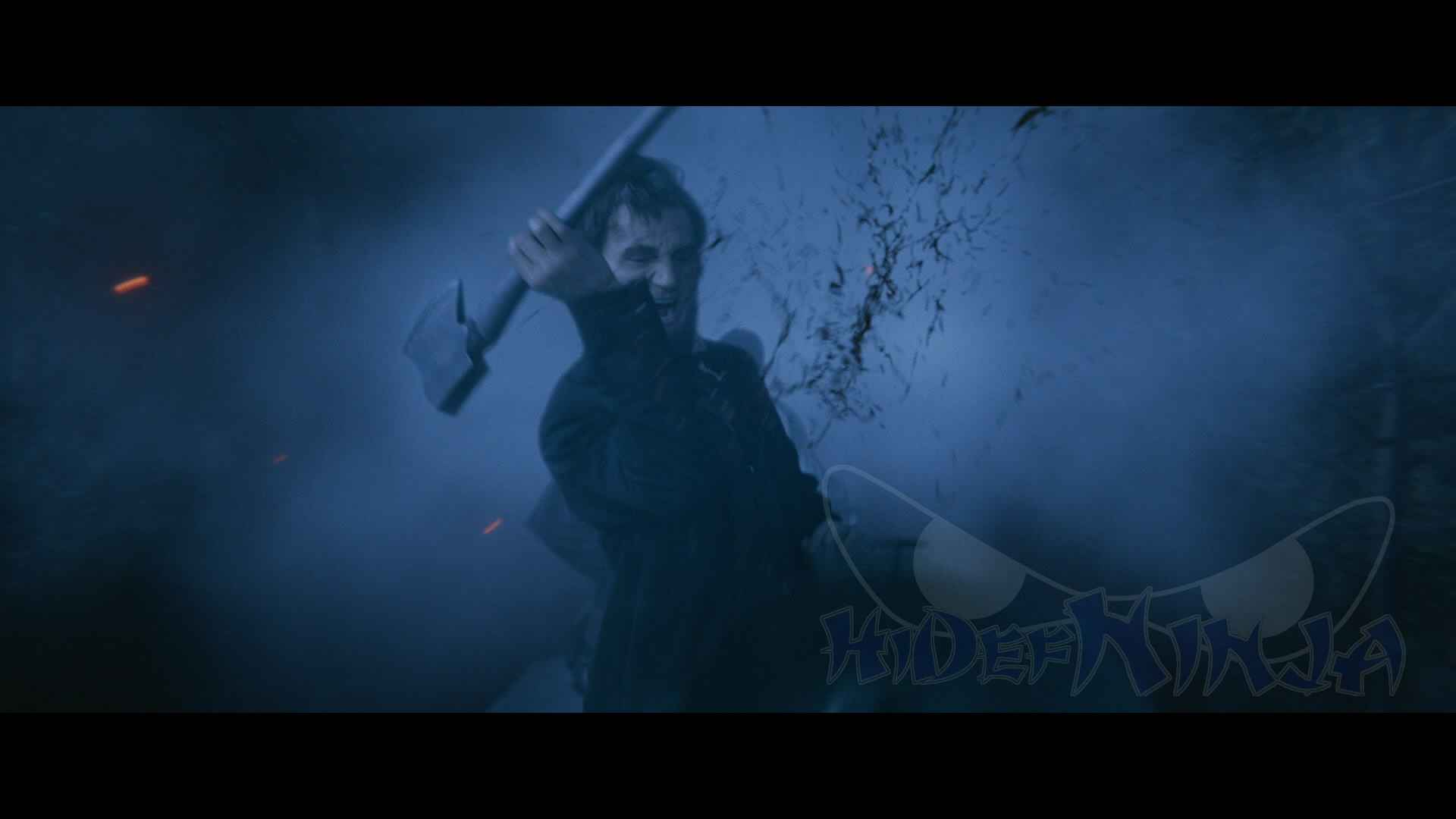 Abraham Lincoln: Vampire Hunter is a terrifically visual experience, with Bekmambetov's over-the-top vision of historical fiction on display.  Some might complain about the bastardization of several historical elements, while others might have wished for some forgotten elements of the book to have been included.  In fact, there's a lot left out that would have been interesting to see played out, including Lincoln's fictitious meeting with none other than Edgar Allan Poe, who also received star treatment this year in the under-appreciated but slightly better The Raven.  However, given the fact that shooting to world premiere took only one year, it's amazing the 105-minute film looks as good as it does: credit Producer Tim Burton (Batman, Sleepy Hollow) with helping to pull that off. Vampire will appeal to fans of the book as well as newcomers, who should be impressed by how unafraid it is of its own bombast. It's purely fun to watch, the acting is solid, and the audio and video transfers are very good.  Abraham Lincoln: Vampire Hunter is rated R for intense violence, nudity, and sexual situations, and comes highly recommended.