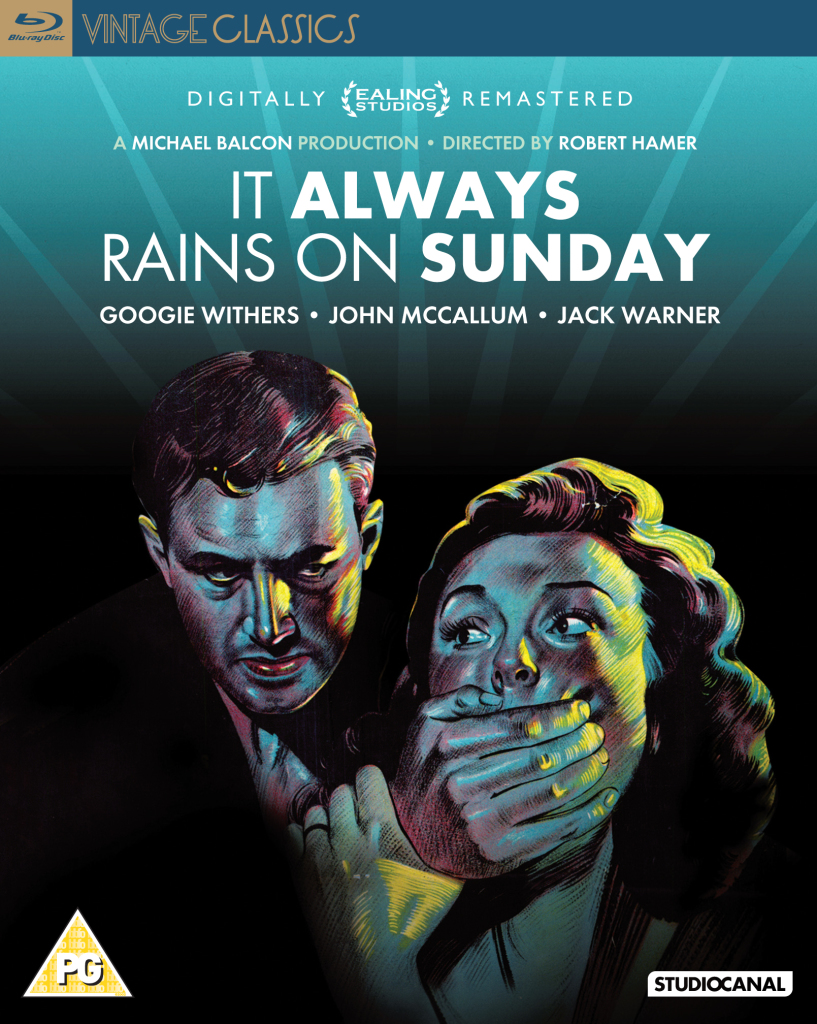 Directed by Robert Hamer, 'It Always Rains On Sunday' stars Googie Withers as Rose Sandigate, a bitter Bethnal Green housewife stuck in a dull marriage, hemmed in on all sides by well-meaning but nosey neighbours and jealous of the burgeoning social life of her precocious stepdaughter. Her dreary world is turned upside down by the sudden re-appearance of an old flame, Tommy (played by Googie's real-life husband John McCallum), on the run from the police having escaped from prison. Rose hides Tommy in her bedroom all day as the house's domestic routine unfolds around them, police and journalists alike calling at her door looking for him.
It Always Rains On Sunday is presented in a 1080p AVC encoded video in it's original 1.37:1 fullscreen aspect ratio, that has been digitally remastered from two nitrate fine grain positives dating from 1947.
Looking and watching the video, you wouldn't think that this film is 65 years old. The definition on the presentation is great. What I do like, is that there is a lot of grain and scratches on the film, it really gives the film the look it would've had back when it was released. It doesn't seem as if there has been much DNR used to clean the picture up, the picture looks as natural as it possibly can, however I did notice a slight bit of ghosting on screen, but it was very minimal.
On the whole the picture is clean and sharp, especially considering the age of the film, but every now and again there were a few scenes that were out of focus and did take me out of the film as it was quite noticeable. The biggest negative I could say was that there was a considerable amount of flickering on the sides of the screen as it was playing from dark to light, but luckily this wasn't noticeable as much as the film went on.
Of course it goes without saying, this is the best the film has ever looked and is the best is will ever look.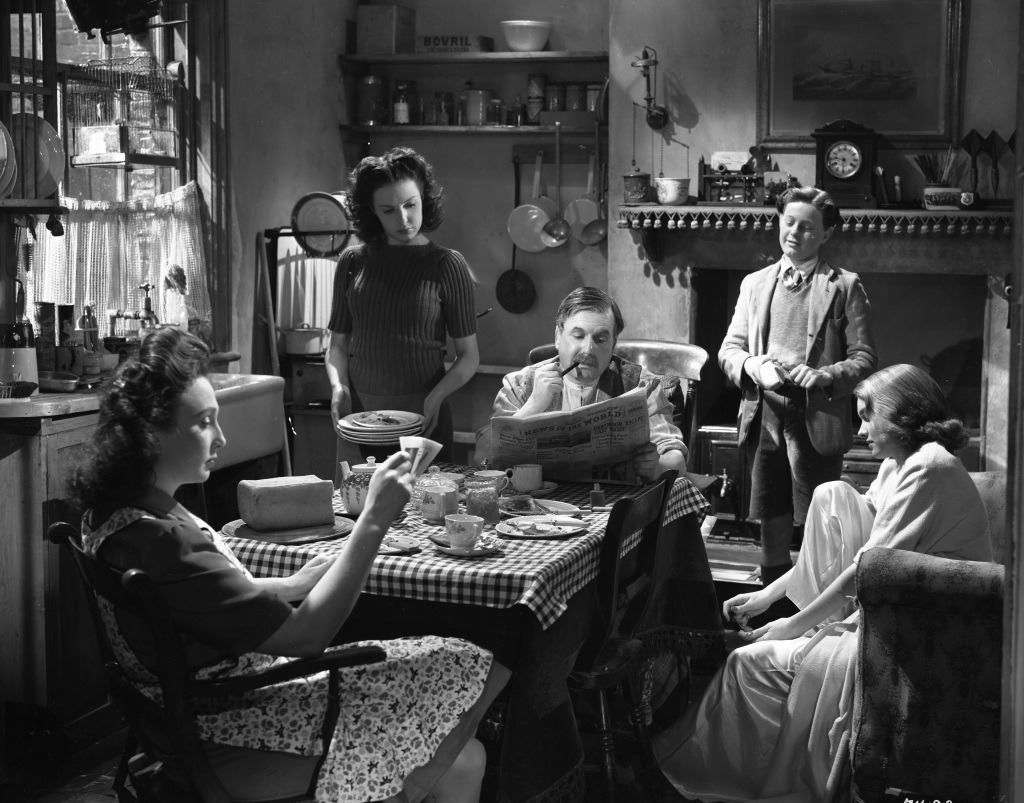 Studio Canal have produced a fine LPCM 2.0 Mono track for the film's release on Blu-Ray.
Overall I would say the track is very good, but not great. My biggest gripe with it, is that static noise is very prominent throughout the whole film, especially when you're watching a quiet scene in the movie. Also, the lip synching was quite bad in places. On the whole it's fine, but when there is a lot of background noise there is quite a noticeable delay between the spoken dialogue and the movement of the actors lips.
Having said that, the dialogue is very clear with good sound balances all round. When the music from the soundtrack kicks in, it's not too overpowering nor is it too quiet. The soundtrack is heavily string based so it never got too much in the way of the dialogue, and there was little to no bass.
For a 65 year old film the sound is more than good enough to match the stellar picture of this fantastic film.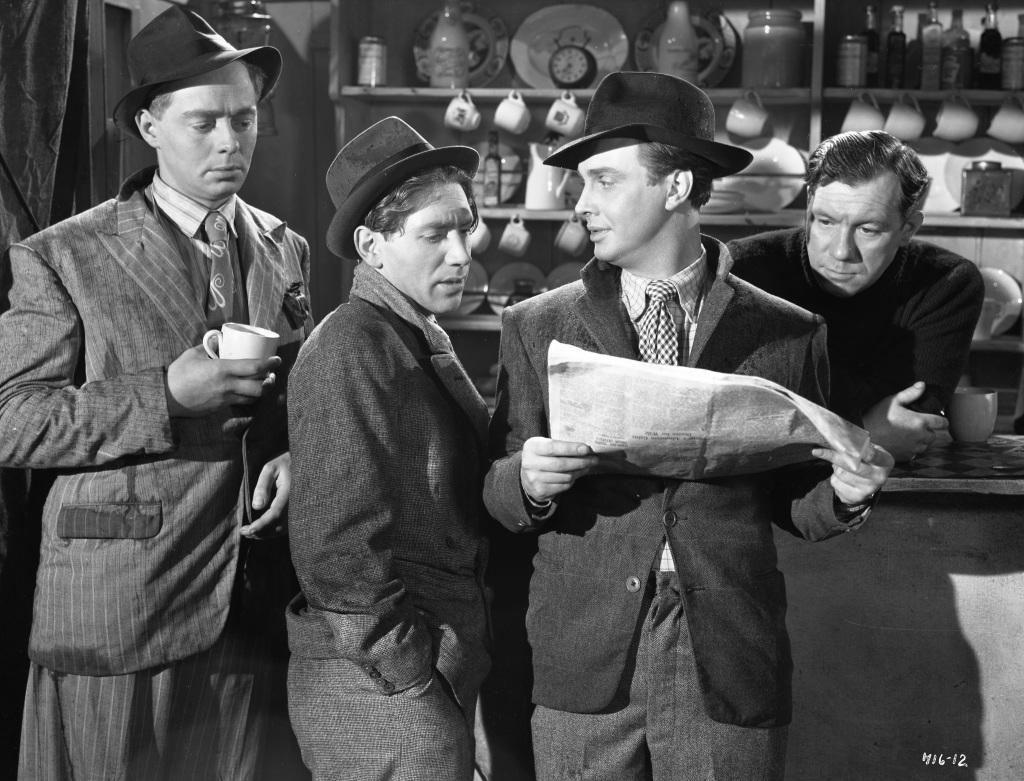 All extras are presented in 1080p unless stated.
Studio Canal have brought us a good host of extras for It Always Rains On Sunday's Blu-Ray release. Up first we have a brand new featurette called 'Coming In From The Rain: Revisiting It Always Rains On Sunday'. Running in at just over 16 minutes with brief snippets of interviews from various film historians, and producers giving their insights on the film and how it influenced other movies. Next we have another brand new featurette, this time entitled 'Locations with Richard Dacre'. This runs in at just over 6 minutes with Dacre, a film historian, giving us a brief history of early Post World War II London and then going on to show where the film was made in London showing us the families home, the market place and other buildings that were used in the production. There is then a 'Behind The Scenes still gallery' which plays as a slideshow with different behind the scenes images running just short of a minute and a half. And then finally we have the theatrical trailer to top off what is not a particularly great list of extra but good enough to keep fans of the film happy.
It Always Rains On Sunday has steadily grown in stature over the years as one of the earliest and best exampled of British film noir. A detailed glimpse into life in London's East End post World War II, this was Googie Wither's last film for Ealing Studios and due to her fantastic performance as a woman trapped in a claustrophobic life, it is said to be one of if not her best performance for the studio.
This was the first Ealing Studio movie I've had the pleasure in watching and I must admit I want to see more. The movie gripped me from the start with the tension between Rose and Tommy playing throughout the film, right through to the end which climaxed with a with a stunning chase sequence filmed in the railways yards of Stratford, easily rivaling movies of today. You forget that this film is over 60 years old.
Studio Canal should be extremely pleased with their efforts on this Blu-Ray. It Always Rains On Sunday has never looked or sounded better and I doubt it ever will. This is a must for all movie fans and Studio Ealing fans out there
It was a joy to watch this movie, and I look forward to watching it again and looking into the Ealing Studio catalogue for other movies to get my teeth into, especially the more serious ones such as 'It Always Rains On Sunday'.