Loosely based on Huo Yuanjia's life story, Jet Li's 'final' martial arts film, directed by Ronny Yu, is an impressive martial arts picture that manages to capture
Opening at the turn of the 20th century, Ronny Yu's Fearless introduces us to Huo Yuanjia as a child. Inspired by his father's Wushu teachings and training, Huo is determine to overcome his asthma to learn Wushu and become a successful fighter and regain his family's honour after his father is defeated. After leading a successful legacy in Tianjin, with his followers behind him, a challenge that leads to tragedy forces him to exile himself from Tianjin. Found by a farming community, close to death and still unable to come to terms to what happened, Huo finds redemption and the courage to go back to Tianjin to set right his wrongs and restore honour in not only his family legacy but also China during the western population of China
Fearless is presented in three different versions for home video. The original theatrical cut (1hr 41 min) that was recut by Ronny Yu for a more mainstream audience by the demands of Rouge Pictures. The unrated cut (1hr 44 min) which contains additional blood and extended fight scenes and finally the director's cut (2hr 21m) which restores Michelle's Yeoh's bookend scenes to the film and some significant alterations that restructures the film for a more satisfying viewing experience. For the purpose of this review, I viewed the director's cut as it was meant to be seen.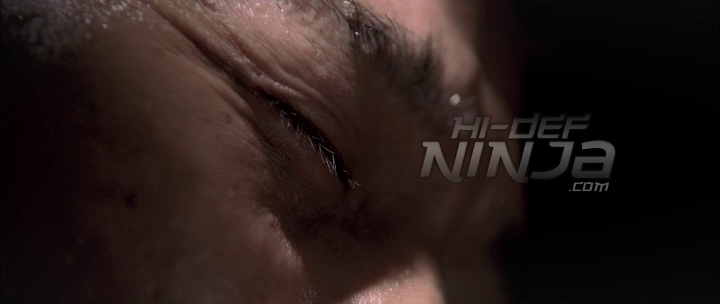 Universal has presented Fearless in a 1080p VC-1 codec across all three versions of the film. After scanning through the Theatrical and Unrated versions, it's apparent that all three versions are from the same HD master and there is no degrading in quality during the additional footage. Universal's transfer presents a crisp, detailed image but one that doesn't exactly call a demo worthy presentation. The image at times felt a bit flat and a tad dull especially in lower lit scenes. Outdoor lit scenes did spring to life especially during the film's second act with strong colours and detail. This transfer does not seem to have fell to Universal's post processing (DNR & Edge Enhancement) that currently affect a number of catalogue titles.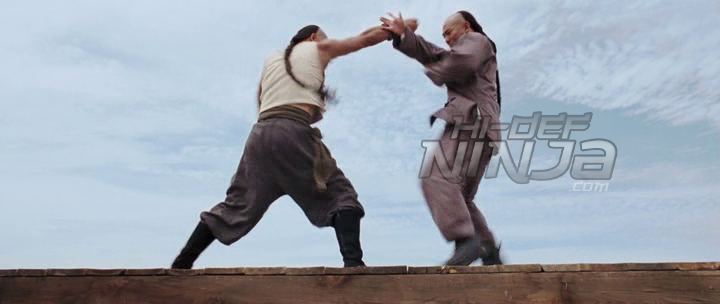 Presented with a Mandarin DTS-MA 5.1 soundtrack (across all three versions) that averages out at 4.0 Mbps , Fearless doesn't exactly crash through the wall as one would hope but it does deliver where needed. Ambient effects are nicely detailed in the surround speakers throughout. The full effect springs to life during the battle scenes though. Good LFE is employed with the drums banging away and good separation across the soundstage during the battle scenes. Shigeru Umebayashi's score resonates throughout and certainly carry's the film's emotion. Fearless also comes with English and French dubbed DTS core 5.1 tracks but only for the Theatrical and Unrated cuts
English (and hard of hearing), French and Spanish subtitles are included. One issue with the disc is Universal's sloppiness to not deactivate the subtitles during English speaking scenes.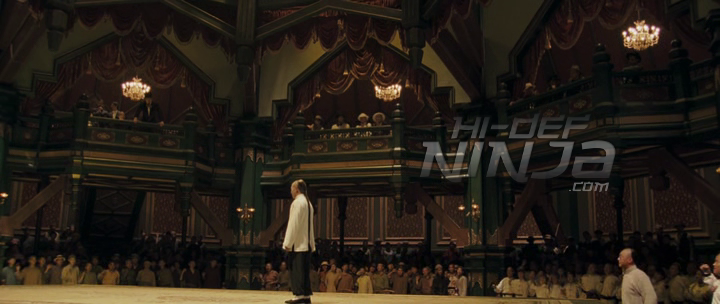 The only extra that Universal offers (beside from all three cuts of the film) is a 16 minute featurette called "A Fearless Journey". It offers a glimpse of the story behind the film but doesn't dig deep enough into the real life story of Huo Yuanjia.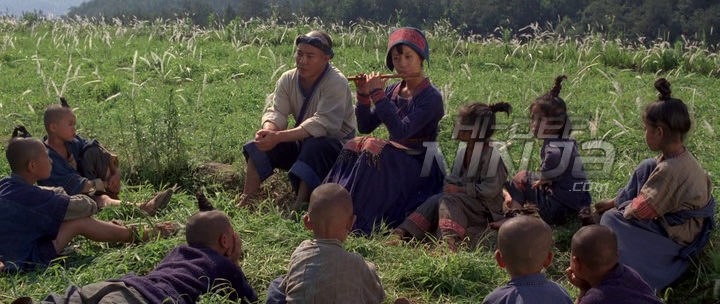 Jet Li's 'final' martial arts film is recommended for all fans of martial arts film. Superbly staged fight scenes that showcases Jet Li's talent and some great drama really takes it one step further. It's a shame that Universal didn't offer a bit more behind the scenes and insight into the true story of Huo Yuanjia. But a decent enough transfer and the availability in Universal's catalogue range for a nice price makes this a recommended purchase.