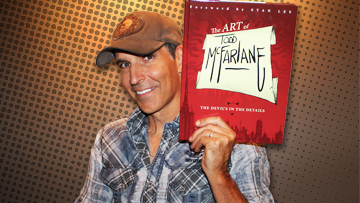 MCFARLANE TO HOLD 'THE ART OF TODD MCFARLANE' BOOK SIGNING IN DECEMBER
New York City Fans…Get Your Golden Ticket
Copyright 2012 TMP International, Inc.
Your eyes do not deceive you, Todd Mcfarlane's long awaited visual biography, The Art of Todd McFarlane: The Devil's in the Details is now on comic store shelves (bookstore shelves Dec. 4)! To celebrate the culmination of almost 30 years of artwork from one of the comic industry's most popular and iconic artist personalities, Todd has announced his first book signing at Midtown Comics in New York on December 6.
Here are all the details!
MIDTOWN COMICS DOWNTOWN
Thursday, December 6, 2012
6:00pm until 8:00pm in EST
64 Fulton Street (corner of Gold St.) • New York, NY 10038 
Meet Todd and get your copy of The Art of Todd McFarlane: The Devil's in the Details signed. To receive one of the limited tickets to the signing, purchase a copy of the book from any of the Midtown Comics store locations: Times Square, Grand Central, Downtown, Mini-boutique at FAO Schwarz. Call in orders will also be accepted. One additional item may be signed at the event.
For more information, call 800.411.3341 or visit www.midtowncomics.com/
For those McFarlane fanatics that can't attend the signing, you can still find The Art of Todd McFarlane at a comic shop near you. Call 1-888-COMIC-BOOK or visit www.comicshoplocator.com.
Stay tuned to www.mcfarlane.com for information on future signings.
About The Art of Todd McFarlane: The Devil's in the Details, 
The Art of Todd McFarlane: The Devil's in the Details, is not just another art book. It follows McFarlane's journey from a young comic book fan mimicking his favorite artists, to his subsequent rise to comic book stardom. McFarlane, himself, provides hundreds of anecdotes throughout the 400-page book, walking the fans through his groundbreaking career.
Fans will receive an up close and personal look at McFarlane's creative take on beloved characters from both DC and Marvel Comics, and learn more about his history making move in helping to form Image Comics, where he published his brainchild, Spawn. With copious amounts of rarely seen black and white original pieces of his most famous work, and numerous drawings of the comic book industry's most popular characters, this is a book that can't be missed. In addition, fans get an exclusive peek at McFarlane's first forays into various media (toys, film, animation, music videos, video games), where he put his creative stamp on everything through his signature eye-catching imagery.
The oversized hard cover book (9×12) is limited to 5000 copies, with 700 signed and numbered editions available. Each book retails at $64.99 and $100, respectively, and would make the perfect gift for any art fan!