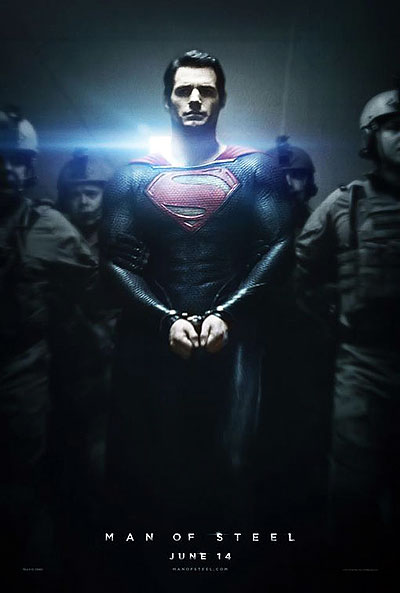 Earlier this week, Warner Bros. revealed to the world the brand spanking new poster for MAN OF STEEL (seen above), the new Superman flick from director Zack Snyder, producer Christopher Nolan and writer David S. Goyer. It's an interesting poster; one that almost seems better-suited for the inevitable MAN OF STEEL sequel. Rather than just flashing a quick glance at it, I decided to stare at it creepily and pick it apart. Here are my results:
– Without the classic curl, Superman just looks like a preppy boy in an over-revealing latex suit.
– The textured, "realistic" design of the S-suit looks horrid. This belongs on a swimsuit, not a superhero costume. This design is clearly the replacement for tight black leather for when it comes to superhero films this decade.
– Superman sure has a shiny neck. Oh, wait a minute – that's just a light that's shining from behind him.
– Henry Cavill looks like a convincing Superman, though I still think that Brandon Routh should've received a second shot.
– For being proud of removing Supes' red underoos, Warner's sure trying real hard to not reveal the new crotch to the crowd.
– Superman seems very unimpressed. Maybe he's late for a Justice League meeting?!?!
I'm fully convinced that this new Superman film will rock my socks off, but overall, I don't think that this theatrical poster's very good. People want to see a powerful Superman, not one who's cuffed and being pulled away by wee little men. If anything, I think Warner Bros. should recreate the classic Action Comics #1 cover as a theatrical poster. Now that would get the fanboys/girls pumped!
MAN OF STEEL stars Cavill, Amy Adams, Michael Shannon, Russell Crowe, Kevin Costner, Diane Lane and Laurence Fishburne. It releases June 14, 2013.