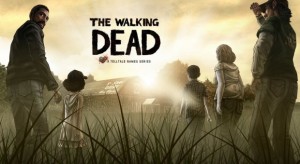 Who would've ever thought that a story involving flesh-eating zombies would become a worldwide phenomenon – something that brings in big money and ratings as well as critical acclaim? I can just imagine THE WALKING DEAD co-creator Robert Kirkman rolling around in a pool of one-hundred dollar bills, laughing maniacally while diving in and out. Yes, he and co-creator Tony Moore (as well as Charlie Adlard, his replacement on art duties) took a premise that's so incredibly simple-minded and made it into one of the biggest franchises in the entertainment industry today. To them, I say, "Kudos."
It's truly shocking when you consider the fact that people you know who've never had an interest in such a genre are making sure they're at home at 10pm on a Sunday for the newest episode of THE WALKING DEAD's television series… or they're browsing the graphic novel section at your local book store hunting down trade paperback collections of the comic book series. I mean, my Mary Poppins-loving mother watches THE WALKING DEAD. To me, that's just absurd. What is it about this series that draws in such a non-traditional crowd?
THE WALKING DEAD: THE GAME is broken down into five episodes that follow the story of Lee and Clementine, as well as many others. To some degree, it's easier to become emotionally attached to the characters of the video game more-so than the ones in the TV show and comic book because you're the one driving the decisions. For example, Lee (the character that you play as) may walk up to a door that could have walkers behind it and you'd be asked, "Do you want to: A) Knock, B) Open the door, C) Kick it in, or D) Get Billy to check it out instead?" The decision you make during that sequence will be remembered throughout the rest of the game's episodes and could possibly come back to haunt you in the end. It's an enthralling experience and one that you don't really receive in games too often these days.
The storytelling, voice-acting and art design in this game are stunning, there's no doubt about it, but once again, a TellTale game suffers from glitches, screen-tearing and a few times, game-breaking freezes. There's moments when I ponder why TellTale decided to make games instead of animated films because when it comes to storytelling, they know their stuff; it's just too bad that the quality in the storytelling doesn't follow through to the quality of the overall gameplay. With that said the gameplay issues can be overlooked as they're nowhere near as inferior as TellTale's past games.
Each episode gives the player a new challenge to tackle while the larger story plays through in the background. Episode 1 features the introduction of Lee, Clem and many other mainstay characters, Episode 2 gives the players a creepy and suspenseful horror story, Episode 3 shows the players just why humans can be more dangerous than zombies, Episode 4 plays out like a mystery story and a prologue to Episode 5's big climax which is a story of redemption. In a way, each episode feels like a different genre while still featuring the tones of survival and anxiety.
My personal favorite episode would be the second one because it's just so horrifying and believable. In a world where everything's gone to hell, what would you do to stay alive? It's a scary thought to think that a lot of the world's population would falter to the same level as Episode 2's antagonists.
THE WALKING DEAD: THE GAME has been winning Game of the Year awards left and right, proving that I'm not the only one who's been able to overlook the game's technical hiccups. The competition for 2012 hasn't been very stiff, so it's really not surprising to see it taking home the awards, but the acclaim is definitely well-deserved. I just hope that TellTale looks to improve the gameplay for the eventual second season because it'd be sad if all these awards cloud their judgment.
If you missed the opportunity to purchase THE WALKING DEAD: THE GAME digitally, you're in luck because today marks the arrival of its disc-based release. I for one will be re-buying this game because I enjoyed it enough to want to have a physical copy of it alongside my PS3 game collection. To me, THE WALKING DEAD: THE GAME plays like a lighter version of HEAVY RAIN – it just so happens to also include zombies and more gruesome scenarios. I jumped, I shouted, I laughed and I cried; no other game has immersed me into its world more than this one this year. THE WALKING DEAD: THE GAME is a must-play for all.
THE WALKING DEAD: THE GAME arrives in North American stores today for the low price of $29.99. The television series returns to AMC in February.
~K