The disappointing Amazing Spider-man looks and sounds great on Blu-ray, and provides one of the deepest collection of supplements in recent memory.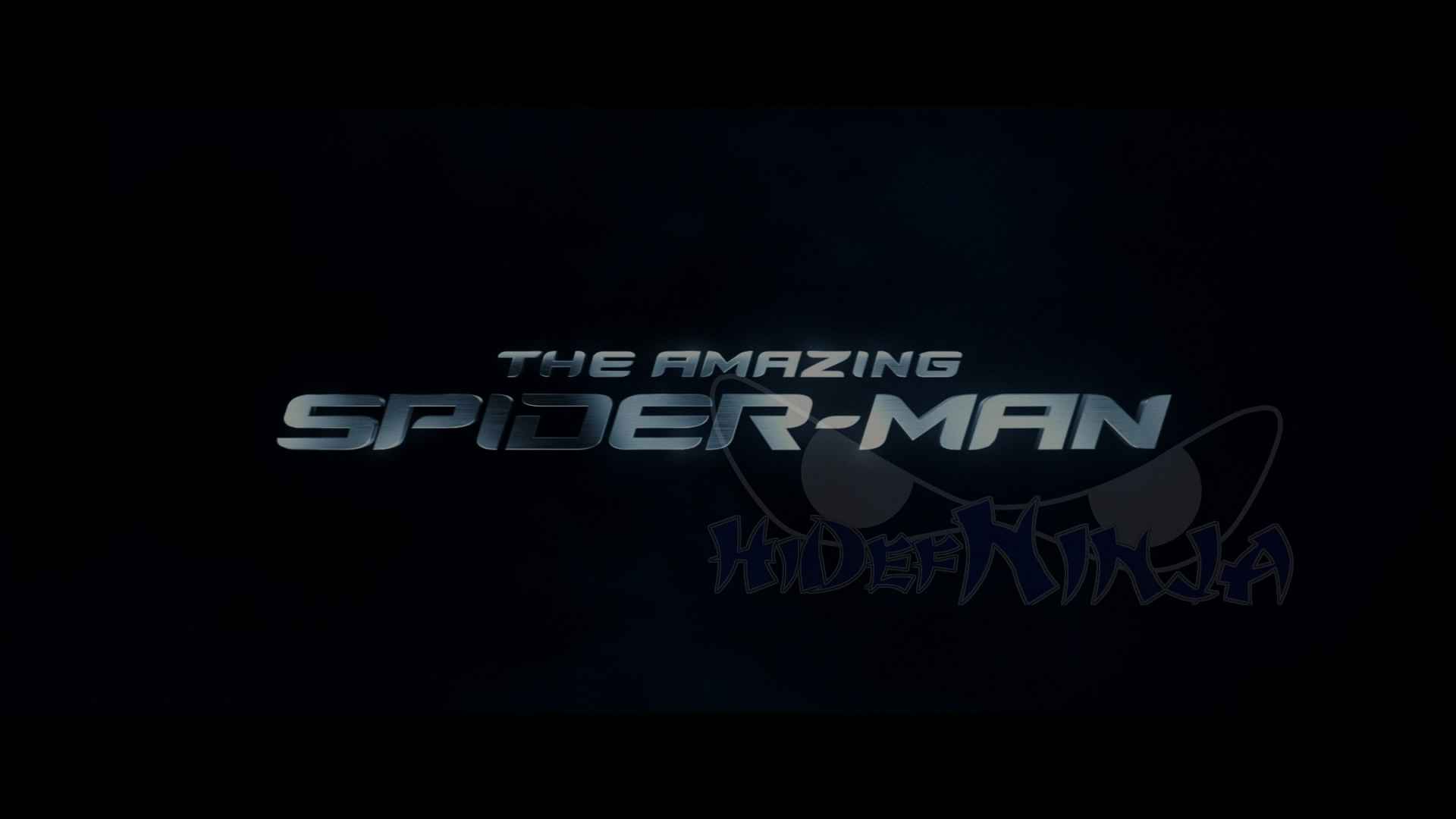 What's the deal with studios constantly rebooting franchises after a trilogy or other failed effort?  Why do they think that fans are OK with seeing the same character go through their origins again, when all we really want is a continuation of the previous storyline?  Such is the predicament which The Amazing Spider-man finds itself, the latest effort to put the horror that was Spider-Man 3 behind us.  Granted, Tobey Maguire and company felt ready for a vacation, as if our hero needed a partner (Avengers, Assemble!) or a major shakeup, but this wasn't what I had in mind; the equally disappointing ASM starts off too slow, fails to inspire above a comatose pulse, and provides little new, innovative, or even fresh about Peter Parker and his world.  Luckily, the home release looks and sounds terrific, while containing one of the deepest amount of supplements in recent memory.  It doesn't make the film better, but Spider-man looks really good boring us half to death.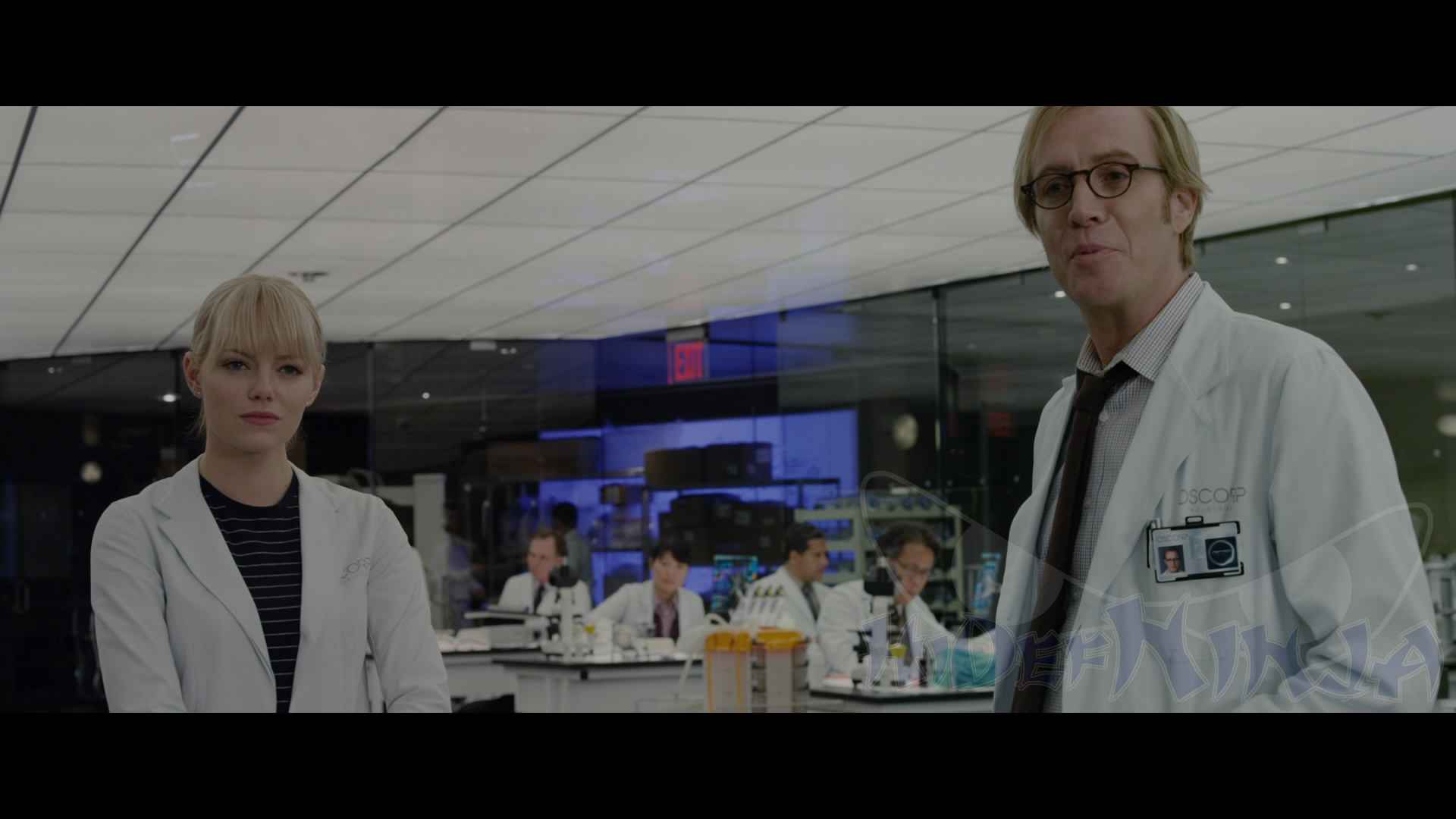 You all know the story: Peter Parker (Andrew Garfield, The Social Network) is bitten by a genetically-enhanced spider and wakes up with enhanced abilities. Yet, this is where the similarities between Sam Raimi's films and the current one end: webbing emanates from a man-made source, Mary Jane has been replaced by Gwen Stacy (Emma Stone, The Help), and even Parker's biological parents are Oscorp doctors who pass off young Peter to Aunt May (Sally Field, Lincoln) and Uncle Ben (Martin Sheen, The West Wing) before meeting an untimely end. Fast forward several years, and both Parker and Stacy are high school classmates, not twenty-somethings as were portrayed in the Raimi films. Stacy has inexplicably landed a cushy internship with Oscorp and its chief researcher Dr. Curt Connors (Rhys Ifans, Five Year Engagement), who is seeking to reconstruct severed human limbs (including his own) in an effort to prolong human life. Connors worked with Parker's father (Campbell Scott, Roger Dodger) on the same recipe, only to see his work stifled with a missing formula that Peter discovers in dad's old briefcase. And just like the comics, Connors tests the newly-completed serum on himself, turning into the superhuman monster The Lizard. Rattled by the death of Uncle Ben and the news of Connor's transformation, Peter must balance his new powers with the realization that everyone close to him is at risk of the same violent ends if he remains Spider-Man.
On the surface, it seems many of these resets would signal a new-found respect by Sony to remain faithful to the Marvel universe. But, consider this blasphemous alteration: almost everyone in the city seems to know Spider-Man's true identity, from a young boy stuck in a burning van to the police captain (Dennis Leary, The Thomas Crown Affair) running the manhunt for the webslinger. There's even a suggestion that Aunt May herself has put two and two together after seeing Peter return home bruised and battered near the movie's ending. Why screenwriter James Vanderbilt (The Losers) would at first show such respect for canon then throw grenades like this into the middle of his script is beyond me. Either he assumes we're not fully vested with the character to begin with, or we're just ignorant moviegoers who consume and forget when the lights kick on. Either way, this insult doesn't help indie Director Marc Webb (500 Days of Summer), who tries his best to paint pretty action scenes (such as several fairly epic Spider-Man poses as he slings his way through the city) but fails to either up the action or involve the characters in any meaningful way.  And while our promising cast does its best with Vanderbilt's sub-par script, bad screenplays always trump good acting, a fact which is demonstrated in some of the cheesiest dialogue I've heard from the franchise ("I've been bitten – so have I," says our leads as Parker shares all), as well as the feeling that we're just watching people react to bad things that happen around them.  Garfield and Stone have little chemistry together and seem like an odd pairing from the start; mix that with a story takes too long to develop, forcing audiences to wait 45 minutes before seeing any real action. In fact, many of them feel like retreads of Raimi's efforts, demonstrating the incredible command he had of the character.
This Peter Parker/Spider-Man appears less impervious to vicious hits, but our hero is no better for the experiences. The Lizard is no match for the Chitauri, The Destroyer, or even Red Skull: Maguire's Spider-Man would have taken our villain out with relative ease. If creating a lesser version of Spider-Man was the intent – who must empty an entire clip of webbing before using complex scientific terms to solve his problems, – then mission accomplished. In the end, all we learn is that Peter is good with memorizing stuff and manufacturing things but seems better suited to defeat common criminals than first-class enemies.
Watching it on Blu-ray brings back all the initial disappointment, with the added bonus of being able to rewind to see each disaster unfold.  Why Sony decided it was time to reboot, rather than reload with an honest and well-made film, will confound moviegoers until one considers the contract, which requires the studio to produce a film every so many years, or lose the rights to Marvel. Therefore, The Amazing Spider-man is essentially a contract extension, doomed by a boring and plodding script and a post-credits scene that felt incomplete and largely ineffective. Its disappointment is so profound that it's a far cry from Spider-Man 1 & 2 and the worst superhero movie since Green Lantern.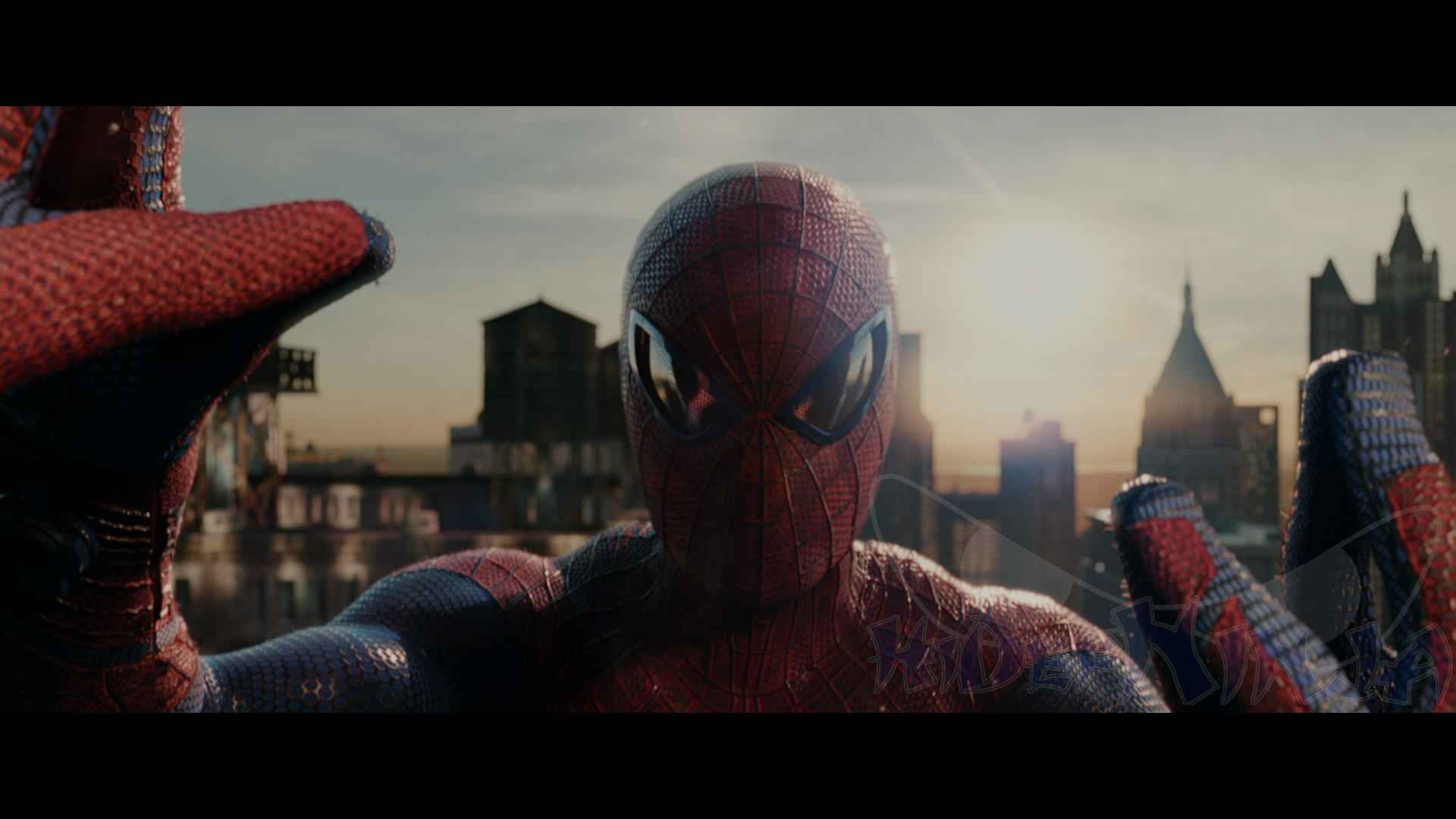 The Amazing Spider-Man is presented in a near-flawless MPEG-4/AVC 1080p transfer that's one of the best of 2012.  Sony's transfer produces a crisp image that's a perfect web sling every time, hitting its mark on nearly every level.  Detail on hair and skin are razor sharp, whether it's after Parker's melees with The Lizard or during the indoor scenes at Aunt May's house. Similarly, skin tones and colors in general are pitch perfect, at once showing off Spidey's costume with terrific detail without making Stone's face too warm.  Black levels and shadows play well off each other, lending depth to scenes in dark alleys as grays to turn to blacks.  The CGI Lizard looks great too, complete with scales that look almost too realistic.  I also liked the green-screened city images, which mix very well with the epic poses into which Webb places Spider-man.  I observed no edge enhancement, haloing, banding, or other visual noise that would have ruined our home theater experience.  In many ways, Sony delivers a very solid visual experience.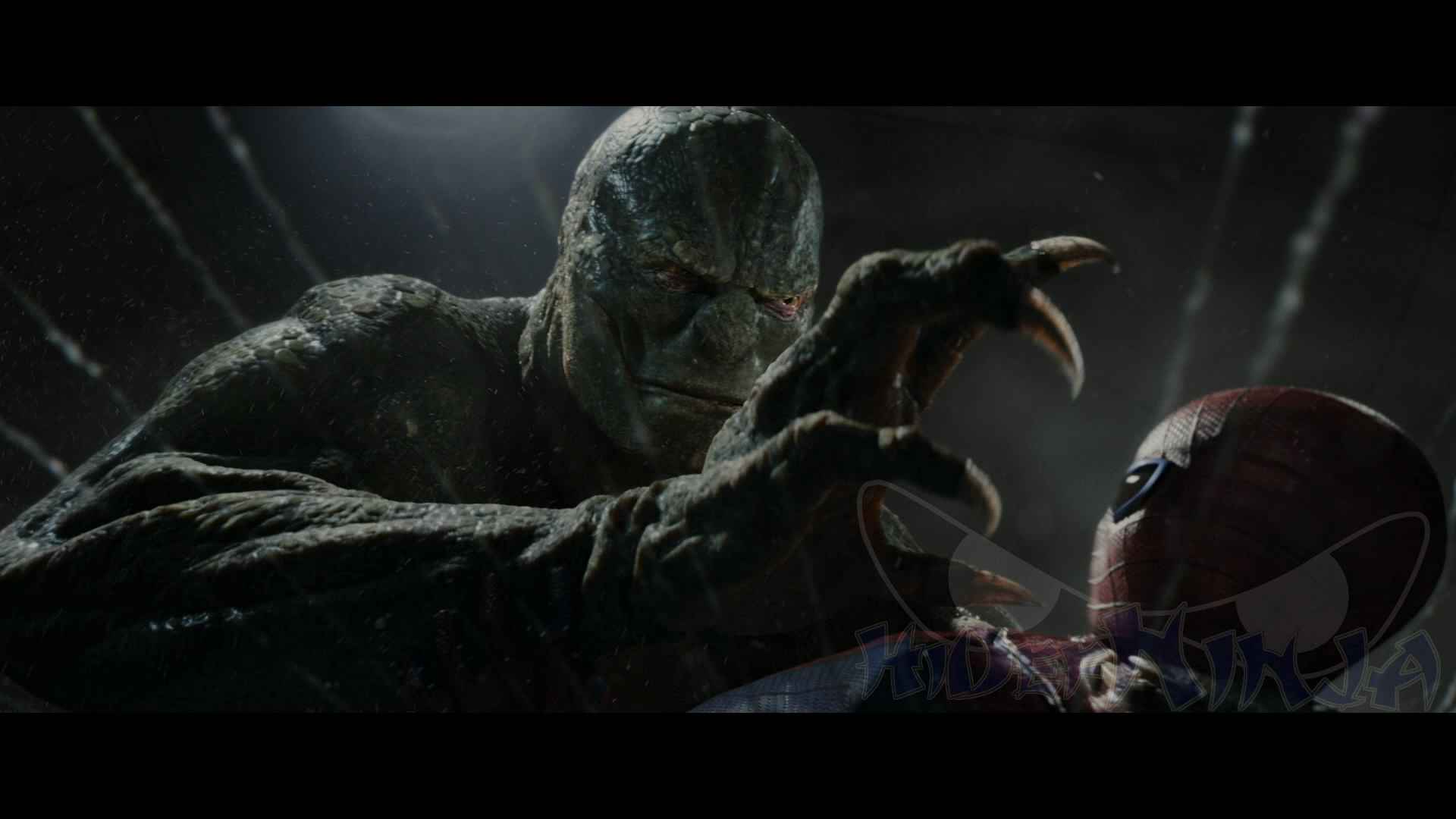 The Amazing Spider-Man is delivered in a perfect DTS-HD Master Audio 5.1 soundtrack that meets every expectation for a superhero movie.  The lossless track wraps the listener in an immersive cacophony of city sounds, such as car horns, traffic noise, and human chatter without crushing the dialogue out of our actors.  Of particular mention is how often sounds criss-cross in the main channel while adding precision elements to the rear speakers.  I could hear specific effects in the left rear channel that were not noticeable in the right.  As the action kicks on, so does the audio, delivering every bullet, broken window, and impacts into walls with absolute perfection.  The LFE gets a substantial workout, thriving with each assault but also finding ways to bring Spidey's web-slinging into the digital age.  Dialogue is crystal clear, delivering in both action sequences and in quieter ones.  Composer James Horner (Star Trek II) orchestrates a score that's as powerful as any he's recently produced, while allowing his more tender offerings to thrive during dramatic scenes.  And throughout the film, moviegoers will appreciate not having to play The Remote Game between these and the few action scenes in the film.  In an age where studios excel at their audio transfers, ASM stands above many others, demonstrating how a powerful track can improve the overall experience.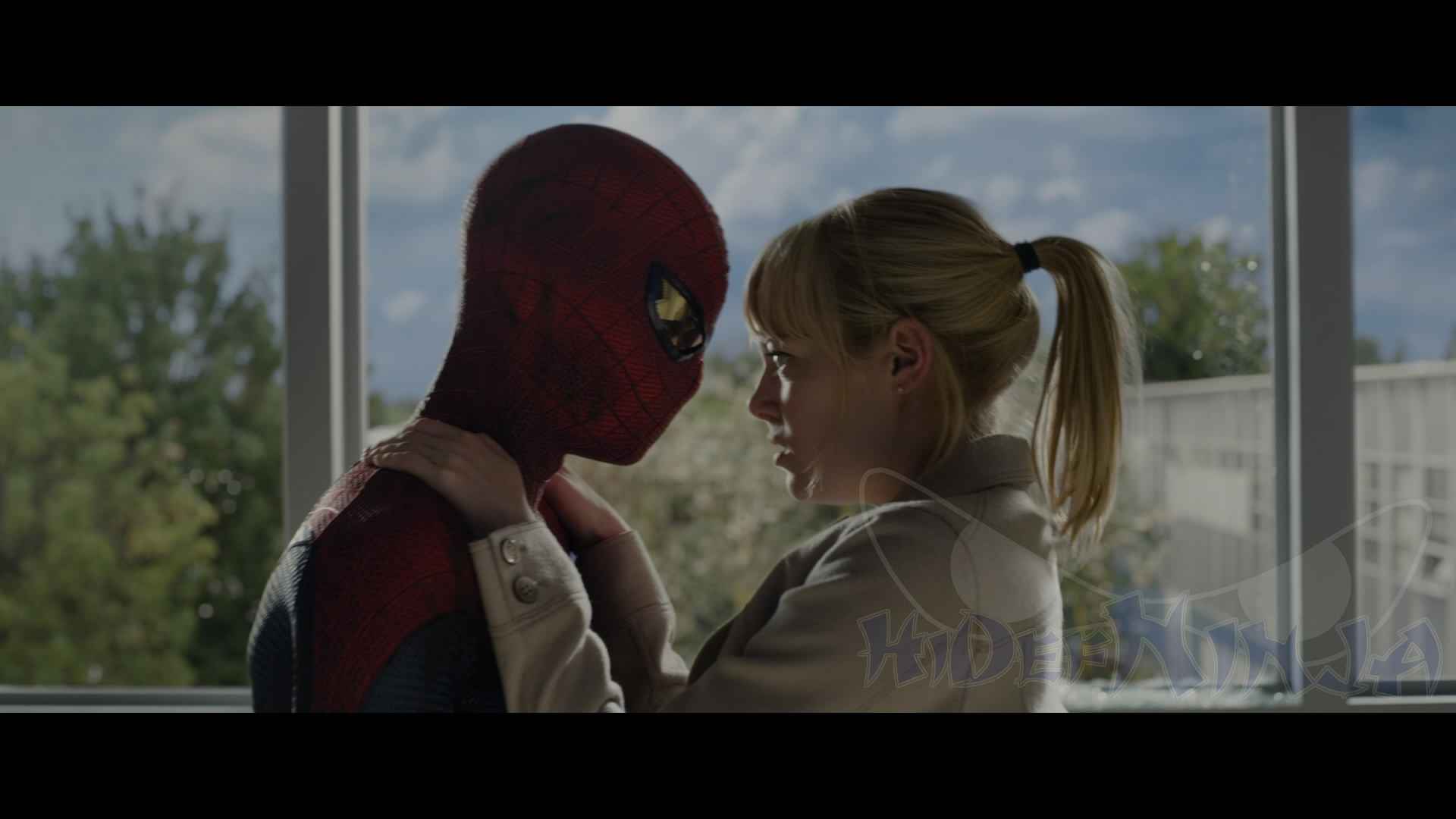 The Amazing Spider-Man contains one of the deepest amounts of supplements in a single release, headlined by the following:
Disc One:
Audio Commentary: Director Marc Webb and Producers Matt Tolmach and Avi Arad discuss every aspect of the film, from Peter Parker's character to the central themes which shape the whole of the film.  I appreciated the fact that they addressed why the studio rebooted the series, although I can't agree with their reasoning.
Second Screen Experience / What is The Amazing Spider-Man Second Screen Experience? (1080p, 1:04): If you've not used SS before, I suggest doing so only after listening to the commentary or watching the film for the first time.  It's enlightening but also distracting for the uninitiated.  To make a decision, watch the latter, which is an advertisement and rather limited  tutorial on SS.
Additional Sony titles: Like I needed this.
Disc Two:
Rite of Passage: The Amazing Spider-Man Reborn (1080p, 1:49:49): Encompassing every aspect of the production, this seven-part featurette crystallizes the entire process, from The Drawing Board: Development and Direction (13:09), to the post-production The Greatest Responsibility – Post Production and Release (28:50). Each takes a detailed look that should satisfy both fans and the curious.  It was great to see Composer James Horner get a little love during post-production.
Deleted Scenes (1080p, 16:50): While not filled with anything too enlightening, it's good to see Sony slap these onto the disc.
Pre-Visualization (1080p, 39:08): Among the most interesting part of Hollywood's new way to film, Pre-Viz  shows us animated versions of scenes that later appear in the film.  While some of this seems like extra pre-production work, Pre-Viz is a fascinating aspect of film making.
The Oscorp Archives Production Art Gallery (1080p): An cool interactive gallery of concept art broken down into three categories: Spider-Man, The Lizard, and Environments.
Image Progression Reels (1080p): For all you aspiring film students out there, you'll appreciate these detailed breakdowns of the process by which all-digital scenes later appeared in the film.  Some scenes here are later recycled in other featurettes, but all of them work nicely in this one.
Stunt Rehearsals (1080p, 11:52): Almost a short movie themselves, we witness on-set footage of stunts as they're prepared for shooting.
Developing The Amazing Spider-Man Video Game (1080p, 3:30): A short presentation about the video game and its developers.
So many versions of ASM were offered in stores that it might have proved impossible for buyers to sort them all out.  From a nice Best Buy steelbook, a Target 5-disc with extra content, to a general release with figurines of Spidey and Lizard, Sony hit the market with a diverse selection designed to appeal to ever fan and novice of the franchise.  Any one of these, including the more vanilla releases, are definitely worth your time in securing.  No matter which of the above you choose, each set includes the DVD and an Ultraviolet copy.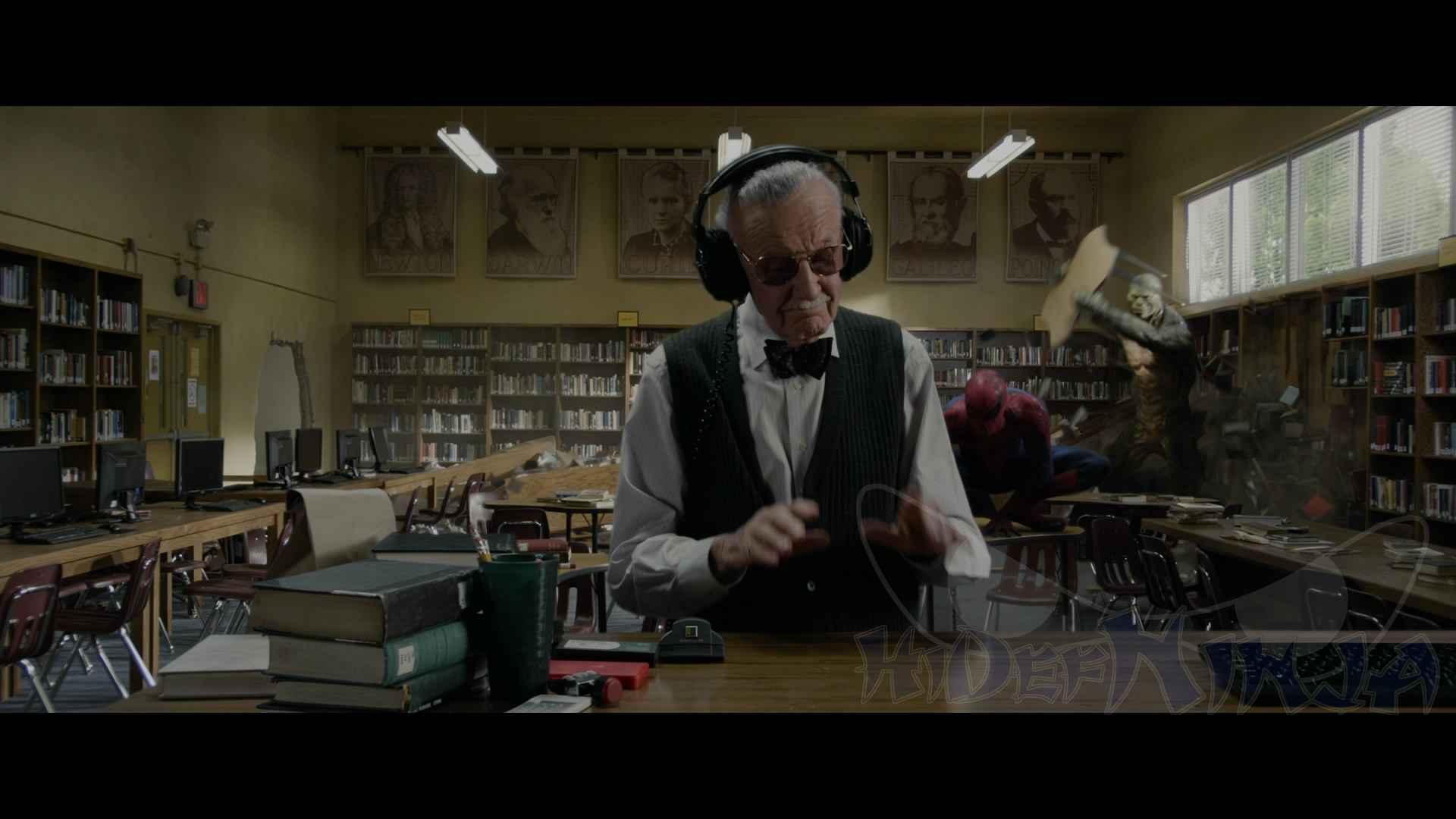 Let's hope Marvel can someday wrestle Spider-Man away from Sony, because very little about the theatrical version is inspiring or even worth the time.  Luckily, the home release makes up for most of the film's problems, delivering an exceptional Blu-ray experience, which is filled with a ton of special features.  These represent some of the deepest of the year, and the overall presentation screams top shelf.  It's too bad the film didn't connect with me, but perhaps ASM will signal a bold new direction for fans hoping for bigger and better things.  The Amazing Spider-man is rated PG13 and has a runtime of 136 minutes.
The Amazing Spider-Man (Three-Disc C
Price : $19.99

The Amazing Spider-Man (Four-Disc Co
Price : $34.96

The Amazing Spider-Man (Limited Edit
Price : $39.99