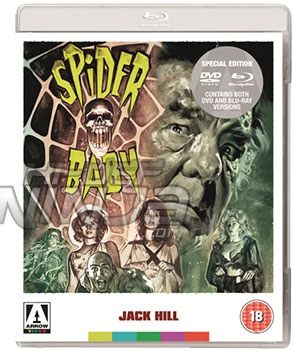 The credits dub this "the maddest story ever told", a promise that's well on the way to being fulfilled in the opening scene alone, when Virginia traps and kills a hapless deliveryman in her makeshift web. She's one of three siblings who suffer from a unique genetic disorder that causes them to regress back to childhood, while retaining the physical strength and sexual maturity of adults.
Lon Chaney Jr gave one of his most memorable late performances as Bruno, their guardian and protector, who has managed to cover up their crimes until two distant relatives lay claim to their house. When they insist on moving in, Bruno has to cross his fingers and hope that the 'children' behave towards their new guests…
This was the first solo feature by Jack Hill, whom Quentin Tarantino dubbed "the Howard Hawks of exploitation filmmaking", and it remains one of his wildest and weirdest.
Special Features:
* High Definition Blu-ray (1080p) and Standard Definition DVD presentation of the main feature, available in the UK for the first time
* High Definition transfer of the feature approved by director Jack Hill
* Isolated Music and Effects track
* English SDH subtitles for deaf and hearing impaired
* Audio commentary featuring Jack Hill and star Sid Haig
* The Hatching of Spider Baby – Interviews with Jack Hill, Sid Haig, star Mary Mitchel, fan Joe Dante and more on the making of the film
* Spider Stravinsky: The Cinema Sounds of Ronald Stein – The composer of 'The Terror' and 'Attack of the 50 Foot Woman' among others is remembered by Harlene Stein, Jack Hill, American Cinematheque's Chris D. and others
* The Merrye House Revisited – Jack Hill revisits the original house that was used as the main location in the film
* Alternate opening title sequence
* Extended scene
* Gallery of behind-the-scenes images
* The Host (1960) – Jack Hill's early short film featuring Sid Haig in his first starring role [30 mins]
* Reversible sleeve featuring original and newly commissioned artwork by Graham Humpreys
* Collector's booklet featuring new writing on the film by artist and writer Stephen R. Bissette, and more to be confirmed!
Available from 24th June 2013