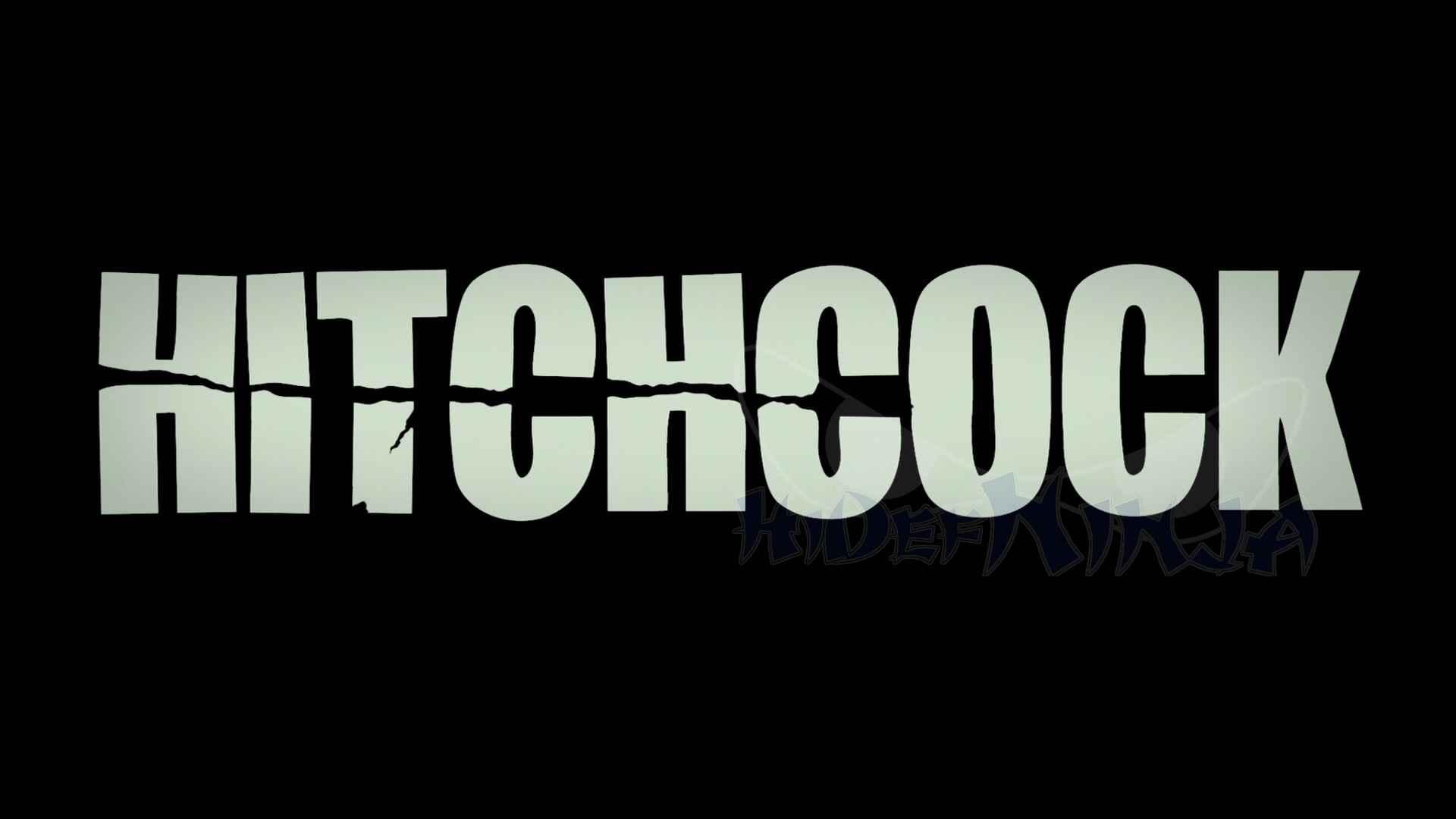 The creepy comedy/biopic Hitchcock arrives in a neatly packed product that looks and sounds great.
The filmography of Director Alfred Hitchcock represents some of the greatest of 20th Century cinema: North By Northwest, Psycho, Vertigo, and my favorite Notorious could (and should) appear on any videophile's top 50.  There was a dark grace to Hitch's films, graying and muddying his characters in terrific plots of lies and murder, then surprising us with sometimes frightening endings.  He created the modern plot reveal, and his inventive camera work took us on the visual equivalent of Direction 101.  But it was the man behind these compelling movies that has often raised the biggest questions.  The very good Hitchcock, now available on Blu-ray, doesn't answer too many of those, settling instead on a comic/dramedy that's thin on details but filled with a deep and talented cast.  The Blu-ray arrives with terrific sound and video, as well as an informative set of supplements.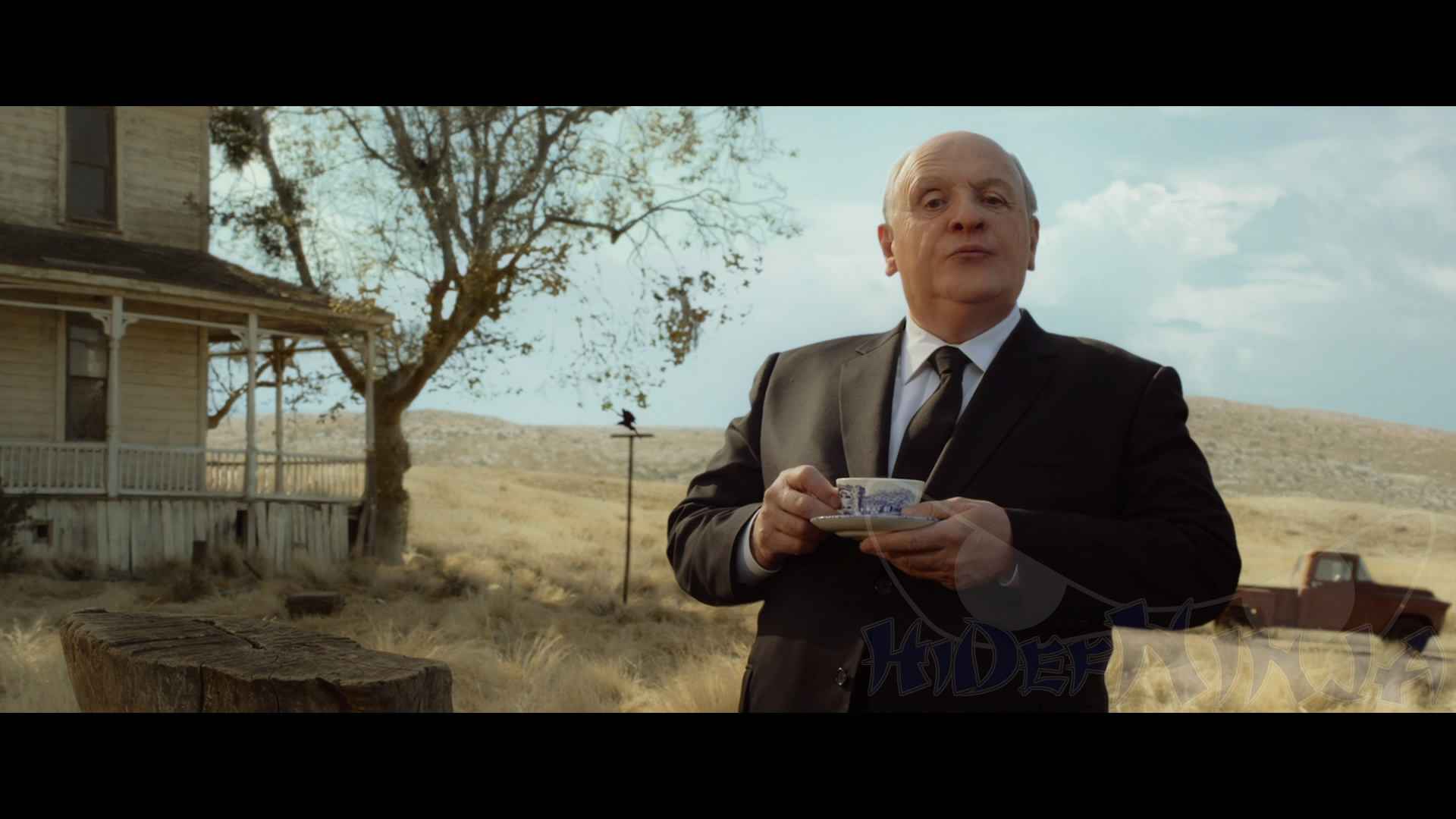 Fresh off his success with North By Northwest, Alfred Hitchcock (Sir Anthony Hopkins, Titus) is feeling old.  Having endured the suggestion that he retire on top of his game, Hitch has begun a fruitless search for a follow-up.  He wants something new and different to sink his 60-year-old teeth into, and when the novel Psycho lands on his lap he jumps at the chance to bring it to life.  But the studios expect Hitch to create another brilliant psychoanalysis of humanity, not a straight-up horror flick.  Unaffected by this demand, Hitch introduces the graphic storyline to the L.A. press corps, many of whom shudder at the disturbing images which are laid out in front of them.  Rather than recognizing a desire to reinvent himself, they reject his pitch.  Determined to see the project green-lit by paying for it himself, Hitch also enlists the aid of his off-the-set collaborator/wife Alma Reville (Dame Helen Mirren, The Queen).  The duo have been wedded for so long that any affection seems hidden deep under script revisions and long nights of shooting and editing.  While Reville seeks the attention of her husband, she only receives tacit approval as Hitch sits in the bathtub stewing over another review.  With the script completed (after a cameo by Ralph Macchio), Hitchcock hires the blonde beauty Janet Leigh (Scarlett Johansson, The Avengers) to play Marion Crane, along with the former starlet Vera Miles (Jessica Biel, Total Recall 2012).  As illness, production delays, and a failed early cut of the film create unforseen strains on their marriage, Hitchcock learns that Reville is involved with writer Whitfield Cook (Danny Huston, X-Men Origins: Wolverine), whose ulterior motives become clear during the very good third act.
Hitchcock is more a story about relationships than a blow-by-blow of Psycho's production.  But it's also about performances, both excellent and drab, with Mirren given free license to create a stunning Alma Reville.  Among my favorite scenes is the exchange between her and the president of Paramount, whom she summarily dismisses with masterful charm as she picks up the pieces during  Hitch's illness.  Her acting partner Hopkins nails Hitch, plain and simple – his sardonic tone and dry wit are beautifully blended, from his trademark utterance 'Good evening,' right up to the film's final and hilarious scene.  He portrays Hitchcock as he was: an egotist and voyeur, compelled to find the perfect blondes to star in his films at the potential expense of his marriage.  But the moments leading up to the crisis are some of the film's best, whether it be Hitch's binge eating, or his desire for drink as Alma prunes her rosebushes.  After watching it, you may ask yourself why Hopkins and Mirren have waited so long to star together.  Their exchanges feel like an old but favored t-shirt, as if the two were a couple themselves in real life.  In the end, we come to admire the on-screen duo, not for their accomplishment with Psycho, but for the practiced humanity they practice towards each other as was part and parcel of their era.
Having elevated Mirren and Hopkins to deservedly starry heights, it's hard to get past the stale performances of nearly everyone else.   Many of them, with the exception of Biel and Johansson, are limited to single scenes, and feel almost as if newcomer Director Sacha Gervasi had hired a team of well-known cameos.  As he explains in the commentary, although Hitchcock was made for very little money, the arrival of Hopkins and Mirren created tremendous buzz for the project, encouraging a bevy of A-List actors to enlist.  Unfortunately, many of them are given limited time to develop their characters, and their performances feel disconnected from the storyline.  The one exception is Toni Collette as Hitch's secretary – her hilariously dry performance is due partially to her increased screentime, which the 93-minute film had plenty more to give.  I'm not sure if it's Gervasi's fault or that of Writer John McLaughlin (Black Swan), whose script incorrectly assumes that viewers are intimate with both Psycho and the actors of 1950's Hollywood.  Without this pre-existing knowledge, one might find many of these references and quips as insider rubbish than important plot points.  Thus, McLaughlin's uneven script bounces a tad too much, revealing an imbalance between the important backstories and the details of Psycho's production.  This story could have gone in any direction, and that's the problem, as Gervasi wields his rather unruly beast through personal relationships, production deadlines, Hollywood insider banter, and Hitchcock traveling through the mind of writer Ed Gein, whose life became the basis for Psycho.  And while not all is lost here – the creepy-funny tone throughout Hitchcock is at many times very rewarding – a story needs tone and depth, and our film has the previous in copious amounts but intensely misses the latter.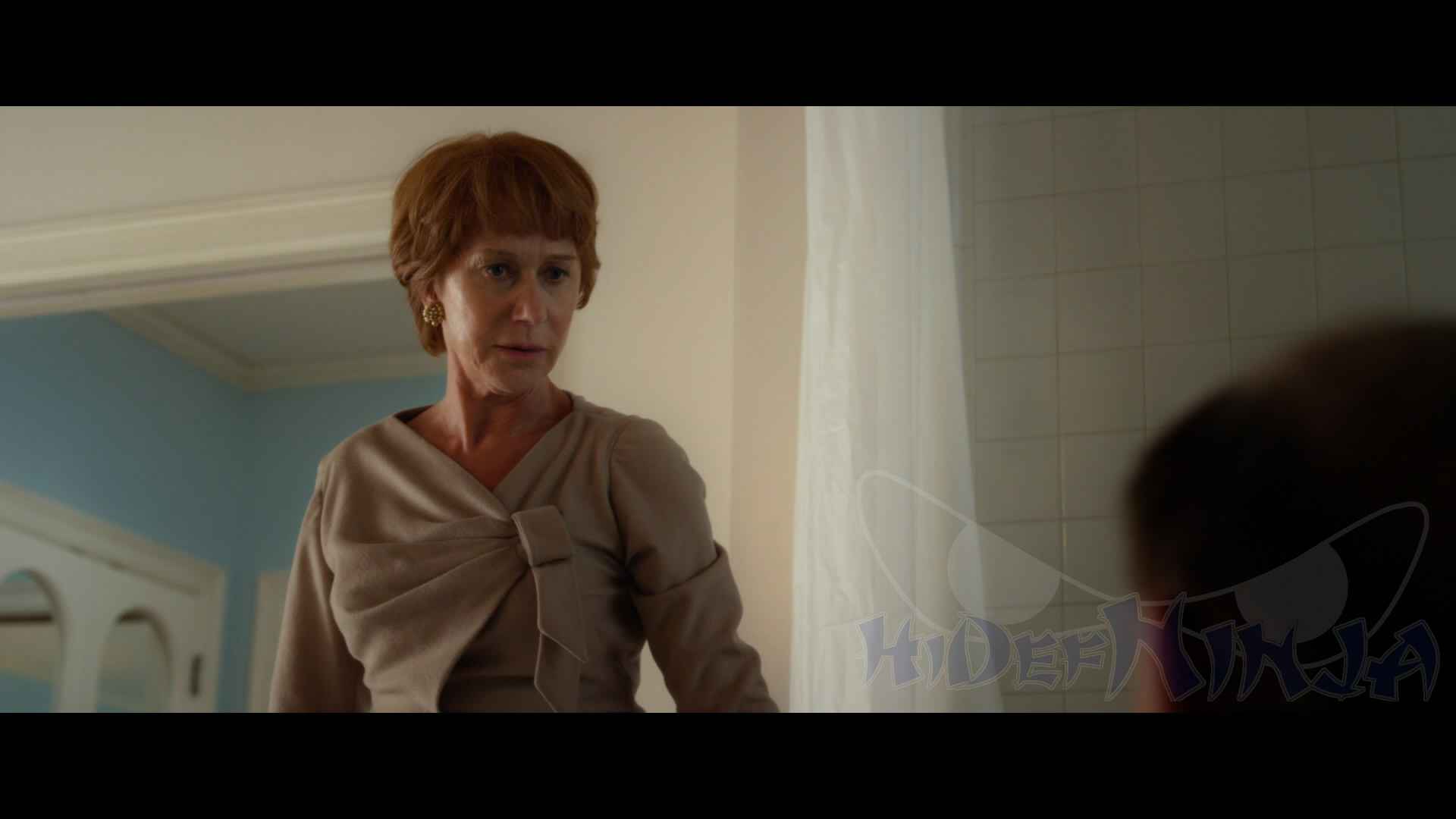 Hitchcock is presented in a 1080p MPEG-4/AVC format that's both crystal clear but contains all the grain and softness necessary.    The digital print is color perfect, with warm tones on display in every face and in each costume and set piece.  The print contains no edge enhancement, noise, aliasing or banding whatsoever.  Shadows trail off into black, giving you a nice sense of depth, especially in those scenes where Hitchcock and Gein are 'talking.'  Some of the best-looking scenes are those shot outside, and Cinematographer Jeff Cronenweth (The Girl with the Dragon Tattoo) does a fantastic job of bringing clarity and just enough softness to each.  It's a near perfect transfer with only a couple of interior shots that are just a tad noisy for my tastes.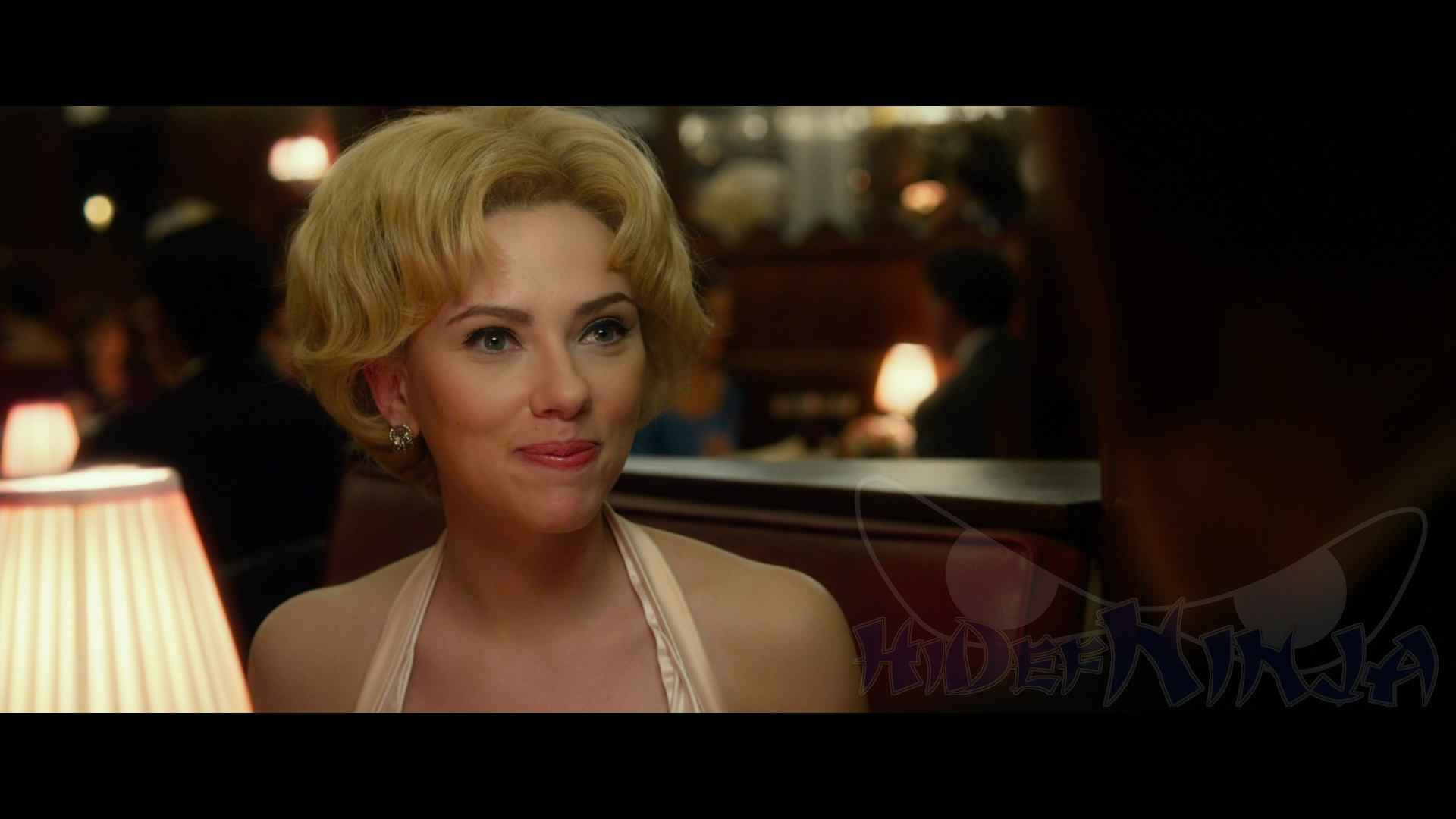 Hitchcock brings a nice DTS-HD Master Audio 5.1 surround track that's solid from Composer Danny Elfman's excellent orchestral score, to the various background effects which populate the rear speakers.  Since the film is a drama, it does suffer a bit from a lack of environment, but listen carefully and it's there, from studio hum-drumming to office chatter.  Dialogue is clear throughout, and Elfman's score is funny and whimsical but never overruns things  The 50GB BD has plenty of room and it's great to see Gervasi use all of it to present a film that's better than when I saw it in the theater.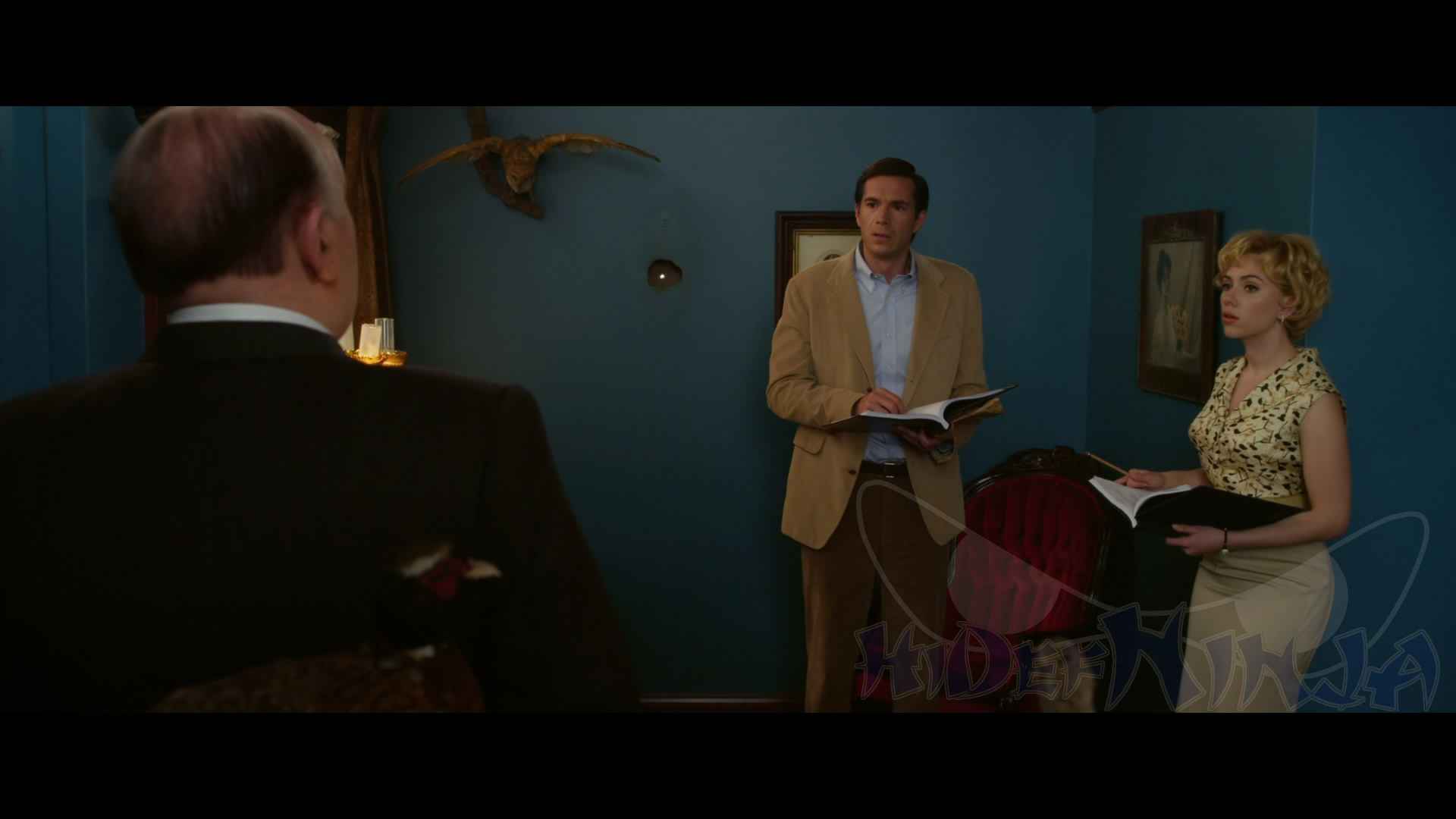 Hitchcock delivers an enjoyable set of supplements, all of which are presented in HD:
Audio Commentary with Sacha Gervasi and Stephen Rebello: I really enjoyed this presentation, which was both insightful and quite funny.  Director Gervasi and Author Rebello cover every aspect of film, which include Gervasi's Bro-mance with actor Ralph Macchio, who plays Psycho's screenwriter Joseph Stefano.  Gersavi's comments in the casting photos scene (referring to Roddy McDowell as a 'simeon') was absolutely hilarious. In many ways, it's the best part of the supplements, which have several standout pieces.
Deleted Scene (1:41): Director Gervasi introduces a single deleted scene, as Hitchcock lies on the couch talking to his serial killer psychologist Ted Gein.
Becoming the Master: From Hopkins to Hitchcock (12:28): This featurette focuses on  Hopkins' transformation and his preparation for the role.  Gervasi wants us to think he's only capturing the 'essence' of Hitch, but makeup wizard Howard Berger brings the visual appearance of Hitchock to stunning life.  Several of the actors also take the time to espouse on Hopkins's performance.
Obsessed with Hitchcock (29:09): This well-built and extensive feature discusses every detail of production – from the adaptation of Rebello's behind-the-scenes book to the casting, makeup, and the psychology behind Hitch's motivation to produce Psycho.  Interviews with all the major players are sprinkled throughout, providing greater depth about the relationship between Hitchcock and Alma.  It's insightful and appealing in its thoroughness.
Sacha Gervasi's Behind-the-Scenes Cell Phone Footage (HD, 13:31): I don't think I've ever seen such an unqiue item from a supplement set like this, which is from Gervasi's own footage shot from his cell phone camera.  We see Hopkins getting his face molded, background scenes of the sets, and get to hear Gervasi's sailor mouth.  Unfortunately, he's forgotten that the cell camera could have been turned horizontally to include more of the scenes he's capturing.
Hitchcock Cell Phone PSA (00:41): This PSA as shown for the 6 months surrounding the film about refraining from texting in the theater.
Hitchcock The Story (3:54): A short introduction into the story between Hitch and Alma.
Hitchcock The Cast ( 4:25): Another short piece with what could be the best casting of 2012,  complete with interviews with the director, Hopkins, Mirren, and nearly everyone else.
Danny Elfman Maestro (2:16): As a lover of soundtracks, it was interesting to see the church location where Elfman recorded the score.
Hitch and Alma (3:15): Perhaps one that didn't need to be added, we learn once again just how special this relationship was throughout their careers.
Remembering Hitchcock (4:44): Several of Hitch's colleagues, including Veronica Cartwright, Jerry Mathers, and Hilton Green, are interviewed about "Mr H."
Theatrical Trailer (2:33)
Sneak Peek (HD, 14:31)
Our evaluation copy arrived as it will be sold in stores, as a Blu-ray/DVD Combo with Digital Copy.  The slipcase is functional and it appears that two slips are being offered.  If you can nab the version with Hitch holding the Psycho knife with Alma at his side, do so.  Ours was not this version but it doesn't affect my score, even though there's no interior artwork.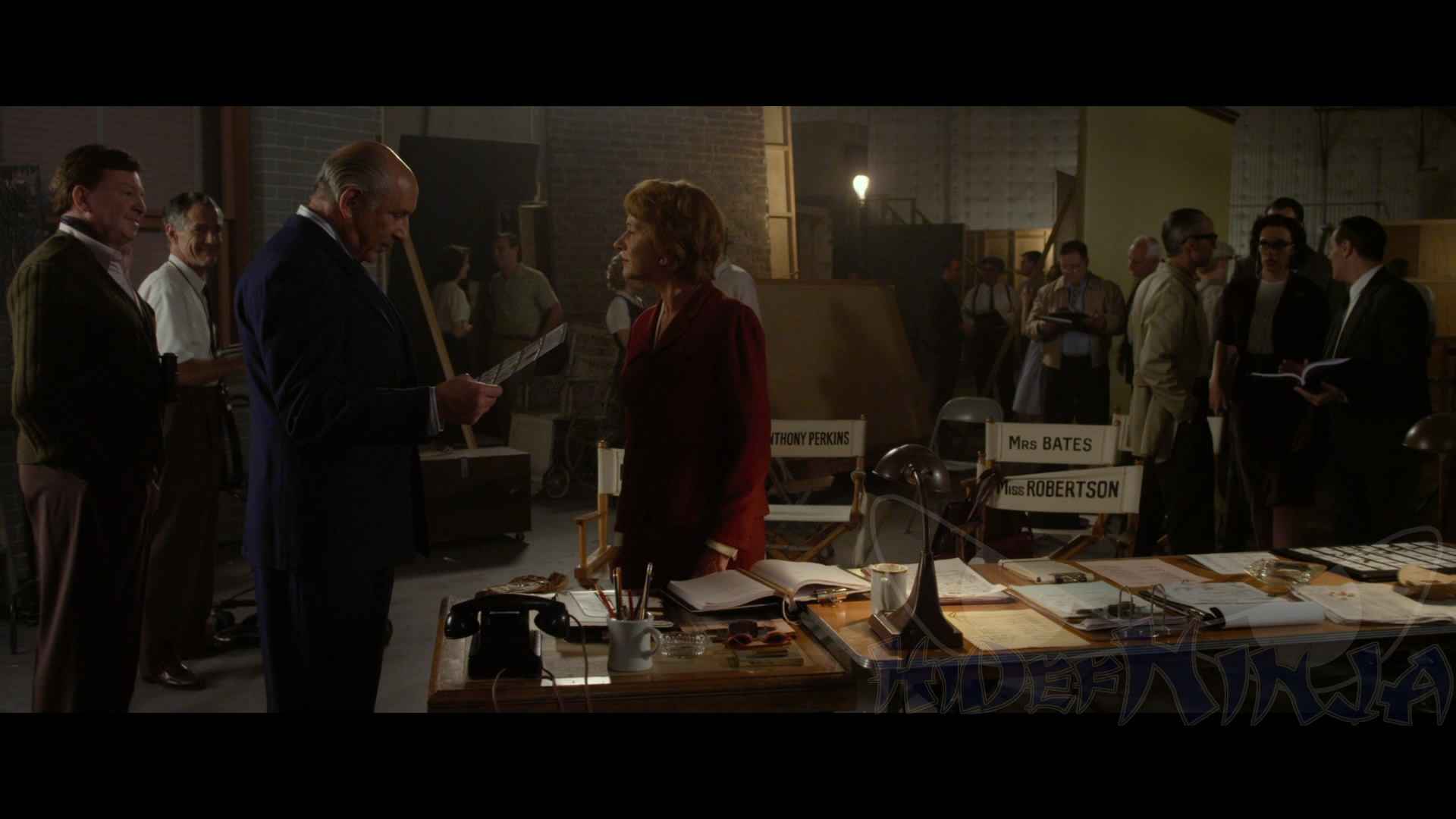 Hitchcock isn't terrible by any means, although audiences would benefit greatly from watching Psycho prior to arriving at the theater.  Most will probably laugh regardless if they do their homework, as Gervasi and McLaughlin have concocted a fun but superficial production.  The home release contains great supplements and looks better than it did on the big screen.  But just like a diet drink, one might enjoy the initial fizz of Hitchcock but quickly forget the taste once the credits begin to roll.  Hitchcock is rated PG-13 and has a runtime of 93 minutes.