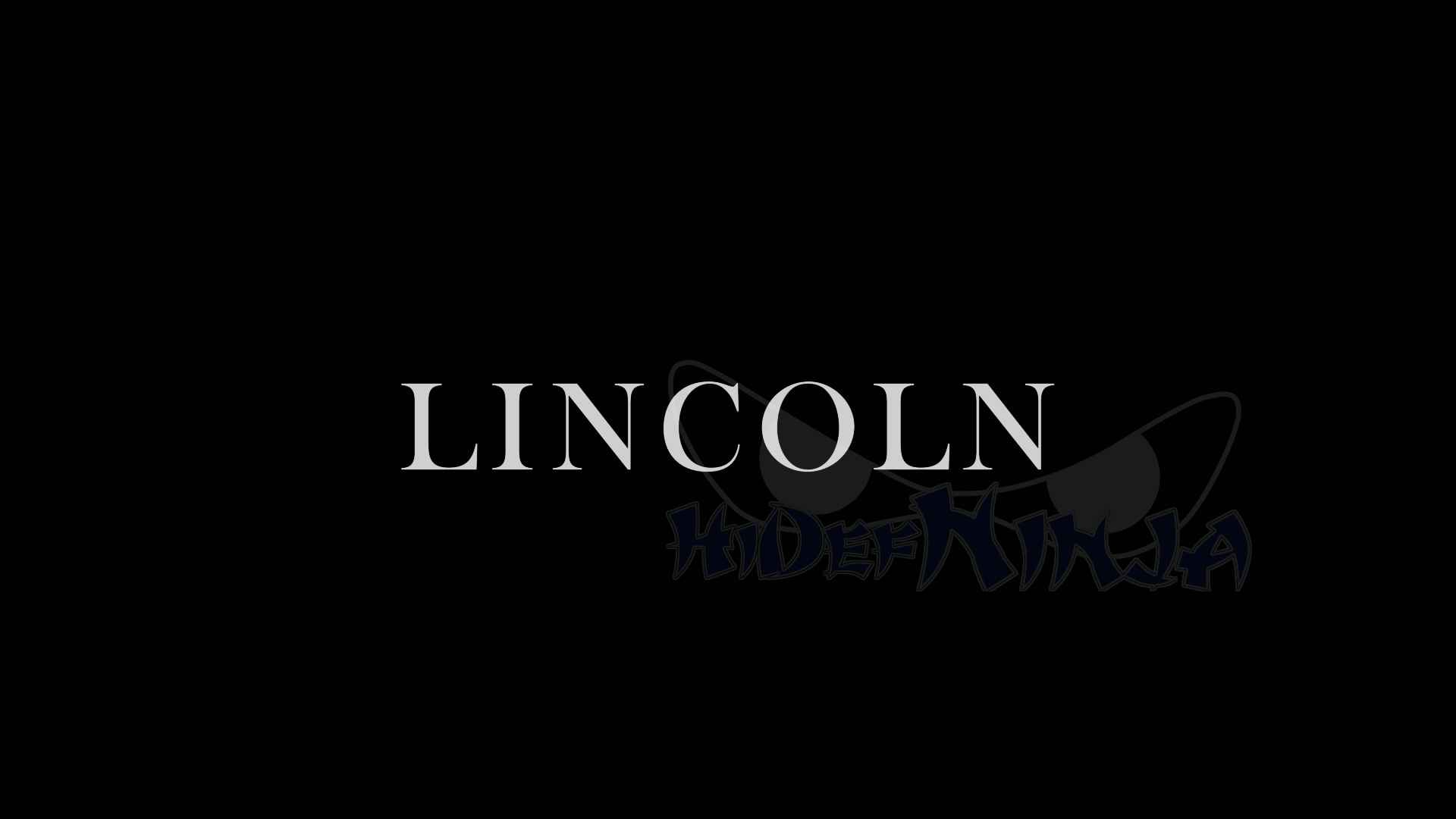 The should-have-been Oscar winner Lincoln arrives onto Blu-ray with stunning picture and audio.
As a middle school history teacher, I am constantly amazed by the sometimes piercing interest my students demonstrate over The American Civil War; perhaps it's their amazement that 620,000 Americans felt the need to defend their stance on slavery with the ultimate sacrifice. Or, perhaps it's their keen sense of the ridiculous to wonder why basic human rights were somehow trumped over what Americans in the 1800's coined slavery "the peculiar institution." But more than anything, they're fascinated about the brave people involved in slavery's abolition, including its central figure, Abraham Lincoln. With recent articles suggesting the death toll might have topped a staggering 750,000, Hollywood in 2012 responded with two films about Lincoln, each with its own unique take on his life. The latter, Steven Spielberg's Lincoln, is an emotionally charged and stirring account of the 16th President's efforts to pass the 13th Amendment, which abolished slavery in 1865.
As the nation in 1865 struggles to end the Civil War, fresh off the bloodbaths of Gettysburg and Jenkins Ferry, President Abraham Lincoln (Daniel Day-Lewis, There Will Be Blood) decides to take his Emancipation Proclamation one careful step further: end slavery in the United States, once and for all.  The news shocks his cabinet, composed mainly of his Republican political enemies including Secretary of State William Seward (David Strathairn, Sneakers), who believes Lincoln should instead focus on ending the bloody conflict rather than forcing the law upon a angry and vengeful South.  Although he appears disshelved and certainly not presidential as compared to other leaders of his time, Lincoln is a shrew politician and manipulator, convinced that the inevitable Reconstruction will fail without first banning slavery.  Many in the House of Representatives, including Democrat Fernando Wood (Lee Pace, The Fall) angrily argue Lincoln's tyrannical plan while the Radical Republican Thaddeus Stevens (Tommy Lee Jones, The Fugitive) listens on. Although Stevens signs on to get the amendment passed, Lincoln knows he'll need deal-makers, and tasks Seward with the job of hiring a trio of rascally characters (Tim Blake Nelson, John Hawkes, and James Spader) to offer patronage jobs to outgoing Democrats in exchange for their votes. The result is some of the film's funniest scenes – frankly a needed respite from all the film's seriousness – with the trio literally chasing men down in the street, at public taverns, and in large fields with huge documents in their hands.
But the film also weaves a personal portrait of Lincoln the man, surrounded by his wife Mary Todd (Sally Field, Forest Gump) and son Robert (Joseph Gordon-Levitt, Looper). These scenes represent the story at its most powerful and poignant, as Lincoln struggles to keep Robert from enlisting in the Army and Mary from melting down over their son Willie's recent death from typhoid fever. As the critical vote in Congress nears, a series of brilliant exchanges between Stevens and Wood on the House floor leads inevitably to its passage.  It's not the passage itself which is so satisfying, but the manner in which our characters get to that point.
Lincoln is nothing short of stunning, both in its historical storytelling and in the performances of its actors.  Based on the book Team of Rivals by presidential historian Doris Kearns-Goodwin, Lincoln leaves nothing on the table.  From dimly-lit period room lighting to hideously accurate hair pieces and beards, Director Steven Spielberg (Raiders of the Lost Ark) tells the story from a decidedly different perspective: the politics of human rights, rather than details about The War itself.  We're treated to language and a tenor that establishes itself from the beginning, thanks to the script by Writer Tony Kushner (Munich), whose 550-page first-draft screenplay was eventually reduced to the 70-page stretch that eventually became the movie.   Some history buffs have claimed that historical accuracy was dumped in favor of intense drama, but those issues are merely perceived.  Simply put, Spielberg has gone beyond anything he's ever created, respecting the story of the debate, Lincoln himself, and the history surrounding them with amazing adherence to Team of Rivals.  He's accurately shown the madness of 1860's politics by making it more of a raucous conversation that's at the heart of national compromise, and something we'd never see today in Congress.  Granted, these discussions were unruly, even downright violent at times when one looks back to the 1856 Caning of Charles Sumner; but it also demonstrates that multiple views of the world should not necessarily lead to immobility, unless those in charge refuse to see the larger effect such policies can have on the country.
How Lincoln was snubbed by MPAS during 2013 Oscars is beyond description.  Even though 2012 brought us some of the best films in recent memory, so much of Lincoln deserved recognition, and the mere 2 Oscars it walked away just goes to show how competitive 2012 became.  While the impressive cavalcade of supporting actors here is nothing less than top-notch, this is Daniel Day-Lewis' film, with his vivid portrayal of our nation's leader as both a homespun-folksy conversationalist and tormented soul whose assassination only served to elevate his status.  Believe me when I say that Lewis is Lincoln, and the fact that actress Meryl Streep didn't even open the envelope at the Oscars tells you how many people agreed.  From his gangling walk to his attenuated voice – a man whose quiet demeanor was matched only by the moroseness and tragedy of the time in which he lived – one could almost feel the incredible weight on Lewis's broad shoulders as he tours Richmond before visiting General Ulysses S. Grant (Jared Harris) to discuss the end of The War.  When Grant tells Lincoln, "You've aged ten years since I saw you last year," we believe it both in the tired strain in Lincoln's voice and the physical transformation in his face which the Matthew Brady photographs have sadly captured.
By film's end, we know what it's like to be in his presence, making every analogy he weaves (and he loved to make them) that much more effective.  His partner Sally Field is also very very good – how she was mis-categorized as a 'Best Supporting Actress' is beyond me.  But acting isn't all that's powerful about Lincoln.  As things wind down to their inevitable conclusion, Composer John Williams (Star Wars series) presents such a simple but elegant piece that audiences might feel the need to stand up to warn the President of his impending doom.
If films like Gettysburg are more your pace, then Lincoln will seem tedious and self-serving, determined at-once to re-write Mary Todd's reputation as a headcase who suffered from migraines while arguing for compromise in our modern and twisted political climate. As this release arrives at homes throughout the country, I can only hope that moviegoers will emerge from their living rooms a changed people, in much the same way we changed after viewing Saving Private Ryan or Schindler's List.  Lincoln is so much more, not merely a biopic but a statement of presidential power, and a comment on our current government's need to balance its actions to reflect the growing restlessness of our country, all wrapped up in a stirring rendition that will ensure as 2012's best film, even though AMPAS thought otherwise.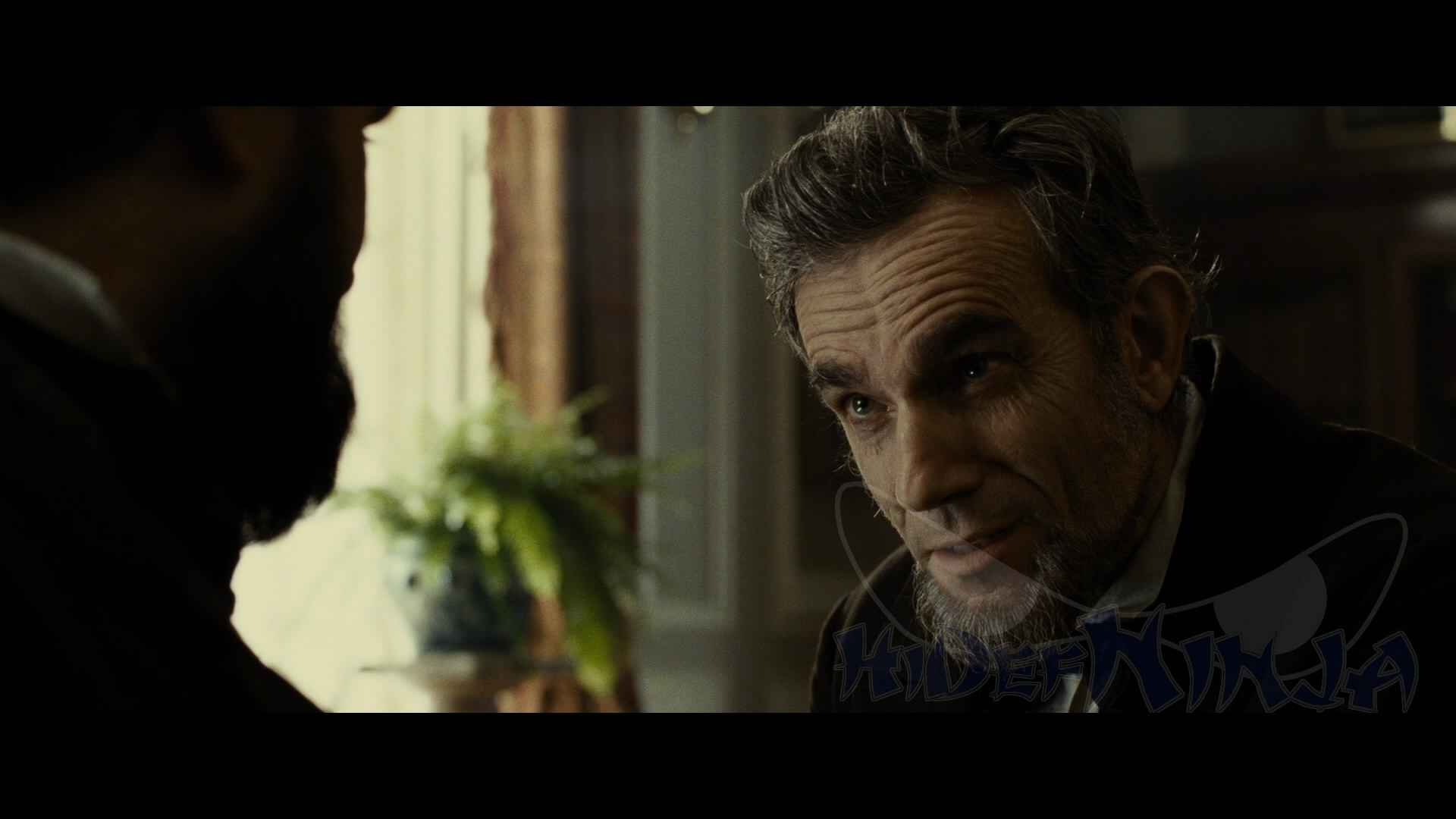 Lincoln is presented in a 1080p MPEG-4/AVC transfer that matches the excellence of the film.  Disney and Dreamworks have provided us with a clean digital print that carries every bit of the grain and clarity we witnessed on the big screen.  The most appealing part here is the clarity, from uncombed hair to wrinkles in clothing, the smoke-filled air of 1864, and the brilliant colors of Mary Todd Lincoln's dresses.    The one issue that might concern videophiles – the darkened rooms and streaming window light – were expertly addressed by Cinematographer Janusz Kaminski (Saving Private Ryan) in the film, and now look amazing here.  Shadows descend immediately to a realistic dark without leading to crush, while outdoor scenes capture every muddy street and hardened battlefield with a bluish tinge.  Fleshtones are pale, and contrast is pitch-perfect, while zero evidence of banding, aliasing, or edge enhancement is displayed.   It's the best transfer of the Oscar contenders, hands down.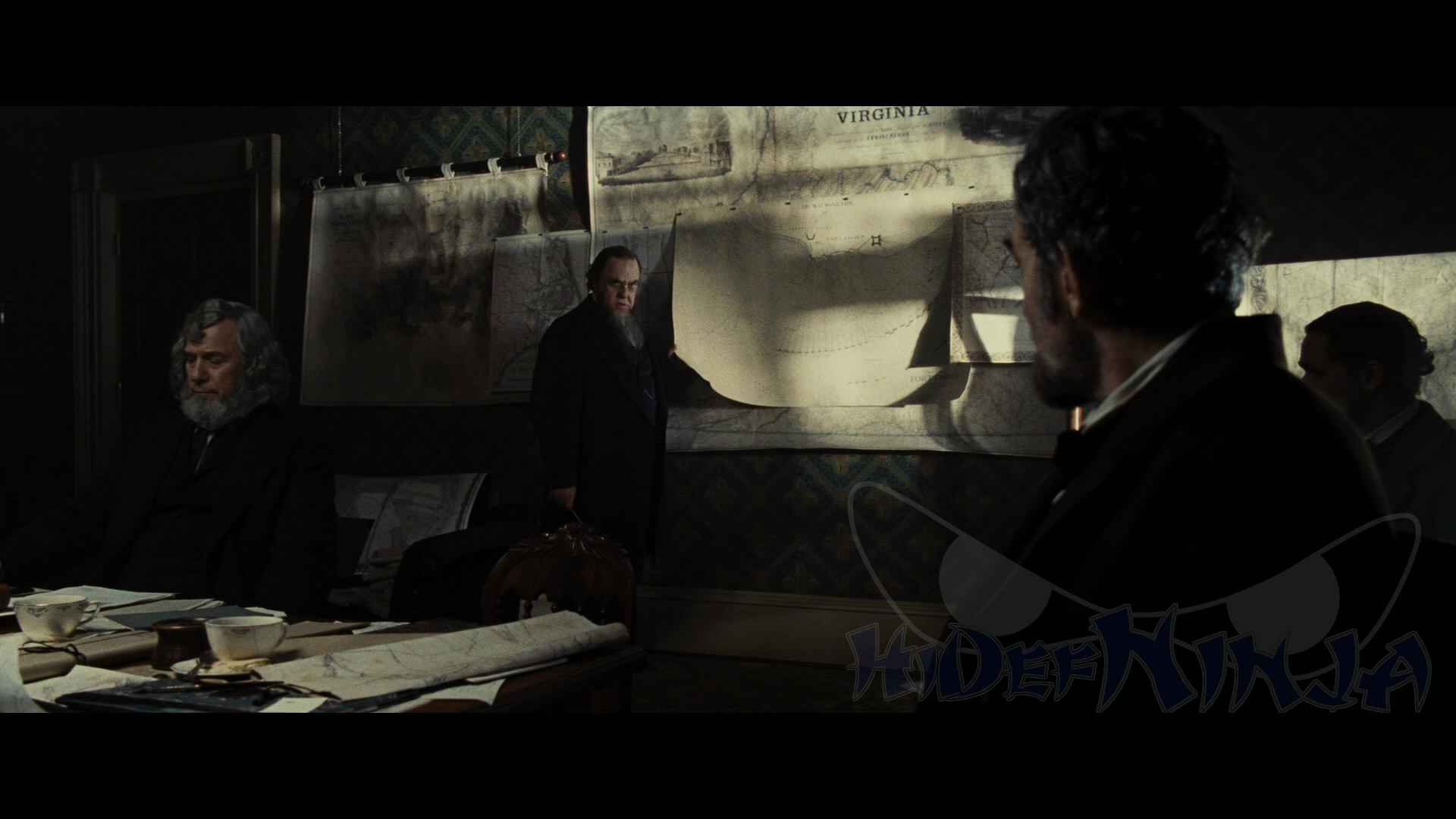 Lincoln is presented in an elegant DTS-HD Master English 7.1 surround track that's subtle but beautifully conceived.  Dialogue is the name of the game here, but the track goes further.  Telegraph machines click away, gunshots pound, and men of the House of Representatives scream at the idea of women's suffrage, all with perfect clarity.  Party sounds and chatter play host in the rear speakers, along with debate noise and city effects.  The LFE comes out to play just enough to remind you know it's there, complementing the absolute clarity of speech for each and every Lincoln analogy.  And while there are English and French 5.1 tracks as well as a descriptive, it's the 7.1 that is most memorable.  In many ways, Lincoln lossless tracks recreates a time and place long gone.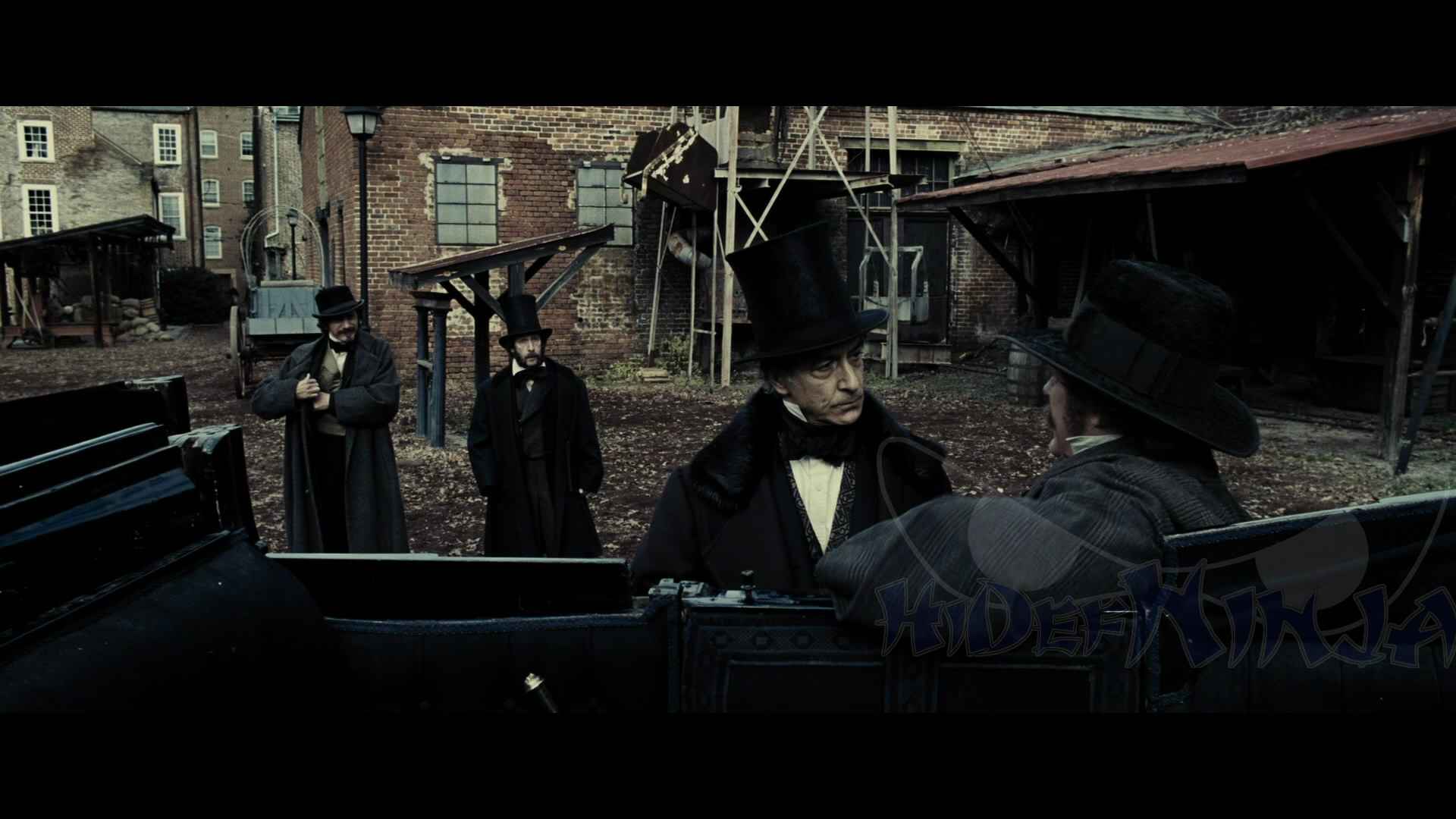 The only version of Lincoln worth purchasing is the 4-disc BD/DVD Combo.  If the film itself is more important than the somewhat limited amount of special features provided on Disc 2, then you'll have no problem forking over for the smaller set.  The problem here is that the studio makes the 2-disc so unappealing, with no commentary track and settling for two small featurettes that aren't worth the price.  The problem is not solved on Disc 2, which contains only a smattering of features.  Our evaluation copy came as the 4-disc, and is reflected in our score.
The first disc offers just 13 minutes of features and the film itself, including:
The Journey to Lincoln (Disc 1, 9:24): Director/producer Steven Spielberg, fellow producer Kathleen Kennedy, screenwriter Tony Kushner, actor Daniel Day-Lewis, production designer Rick Carter, "Team of Rivals" author Doris Kearns Goodwin and other collaborators essentially introduce the film in this short featurette, discussing the genesis of the project, the focus on a small but crucial period of Lincoln's life, the screenplay and production, and more.   Check out Spielberg's reaction when Kushner sends him the original screenplay – at 555 pages!
A Historic Tapestry: Richmond, Virginia (Disc 1, 4:00): Spielberg and others (ever so) briefly discuss the role which the city of Richmond played in shooting Lincoln.  Notice how the capital building is so easily transformed into the White House.
Disc 2 offers a bountiful amount of extras.  And while there is still no commentary track, there's still a lot to like and to learn from the production, all of which are presented in 1080p HD:
In the Company of Character (10:23): Spielberg and Kennedy take us through the strengths of each actor, from Daniel Day-Lewis' complete transformation to Sally Field's pitch perfect performance, and the decisions to bring in Tommy Lee Jones, Joseph Gordon-Levitt, James Spader, and many others.  You get the clear sense of everyone's deep respect for the material and each other.
Crafting the Past (10:43):  The work of Production Designer Rick Carter takes center stage in this feature.  And while Anna Karenina certainly deserved its Oscar for Costume, I wish the extraordinary work here could have been remembered.  Spielberg has always been known for his research, the effect of which shown through in every costume, set piece, and prop.
Living with Lincoln (27:04): The best feature of the release lies here.  The cast and crew break down Spielberg's out-of-body experience that eventually became Lincoln.  He is clearly the best director of our time, and the reverence which the cast gave him and each other is seen in every scene.  You get to see how acting becomes like an explorative process – and how the director plays such an integral part.  Check out Spielberg's discussion about Lincoln's voice and ensuring that the historical truth about it and dozens of other smaller stories were maintained.  His 'working president' operation of the film brings a realism that the documentary exceeds at presenting.
In Lincoln's Footsteps (16:35): Editor Michael Kahn, Composer John Williams, and others cover the film's pacing, an absolutely important part for a film of this type.  Having Williams there to weave his experience into the fabric of the film was immensely entertaining.  Longtime collaborator and Sound Editor Ben Burtt (Raiders of the Lost Ark) and Gary Rystrom also chime in to discuss how different a project this was for them.   Spielberg and Lewis also reflect on their feeling on the last day of shooting.
Our copy came with a Digital Copy as well as an attractive slipcover.  The four discs are piled two-on-two, perhaps as a cost-cutting measure, demonstrating that sometimes a brilliant film can get an uneven home release.
In a year that featured so many good films, Lincoln will endure as 2012's best.  It's engrossing, stunning, brilliant, and a dozen other descriptors that don't go far enough.  And while the video and audio transfers are absolutely perfect, it's the supplements that are a bit disappointing.  It's enough to bring down what should have been a perfect score.  I wish that Spielberg will one day record a commentary track, as well as produce a total and complete set of supplements that matches the grandeur and beauty of his film.  And perhaps Spielberg and Lewis will gather again one day to tell more stories about Lincoln, a great leader whose life was tragically cut short during a time of extraordinary national unrest.  For now, add this one to your collection – Lincoln is rated PG-13, has a runtime of 149 minutes, and comes highly recommended.

Discuss this review with fellow HDN fans on Facebook. On Twitter, follow us at @HidefNinja, and follow author Matt Cummings at @mfc90125.