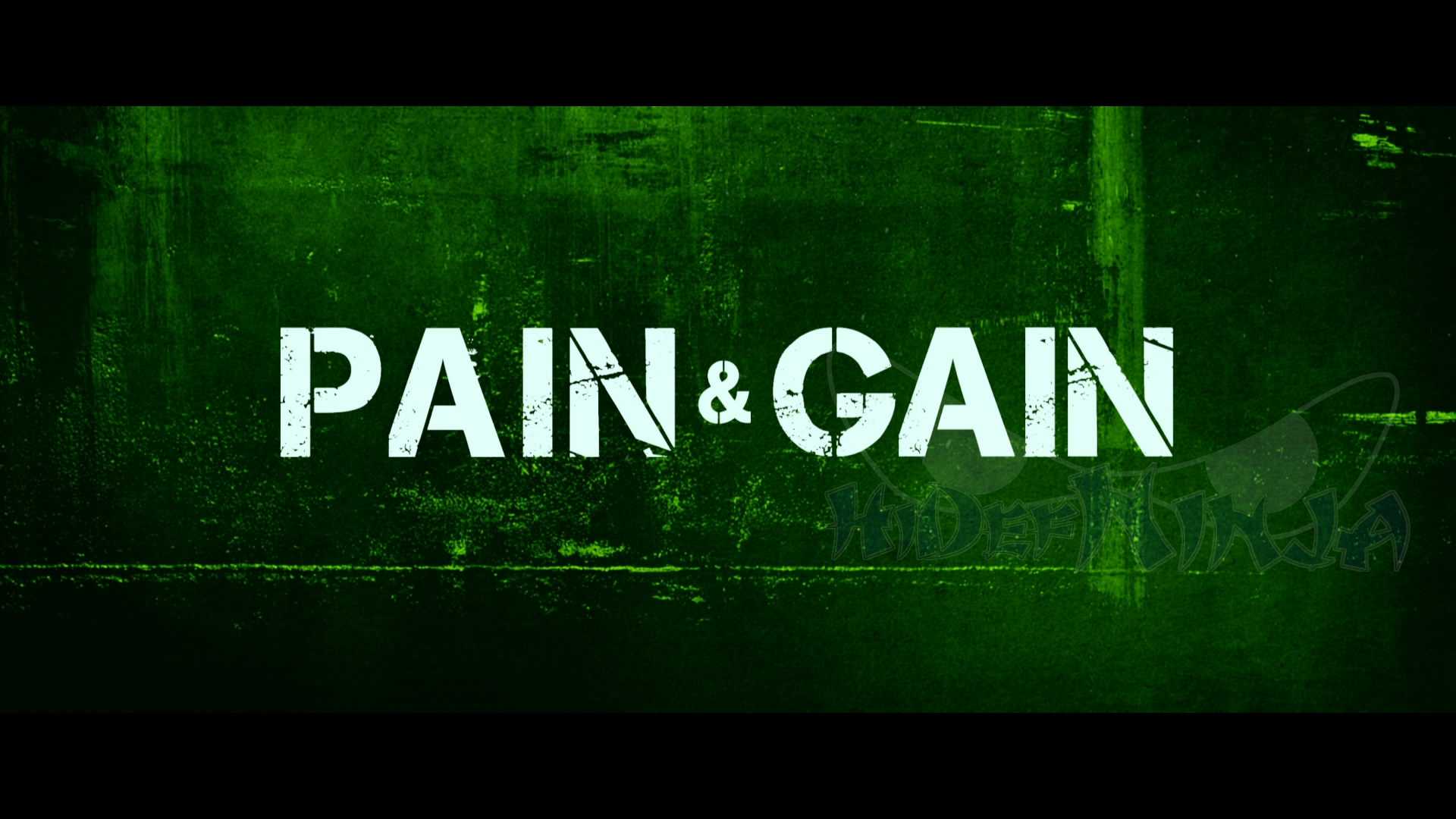 Pain and Gain arrives on Blu-ray looking and sounding buff, but its lack of supplements simply bombs out.
Among the most unique films of 2013, Pain and Gain stands with few competitors.  Hilarious and irreverent, this story about drug dealing, torture, and sex toys in 1995 Miami was as fun as any of the large-scale superhero epics that graced our local theaters.  Its arrival on Blu-ray looks and sounds terrific, but is strangely missing any supplements.
Based on a true story, Pain and Gain stars Mark Walhberg (Ted) as Daniel Lugo, a fitness instructor at a local Miami gym with a penchant for smooth-talking his clients into parting quickly with their money.  His dubious and illegal schemes eventually land him in jail, leading to an emotional but practiced rant, dressed in a tie and jean shorts.  The judge sees right through the knucklehead and gives him the maximum sentence.  Undaunted and ready for the chance to make real money, Daniel attends a workshop with the foulmouthed motivational speaker Johnny Wu (Ken Jeong, Hangover series), who orders him to, "Be a Do-er, not a Don't-er!"  Soon, Lugo is managing Sun Gym, a place known more for its people watching than encouraging physical fitness.  Meanwhile, Lugo's lifting partner Adrian Doorball (Anthony Mackie, Abraham Lincoln: Vampire Hunter) is frustrated with his small physique and willing to shoot up with the latest designer drug to increase his muscle mass.  He's unaware of its disastrous sexual side-effects until it's too late.  One day, the beefed-up former convict Paul Doyle (Dwayne Johnson, Snitch) arrives looking for work.  He's been desperately trying to reform by working at the local church and wants an honest job with Jesus at his side.  Daniel and Doyle become instant friends, and soon hatch a plan to make their splash.  They decide to kidnap and torture one of Daniel's clients, the local businessman and dirtbag Victor Kershaw (Tony Shalhoub, Monk), forcing him to sign over his assets.
This is not a slick operation, and the team of delusional misfits struggle early to force Kershaw's hand. They don superhero costumes to hide their identities, stumbling over each other in some of the funniest scenes of the film.  Eventually, they get their man and lock him up in a warehouse used to store a variety of sex toys (nope, I'm not making this up).  When our trio comes across several items in the warehouse – things I'd be crazy to put into this article – their reactions are memorable to say the least.  Eventually Kershaw caves, and Daniel's crew goes on a massive spending spree, including Doorball's marriage to his phalloplasty nurse (Rebel Wilson, Bridesmaids).  But Kershaw isn't giving up either, enlisting the services of private detective Ed Du Bois (Ed Harris, The Right Stuff), while Doyle, Doorball, and Lugo descend into a rabbit hole of murder while scoping their next victim.  As the police close in, our trio of knuckleheads must make a decision: stand together or rat each other out to save themselves from the Death Penalty.
Pain and Gain is a odd comedy to be sure, from Director Michael Bay's (Transformers series) unique editing style of occasionally placing 'This is still based on a true story' labels in the bottom corner of the screen, to the general insanity of the supposedly true tales which our thieves took before their captures. Writers Christopher Markus and Stephen McFeely (Captain America: TFA) don't have to stray too far here to tell their story, for the source material is…well…robust. Bay apparently wanted to produce this film for many years, and his energy (and oddball sense of humor) shows.  Miami never looked so good as the bright colors of swimsuits, Pontiac Fieros, and stripper gear erupt all over the landscape, matching the bizarre characters which he employs.  Wahlberg plays the smooth-talking ring leader to perfection – his over-pumped physique is equaled only by his overblown machismo.  To him, the world of Johnny Wu is real, able to be duplicated at any time by simply uttering Wu's 'three step plan.' His co-stars are more than up to the challenge, attending the Church of Lugo with their blind ambition and respect, including Johnson who turns in yet another great performance.  He's really coming into his own, and his growth as an actor is easily on display in every scene.  Mackie and Wilson are terrific together as the the unlikely couple that help this whole thing feel like a well-put together train wreck that you can't stop watching.
Some will point out Bay's loose interpretation of the actual events as an inherent problem with the film, and they may have a point, especially if the general population goes into this expecting a gripping narrative based on a true story.  I suppose that's a personal decision that you as a potential customer will have to make; but if you couldn't already tell, we really loved its quirkiness and dark comedic edge.  Films are meant to entertain, and this one goes above and beyond in that department.
Pain & Gain has cleaned and jerked its way to near video perfection, boasting an impressive 1080p MPEG-4/AVC transfer.  The bright Miami colors show through in every scene, from the blue swimming pools and orange-tinged strip clubs to the darkest interiors.  Every scene is awash in so much saturation that videophiles might wonder if they accidentally hit the 'dynamic' button on their television remote. Of particular note are those blues and oranges which bombastically wash over the screen like a radiant Miami sunset.  But don't think that Bay's film technique gets in the way: skin textures look warm and colors never bleed into each other.  Blacks don't suffer as much as you would think, but any crush here is the fault of Bay's vision, not Paramount's effort.  Everything else is pitch perfect: you can see every bead of sweat, every dent in Lugo's Fiero, and every lace on Paly's stripper boots.  Textures on clothing are clear throughout, as are facial and body features such as the trio's pumped-up veins and bulging muscles.  This is not an easy transfer to make look good, but Paramount powerlifts its way without a spotter.  Although I'd never recommend not using one.

Pain & Gain's Dolby TrueHD 7.1 lossless soundtrack is amazing for several reasons, not the least of which is that it exists at all, and that it performs so well.  Rippling with muscles and definition not seen in most soundtracks, this one thumps and pounds its way effortlessly.  With all the 90's rap music on display, dialogue never presses out.  Much like the video transfer, Pain and Gain is big and bold in its audio.   Movement in the front speakers is easily discerned in many of the weightlifting scenes as something like an audio effect rather than the actors or the action moving from left to right.  I was also surprised just how much sound erupted from the center channel, establishing itself as a competitor from the get go.  The surround is immersive too, mixing music with environmental effects such as the sound of clinking weights or chatter.  But it's the LFE which truly impresses, busting out thumping waves of sound in almost every scene.  And while not an experience on the order of Bay's Transformers, gunfire, explosions, car engines, and other impacts crunch and thud with surprising regularity.  This is a fun ride in the audio department from start to finish, and audiences should be pleasantly surprised by the results.
I was truly shocked to see that Pain and Gain did not include any supplements. Moreover, the menu contains no motion scenes. Why this aspect of the presentation experienced a meltdown is beyond me, and I hope Bay and Paramount have a good excuse.
Our evaluation copy arrived with a colorful debossed slipcase and no interior artwork.  The Blu-ray Combo Pack comes with the DVD and Digital Copy.  At this time, we are not aware of any special editions or packaging.  We hate giving out low scores like this, but the lack of any supplements is inexcusable.
Pain and Gain is not a serious film in the least, a fact which threw off audiences after they heard about the real-life events on which the movie was based.  I suppose that version might have made for good viewing, but its sex toy, stripper, slow motion hilarity gives it a unique and quirky angle.  If you can get over that, Pain and Gain is one of the wildest and funniest rides we've seen.  The home release both utterly excels and disappoints, with no supplements lessening a stellar audio and visual experience.  If supplements were never offered on discs, I would have rated this one of the best discs of the year.  If that's not a problem for you, then I recommend a speedy purchase, for this one will keep you laughing throughout.  Pain and Gain is rated R for nudity, language, and drug use and has a runtime of 130 minutes.
Discuss this review with fellow HDN fans on Facebook. On Twitter, follow us at @HidefNinja, and follow author Matt Cummings at @mfc90125.